The Best Spin Bikes
Table of Contents
Spin bikes are a great way to bring the outdoor cycling experience into the comfort of your home. Unlike regular upright bikes, spin bikes are built to mimic the movements and body shape you'd get while biking outside and gives you the option to stand while riding. So, what makes a good spin bike, and why should you buy one? Well, besides saving you from having to pay to keep up with those expensive gym memberships, investing in a bike for your home lets you reap the benefits of cycling all year round. What's more, you'll no longer be limited by the weather.
Cycling is one of the best figure-friendly exercises that promotes a rapid but safe way to lose weight. And, they can give you a whole body workout which eliminates the need for other cardio machines like ellipticals and treadmills. These quiet, low impact, low maintenance machines can be used rain or shine; finding the best spin bike for you however all depends on your specific needs.
To find out more about what you should look for in a spin bike, scroll down to the bottom of the article; or, keep reading to see our list of some of the best spin bikes on the market:
1. Editor's Pick: Nordictrack Commercial Studio Cycle
Purchase includes one year iFit membership
Transportation wheels
Large LCD monitor
Incline and decline capabilities
Bluetooth connectivity
Expensive
Some users found assembly difficult
Key Specs
| | |
| --- | --- |
| Material: | Metal |
| Drive System: | Magnetic |
| Flywheel Weight: | N/A |
| Max. Weight Capacity: | 350 lbs |
| Item Weight: | 88.9 kg |
If price point isn't an issue and you want to get the most out of your purchase, investing in the NordicTrack commercial studio cycle bike will give you the versatility you need to power through a variety of tough workouts.
This smooth and silent magnetic spin bike allows you to create up to five adult profiles that have access to a one year iFit membership. Through the app you can follow along with your trainer on its large 22-inch Wi-Fi enabled Smart HD touchscreen and track your stats, workout progress and much more.
2. Runner Up: PYHIGH Indoor Cycling Bike
Includes LCD monitor
Transportation wheels
Caged pedals
Adjustable handlebar and seat with water bottle holder or iPad holder
Assembly required
Stiff tension knob
Seat may wiggle
Key Specs
| | |
| --- | --- |
| Material: | Steel |
| Drive System: | Belt |
| Flywheel Weight: | 35 lbs. |
| Max. Weight Capacity: | 280 lbs. |
| Item Dimensions: | 35.83 kg; 101.6 x 55.12 x 116.84 cm |
Built from a heavy duty steel frame featuring a 35-pound bidirectional flywheel, the PYHIGH indoor cycling bike uses a quiet belt drive system to give its users a smooth and reliable spin bike. It has an LCD monitor that tracks your speed, distance, time and calories burned, as well as an adjustable seat and handlebar, making it the perfect bike for burning fat and building muscle.
3. Popular Choice: Sunny Health & Fitness SF-B901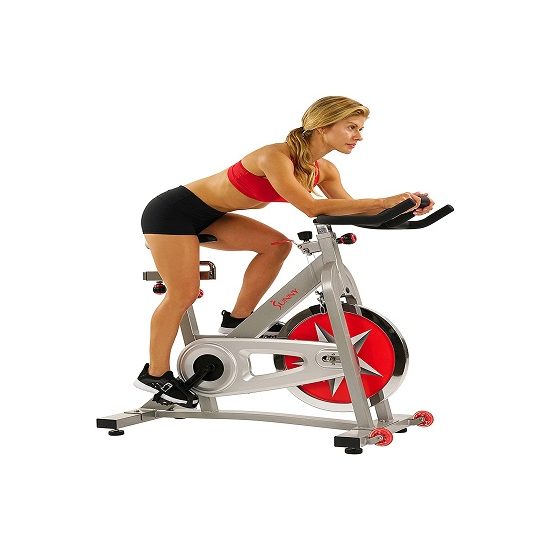 Micro adjustable resistance
Felt pad brake system
Adjustable handlebar and seat
Transportation wheels
Caged pedals
No water bottle holder
No LCD monitor
Key Specs
| | |
| --- | --- |
| Material: | Steel |
| Drive System: | Chain |
| Flywheel Weight: | 40 lbs. |
| Max. Weight Capacity: | 124.74 kg |
| Item Weight | 44.1 kg; 48.5" x 20" x 46.5" |
This Sunny health and fitness SF-B901 spin bike features all of the basic functions that every beginner cyclist needs. Its heavy 40-pound chrome flywheel works to keep you stable while its two way adjustable handlebars and four way adjustable seats lets you fully customize your ride to fit your needs. Powered by a heavy-duty crank and chain drive mechanism, you'll enjoy a smooth yet challenging ride.
4. Most Quiet: CHAOKE Indoor Cycling Bike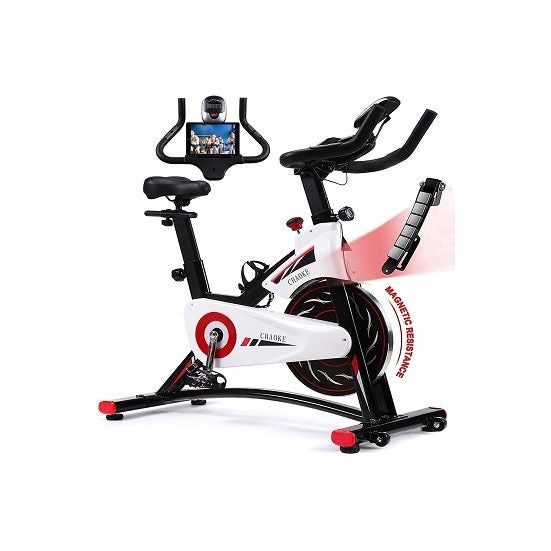 Quiet magnetic and adjustable resistance
LCD monitor and adjustable handlebar and seat
Transportation wheels and non-slip steel caged pedals
Features water bottle holder and iPad mount
Key Specs
| | |
| --- | --- |
| Material: | Steel |
| Drive System: | Belt |
| Flywheel Weight: | 37 lbs. |
| Max. Weight Capacity: | 136.08 kg |
| Item Dimensions: | 37.4 kg; 105 x 51 x 113 cm |
Looking for a quiet bike so you don't disturb the rest of your house or cranky neighbours? The CHAOKE Indoor Cycling Bike uses magnetic resistance and a belt drive system to provide a smooth and quiet ride. With a 37-pound flywheel, adjustable handlebars and seats, hand pulse sensors, an LCD monitor and transportation wheels, this bike tracks your workout to help you meet all of your fitness goals.
5. Best High-End: JOROTO Belt Drive Indoor Cycling Bike with Magnetic Resistance
Quiet magnetic and adjustable resistance
Adjustable seat and handlebars
Transportation wheels and steel toe caged pedals
LCD monitor and multi use holder
Expensive
Assembly required
Key Specs
| | |
| --- | --- |
| Material: | Alloy steel |
| Drive System: | Belt |
| Flywheel Weight: | 35 lbs. |
| Max. Weight Capacity: | 280 lbs. |
| Item Dimensions: | 49.9 kg; 109 x 50 x 108 cm |
If you're an avid athlete who likes to push themselves to the limit and need a bike that can keep up, this JOROTO bike is up for the challenge. It features a four-way adjustable handlebar and seat, a digital monitor and dual water bottle holder. Equipped with a 35-pound flywheel and adjustment knobs under both front and rear stabilizers, you can keep this bike sturdy on any surface.
6. Also Consider: Schwinn Indoor Cycling Bike Series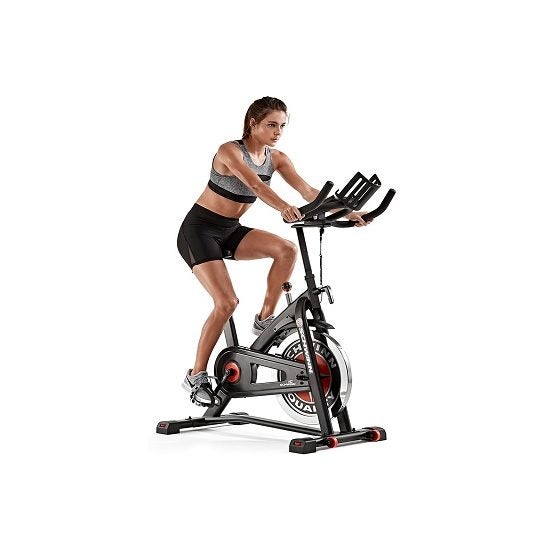 Includes two three-pound dumbbells and Bluetooth HR armband
Backlit LCD Monitor
Quiet magnetic resistance
SPD compatible foot pedals and transportation wheels
Compatible with popular workout apps
Expensive
Apps not included in purchase
Assembly required
Key Specs
| | |
| --- | --- |
| Material: | Other |
| Max. Weight Capacity: | 149.69 kg |
| Flywheel Weight: | 40 lbs. |
| Item Weight | 48.08 kg |
| Item Dimensions: | 121.41 x 53.85 x 131.57 cm |
This Schwinn IC4 Indoor Cycling Bike is compatible with popular workout apps like Peloton and Zwift so you can stream thousands of workout classes or explore trails around the world through their virtual courses.
It has a backlit LCD monitor and it includes a Bluetooth armband to track your heart rate. It also comes with two three-pound dumbbells, a racing style seat, SPD compatible pedals and dual water bottle holders.
7. Sleeper Pick: DMASUN Indoor Cycling Bike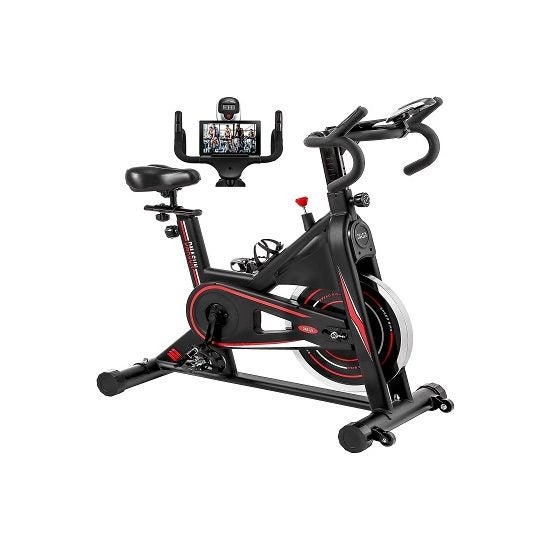 Water bottle holder
Adjustable resistance, handlebar, and seat
LCD monitor
Caged pedals and transportation wheels
Lower quality material
Short shelf life
Key Specs
| | |
| --- | --- |
| Material: | Alloy steel |
| Drive System: | Belt |
| Flywheel Weight: | 42 lbs. |
| Max. Weight Capacity: | 149.69 kg |
| Item Dimensions: | 43.1kg; 05.03 x 55.04 x 117.25 cm |
The DMASUN Indoor Cycling bike is an ideal choice for beginners and pros alike. This bike was designed with a multi-handlebar grip so whether you're sitting or standing, you can find support in every position.
Built with an alloy steel frame that can support up to 330 lbs., a 40-pound flywheel, adjustable handlebars and seats, a multi-function monitor and more, this fully equipped bike is sure to surpass all of your needs.
8. Best Foldable: XTERRA FB350 Folding Exercise Bike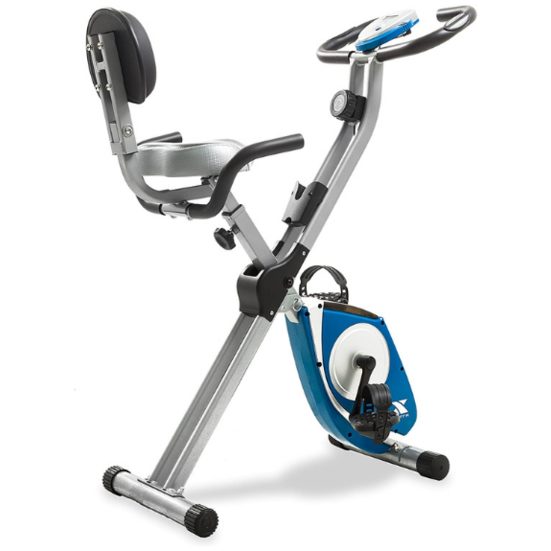 Includes a lower back pad for additional support
Padded seat handles provide extra stability
Transportation wheels, heart rate pulse grips
Easy to use console
Very light flyweight
Some users found highest levels of resistance to be limited
No preset programs
Key Specs
| | |
| --- | --- |
| Material: | Alloy steel |
| Drive System: | Magnetic, friction |
| Flywheel Weight: | 3.3 lbs |
| Max. Weight Capacity: | 225 lbs |
| Item Weight: | 14.51 kg |
If you live in a home with limited space, adding a large, bulky bike to your room may be out of the question. If this sounds like you, you may benefit from a foldable bike like this model from XTERRA. By using an "X" frame design, you can quickly and easily close up the bike so that it only takes up about 20-inches by 20.5-inches of floor space. It also features handy transport wheels to make storing your bike easy and effortless.
Although it may not have the largest display screen, it does have eight levels of resistance, a smooth flywheel and a comfortable (and adjustable) cushioned seat.
What to Look for in a Spin Bike
Flywheel Weight
A bike's flywheel refers to the weighted wheel typically found at the front of the bike that moves once you start to pedal. The weight of the wheel has a direct effect on how smooth the bike will move — basically, the heavier the flywheel, the smoother you'll find pedalling is. When shopping for a bike, try and avoid models with light flywheels (i.e. no lighter than 35 pounds).
Resistance
There are a few different resistances styles used on bikes that change depending on how cheap or expensive the bikes are. Low end models use cable resistance which works by putting pressure on the wheel to slow it down, but isn't always reliable because the cable may slip and slide off of the wheel which renders itself useless.
Another form of resistance mechanisms are manual screws, which use a knob to adjust the resistance levels. On the opposite end of the spectrum, expensive bikes use electronic magnets or magnetic resistance that slowly apply pressure to slow down the flywheel.
Adjustable Seat
Choosing a bike that allows you to alter the placement of the seat is an important factor to consider. Making sure that you're seated comfortably and in the right position is vital and can help limit the risk of injury.
Most bikes have seats whose heights can be adjusted, and now it's also quite common for seats to be able to be moved forward and backwards, also known as fore and aft, which is a great feature if the bike is going to be used by people with different heights and sizes.
Adjustable Handlebars
Similar to adjustable seats, making sure you can move your handlebars is vital to ensuring a comfortable ride. Your handlebars should be able to adjust into a variety of different angles to compensate for seated and standing riding, as well as people with longer or shorter arms.
Drive Train Mechanism
The drive of a bike refers to the section that connects the pedals with the crank. Spin bikes use one of two versions — chain or belt based systems. Belt based systems are typically quieter, easier to adjust, and require less maintenance in the long run.
However over time, belt systems can stretch and begin to slip which may lead to a bumpy ride. Chain systems require a little more maintenance, but are more likely to stand the test of time.
Bike Pedals
Most bikes use toe straps on their pedals to keep you secure while you're riding. For more serious riders, look for SPD pedals to make sure that your bike is compatible with your cleats.
Bottle Holder
Being able to grab a quick sip of water while pedalling is a great feature that you'll be thankful for mid workout. Make sure when you're buying a bike that the placement of the water bottle holder is somewhere that's easy to reach so you don't have to strain or stop pedalling to get a drink.
Transportation Wheels
Indoor and especially spin bikes are quite heavy and can be difficult to move. A common, important feature to look for when shopping is wheels that are attached to the base of the bike that make moving the machine easy. This will come in handy for people who have limited space and need to store their bikes after each use.
Leave a Comment
We're always looking for more feedback! If you own one of these items and would like to share your experience, please comment below!
About the Author
Carlen Oliveira is a graduate from Ryerson University's RTA Sport Media program and is currently working as a writer based out of Toronto. She has an avid interest in all things sports and finding engaging new ways to workout. With limited access to gyms and friends during the pandemic, she discovered her love of individual activities like yoga and skipping, which push her both mentally and physically. When she's not writing or working out, you can find her exploring the outdoors and travelling, come rain or shine… and especially snow!
RedFlagDeals.com is reader-supported. We are a participant in the Amazon Services LLC Associates Program and other similar affiliate advertising programs. These programs are designed to provide a way for sites to earn advertising fees by linking to them. This means that RedFlagDeals.com will sometimes get a small commission if you make a purchase through our links.