The Best Wireless Mice
Table of Contents
In this day and age, it can feel pretty old school to be using a mouse with a wire — reduce your cable clutter and help keep your space organized with one of these wireless mice. Whether you're looking for a new wireless mouse to help you beat your enemies in your favourite video game, or if you want one to use with your laptop instead of a trackpad, you'll find a great option on this list that we've gathered together for you.
If you're stumped on what kind of mouse you want to buy, we've put together a little guide at the end of this article to help you make your decision — learn all about what benefits you'll get with a wireless mouse, and what some of the differences between a gaming mouse and an office mouse are. We've also outlined some key features you should keep in mind, like the mouse's hand orientation and how many buttons are available, so that you can purchase the right one for your needs.
1. Editor's Pick: SteelSeries Aerox 3 Wireless - Super Light Gaming Mouse
Strong RGB lights with great illumination, day or night
Comfortable in your hand
Lightweight, glides across your mousepad
Good for anyone with larger hands
Long battery life
Key Specs
| | |
| --- | --- |
| Hand Orientation: | Right |
| Buttons: | 6 |
| Connectivity: | 2.4GHz Wireless, Bluetooth 5.0 |
| Product Dimensions: | 12.07 x 6.71 x 3.81 cm |
| Product Weight: | 68.04g |
If you're looking for a top-notch wireless mouse for gaming, check out the SteelSeries Aerox 3 Wireless Gaming Mouse first; it feels exceptionally light under your hand, and it has a variety of features that make it special.
Competitive gamers know how important it is to have a responsive mouse that's easy to move — a split second difference could greatly affect the outcome of many video games. That's why the lightweight design of this mouse, with its mesh patterned top, is a great wireless mouse choice for gamers, even though it's a little pricey. There are three RBG lighting zones to improve the aesthetics of your computer set up, and there are glide skates on the bottom which help give you controlled and smooth mouse movements.
This mouse even has some water and dust protection, so it's not likely to be ruined forever if you accidentally spill your drink on it.
2. Runner Up: Corsair Harpoon RGB Wireless Rechargeable Mouse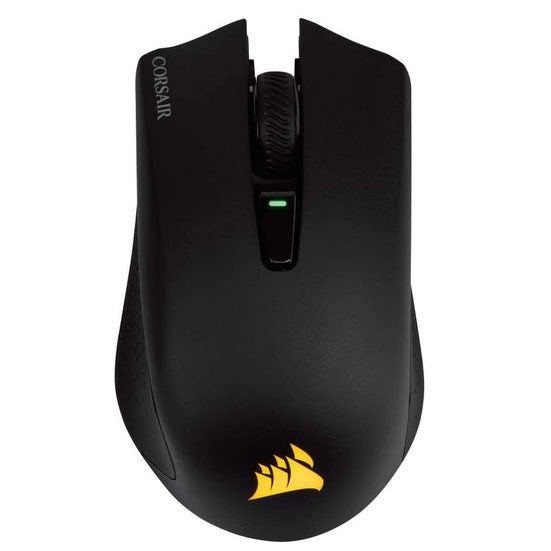 Ergonomic design that's comfortable to hold
Programmable buttons and RGB lighting
Responsive and precise movements
Good build quality
Option to use wired
A little small for anyone with larger hands
Key Specs
| | |
| --- | --- |
| Hand Orientation: | Right |
| Buttons: | 6 |
| Connectivity: | 2.4GHz Wireless, Bluetooth |
| Product Dimensions: | 11.56 x 6.83 x 4.04 cm |
| Product Weight: | 99.79g |
If you're looking for a more affordable gaming mouse than our top pick, the Corsair Harpoon RGB Wireless Mouse is our next favourite option — it has a lightweight construction too, and quick connection speeds.
This mouse has an easy set up process once you plug in your wireless adapter, and with Slipstream Wireless technology, you'll have a fast and stable wireless connection that isn't likely to lag or drop. It's not quite as light as our top pick, but it still weighs less than 100g — you'll be able to play longer without experiencing noticeable arm fatigue. It's designed with comfort in mind through a contoured shape and side grips made of rubber on the side, so you'll be comfy even after long hours at the computer. If you have other Corsair products, it's easy to sync up the RBG lighting with your other computer components to enhance the look and vibe of your desk.
3. Best for Laptops: Microsoft RJN-00013 Bluetooth Mouse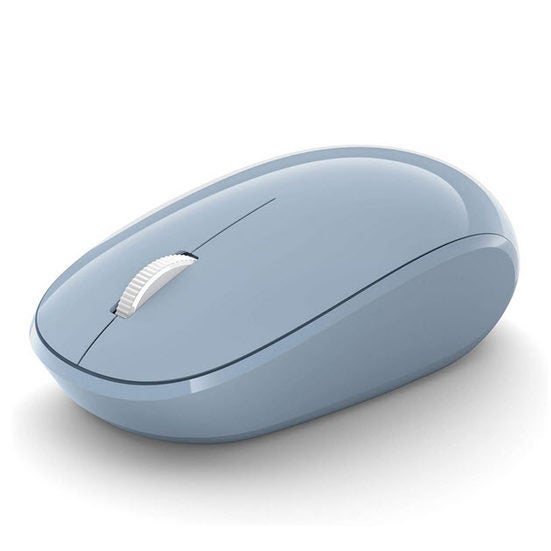 Affordably priced
Compact and modern design
Available in a variety of fun colours
Stable wireless connection
Fast tracking sensor
No programmable buttons — not the most suited for gaming
Key Specs
| | |
| --- | --- |
| Hand Orientation: | Right |
| Operating System: | Windows |
| Connectivity: | Wireless, Bluetooth 5.0 |
| Product Dimensions: | 5.82 x 3.84 x 10.39 cm |
| Product Weight: | 77.11g |
The Microsoft RJN-00013 Bluetooth Mouse is a colourful option that will pair perfectly with your laptops, and they're light and compact enough to take along with you on all your adventures.
Maybe you aren't looking for a mouse built for gaming, and just want something simple and reliable to get you through the workday on your laptop — that's where this mouse comes in. It has swift pairing which makes it easy to connect to your Windows laptop, and a decent quality sensor that'll accurately track your movements once it's connected. If you're the type of person who loves vibrant colours, you'll appreciate the glossy colours that this mouse is available in — we're loving the pastel blue in particular.
While it's not advertised for Apple computers, many users had success using this mouse with their MacBooks, too.
4. Best Ambidextrous: Logitech M525 Wireless Mouse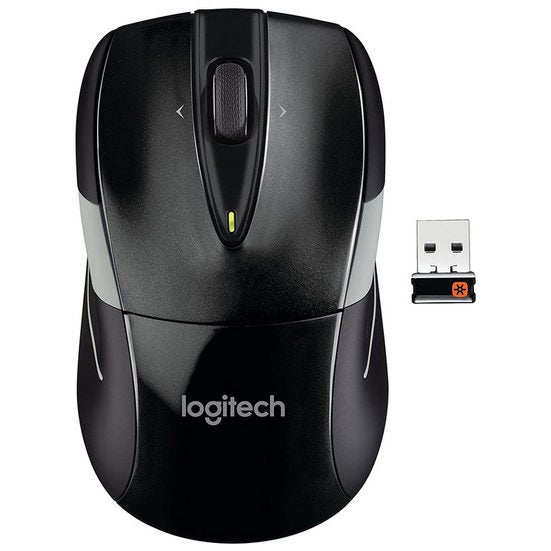 Great for left-handed users
Easy to use, and reliable
Comfortable to hold for hours
Durable construction
Long battery life
Good for general or office use — not suited for gaming
Doesn't have a modern design
Key Specs
| | |
| --- | --- |
| Hand Orientation: | Left, Right |
| Operating System: | Windows, Mac OS |
| Connectivity: | Wireless |
| Product Dimensions | 5.69 x 3.84 x 10.16 cm |
| Product Weight: | 127.29g |
It can be tough to find a left-handed mouse that's practical and affordable — if you're a leftie, take a look at the Logitech M525 Wireless Mouse. It's perfect for your home, or the office.
This mouse definitely isn't a looker, but if you're a leftie who wants a mouse that'll feel comfortable without the need to alter any computer settings, you'll appreciate this offering from Logitech. It has an ergonomic shape no matter what hand orientation you need, and it feels comfortable to hold even after long periods of use.
This mouse uses removable batteries, but it uses them efficiently and can go a couple years — they advertise up to three based on your usage — without needing to change them. It also uses a Unifying USB receiver, which means you can also connect a Unifying-compatible keyboard, or quickly switch between other mice, using only one USB port — no more clogging up all your valuable ports.
5. Most Ergonomic: Kensington Ergonomic Vertical Wireless Mouse
Ergonomic design that keeps your hand angled on a slope
Good grip, even for users with small hands
Pinky finger support
Auto sleep modes help save battery
Reliable wireless connection
Mouse's sensor isn't the most sensitive or responsive
Not suitable for gaming
Key Specs
| | |
| --- | --- |
| Hand Orientation: | Right |
| Buttons: | 6 |
| Connectivity: | Wireless |
| Product Dimensions: | 16.51 x 10.67 x 9.65 cm |
| Product Weight: | 204g |
It may look strange, but the Kensington Ergonomic Vertical Wireless Mouse is an upright model that is actually perfectly shaped for your hand and wrist — if you experience discomfort after long hours at the computer, consider this mouse.
This mouse may not have the fastest or most accurate tracking around, but if you're working long hours and you're developing any arm or wrist pain from your current mouse, it might be time to try an ergonomic mouse like this one. It keeps your hand in a handshake position while using it, which is a comfortable posture to be holding for hours because it doesn't twist your wrist like a flat mouse.
It's easy to set this wireless mouse up — just plug it in and use right out of the box, and once it's connected it has quite a reliable connection with minimal drops.
6. Also Consider: Razer Basilisk X Hyperspeed Wireless Gaming Mouse
Programmable buttons
Low latency wireless connection
Long battery life
Slick design
Highly accurate sensor
Heavy
Some users experienced occasional Bluetooth disconnects
Key Specs
| | |
| --- | --- |
| Hand Orientation: | Right |
| Buttons: | 6 |
| Connectivity: | Wireless, Bluetooth |
| Product Dimensions: | 7.52 x 13 x 4.24 cm |
| Product Weight: | 198g |
The Razer Basilisk X Hyperspeed Wireless Gaming Mouse is another great gaming mouse on our radar — even though it's a little heavy, you'll get a lag free connection and a long battery life.
This wireless mouse boasts a whopping 450-hour maximum battery life, so the chance of needing to recharge in the middle of your gaming session is low. It has an advanced sensor, so getting accurate mouse movements in your gameplay is easy — you don't want to be hindered in your video games from poor performing tech. There are six programmable buttons on the mouse, so you can customize them however you need. We recommend using the wireless mode if possible — Bluetooth can occasionally disconnect, and it's usually more prone to latency.
7. Best Print: Logitech Wireless Mouse M317 - Lemon
Features a fun print
Good for small hands
Easy to use
Stable Bluetooth connection
Affordably priced
Probably too small for anyone with larger hands
Key Specs
| | |
| --- | --- |
| Hand Orientation: | Ambidextrous |
| Buttons: | 3 |
| Connectivity: | Wireless, Bluetooth |
| Product Dimensions: | 5.49 x 3.89 x 9.5 cm |
| Weight: | 81.65g |
Maybe you just need a basic wireless mouse and aren't fussed about all the extra features — this is a great one to consider, since it features a bold, colourful print that'll bring a fun vibe to your computer space.
There are three prints in total to choose from, but if you aren't feeling that adventurous, there are four solid colours to choose from too, like blue or violet. It's a small and portable option as well, which makes it easy for students to carry it from the dorm room to the lecture hall in their pack. The connection can be maintained up to 33 feet away, which is pretty cool if you ever find yourself that far from your screen, and the mouse can be used with all major computer systems, like Windows, Mac, Linux, and Chrome OS computers.
There's a pre-installed battery that you'll need to replace when it dies, but it should last you up to twelve months, depending on how often you use it.
8. Also Popular: Razer Mamba Wireless Gaming Mouse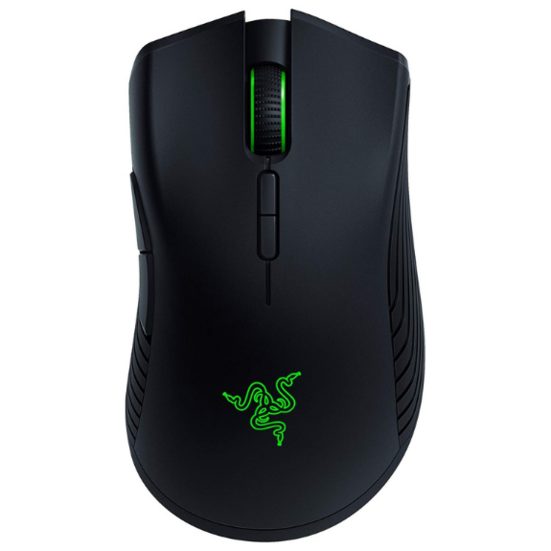 Ergonomic design
Cool RGB lighting
Very precise sensor
Option to use it wired
Fits great in bigger hands
A tad expensive for a mouse
Key Specs
| | |
| --- | --- |
| Hand Orientation: | Right |
| Buttons: | 7 |
| Connectivity: | Wireless, Wired |
| Product Dimensions: | 4.32 x 12.5 x 6.99 cm |
| Weight: | 136.08g |
Here's another Razer wireless mouse to check out, that many people love — it has plenty of reprogrammable buttons, a high-precision sensor that you can adjust to your liking, and beautiful RGB lights.
As with most Razer products, there are 16.8 million colour combinations you can create with Chroma, and it includes some preset options if you don't want to do any work. The mouse itself has an ergonomic design that's comfy on the wrist, even after long hours gaming in front of the computer screen, and there are rubberized side grips that reduces hand fatigue. You'll also find that the scroll wheel has ridges, which increases your grip and gives you more control, which is ideal in high stakes gaming where every ounce of precision could lead you to victory.
You should be able to get around 50 hours of gameplay on a single charge, too, which is quite long, so overall it's a really handy mouse.
What are the Pros and Cons of a Wireless Mouse?
It's a great feeling to not feel tied down by your mouse wire, and your desk space can look much less cluttered without it, which are the main benefits of a wireless mouse. They can also be used at a much greater distance, so if you need a mouse to work your television set or monitor from farther away, you'll appreciate the convenience of a wireless model.
The two major cons you might experience are connection issues and battery life. Since they aren't hooked up with a wire, these mice can be more prone to occasional disconnections, especially if there's interference around you, and generally there's a tiny bit of lag that you wouldn't notice with a wire. You'll also need to manage your mouse's battery life, and make sure that it's charged up when you need it.
Should I Get a Gaming or Office Mouse?
Gaming mice are generally built with higher tracking abilities, which means they're more sensitive to your movement and can move the cursor faster. Gaming mice also have more buttons available that generally you can reprogram, so you can customize your actions in game. Aesthetically, gaming mice often have bright RGB lights, which can look cool on your desk. They're usually more expensive than regular office mice, though, so you'll need to leverage your budget with the features you want.
Features to Keep in Mind
Hand Orientation: Unfortunately, most mice are designed to only fit right hands ergonomically, but if you're a leftie there are still options for you. There are lots of mice that are ambidextrous, which means they're designed to work for both hand orientations, but you could also use a right-handed mouse and reprogram the buttons — depending on the mouse this might not be the comfiest solution, but many have a shape that will still feel natural in your left hand.
Buttons: If you need a wireless mouse for gaming, you should try to find one with as many reprogrammable buttons as possible — depending on the games you play, they can really help you out by setting up shortcuts to access your skills or abilities quicker, and that split second difference can edge you out over your competitors.
Connectivity Technology: The main two forms of wireless connection you'll find for these mice is 2.4GHz wireless or Bluetooth. Wireless tends to have a more stable connection, and less latency, but keep in mind that you'll need to have a USB port free on your device to hook it up. Bluetooth is very convenient, and you can easily hop from device to device with it, but the connection can be less stable — you might experience some occasional disconnects.
Leave a Comment
We're always looking for more feedback! If you already own one of these wireless mice and you would like to share your experience with it, or if we missed your favourite one, please tell us your story in the comments below.
About the Author
Michael Pilon is a writer based in Toronto, who loves everything tech, gaming, and digital art. With two years of professional writing experience and a lifetime of learning about new gadgets, he aims to provide helpful, accurate stories. He received his Bachelor of Arts in English and media studies from the University of Toronto, and a Master of Arts in fashion from Ryerson University, exploring digital and technological applications throughout. When he isn't writing, you can find him playing the newest fantasy and horror games, or out discovering new coffee shops in the city.
RedFlagDeals.com is reader-supported. We are a participant in the Amazon Services LLC Associates Program and other similar affiliate advertising programs. These programs are designed to provide a way for sites to earn advertising fees by linking to them. This means that RedFlagDeals.com will sometimes get a small commission if you make a purchase through our links.