The Best Wireless Earbuds
Table of Contents
Thanks to smartphones, most of us have a portable music player in our pockets every single day. Popular music streaming services, such as Spotify and Pandora, have changed the way we listen to music or podcasts, making it more convenient than ever before. But to truly get the best listening experience, you have to invest into a set of earbuds and nowadays, that means wireless ones.
If you've already begun shopping for earbuds, you've probably noticed there's a wide selection of options out there. How do you narrow down your choices and choose just one? In this article, we'll list our top picks for the best earbuds—focusing on wireless options—and offer you plenty of information on what to consider when shopping for a pair.
1. Editors Pick: Cambridge Audio Melomania 1+ True Wireless Earbuds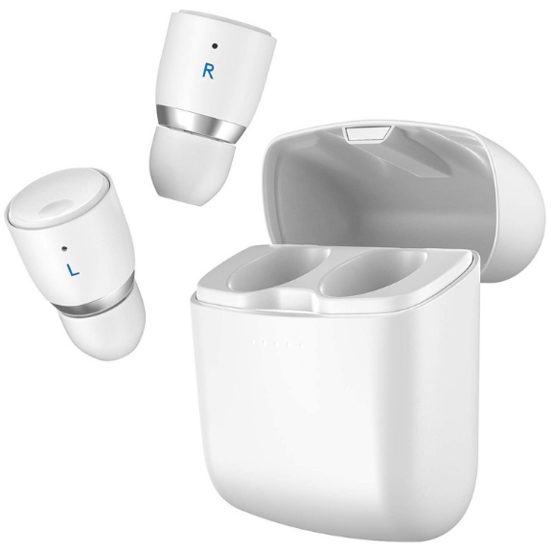 IPX5 water resistant
Active Noise Cancelling
Up to 45 hours of playtime with case recharging
Graphene-enhanced 5.8mm drivers for great sound performance
No dedicated app
Subpar microphone performance for phone calls
Key Specs
| | |
| --- | --- |
| Model: | Melomania 1+ |
| Connectivity: | Wireless, Bluetooth 5.0 |
| Battery Life: | Up to 9 hours (45 hours with case charging) |
The Melomania 1+ from Cambridge Audio offers up to nine hours of playback before they need to be recharged. The case is capable of charging the earbuds up to four times, which means you can have up to 45 hours of playtime before having to recharge the case. It takes about 30 minutes to fully charge the earbuds and about two hours to charge the case.
Powered by graphene-enhanced 5.8mm drivers, these earbuds deliver surprising performance in a small, lightweight package with each earbud weighing just 4.6g. They are IPX5 water resistant and premium features include Active Noise Cancelling, compatibility with voice assistants (Siri, Google Assistant) and Bluetooth 5.0 connectivity.
2. Runner Up: Samsung Galaxy Buds+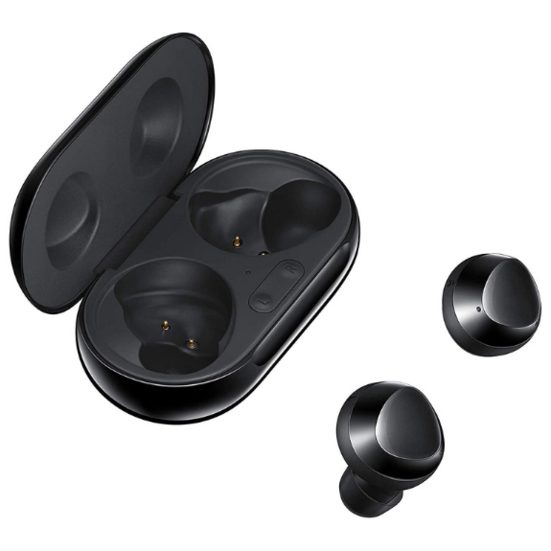 Three-mic setup for crystal clear calls
Two-way speakers by AKG for great sound quality
Control ambient sound to be more aware of your surroundings
No active noise cancelling
Case only provides one full charge
Key Specs
| | |
| --- | --- |
| Model: | Samsung Galaxy Buds+ |
| Connectivity: | Wireless, Bluetooth 5.0 |
| Battery Life: | Up to 11 hours (22 hours with case charging) |
While we understand that most people shopping for earbuds have sound quality as their main concern, some will likely use their earbuds to make phone calls. One major weakness on many earbuds is their sound quality when it comes to taking phone calls, as their focus is typically on output rather than input. Samsung addresses that issue by equipping its Galaxy Buds+ with three microphones to clearly capture what you're saying.
These wireless earbuds are equipped with two-way speakers by AKG, providing rich treble and deep bass in a small package. Get up to 11 hours of playtime on a single charge, which can be extended to 22 total hours by charging the earbuds in the case. This recommendation also allows you to turn up ambient sound, in case you need to pay attention to your surroundings.
Since this is our top pick for phone calls, it's worth highlighting why. The Galaxy Buds+ use an adaptive three-microphone system featuring two outer mics that work together with the inner mic to block out surrounding sounds. This way, it adapts to the noise around you to ensure your voice comes through crystal clear on the other end.
3. Best for Active Lifestyle: Jabra Elite Active 75T
4-microphone setup
2-year warranty against dust and sweat
IP57 rating—waterproof and sweatproof
Customizable ANC and HearThrough modes
Average battery life
Sensitive buttons
No wireless charging for case
Key Specs
| | |
| --- | --- |
| Model: | Jabra Elite Active 75T |
| Connectivity: | Wireless, Bluetooth 5.0 |
| Battery Life: | Up to 7.5 hours (28 hours with case charging) with ANC disabled |
If you're looking for a set of earbuds as a companion to your workouts, consider Jabra's Elite Active 75T. Designed for the active lifestyle, the Jabra Elite Active 75T is one of the most comfortable earbuds on our list and have an IP57 rating so they're fully waterproof and sweatproof. The company is so confident in how durable they are that the Elite Active 75T is backed by a two-year warranty against dust and sweat.
Another premium feature is Active Noise Cancellation (ANC), which is customized through the Jabra app based on your listening preferences. In terms of battery life, the Elite Active 75T offers up to 7.5 hours of continuous use or up to 28 hours with the charging case—with ANC turned off. If you have to be more aware of your surroundings, these earbuds also offer a feature called HearThrough mode, which lets in ambient noise. It is also customizable based on your preferences.
When it comes to phone calls, these earbuds perform better than your average pair thanks to a 4-microphone setup. You can also use them with your favorite voice assistant, whether that's Amazon Alexa, Siri or Google Assistant.
4. Best for Audiophiles: Sony WF-1000XM3
Fantastic audio quality
Intuitive and user-friendly app
Adaptive Sound Control
DSEE HX upscales compressed audio
No water/sweat resistance
Sensitive buttons
No wireless charging for case
Key Specs
| | |
| --- | --- |
| Model: | Sony WF-1000XM3 |
| Connectivity: | Wireless, Bluetooth 5.0 |
| Battery Life: | Up to 8 hours (32 hours with case charging) with noise cancelling disabled |
Care more about audio quality than anything else? Immerse yourself in your music with Sony's WF-1000XM3 — powered by 0.24-inch drivers designed to deliver rich, clear and expansive sound. Contributing to sound quality is the company's HD Noise-Cancelling Processor QN1e, which combines Digital Noise Cancellation, 24-bit Audio Signal Processing and a Digital-to-Analog converter with headphone amplifier to minimize distortion. In addition, these earbuds use Digital Sound Enhancement Engine HX (DSEE HX) to upscale compressed digital music files, which brings them closer to the quality of High-Resolution Audio.
On a full charge, these earbuds provide up to eight hours of listening, with noise cancelling turned off. The charging case is capable of providing three additional charges for a total of up to 32 hours of play time. If you wish to use noise cancellation, expect to lose about two hours of power per charge. If you are out of juice, a 10-minute quick charge will give you up to 90 minutes of listening time.
When using the Sony Headphones Connect app, you can take advantage of Adaptive Sound Control, which will automatically detect what's going on around you and adjust the ambient sound settings for the situation. From travelling to walking, you can customize the settings based on your preferences, depending on whether or not you need to be more aware of your surroundings. These earbuds are compatible with your favorite voice assistant, including Alexa, Siri and Google Assistant.
5. Best for iPhone: Apple AirPods Pro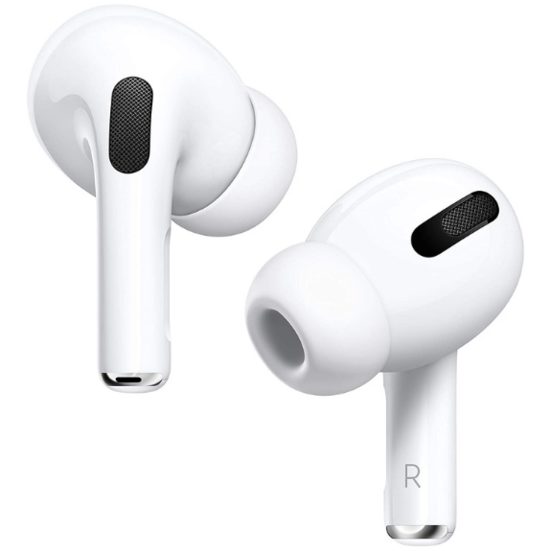 Ideal for Apple device owners
Adaptive EQ adjusts audio to your ear
Real-time noise cancellation and Transparency modes
Apple premium price
Below average battery life
Key Specs
| | |
| --- | --- |
| Model: | Apple AirPods Pro |
| Connectivity: | Wireless, Bluetooth 5.0 |
| Battery Life: | Up to 5 hours (24+ hours with case charging) with ANC and Transparency disabled |
We'd be amiss not to include the Apple Airpods Pro on our list of the best earbuds. The original Apple Airpods really pushed the wireless earbuds market forward and the latest AirPods Pro remains one of the most popular options today. These earbuds take advantage of Adaptive EQ, which automatically tunes your music to the shape of your ear, delivering a rich and consistent listening experience. Helping contribute to clear sound is a high dynamic range amplifier, which powers the speaker driver to remove background noise.
The AirPods Pro features an Apple-designed H1 chip that employs 10 audio cores to create incredibly low audio processing latency. This allows the earbuds to have real-time noise cancellation that continuously adapts to your ear to block out what's going on around you. Of course if you need the opposite, there's Transparency mode that lets outside sound in, so you can be more aware of your surroundings. These earbuds have an IPX4 rating for sweat and water resistance.
With this option, you'll get up to 4.5 hours of listening time on a single charge, and more than 24 hours of total listening time with additional charges from the case. This improves slightly if you turn off ANC and Transparency. If you're in a hurry, five minutes of charging will get you about an hour of listening time. Of course, the AirPods Pro takes full advantage of Apple's Siri and any other Apple devices you may own. They'll automatically switch seamlessly between your iPhone, Apple Watch, iPad and Mac when connected to multiple devices.
6. Best Budget Pick: EarFun Free Pro Wireless Earbuds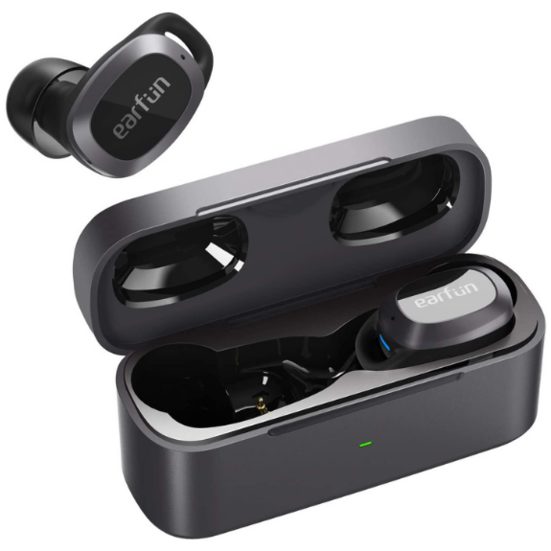 IPX5 rated
4-mic noise cancelling technology
Multiple earbuds to customize fit
Low latency mode
Lacks ANC
No touch control to skip to previous track
Key Specs
| | |
| --- | --- |
| Model: | EarFun Free Pro |
| Connectivity: | Wireless, Bluetooth 5.2 |
| Battery Life: | Up to 7 hours (32 hours with case charging) |
For those of you looking for a budget-friendly pair of wireless earbuds, this EarFun Free Pro model delivers quality sound, wide connectivity and ENC technology at half the price of other popular models.
These small EarFun wireless earbuds weigh in at an astonishing 0.15 ounces and use an ergonomic design to help them sit comfortably in your ears all day long. Equipped with the latest Bluetooth 5.2 tech, these lightweight earbuds can connect to any Bluetooth-enabled Android, IOS or Windows device. Dual composite dynamic drivers provide you with balanced, crystal clear sound and high-resolution bass.
Love talking on the phone? These earbuds use a four-microphone array and anti-noise technology to block out any background noise up to 28dB to make your voice 3X clearer.
7. Also Consider: 1MORE ColorBuds True Wireless Earbuds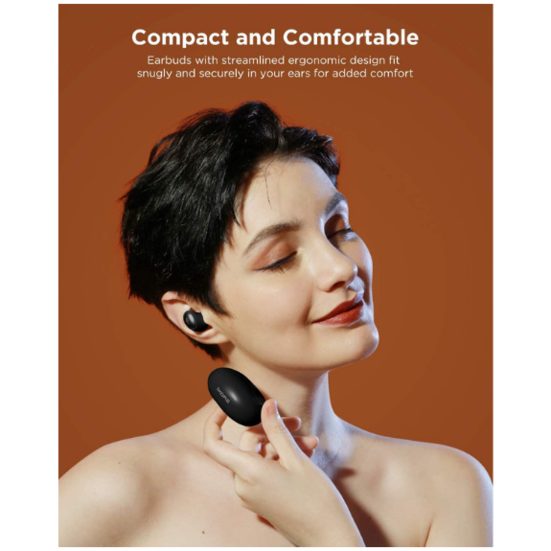 IPX5 rating
Lightweight and portable
Infrared sensor for smart playback
Limited touch button controls
Minimal bass
Key Specs
| | |
| --- | --- |
| Model: | 1MORE ColorBuds |
| Connectivity: | Wireless, Bluetooth 5.0 |
| Battery Life: | 22 hours with case charging |
With an IPX5 rating, hassle-free pairing and a streamlined design, these comfortable 1MORE ColorBuds True Wireless Earbuds make for a great versatile set of earbuds to use at the gym, at work, or while relaxing at home.
Although a lesser known brand, these 1MORE ColourCuds True Wireless Earbuds deliver some top-notch sound quality without breaking the bank. Built with full-range balanced armature, these comfortable earbuds produce high definition and sensitivity sound that may surprise you. Its pocket sized charging case makes for easy transportation while its ergonomic design gives you an earbud that sits comfortably in your ear.
In addition, by combining four powerful microphones with cVc 8.0 Environmental Noise Cancelling technology, your phone calls will sound clear as day.
8. Best Noise Cancelling: Bose QuietComfort Noise Cancelling Earbuds
IPX4 rating
Transparency mode
Compatible with Q-i certified wireless charging mat
Key Specs
| | |
| --- | --- |
| Model: | Bose QuietComfort Earbuds |
| Connectivity: | Wireless, Bluetooth 5.1 |
| Battery Life: | Up to 6 hours (18 hours with case charging) |
Last but certainly not least — the Bose QuietComfort Noise Cancelling Earbuds. If you need to block out your surroundings, or simply want amazing sound for all of your music, podcasts and movies, these earbuds use exclusive acoustic architecture, Volume-optimized Active EQ and an adjustable transparency mode to deliver top notch sound quality.
To ensure a comfortable and secure fit, these headphones include three different sizes of their StayHear silicone ear-tips. Compatible with both IOS and Android devices, you can enjoy simple touch controls, up to six hours of battery life off of one charge, and noise rejecting microphones with these luxury earphones.
Frequently Asked Questions About Wireless Earbuds
The growing popularity of wireless earbuds means there are plenty of options to choose from, with prices ranging from extremely affordable to eye-poppingly expensive. Looking for more? Check out some of the frequently asked questions from our readers.

Would you like Active Noise Cancellation?

Think about the environment you'll most often use your earbuds. If you want to block out the world around you so that you're fully immersed in your tunes, you'll want a pair of earbuds equipped with Active Noise Cancellation. This technology helps block out ambient noise, so you can focus solely on your music.

How much battery life do you need?

As you can tell, even from our recommendations, battery life for earbuds can vary wildly. If you know you'll need to go an extended period of time before charging, make sure you get an option that will last you the entire day. For some, charging in the case is convenient, but not everyone may want to carry their case with them. Also, make sure to check the claims of how much battery life you could get from a few minutes of charging—if that's important to you.

Do you make a lot of phone calls?

It's not a focal point for a lot of shoppers, but for those who make or receive plenty of phone calls, you may want a pair of earbuds that focuses on microphone audio quality. Truth be told, some of the best-sounding earbuds come with a below average microphone. Keep that in mind if input is more important than output.

Love to use a Voice Assistant?

If you're constantly asking Alexa, Siri or your Google Assistant questions throughout the day or prefer voice-activated commands to control your smartphone, you'll want a pair of earbuds that are compatible with your favorite voice assistant. Most premium recommendations will be compatible, but it's always worth double checking.

What about water resistance?

If you're primarily using your earbuds as a companion for trips to the gym, make sure you're getting an option that is water and sweat resistant. Look for the IP rating to determine just how durable they are. The first number in the rating specifies dust resistance on a scale of 0 to 6, while the second number is water resistance, on a 0 to 7 scale. If you see an X after the IP, it means the earbuds are not resistant to dust. We recommend a minimum rating of 4 for water resistance if you're planning to come in any contact with water or sweat.
Leave a Comment
Do you own any of these earbuds? Do you agree with the review? Comment below and let us know!
About the Author
Michael Pilon is a writer based in Toronto, who loves everything tech, gaming, and digital art. With two years of professional writing experience and a lifetime of learning about new gadgets, he aims to provide helpful, accurate stories. He received his Bachelor of Arts in English and media studies from the University of Toronto, and a Master of Arts in fashion from Ryerson University, exploring digital and technological applications throughout. When he isn't writing, you can find him playing the newest fantasy and horror games, or out discovering new coffee shops in the city.
RedFlagDeals.com is reader-supported. We are a participant in the Amazon Services LLC Associates Program and other similar affiliate advertising programs. These programs are designed to provide a way for sites to earn advertising fees by linking to them. This means that RedFlagDeals.com will sometimes get a small commission if you make a purchase through our links.