The Best Wiper Blades
Table of Contents
You probably don't need to hear it from us, but safety should be your top priority when driving. That's why windshield wiper blades are one of the most important parts on your vehicle, ensuring you have good visibility of the road in front of you. Depending on where you live, there's a possibility your wiper blades are being used throughout the year. As you can imagine, many car accidents are caused by poor visibility, which is why a good set of wipers is essential for a safe driving experience.
Your windshield wipers should be considered a regular maintenance item — you really don't want to wait until a giant storm to realize your wiper blades need replacing. It's one component that experiences wear and tear on a daily basis, even if they're not being used. That's because the sun's harmful UV rays can damage the rubber used on a wiper blade, causing them to perform poorly when you actually need them.
Choosing the right wiper blade largely comes down to your needs and the conditions you're driving in. If you're experiencing snow and ice on a daily basis, you'll want to ensure your blades are protected against those elements. If your main concern is heavy rainfall, consider an all-season wiper that doesn't have to account for snow and ice. Below, you'll find our recommendations for the best wiper blades, along with information on how often you should change them, and how to determine the best blades for you.
1. Editor's Pick: Michelin Stealth Ultra
Easy to install
Great for all weather conditions
Durable blade technology
Not compatible with all vehicles
Key Specs
| | |
| --- | --- |
| Model: | 8526 |
| Weight: | 295g |
| Folding: | No |
Our recommended top pick is the Michelin Stealth Ultra, a hybrid-type wiper blade with an exclusive "Smart-Flex" frame design that adapts to the curve of your windshield for impressive wiping performance. Since these are hybrid blades, they combine the best features of conventional wipers and beam-style wipers to deliver proper all-weather performance.
A riveted smart hinge design offers better grip on your windshield, similar to what you'd find on conventional spring-loaded blades. Helping the blade maintain complete contact with your windshield is an independent suspension that adjusts to your windshield's shape. Delivering the anti-snow buildup features often found on a beam blade is a segmented hard cover that protects the blade from clogging with road debris, ice and snow. This makes the Michelin Stealth Ultra an ideal pick for winter use.
Each blade comes with a patented EZ Lok Connector system for easy installation. It's worth mentioning that this wiper doesn't fit every vehicle out there, so check to ensure they'll fit your car prior to purchasing. If they do work however, expect them to work for quite a while. Independent tests have shown that these wipers continue to outperform its competitors even after 300,000 wipe cycles.
2. Runner Up: Bosch ICON Wiper Blade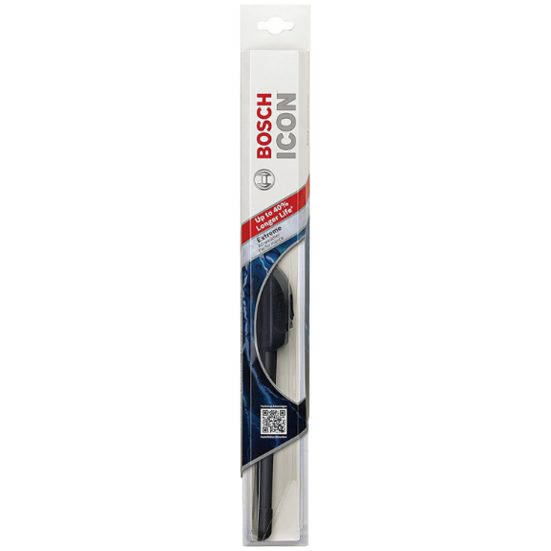 All-season wiper blades
Quieter than most
Long life span
Expensive compared to other models
Key Specs
| | |
| --- | --- |
| Model: | 26A |
| Weight: | 172g |
| Folding: | No |
If you're looking for a premium all-season option, consider the Bosch ICON wiper blade. Available in a variety of sizes ranging from 13 inches to 28 inches, this beam-style wiper uses exclusive FX dual rubber material to resist heat and ozone deterioration. According to Bosch, these wiper blades are proven to last up to 40 percent longer than other premium options. Helping deliver clean, consistent and quiet wipes is a graphite-blended natural rubber material.
This brand is well known in the automotive world for supplying original equipment (OE) parts, so you know you're getting a quality product with Bosch. Since these are beam blades, they won't be impacted by snow and ice buildup, while the bracketless design and tension springs do their job to keep the blade flexible for superior wiping performance. You'll also find an asymmetrical flexible spoiler design on this blade to ensure it performs well at high speeds.
Assuming these wiper blades fit your vehicle, installation is a snap thanks to a weather-shield, double-locking connector. This recommendation is ideal for drivers who need all-weather performance and are willing to pay a premium price.
3. Best For Rain: Rain-X Latitude Water Repellency Wiper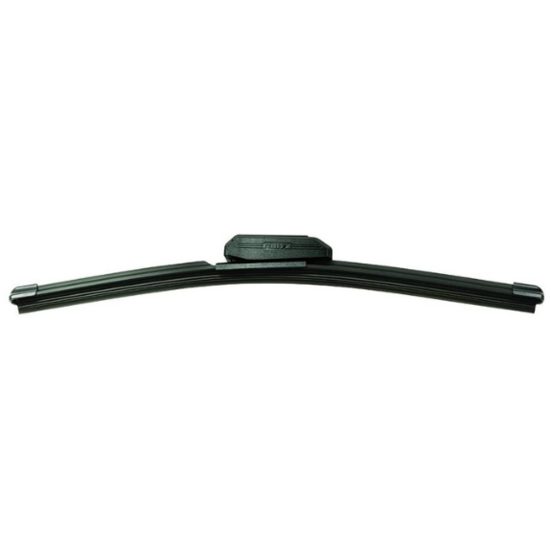 Really good for rainy seasons
Possesses water-repelling coating
Quiet wipe due to wind lift reduction
Lacks casing to prevent clogging for heavy ice and snow
Key Specs
| | |
| --- | --- |
| Model: | 079281-2 |
| Weight: | 182g |
| Folding: | No |
There's a good chance you've heard of the Rain-X brand, most well known for its water repellent formula. If you've used the product in the past and came away happy with the results, the company's Latitude Water Repellency wiper blade might be perfect for you. This windshield wiper applies a Rain-X water repelling coating straight from the wiper squeegee onto the windshield during initial use. This 2-in-1 wiper blade and rain repellent is ideal for drivers who deal with a lot of rainfall.
This is a beam-style wiper blade and it contours to the curvature of your windshield to deliver smooth and virtually streak-free wipes. It's manufactured with a synthetic blend rubber squeegee, designed to withstand extreme weather conditions. It too, has an aerodynamic spoiler to prevent wind lift at higher speeds.
Installation is straightforward thanks to a universal adaptor found on each blade. Rain-X does caution that it will fit 96 percent of all vehicles, so make sure you check for compatibility with your specific vehicle before adding it to your cart.
4. Best For Light Use: AERO Windshield Wiper Blades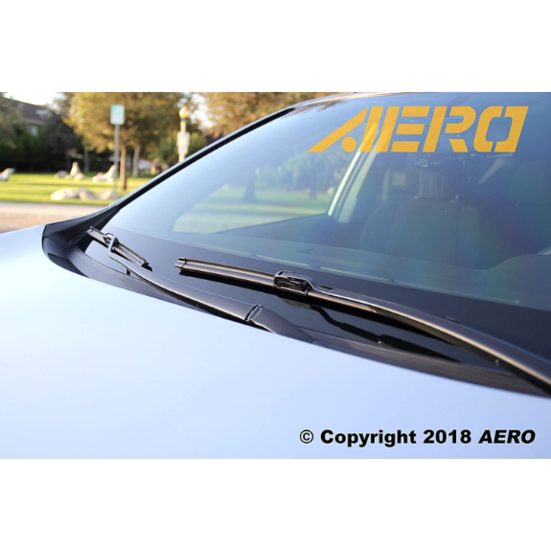 Sold in pairs
Good all-season performance
Key Specs
| | |
| --- | --- |
| Model: | Aero-26-18 |
| Weight: | 311g |
| Folding: | No |
Another all-season recommendation comes from AERO and these wiper blades are sold in pairs. That means you'll want to check to make sure the sizes you are selecting will properly fit your vehicle. Designed to be direct replacements for your factory wiper blades, AERO's offering is constructed from durable material to deliver longer performance life when compared to other conventional windshield wipers. This specially blended rubber leaves behind a smooth and chatter-free wipe.
Since this is a beam-style wiper blade, you won't have to worry too much about snow and ice buildup on the blade itself since it doesn't have a bracket. The flexible spine design helps make the blade fit the windshield better, while a focus on aerodynamics contributes to reducing drag, noise and wind lift.
Offering a good balance of performance, longevity and price, AERO's windshield wiper blades are recommended for drivers who deal mostly with rain and light snowfall, or have shorter commutes. We recommend one of our two top options for heavy winter conditions.
5. Easiest Install: ANCO 31 Series Wiper Blades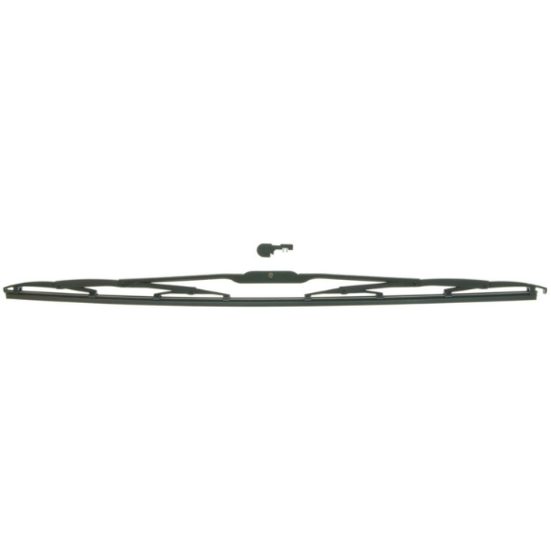 Wide range of sizes
Affordable conventional blades
Easy to install
Not ideal for heavy winter conditions
Key Specs
| | |
| --- | --- |
| Model: | 31-26 |
| Weight: | 145g |
| Exterior: | Smooth |
| Folding: | No |
So far, we've mostly covered hybrid- and beam-style wiper blades. If you're looking for an affordable, conventional wiper blade option, here it is. The 31-Series wiper blades from ANCO feature a vented bridge and high performance polymer, designed to deliver OE fit and function. These blades use an exclusive Duraklear rubber compound for a consistent, streak-free wipe, along with a poly link structure for smooth and quiet operation.
Installation is designed to be as straightforward as possible with ANCO's KwikConnect Installation System. These blades are available in sizes from 10" to 28" so there's a good chance you'll find something that fits your vehicle. Since these are conventional wiper blades, they're recommended for normal, everyday use. They're recommended for drivers who don't experience too much rain or snow on a regular basis.
In other words, they offer good performance for the price, but if you're driving through heavy rain or snow, consider one of the options towards the top of the list.
6. Longest Life: PIAA Super Silicone Wiper Blade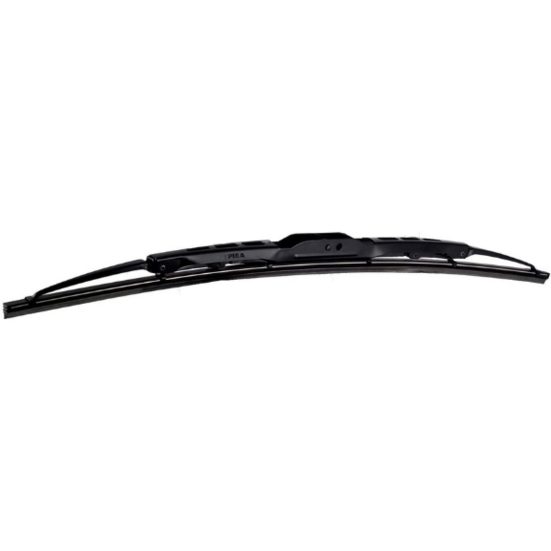 Sturdy frame
Easy to install
Made of silicone
Key Specs
| | |
| --- | --- |
| Model: | 95055 |
| Weight: | 200g |
If you've already spent some time researching replacement wiper blades, you may have come across some options that use silicone rubber in their construction. One such option comes from PIAA, a brand that has been offering aftermarket accessories for decades. Mostly known for its lighting equipment, the company's Super Silicone wiper blades are arguably one of the best silicone options available.
By using high quality silicone rubber, these blades are resistant to all adverse climate conditions, which means they can potentially last twice as long as other blades on the market. More importantly however, these blades have an activated silicone coating that makes your windshield water repellent, similar to Rain-X's solution. That means after you run the wipers dry for 2 to 3 minutes, you should expect to see water bead up and slide off your windshield.
Aerodynamically designed to keep the rubber hugging your windshield at high speeds, these blades also have their frames zinc plated and then powder coated for added resistance. This is especially important because they can use silicone wiper refills, which means you can just replace the rubber instead of the entire wiper. They're available in sizes ranging from 12" to 26" and they're sold individually. Great for shoppers who want longevity from their wipers and are comfortable with swapping out the inserts in the future.
7. Best for Rear Window: ASLAM 11A Rear Windshield Wiper Blades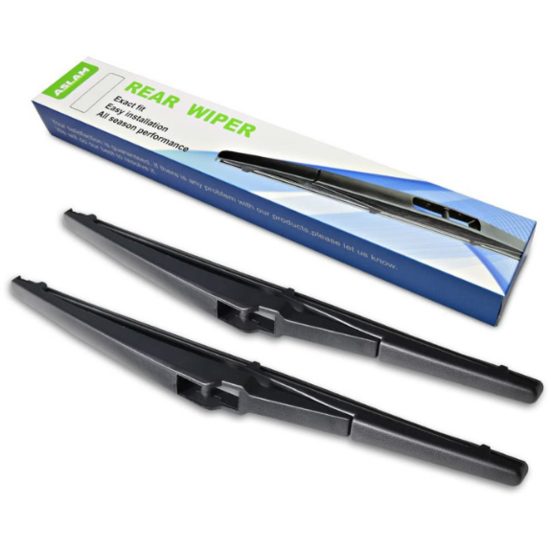 Quiet operation
No streaks
Reduced friction
Not compatible with all makes and models
Key Specs
| | |
| --- | --- |
| Model: | CA-E-11A |
| Weight: | 140g |
If you drive an SUV or a hatchback, then you know what a great feature a rear window wiper can be in the rain or when it's snowing. And even if you don't use it as often as your regular wipers, they do get worn out and need to be replaced.
This set of rear windshield wiper blades fits the Roc Loc 2 style arm and are made from a graphite-treated natural rubber to reduce noise and friction, giving you a clean wipe that leaves no streaks. They are easy to fit and install and with two in the package, you will have one on hand when it's time for a replacement.
It is important to note that if you are interested in these rear window wiper blades, you should use Amazon's size fit guide to make sure they are appropriate for the model and make of your car.
8. Also Consider: Michelin RainForce Wiper Blades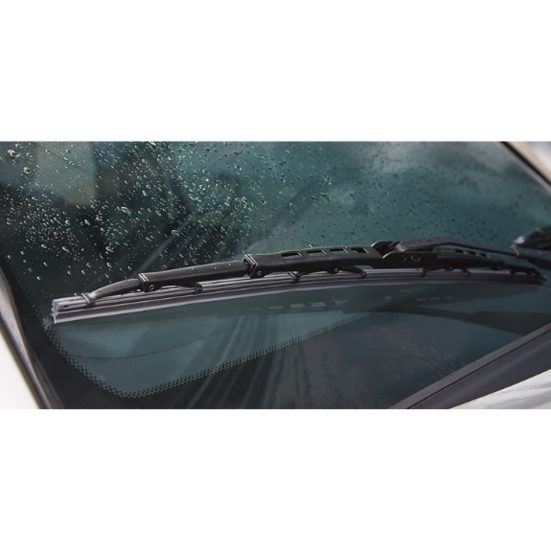 Made of compression-molded rubber
EZ-Lok technology
Stainless steel frame to prevent corrosion
Not ideal for blizzard-like conditions
Since windshield wipers are extremely important to your safety, it's understandable if you're willing to pay a bit more for better performance. But we also understand that there are shoppers out there on a tight budget, which is why we have the Michelin RainForce as an honourable mention. These are affordable, yet premium conventional wiper blades featuring graphite-coated rubber for solid performance.
Each blade uses compression molded natural rubber for smooth and clean wiping, while an aerodynamic heavy duty frame boasts an all-metal, riveted construction with aero vented design. Like other Michelin wiper blades, the RainForce uses the company's EZ Lok connector system for easy installation. These are conventional wiper blades that offer solid all-weather performance, especially for the price.
They're ideal for older vehicles that have traditional arm-style wipers and you can choose from sizes ranging from 11" to 28".
What Should You Look Out for When Purchasing Wiper Blades?
It may seem like shopping for replacement wiper blades is fairly straightforward, but there are several things to consider. When it comes down to choosing the right wiper blade for your vehicle, make sure you check the following:
Start by finding out the size of the wipers you need for your vehicle. Some vehicles will have different sizes for each wiper (driver side and passenger side). Don't forget to get a replacement rear windshield wiper, if your vehicle is equipped with one. Check to ensure the product is compatible with your vehicle and that its adaptor or connector will work. If you drive in heavy snowfall or extreme winter conditions, make sure the option you're choosing will deal with those elements.
Wiper Blade FAQ
Getting your vehicle ready for year-round weather conditions includes making sure you have a good set of wiper blades. Here are some frequently asked questions that may help you during your search.
How Often Do I Need to Change My Wiper Blades?
Most professionals will recommend that you change your wipers every six months, or as seasons change. Naturally, this varies depending on your local weather conditions and whether you park your car underneath the sun each day, since that could damage your wiper blades. We recommend checking your blades every three months for wear and tear. When it does come time to replacing your wiper blades, we recommend you replace them as a pair.
Are There Different Types of Wiper Blades?
If you've followed along in this article, you should already be aware of the three most common different types of wiper blades: conventional, hybrid and beam. Conventional blades are also known as traditional frame-style blades or bracket-type wipers and feature rubber squeegees or halogen-hardened rubber. These are typically the least expensive, but vulnerable to snow and ice.
In recent years, hybrid wipers have grown in popularity, blending the benefits of conventional blades with beam-style wipers. Typically you'll find hybrid blades have an added outer shell to help keep snow and ice off the blades.
Beam-style wipers generally feature a single, one-piece design that is made of silicone or rubber. For the most part, they are the most expensive of the three common types of blades, but should last longer and offer better performance.
What Are Refills?
Refills are an alternative to replacing your entire wiper blade and involves replacing only the rubber elements of the blade. This is more cost-efficient, so long as they still perform well. If you're choosing to use refills, periodically check to make sure the wiper blade itself is still in good condition.
Leave a Comment
Does your vehicle have any of these wiper blades equipped? Share your experience with us in the comments below!
RedFlagDeals.com is reader-supported. We are a participant in the Amazon Services LLC Associates Program and other similar affiliate advertising programs. These programs are designed to provide a way for sites to earn advertising fees by linking to them. This means that RedFlagDeals.com will sometimes get a small commission if you make a purchase through our links.