The Best Windshield Washer Fluids
By
Jacob Black
February 7, 2021
Being able to see where you're going is absolutely mission critical when it comes to driving. All the safety mechanisms and expensive tires in the world won't do a thing if your windscreen is a hazy mess. Windshield washer fluid is one of the most underrated maintenance items in your car. That's especially true in Canadian winters, where road salt, ice, snow, sleet, and fog can turn even the safest road into a deathtrap.
We cannot overstate how vital it is to keep your windshield clean and clear in all weather conditions. Windshield washer fluid doesn't only clear your windscreen, but it also cleans the grime and former bugs from your windshield wiper blades, which stops them scoring your glass and compromising your visibility permanently.
Most of us are familiar with the $1.99 clearance jugs stacked up in gas station forecourts every fall, but washer fluid comes in many forms — and none are created equal. Each has its pros and cons, but a select few have a clear advantage over the field. Below, we'll detail the pros and cons of the best windshield washer fluid products on the market.
1. Best Winter Use: RAIN-X RX68106 Premium De-Icer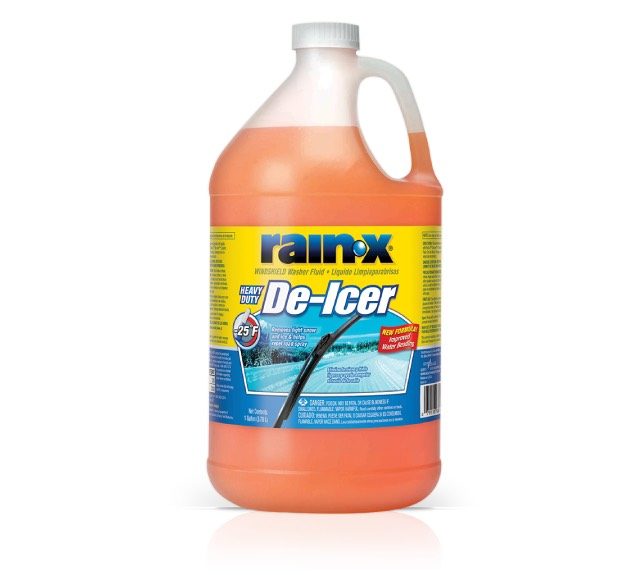 Pros
Cons

Applies Rain-X coating
Extreme winter protection

Pricey compared to other fluids
This is a pre-mixed solution, and so it is slightly more expensive than concentrate solutions you mix yourself, but Rain-X blends their solution with de-ionized water, which eliminates the streaks and mineral deposits you get from home-mixed fluids.
This formula also leaves behind the famous Rain-X water-repellant coating which not only prevents water beading but, in this blend, stops road spray from re-freezing on your glass. That results in you using your wipers, and your wiper fluid, less often. High-quality fluids are less expensive than they seem on paper purely because you don't need as much to keep your vision clear. If you need even more extreme temperature protection, Rain-X also makes a -49°C variant.
2. Best Summer Mix: Prestone Bug Wash Windshield Washer Fluid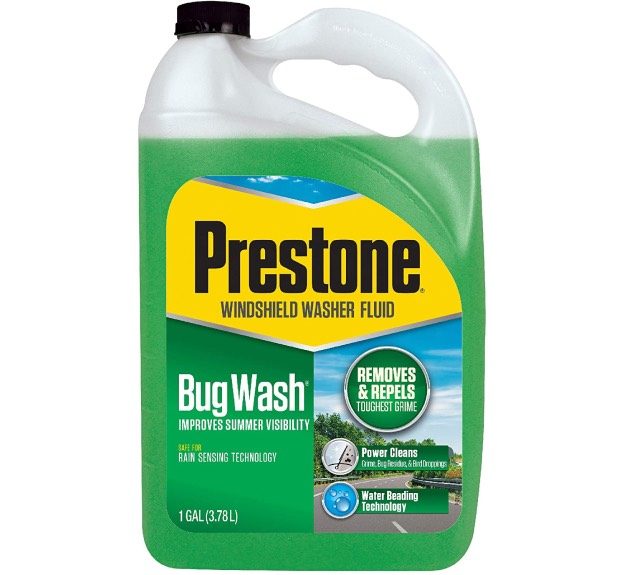 Pros
Cons

Pleasant scent
Heavy-duty cleaning

Freezes in winter
Up to 50 per cent more expensive than other fluids
This citrus-scented wash also coats your glass in a water-repellant and protectant film that keeps your vision clear longer.
There's nothing worse than a former bug that won't budge from your windshield. Not only are they gross, but they damage your wipers and can block vision. Throughout summer, there's no end of insects, winged creatures and bugs detonating themselves on the glass, and uncannily often right in your eye line. The summer months also mean shedding sap and berries from trees, which can quickly ruin your field of vision. That's why we advocate a heavy-duty detergent for those months.
Prestone's Bug Wash is formulated to quickly break down and dispose of the gooey residue left from birds, berries, and bugs splattered on your windshield.
3. Best All-Season Use: Prestone All Season 3-in-1 Windshield Washer Fluid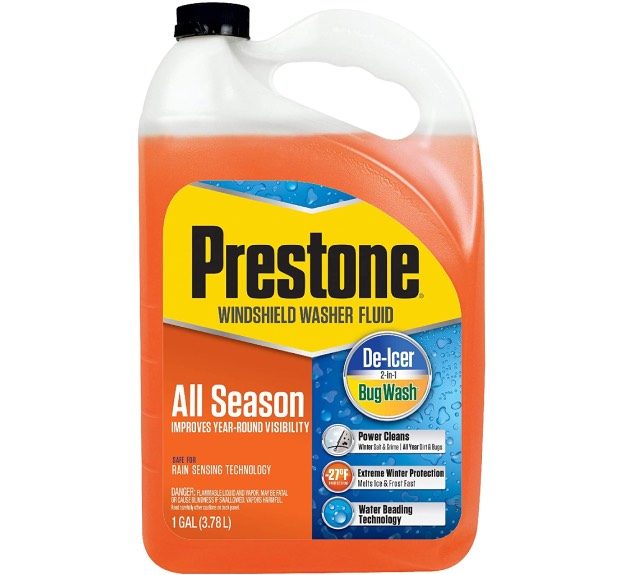 Pros
Cons

Applies protectant film
Year-round performance

Not as good in winter as a dedicated winter fluid
The pre-mixed solution also leaves your windscreen coated in a hydrophobic film for streak-free vision and short-term de-icing protection.
Prestone's line of windshield washer fluids are among the best on the market, and their All-Season 3-in-1 Windshield Washer Fluid is a genuine year-round solution. It de-ices down to -32°C and contains a powerful detergent for tree sap and bug splatter. That means that if you spray your windshield regularly, you won't get ice forming while you're doing your grocery shopping or overnight.
Prestone solutions are also safe for modern windshields with rain-sensing systems and won't interfere with the sensors. The same goes for vehicles with windshield-mounted radar and camera systems, like Subaru's Eyesight system. If you want to use one solution, and only one solution, for the entire year, and you live in an area with mild winters, you can't go wrong with Prestone's all-season variant.
4. Most Unusual: 303 (230371) Instant Windshield Washer, 25 Tablet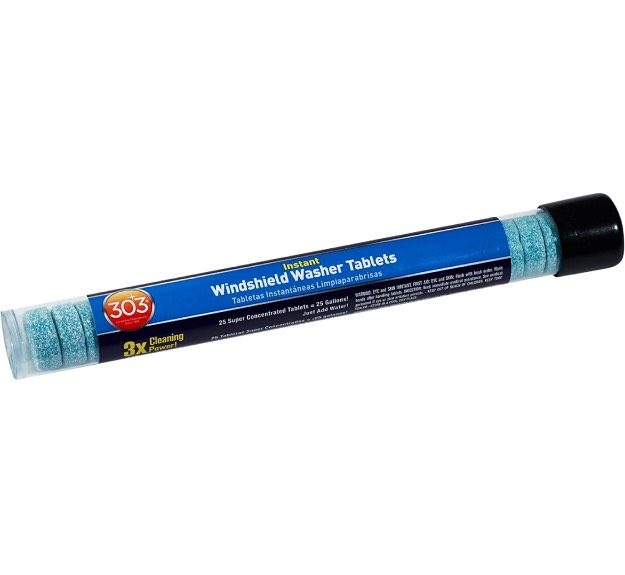 Pros
Cons

Convenient
Less landfill
Low cost over time

High initial cost
Not for use in winter
Tap water blend isn't as good as de-ionized blends
At this price, 25 fills will cost you less than 25 of the cheap gas-station jugs. Instant Windshield Washer tablets from 303 are convenient, affordable, and environmentally friendly solutions for your car.
Windshield washer fluid tablets are an interesting concept. Easy to store, easy to keep on hand, and easy to use – they have the added benefit of limiting the amount of plastic sent to landfill. One packet of 25 tablets makes 25 gallons of fluid. Just drop one into your reservoir along with a gallon of water and voila — a full container of windshield washer fluid. The 303 tablets are not for use in winter, but they do contain a powerful detergent for eliminating road grime and other dirt during warmer months. You can also keep them in your car, so anytime you need to add fluid they're easily on hand.
One downside is that if you're using regular tap water you might be bringing hard minerals into your system, which can leave streaky residue behind on your glass and leave deposits throughout your washer fluid pump and hoses.
5. Best Single-Use Concentrate: GUNK M506 Concentrated Windshield Washer Solvent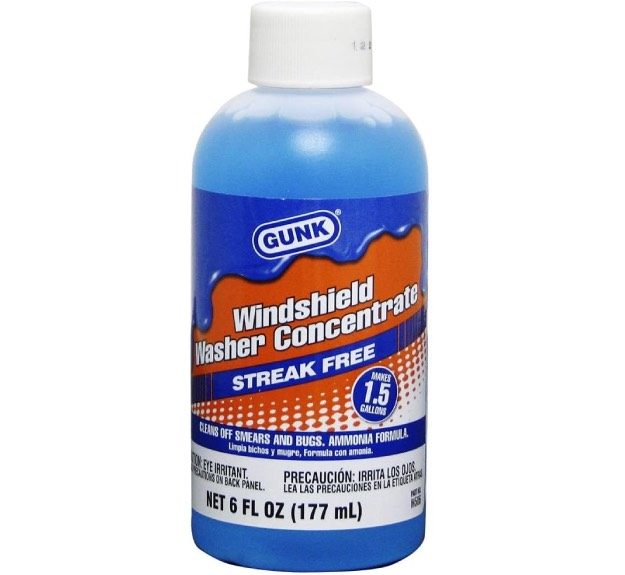 Pros
Cons

Low upfront cost
Good at cleaning smears and bugs

Not for use in winter
Not as affordable over time as other concentrates
This is a low-cost, convenient and reliable windshield cleaner for those who don't use a lot of washer fluid and drive in mild weather conditions.
The 177 mL (6 oz) bottle of Gunk is a handy and simple single-use concentrate that makes 1.5 gallons (about 5.5L) of windshield washer fluid. The small bottle makes this cheaper to buy than other concentrates in the short terms, but other products are more cost-effective over time. Gunk M506 Concentrate isn't a winter solution, but it is effective down to -8°C, which means you can use it for most of the year, and on clear days.
While the ammonia-based solution is great at cleaning bugs and smears, its effectiveness diminishes when you mix it with tap water. Unlike others in this list, the Gunk product doesn't add any protectant film to your windshield, so you'll have to use it more often to keep your glass clean.
6. Best for the Pampered Car: McKee's 37 MK37-541 Anti-Frost Windshield Washer Fluid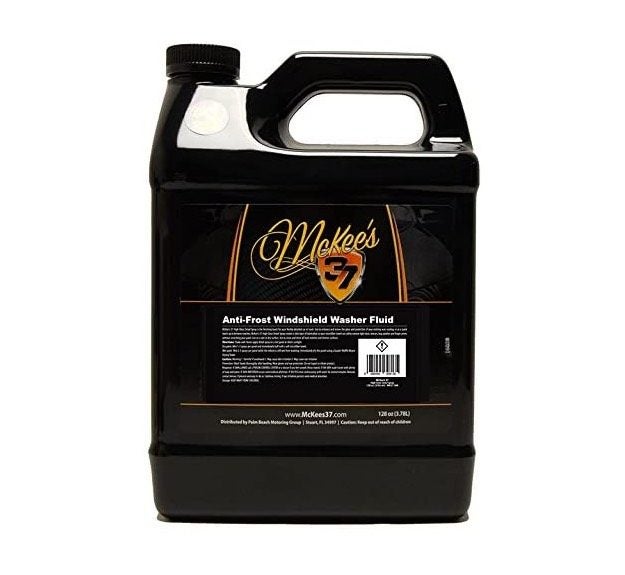 Pros
Cons

Good for heavy snowfall
Sensational winter performance
De-icing film makes for easier mornings

Expensive
Concentrates aren't as convenient as pre-mix
If time is money, McKee's 37 anti-frost windshield washer fluid concentrate might be a worthy addition to your reservoir. This extreme concentrate is designed to keep your windshield clear of ice and frost, especially in heavy snow conditions.
The de-icing film it applies to your windscreen as you use it also makes it easier to clear ice and frost off your glass in the mornings, saving you time. McKee's is a high-end brand of automotive cleaners and protectants, and this winter-ready windshield washer fluid is no exception. When you wouldn't dream of putting anything less than the best in your car, this is the stuff you put in the washer fluid tank.
One 32-ounce (1 L) bottle mixes with the fluid already in your system to provide streak-free de-icing and cleaning power for ultra-clear visibility. McKee's is also formulated to be gentle on paint and rubber seals, as well as heating elements or sensors embedded in the windshields of modern luxury cars.
7. Best Value: Aqua Charge Windshield Washer Ultra Concentrate
Pros
Cons

Strong detergent power
Can be mixed with methanol for winter
Most cost-effective solution on the market

Not useful in winter
Concentrates aren't as convenient as pre-mix
If you want a heavy-duty cleaner and use a lot of washing fluid, this is the right stuff for you. It is great for folks who cover long distances but bear in mind this won't do you any good in winter as is.
The freezing point of Aqua Charge is 0°C, but you can add methanol to drop that to -29°C. One litre of Aqua Charge Ultra Concentrate makes a whopping 200 L of windshield washer fluid – enough for more than 50 fills in most cars and trucks. This isn't the most convenient solution for daily drivers, but it works brilliantly for truckers or other who log lengthy miles - especially in mild weather. The proprietary blend is great for sticky and heavy-duty bug residue and dirt and dries streak-free.
Concentrate vs Pre-Mixed Washer Fluid
Pre-mixed washer fluid is unquestionably the most convenient type to buy. It's ready to use; just pour it into your washer fluid reservoir and you're good to go. Pre-mixed fluids perform equally as well as their concentrate counterparts but are more expensive.
Concentrate is most cost effective, but honestly not by a huge margin. By the time you factor in the time it takes to measure out the mix ratio, cart water to your car, and pour both liquids in, you wonder if the two or three dollars a fill difference is worth it.
If you drive often, use your washer fluid a lot, or if you have a hose right near where you park your car, concentrate might be a worthwhile option. A concentrate also makes good sense if you've been caught short and had to fill your reservoir with water for some reason. In that instance, topping up the tank with a concentrate can help restore balance to the system.
And that brings us to the third, and lesser known of windshield cleaning products — tablets. You can drop these dry pucks directly into your reservoir and they'll mix with the water to form a cleaning solution. These are easy to store, which makes them a good emergency measure, or a good measure for drivers who spend a long time on the road.
All-Season Versus Winter
Like tires, there is a difference in performance between all-season fluids and winter fluids. That difference goes well beyond the minimum freeze point. Instead, is affects how well the fluids handle cold weather, hold efficiently they repel grime and dust in colder temperatures, and how well they protect your system from freezing up. A dedicated winter formula is always going to outperform all-season formula in the deepest winter conditions — when visibility is most critical.
There is no reason why you can't change from one type or another season-to-season either, so you can always use the best fluid for your immediate circumstance.
Can I Use a Window Treatment Instead?
In winter, no. There aren't any window treatments robust enough to withstand salt and snow and will gum up your windshield and wipers quickly. In summer or spring, or in more temperate climates, a treatment may protect your windshield and prevent overuse of your wipers, but a windscreen treatment is not a substitute for washer fluid. De-icing sprays are handy for helping your windshield stay frost-free in winter months, but again, those are only good for a specific use: overnight protection while your car is parked in your driveway. The only product that will keep your vision reliably clear all year around is a high-quality de-icing windshield washer fluid.
How to Keep Your Windshield Washer Fluid System Working Well
Even if you don't drive often or if the roads are clear in your area, it is important to keep using your washer fluid system often, and keep it topped up with high-quality fluid. You should use a de-icing fluid even if you don't drive during winter and cycle it through your system by operating the washers a few times during the season. This will prevent the hoses and pumps from freezing up or clogging, both from ice, and from mineral deposit. This is especially true in cars filled with a mix of concentrate and tap water.
RedFlagDeals.com is reader-supported. We are a participant in the Amazon Services LLC Associates Program and other similar affiliate advertising programs. These programs are designed to provide a way for sites to earn advertising fees by linking to them. This means that RedFlagDeals.com will sometimes get a small commission if you make a purchase through our links.