The Best Webcams
Table of Contents
Webcams are an essential gadget now that we're staying in and working from home so often, and virtual communication is more important than it's ever been before in our society. If you want to maintain any sense of normalcy, you'll need a good webcam to stay connected with your friends and loved ones through a video call, and to communicate with your coworkers through virtual meetings so that you can still function as a team. This past year has also seen a boom in live content streaming, like on Twitch and YouTube, and you'll need a webcam that can stream high quality video if you're looking to join in on the fun.
Whether you're looking for a camera to use while attending virtual meetings at home, keeping in contact with your loved ones, or creating entertaining video content online, you're sure to find a webcam on this list that can do everything you need and more. At the end of the article, we'll go over some of the most important webcam features to be on the hunt for, so that you can shop with confidence.
1. Editor's Pick: Logitech BRIO – 4K Ultra HD Webcam
Adjustable field of view
Has a 5x zoom capability while maintaining HD resolution
Light correction software that adjusts exposure and contrast
Compatible with Windows Hello and other facial recognition apps
Built in multidirectional microphones that reduce unwanted noise
Expensive
Can be hard to set up additional preferences, like background removal
Key Specs
| | |
| --- | --- |
| Connectivity: | USB |
| Resolution: | 4k (3840p x 2160p) |
| Refresh Rate: | 30Hz (60Hz at HD resolution) |
| Dimensions: | 2.54 x 2.54 x 10.16 cm |
| Weight: | 335.66g |
Great for anyone who needs to record the highest quality video with their webcam; if you're looking for the best product, this is the one.
With its ability to record the highest quality 4k video while being packed with useful features like a 5x zoom capability, autofocus, auto light and contrast correction, multidirectional microphones, and compatibility with facial recognition software — the Logitech BRIO is the best webcam you can buy on the market right now.
Most webcams will have one specific field of view, which means that that amount of you and your room that's visible will always be the same, but with this model you can switch it up; you'll be able to adjust the camera to have either a 65-degree, 78-degree, or 90-degree wide screen angle.
2. Runner Up: SAITOR 1080P HD Webcam
Privacy cover
Built-in microphone with noise reduction
Works with Mac, PC and LCD monitors
Plug and play installation
Field of view is too wide, gives a fish lens effect on both sides
Colours can have a red tinge
Key Specs
| | |
| --- | --- |
| Connectivity: | USB |
| Resolution: | HD (1920p x 1080p) |
| Refresh Rate: | 30Hz |
| Dimensions: | 9.6 x 8.7 x 5.7 cm |
| Weight: | 136g |
While this webcam is not from a well-known brand, it does have thousands of positive reviews from users who like how it works and its affordable price.
While this 1080P HD webcam does not have a night vision function, it does offer up clear video images at 30 frames/sec, with Automatic Light Correction and HDR technology that will automatically adjust the colour and brightness so you will have a crisp and clear video calling experience even in dim lighting.
You also get a privacy cover with this webcam, which in this day and age of home offices and the potential for private moments to be accidently seen or heard by participants on a multiple-person conference call, is a pretty important and arguably necessary function on a webcam. But on a practical level, a privacy cover also protects the lens from dirt and debris, so the video remains clear.
This webcam is also equipped with a built-in noise reduction microphone that automatically eliminates distracting background noises. The webcam itself is easy to install with a plug and play USB 2.0 cable, with no additional drivers or software needed.
3. Best Budget Pick: Nulaxy C900 Webcam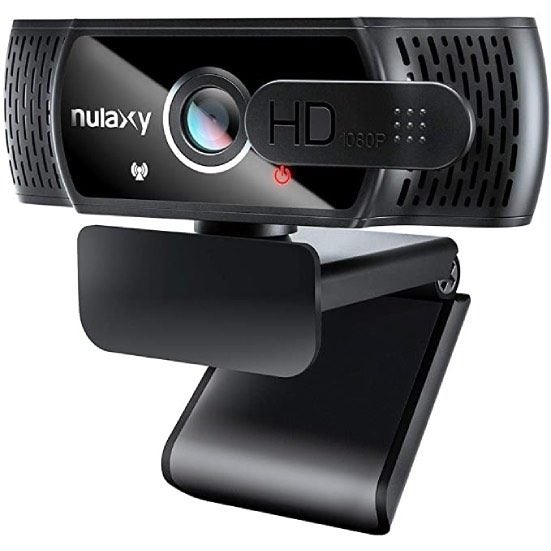 Easy set up
Universally compatible
360-degree rotating head
Comes with privacy shutter
Poor mic sound quality compared to other options
Won't adjust things like contrast or low light in your video
Key Specs
| | |
| --- | --- |
| Connectivity: | USB |
| Resolution: | HD (1920p x 1080p) |
| Refresh Rate: | 30Hz |
| Dimensions: | 13.5 x 12 x 5.7 cm |
| Weight: | 240g |
This is one of the most affordable webcams on the market while still being able to film in HD — perfect for anyone on a budget who still wants to record decent video. The Nulaxy C900 Webcam is a great webcam for occasional family calls or virtual office meetings because it's simple to use, affordable, universally compatible with any operating system, and does a good job at recording a smooth video.
While this webcam is perfectly fine for recording video, there are some factors you'll miss if you go with a budget model like this; it doesn't come with effective software that will fix your video quality for you, like adjusting the contrast or balancing low light, so getting the perfect video might take some extra set up on your part in terms of lighting.
4. Best for Gaming Content Creation: Razer Kiyo Streaming Webcam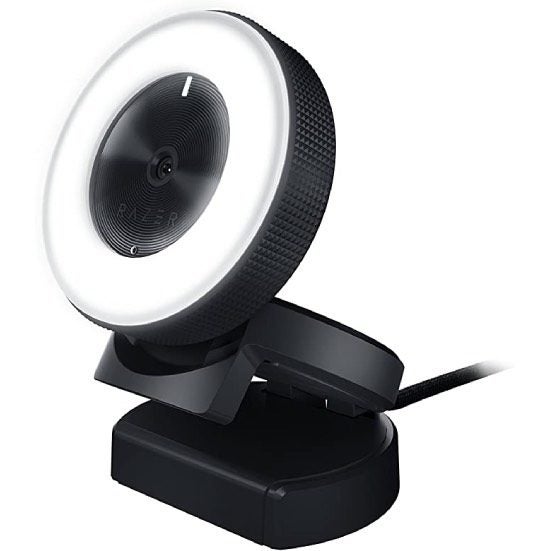 Easy to set up
Autofocus feature
Adjustable ring light
Easily compatible with other Razer products
Pricier because of the brand
Key Specs
| | |
| --- | --- |
| Connectivity: | USB |
| Resolution: | HD (1920p x 1080p), 720p |
| Refresh Rate: | 30Hz (60Hz at 720p resolution) |
| Dimensions: | 9.3 x 12.9 x 2.69 cm |
| Weight: | 299.37g |
If you're streaming video games or you're a YouTuber and want to create the best content you can, you'll need a quality webcam like this one that can seamlessly connect to your other gaming tech gadgets.
The Razer Kiyo Streaming Webcam is a great option to consider if you're a gamer; it comes with an adjustable ring light, which can save you money purchasing other more expensive lights, and it's easy to use in conjunction with other Razer products and connects seamlessly to Open Broadcaster Software which you can use to stream.
It also has a quick and effective autofocus, so you don't need to worry about staying still while you record video.
5. Best for Low Light: Angetube 967 Streaming Webcam
Autofocus function
Built in noise cancelling microphone
Adjustable ring light with three adjustable levels
Background replacement option in Windows
Colours can appear too warm on screen
Some users said it didn't work with their Xbox
Key Specs
| | |
| --- | --- |
| Connectivity: | USB |
| Resolution: | HD (1920p x 1080p) |
| Refresh Rate: | 30Hz |
| Dimensions: | 5.3 x 6.6 x 7.3 cm |
| Weight: | 150g |
This is a great choice if you're looking for a webcam with an adjustable ring light, and you want something more affordable than the pricier Razer Kiyo.
Having a webcam with a built-in light can be a huge time saver, especially if you're video chatting at night or are in a room with poor lighting — the Angetube 967 Streaming Webcam doesn't disappoint, because it'll give you HD video, a decent refresh rate, and it's highly compatible with different game consoles and operating systems. This webcam ships with a flexible clip that you can use to mount it on various surfaces, including on a tripod (it doesn't come with one though, you'll have to get it yourself!).
Where this camera loses points is with the colour it captures; many users reported that they looked orange on screen, which could be corrected through lighting and retouching but you shouldn't need to put in that extra effort.
6. Best Value: NexiGo A229AF Webcam
Comes with a privacy cover
Mic with noise cancelling technology
Autofocus and low light correction
Harder to use with Mac computers
Can be hard to adjust the autofocus
Key Specs
| | |
| --- | --- |
| Connectivity: | USB |
| Refresh Rate: | HD (1920p x 1080p) |
| Resolution: | 30Hz |
| Dimensions: | 10.01 x 5.69 x 5.11 cm |
| Weight: | 191g |
While it comes from a brand not as well known as some of the others here, this webcam boasts a variety of features for a lower price point, making it an option worthy of your purchase.
If you're looking for a great all-around camera for chatting with friends or attending virtual meetings, consider the NexiGo A229AF Webcam. It has great video quality for the price, and comes equipped with features like autofocus, low light correction and an unwanted noise cancelling microphone.
If you have a Mac computer though, this might not be the right webcam for you. Many users reported that it was very difficult to set up, and it doesn't have an easy way to control settings like brightness or focus on Mac.
7. Best for Conferencing: Anker PowerConf C300 Smart Full HD Webcam
Multiple ways to mount
60 fps
Dual microphones
Key Specs
| | |
| --- | --- |
| Connectivity: | USB |
| Resolution: | HD (1920p x 1080p) |
| Refresh Rate: | 60Hz |
| Dimensions: | 9.9 x 3 x 3 cm |
| Weight: | 127.57g |
Zoom conferences have become a necessary component of most businesses during the pandemic and will continue to be so as we work from home either every day or a few days a week. Nothing can be more annoying than being part of a conference call and dealing with issues like noise, video distortion, freezing and your co-workers seeing too much — or too little — of what is going on during the conference.
We included this webcam on our list because even though it's a bit more expensive than the others, it offers up some features that will make your conference calling much more enjoyable. For example, whether you are alone on a call or in a group, you won't have to worry about getting everyone into the frame. The webcam will automatically adjust the field of view depending on the number of people in your meeting and focus on people or objects within 0.35 seconds.
Two microphones work with noise cancellation technology so you will be heard nice and clearly but any background noises, like your dog whining for your attention, will go unnoticed. With four angles of adjustment, you can place the camera anywhere you want, and with full HD 1080p/60fps, you'll get the best video images with a fast refresh rate.
8. Honourable Mention: Ziqian 1080P Webcam, Live Streaming Web Camera
Fixed focus and noise reduction mic
Universal clip
Tripod
Sound quality is not great
Key Specs
| | |
| --- | --- |
| Connectivity: | USB |
| Resolution: | HD (1920p x 1080p) |
| Refresh Rate: | 30Hz |
| Dimensions: | 13 x 8 x 6 cm |
| Weight: | 200g |
This is another solid webcam that is able to film in full 1080P HD, which makes it is a good choice if your child is taking online courses or if you're participating in daily Zoom calls.
Installation is easy with a plug and play ability will no additional drivers needed, and with its low light correction feature, you get a crisp, clear video even in dim light. This webcam is also compatible with many systems and with 30fps, it is ideal for gaming, blogging, conferencing and live streaming, whether you have a Window or a Mac OS.
The webcam also features a universal clip, with a 1.8 metre (six foot) USB power cable. Video conferencing is more comfortable with the webcam's 110-degree wide angle, and the built-in microphone has auto noise reduction. However, you can also turn off the microphone if you want to use your own headset or speakers. You also get the benefit of a privacy cover and a tripod, which is a useful way to set up the camera if your laptop is too thin for the clip-on.
Features to Look for
If you're not experienced with tech, it can be really challenging to figure out what all the different webcam features and descriptions mean, and how they will impact your experience using the product. Here are some of the most common webcam features you'll find listed in product descriptions, and some advice to help you figure out which ones you'll want based on your webcam usage needs.
Resolution
The resolution of your webcam will be the main determining factor for how great your video quality looks; it will be measured in pixels, and sometimes will be advertised as either HD (high definition) or 4k. HD means that you can make videos that are 1920 pixels x 1080 pixels, while 4k means you can make videos that are 3840 pixels x 2160 pixels. Being able to film with more pixels will give you videos that are higher quality, and thus 4k will be the best for anyone making content or that needs higher quality video, but it might be overkill if you're just video chatting with friends or attending virtual meetings.
Refresh Rate
This term is measured in Hertz (Hz), and basically tells you how many times the camera can supply a new image to your computer per second. If the webcam's description says it has a refresh rate of 60Hz, for example, that means it sends 60 frames to your computer per second (frames per second is sometimes abbreviated as "fps"). A higher refresh rate is better — if you're streaming on YouTube or Twitch, for example, you'll want higher frames per second because there will be less choppiness, and thus your video will appear smoother for your audience.
Field of View
This will be measured in degrees, and tells you how wide of an angle your webcam can film in. Generally, a higher field of view means your video will have a wider angle and that more of your room will be visible, and a lower field of view will hide more of your room so that you'll be the most visible in the video. Some higher-end models give you the option of switching your field of view, which means you can adjust how much of your room is visible on your video.
Privacy Cover
Many people worry about their privacy while using a webcam (has anyone else's turned on randomly in the middle of the night before? Spooky!) If you're in this boat, many webcams come with a physical cover that you can place over the lens while you're not using it, so that you can rest easy knowing that a potential hacker won't be able to see anything.
Microphone
Most webcams on the market these days come with a built-in microphone, which makes them easy to use for family chats or in virtual office meetings where you might not want to set up additional gadgets. Using a built-in microphone isn't always the best option though; if you're creating content and want your video to be the highest quality possible, you're better off getting a dedicated microphone in addition to a webcam because it'll give you better sound for your video.
Lighting
Having a darkly lit room isn't necessarily a problem for using a webcam these days — just purchase a webcam that has a light built in, and you won't have to worry about looking dark on screen. Some webcams also come with lighting correction software, so that you can up the contrast and decrease shadows in your video so that you appear brighter.
Leave a Comment
We're always looking for more feedback! If you own any of these items and would like to share your experience, please comment below!
About the Author: Michael Pilon
Michael Pilon is a writer based in Toronto, who loves everything tech, gaming, and digital art. With two years of professional writing experience and a lifetime of learning about new gadgets, he aims to provide helpful, accurate stories. He received his Bachelor of Arts in English and media studies from the University of Toronto, and a Master of Arts in fashion from Ryerson University, exploring digital and technological applications throughout. When he isn't writing, you can find him playing the newest fantasy and horror games, or out discovering new coffee shops in the city.
RedFlagDeals.com is reader-supported. We are a participant in the Amazon Services LLC Associates Program and other similar affiliate advertising programs. These programs are designed to provide a way for sites to earn advertising fees by linking to them. This means that RedFlagDeals.com will sometimes get a small commission if you make a purchase through our links.