The Best Waterproof Eyeliners
Table of Contents
With a rainy spring upon us and warm summer months just around the corner, there's no better time than now to start shopping around and doing your research to find the best waterproof eyeliners. Applying your eyeliner can take up a decent amount of your time and concentration, so it's no surprise that people are looking to waterproof eyeliners to ensure their masterpiece stays on their face no matter where the day takes you.
From fulfilling your rom-com dreams of getting caught in the rain, to spending the day relaxing out by the pool or simply wanting to look good while working out — a reliable waterproof eyeliner is a simple touch of makeup you can add to your routine that can elevate your look without turning you into a raccoon. But with countless different brands and formulas on the market, it can be difficult to decide which ones won't smudge, flake or run down your face.
Although everyone is going to have their own preferences about which eyeliner is best and prefer different formulas over another, there are a few general things you can look for to help make the application process go smoothly. For example, look for products that have uncomplicated and easy applicators. Since not all of us can't be artists or ambidextrous for that matter, eyeliners need to be simple, easy to use, and feature a durable, smudge proof formula.
Below, we've highlighted some of the best waterproof eyeliners to buy this year:
1. Editor's Pick: NYX Professional Makeup Epic Ink Liner
Cruelty free
Long lasting
Smooth and easy application
Available in brown shade
Not a lot of product
Ink may dry out
Draw all of your cat eyes and sharp wings to your heart's content with this popular ink liner from NYX. Its ultra-precise, felt-tip brush lets you control the thickness of your liner in every stroke, so you can go from a subtle everyday look to dramatic evening glam with a quick flick of your wrist. What's more, its smooth formula is not only long-lasting and waterproof, but is also certified animal cruelty free by PETA. That's a win-win in our books!
2. Runner Up: stila Stay All Day Waterproof Liquid Eyeliner
Eight different shades
Smooth and precise application
Long lasting
Easy to remove
Thin formula
May flake at end of the day
Dries shiny
Perfect for pros and beginners alike, this smudge proof, long lasting stila waterproof eyeliner comes in eight different shades so you can find a liner to create a bold or subtle look.
Although these stila Stay All Day waterproof liners aren't the cheapest of eyeliners, they're worth every penny. Whether you want black, brown, blue, green or even a white liner, you can choose from eight different shades to give you a look that lasts all day long. Its thin precision marker tip makes this waterproof eyeliner a great choice for beginners, and its smudge proof, long lasting formula glides on evenly so you don't have to deal with any skipping or pulling.
3. Best Pencil: Rimmel London Scandaleyes Waterproof Kohl Kajal Eyeliner
Long lasting
Creamy formula
Highly pigmented
Inexpensive
Wide range of colours
Difficult to remove
Hard to sharpen
Waterproof, smudge proof, sweat, heat and humidity proof — this drugstore eyeliner provides up to 24 hours of wear time so no matter what the day has in store for you, your eyeliner won't be going anywhere. With 11 different shades to choose from, these liners use a smooth and creamy formula that glides across your eyes to give you high intensity colour in just one sweep.
4. Best Fine Tip: L'Oreal Paris Telescopic Precision Liquid Waterproof Eyeliner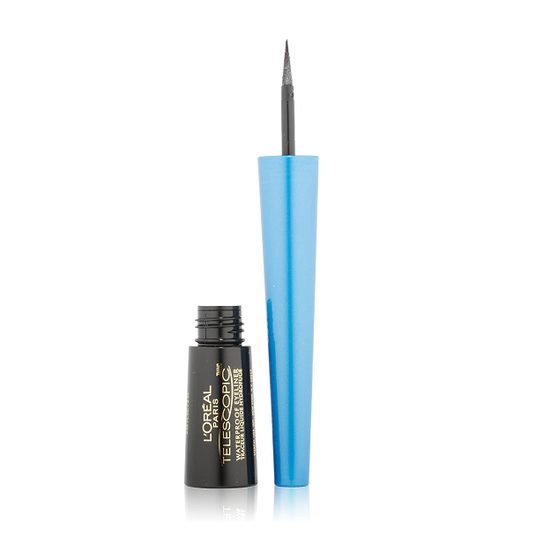 Allergy tested
Fragrance free
Strong pigment
Smudge proof
Even though most eyeliners have fine tipped ends, if you're looking to get the smallest, thinnest lines possible, the L'Oreal Paris Telescopic Precision liquid eyeliner can get the job done. The slanted precision felt tip helps you to easily and quickly draw the thinnest of lines that effortlessly glides on your lid to give you a waterproof liner that lasts the whole day.
On top of being waterproof, this inky formula is fragrance free, and has been ophthalmologist and allergy tested making this eyeliner an ideal option for sensitive eyes or for people who are constantly in contacts.
5. Best Value: Maybelline New York Hyper Easy Liquid Pen
Easy application
Great for beginners
Long lasting
Dries fast
Hard to remove
You don't have to spend a lot to get a high quality waterproof eyeliner, in fact, some drugstore products can be just as good, if not better than some of the popular eyeliners used by your favourite makeup artists or celebs.
This Maybelline New York Hyper Easy liquid pen provides you with maximum control and stability so you can get a precise line with every stroke. It's flex tip brush moulds to your eye to absorb friction so you can say goodbye to unwanted skips and gaps in your liner.
6. Best for Sensitive Eyes: Physicians Formula Eye Booster 2-in-1 Lash Boosting Eyeliner + Serum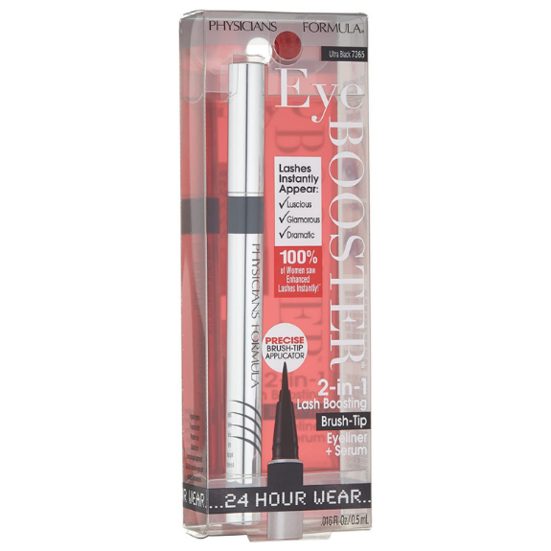 Hypoallergenic
Fragrance and paraben free
Gives the illusion of fuller lashes
Watery consistency doesn't go on dark and may need two applications
If you love to wear waterproof eyeliner but you find that it irritates your eyes, then you need an eyeliner that is specifically made for sensitive eyes. This smudge proof, waterproof liquid eyeliner from the Physicians Formula has been ophthalmologist-tested, making it your go-to-choice if you have sensitive eyes or often choose to wear your contact lenses instead of glasses.
This eyeliner is also fragrance free, paraben free, dermatologist approved and has been created without any of the more than 150 known harsh ingredients that are often found in other personal care products. Its high-tech Japanese formula is long-wearing, water-resistant and smudge-resistant, with a precise built-in applicator that delivers a smooth and effortless application.
What also sets this waterproof eyeliner apart from the others is it contains a conditioning serum that contains a lash-boosting complex to target the base of your lashes where it is most effective in creating a look that makes your lashes appear longer and thicker.
7. Best Fragrance Free: Marcelle Waterproof Eyeliner
Vegan
Not tested on animals
Fragrance free
Hypoallergenic
Whether it's shampoo and conditioner or foundation, lipstick or waterproof eyeliner, many of the beauty products we put on our body are infused with fragrances. Sometimes that's okay but when it comes to the products we put on or near our sensitive eyes, the chemicals in some fragrances can cause uncomfortable irritation, not to mention how overwhelming too many different scents can be.
If you find yourself sensitive to fragrances but still want to enhance the look of your eyes with a quality waterproof eyeliner, then you may want to consider this scent-free one from Marcelle. Available in 10 matte and pearl shades, the eyeliner has a nice creamy consistency that makes it easy to apply and create either a fine line or a more smudged finish.
The eyeliner has been tested under ophthalmological control and is hypoallergenic, fragrance and mineral-oil free and not tested on animals. It's also vegan and contains the conditioning ingredients of Vitamin E and jojoba oil. Through humidity and tear-inducing movies, this waterproof eyeliner will stay put all day without annoying your sensitive skin.
8. Best Set: ToullGo Waterproof Smudgeproof Long Lasting Colorful Eyeliner Set
12 colours
Matte finish with glitter
Versatile
Do not use on waterline
Some users had issues with smudging
Make up can be serious and it can be fun, especially if you have an artistic or creative flair and you love experimenting with different colours and looks. This liquid waterproof matte eyeliner set from ToullGo contains 12 beautiful and bright colours that go on easily and will last the whole day.
The selection has every colour of the rainbow including yellow, green, brown, purple and even white so you can mix it with another colour to make a lighter shade. You can dress your eyes up or down depending on the occasion, especially since this waterproof eyeliner is so versatile. Use it as a liner or extend it as an eye shadow. The matte finish also has a touch of glitter, so have fun using them to dress up for a celebration or Halloween party.
This waterproof eyeliner has a high precision felt tip that is soft and flexible and glides the colour on smoothly. Draw a sharp line in one swipe without skipping or tugging, wait a couple of minutes for it to dry and then it lasts all day until you are ready to take it off.
How Do I Remove Waterproof Eyeliner?
Waterproof eyeliner, alongside waterproof mascara, is more difficult to remove than your regular eye makeup. Because of their long lasting formulas that are in essence designed to stay put, removing them from your eyes without causing damage to your eyes, skin or eyelashes can be a real pain in the butt. Instead of endlessly scrubbing away at your eyes, here's a few tips you can try out to gently and safely remove waterproof products from your face:

For starters, it's recommended that you use an oil-based cleanser to help dissolve and break down those hard to remove ingredients. Apply the remover onto a cotton pad and let it sit on your eye for a few seconds before removing it to really let the product absorb into your skin.

When you're ready, gently swipe the cotton pad across your eye to avoid tearing out your eyelashes or damaging the thin delicate skin on your eyes. Once you've removed all that you can, go back in with another round of makeup remover — double cleansing will ensure that you've gotten rid of any product that's still hanging around. If you find that a cotton pad is too hard to control, swapping it out for a Q-tip can be a great way to get in nice and close to your lash and waterline.
What are the Different Types of Eyeliners?
Like most products, there are a handful of different types of eyeliners, and although they all work to do the same job, the kind of eyeliner you use can depend on personal preference and the type of look you're going for.
Below is a quick breakdown of some of the most common eyeliners, their uses, and types of waterproof eyeliners:
Gel
Formula: Waxy consistency
Applied with an eyeliner brush
Hard to remove
Uses: Smokey eye effect or all-day wear
Ideal for beginners
Kohl
Formula: Creamy and easy to smudge
Uses: Smokey eye effect or lining the waterline
Ideal for beginners
Pencil
Formula: Similar to kohl, but drier
Not long-lasting
Uses: Very versatile — great for waterlines, tight lining, or wings
Ideal for beginners
Liquid Brush Tip
Formula: Liquid
Long lasting and smudge-proof
Uses: Thin, precise lines or wings
Ideal for everyone
Liquid Felt Tip
Formula: Liquid
Long lasting
Easy to control
Uses: Thin or thick lines or wings
Ideal for novices
There's always a chance that the rain, humid summer weather or a tear-jerking movie will inevitably ruin your eyeliner, so don't waste your time slaving over the perfect wing just for it to get ruined, swap out your regular eyeliner for a waterproof formula.
Waterproof eyeliner is a vital piece of makeup that anyone and everyone can benefit from having in their collection. From inexpensive kohl liners to expensive fine tip pens, regardless of your budget, experience level or personal preference, there's a waterproof eyeliner out there for you!
Leave a Comment
Is your favourite waterproof eyeliner on our list? We'd love to hear your thoughts in the comments!
About the Author: Carlen Oliveira
Carlen Oliveira is a graduate from Ryerson University's RTA Sport Media program and is currently working as a writer based out of Toronto. She has an avid interest in all things sports and finding engaging new ways to workout. She discovered a love of individual activities like yoga and skipping, which pushed her both mentally and physically. When she's not writing or working out, you can find her exploring the outdoors and traveling, come rain or shine… and especially snow!
RedFlagDeals.com is reader-supported. We are a participant in the Amazon Services LLC Associates Program and other similar affiliate advertising programs. These programs are designed to provide a way for sites to earn advertising fees by linking to them. This means that RedFlagDeals.com will sometimes get a small commission if you make a purchase through our links.