The Best Turntables
Table of Contents
While music is incredibly accessible through smartphones and laptops, the richest sound and best listening experience arguably comes from vinyl. What used to be a forgotten collector's item has now seen somewhat of a resurgence in popularity of late. Now, all of the major musicians are releasing vinyl copies of their best and latest albums for fans and collectors alike. In order to listen to all of your favourite albums on vinyl though, you'll need a turntable.
Turntables are essential in playing music from your vinyl record to your speaker. By placing a record on its surface, or "platter", you can connect it to a set of speakers — wired or wireless — to bring out the best sound possible. Whether you're using it to entertain family or you're using it to relax and lounge at home with your partner, it's a great addition to any living room.
Below, we'll show you some of the best turntables to buy, from brands like Pro-Ject Audio Systems and Denon, as well as a couple other sleeper picks. Check it out!
1. Editor's Pick: Pro-Ject Debut Carbon (DC) Turntable
Good quality for an affordable price
Gold-plated RCA connectors ensure no additional noise or disturbance
Awarded for its design and performance
Key Specs
| | |
| --- | --- |
| Drive Principle: | Belt Drive |
| Platter: | 300mm metal with felt mat |
| Preamp: | Not included |
| Product Dimensions: | 32 x 41.5 x 11.8 cm |
| Product Weight: | 5.6 kg |
When this turntable was released in 2012, it wowed audiophiles around the world with its ingenious use of its carbon-fibre tonearm, and its platter and size. When you place a record on its surface, the tonearm will keep it spinning in place with minimal vibration or slipping. This is an excellent choice if you're a first-time buyer and are just starting to grow your collection. It has a bunch of ports and features to potentially upgrade your speakers or turntable's sound. What's more, it also comes with a dust cover and felt mat to wipe your records.
2. Runner Up: Fluance RT85
Available in Piano Black, Bamboo, and Walnut
The balanced S-shaped tonearm fits perfectly
Rubber feet that are adjustable
No preamp
The tonearm could be better
Key Specs
| | |
| --- | --- |
| Drive Principle: | Belt Drive |
| Platter: | High mass acrylic |
| Preamp: | Not included |
| Product Dimensions: | 34.93 x 41.91 x 13.97 cm |
| Product Weight: | 7.6 kg |
Utilizing only superior components and expert audio engineering, this turntable will give you a beautifully warm sound and with an attractive polished wood cabinet, it will be a welcome addition to any family room or study. Not only is the cabinet stunning, but its Ortofon 2M Blue Cartridge and high-density acrylic platter makes the sound come off smooth and clean. Because of the cabinet shielding the turntable, the sound gets absorbed right into the wood plinth so you hear nothing but the clean sounds of your record, each and every time.
3. Best Digital: Denon DP-450USB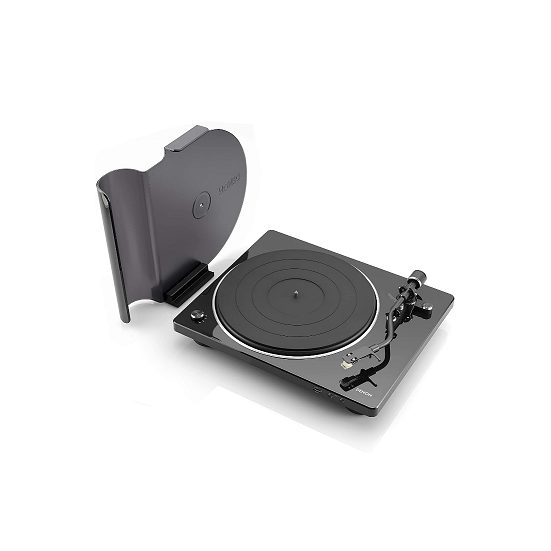 Digitize to both MP3 and WAV directly onto a USB
Autostop function automatically raises the tonearm and stops the motor
Dust cover is designed to hold your album cover
Autostop may not be immediate
Key Specs
| | |
| --- | --- |
| Drive Principle: | Belt Drive |
| Platter: | Not specified |
| Preamp: | Built-in phono equalizer |
| Product Dimensions: | 34.19 x 41.4 x 10.49 cm |
| Product Weight: | 5 kg |
If you're looking for the best playback and the opportunity to digitize your favourite records, look no further. Denon has thought of everything with this turntable. It has an integrated USB-A port lets you digitize your vinyl collection and create quality records in MP3 or WAV file formats. With its angled tone-arm and weighted, belt-driven platter, you can spin your record at three different speeds — 33 1/3 rpm, 45 rpm or 78 rpm.
If you have a speaker or other sound accessories, you can pair them with this turntable as well. You can connect its USB cord to any amplifier or system. What's more, the turntable features a compact, yet sophisticated cabinet that fits seamlessly into your existing Hi-Fi system. A removable dust cover doubles as a display stand and also helps to protect your records as well.
4. Best Budget Pick: Audio-Technica AT-LP60XBT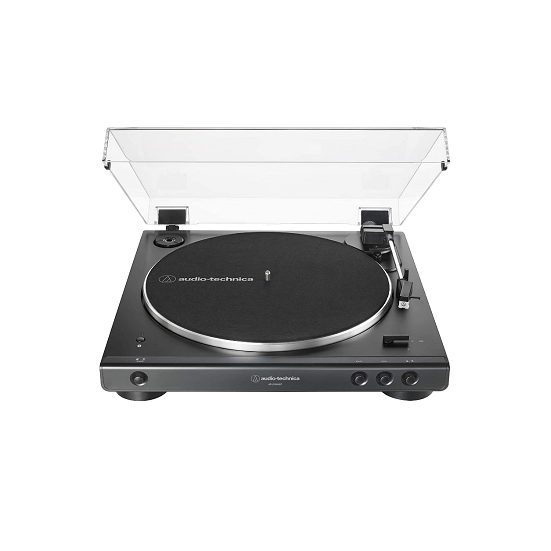 Available in Black and Red
Bluetooth connectivity
Compatible with aptX codec
Bluetooth is finicky to set up
No power on/off switch
Key Specs
| | |
| --- | --- |
| Drive Principle: | Belt Drive |
| Platter: | Die-cast aluminum platter |
| Preamp: | Switchable phono pre-amp |
| Product Dimensions: | 48.26 x 43.18 x 17.78 cm |
| Product Weight: | 453.59g |
This turntable will allow you to listen to your favourite records privately or wirelessly. It utilizes an integral dual moving magnet cartridge to maintain its incredible performance while its spinning your favourite records. Designed to prevent slips and scratches, it has a fully automatic wireless belt-drive to ensure your vinyl isn't damaged while playing. What's great about this model, as mentioned, is its ability to connect to Bluetooth speakers or other Smart Home devices. It also has a built-in, switchable. phono pre-amplifier with RCA output cables. No worries — it comes as 3.5mm audio cable as well.
5. Best Automatic: Sony Electronics Inc Belt Drive Turntable
Automatic
Bluetooth connectivity
Built-in switchable phono output/ line out phono preamp
Three gain settings
Plastic construction is a bit flimsy
Decent but not great sound
Key Specs
| | |
| --- | --- |
| Drive Principle: | Belt Drive |
| Platter: | Rubber vinyl |
| Preamp: | Yes |
| Produt Dimensions: | 36.83 x 43.18 x 10.92cm |
| Product Weight: | 3.58 kg |
Place your vinyl record on the platter, close the lid, press one button and you're done. Using this affordable automatic turntable from Sony makes it easy to listen to your favourite records. You don't have to touch the tonearm to drop the needle, so there are no worries that you will scratch the vinyl.
This turntable is ideal if you are starting out in the world of vinyl and are looking for a no fuss model that still has good connections and decent sound. It boasts a few cool features such as three types of connectivity: Bluetooth connectivity to a Bluetooth speaker or headphones; RCA cable connectivity to a receiver or amplifier or amplified speaker with appropriate inputs; and USB connectivity to a computer.
In terms of its automatic features, the three start/lift/stop buttons do all the work for you. Press start and the tone arm lifts off the stand and is placed at the beginning of the record. Press the lift and the tone arm lifts straight up and it stays there so you can move it safely. Press it again and the arm gently drops back onto the record. The turntable also comes with a dust cover and a 45 rpm adapter.
6. Best for Kids: Victrola Vintage 3-Speed Bluetooth Suitcase Turntable with Speakers
Vintage look
Affordable
Portable
Bluetooth connectivity
Built-in speakers
Not the best sound quality
Not recommended for a true audiophile
Key Specs
| | |
| --- | --- |
| Drive Principle: | Belt Drive |
| Platter: | N/A |
| Preamp: | Yes |
| Product Dimensions: | 35.31 x 11 x 25.7 cm |
| Product Weight: | 2.49 kg |
If your kids are into music and want to experience vinyl like their grandparents did, you may want to consider this cute vintage-style, portable turntable that is packaged like a suitcase.
Suited for a small space or a bedroom where you can't listen to music blasting from power speakers, this belt-driven turntable gives decent sound – although if you are looking for quality stereo, then this item is not for you.
However, for kids who want to listen to grandma and grandpa's rock n' roll, this little number does have some cool features, such as: Bluetooth connectivity to play music from streaming apps like Spotify and YouTube; a 3.5mm aux-in for playing downloaded music from an MP3 player or iTunes; an RCA aux-in to attach to external speakers; and, a headphone jack. It has built-in stereo speakers and plays 33 1/3, 45, and 78 RPM records.
The suitcase has an easy-to-carry handle and is available in 24 different colours and cool designs, including camo, denim and tie dye. This turntable makes a fun and entertaining gift.
7. Best Set: 1 BY ONE Record Player Wireless Turntable
Comes with external speakers
Can also hook up to other speakers
Adjustable counterweight
Anti-skating feature
No headphone jack
Mode and volume controls are under the lid
Key Specs
| | |
| --- | --- |
| Drive Principle: | Belt Drive |
| Platter: | Solid iron |
| Preamp: | Yes |
| Product Dimensions: | 41.91 x 34.54 x 13.97 cm |
| Product Weight: | 9.43 kg |
This mid-range turntable system comes with external speakers, which makes it a good option if you want a belt-driven all-in-one music playing and listening ensemble with wireless connectivity.
The solid iron platter on this model produces stability and rotation for a quality hi-fidelity playback. It also has an adjustable counterweight and an anti-skating feature for smooth stylus performance that tunes out skipping and distortion.
As for connectivity, there is a built-in switchable phono line and pre-amplifier that you can connect to the speakers that are included with the turntable, or you can connect it to another set of externally powered speakers using the dual RCA output cables. You can also connect the turntable to your computer if you want to digitize and store your music, plus you can play music from your phone or tablet using the included speakers.
It also comes with a plastic dust cover, so you can leave the last record on the turntable overnight and not worry about dust buildup.
Belt Drive vs. Direct Drive
In order to get the platter of your turntable turning, you'll need to know more about belt-driven vs. direct driven models.
Belt Driven
With a belt driven turntable, the motor spins a rubber band that loops around your turntable, which spins the platter, and voilà, sound is produced. This tends to be the preferred method of turning the platter over the direct drive versions for a couple of reasons.
First, one of the major issues with turntables is the distortion of sound because of vibrations coming from anywhere inside and out of the cabinet. Because the needle has to sit just right in the groove, even the gentlest bump will cause an audible distortion. The benefit of the belt is that any vibrations from the motor itself are dissolved through the belt, which means the platter should spin easily with little effect from the motor. The downside of the belt driven version — as well as cheap models — is that the belt may slip off the platter and you'll have to get in there and place it back in the right position.
Direct Drive
Direct drive means the platter is directly attached to the motor, so the platter spins with the motor with no external factors at play. What's great about a direct drive is the consistency. Elastic bands have a little bit of agency given their nature, whereas when connected to the motor the platter is only ever going to spin just as fast as it's supposed to.
But it's a rather rigid system. Motors do cause vibrations, and with no real buffer to take the brunt of these disturbances the platter (and your record in turn) has the potential to offer a more distorted sound. Ultimately though, audio experts pretty well agree that the preference between the two is completely individual and up to nothing more than personal taste.
Preamps: Do I Need Them?
When you buy a turntable, you're not buying a necessarily audible experience — you'll need to already have or invest in a speaker system that will work with your turntable.
If your turntable doesn't have a built-in preamp, this means you'll most likely need to also then purchase a preamp as the middle man between your turntable and your speakers. If you're new to the Hi-Fi world, do yourself a favour and get a turntable with a preamp to save yourself some time, money, and the hassle of needing yet another piece of gear.
Leave a Comment
We're always looking for more feedback! If you've purchased one of the turntables on this list and would like to share your experience, please comment below and let us know what you think about our picks.
About the Author: Cullen Elijah McGrail
Cullen Elijah McGrail is a researcher, writer, and award-winning playwright currently residing in Southwestern Ontario. He has worked for arts and culture organizations, as well as other non-profits, from coast to coast. His favourite highlights include a summer at the Banff Centre for Arts and Creativity, creating a tour for the Toronto Zoo, and touring with a ballet company across Newfoundland. When he's not writing, Cullen can be found listening to every podcast he can get his hands on.
RedFlagDeals.com is reader-supported. We are a participant in the Amazon Services LLC Associates Program and other similar affiliate advertising programs. These programs are designed to provide a way for sites to earn advertising fees by linking to them. This means that RedFlagDeals.com will sometimes get a small commission if you make a purchase through our links.