The Best Trekking Poles
Table of Contents
Whether you need a quiet moment alone, are looking to blow off some steam, or simply want to explore the parks and trails in your area, a hike is a great way to escape the hustle and bustle of a busy city or just to unwind after a long day at work; nature has a way of doing that. That said, if you're ever gone for a hike you know what it can do to your feet, legs, or back. After a long day of walking through rough terrain or up and down hills, you can get sore over the course of the day and too much of that can lead to long-lasting injuries. To make it easier for you, trekking poles are a great tool for hikers.
Not only do trekking poles offer stability and support — regardless of the terrain or season — but they can also help to take pressure off your joints when climbing. They also have a lot of outdoor appeal as well — from helping to navigate through rivers and streams to pitching ultra-light tents. It's important to note that although they can be beneficial when walking through rugged terrain, they shouldn't be used to replace canes. Before buying, it's important to consider the following:
Pole length
Pole material
Pole grip
Locking mechanisms
Telescopic
Trifold or standard poles
As a starting point, think about what length you need the pole to be; this can help narrow down your search. Don't shy away from spending an extra few dollars on your trekking poles either as they're a worthy investment that will last you some time. Below are some of the best trekking poles that will serve you on your hikes.
1. Editor's Pick: TrailBuddy Trekking Poles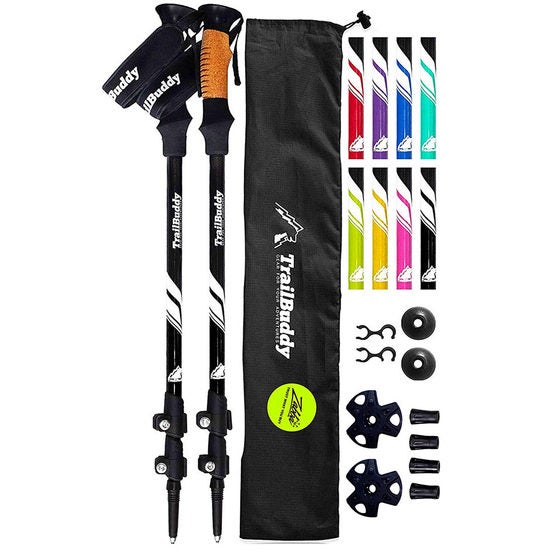 Comes in 8 colours
Easy to use lever locks
Weighs less than other aluminum poles
Features padded adjustable wrist straps
Includes one-year warranty, carrying bag, four rubber tips, two mud and snow baskets, and a pair of connectors
Baskets may loosen
No shock absorption
Key Specs
| | |
| --- | --- |
| Shaft Material: | Aluminum 7075 |
| Grip Material: | Cork and EVA |
| Item Weight: | 740g |
| Length: | 24.5" - 54" |
For all you hardcore hikers out there, these poles were created with you in mind.
These TrailBuddy Trekking Poles were built using a durable telescopic shaft, are made from lightweight aluminum to withstand rugged terrains, and have a cork handle that moulds to your hand for a comfortable moisture-wicking grip. With eight different colours for you to choose from and three different interchangeable pole accessories, this stylish pole set will become the perfect addition to any hiking excursion.
2. Runner Up: TheFitLife Nordic Trekking Poles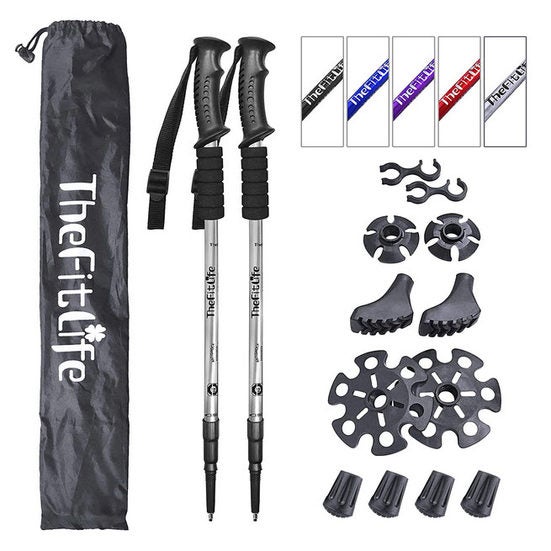 Available in five colours
Small enough to fit into your backpack when collapsed
Includes a carrying bag, four rubber tips, two mud and snow baskets, two walking caps, two clips and a user guide
Not suited for heavy duty trips
May bend under significant stress
Locking mechanism may come loose
Key Specs
| | |
| --- | --- |
| Shaft Material: | Aluminum |
| Grip Material: | Rubber + EVA Foam |
| Item Weight: | 700g |
| Length: | 26" - 51.2" |
Saving yourself a few pennies doesn't mean that you always have to sacrifice quality. These budget poles will give you what you need.
These FitLife Nordic Trekking Poles are built from high-quality seven-series aviation aluminum. Not only does it have an anti-shock mechanism, but it also uses a twist-lock system that allows you to extend the pole easily — from 26" to 51.2". With soft extra long foam handles, these lightweight, durable trekking poles can be used by the whole family!
3. Most Compact: Trekology Trek-Z Trekking Poles
Comes in 3 colours
Easy length adjustments
Compact, portable design
Cork grip molds to hands and wicks away moisture
Includes mud stop, rubber grip, snow basket, and rubber feet
No shock absorption
Tips aren't great quality
Have to choose a specific set for your height
Key Specs
| | |
| --- | --- |
| Shaft Material: | Carbide |
| Grip Material: | Cork & EVA foam |
| Item Weight: | 294g |
| Length: | 100-120cm (for 5'8" or shorter) / 115-135cm (for 5'9" or taller) |
Intended for backpackers and campers alike, these trekking poles are compact and portable.
These Trekology Trek-Z Trekking Poles use moisture-wicking EVA foam handles and a strong aluminum shaft. Giving users a sturdy yet sleek pole that's perfect for throwing in your bag, you can keep these in your backpacks and bring it out when you're ready to use them. With long-lasting metal lock clips and adjustable wrist straps, this compact collapsible pole is the perfect travel buddy.
4. Best Carbon Fibre Option: Cascade Mountain Tech Carbon Fiber Adjustable Trekking Poles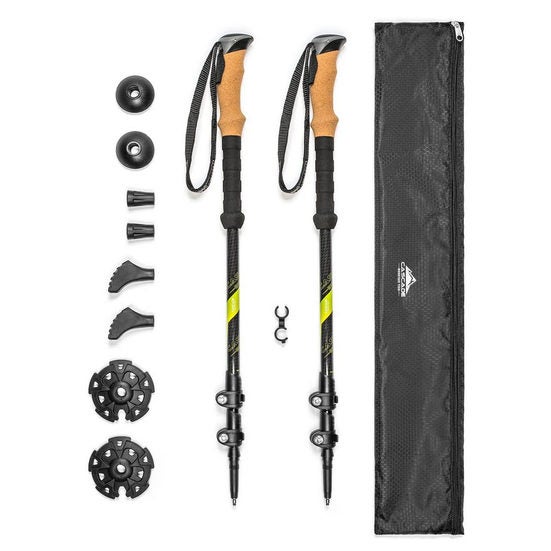 Comes in 2 colours
Adjustable wrist wrap
Lightweight, compact pole
Includes snow baskets, mud, and rubber caps
Uses quick lock feature for fast and easy adjustments
No shock absorption
Not as durable as aluminum poles
Key Specs
| | |
| --- | --- |
| Shaft Material: | Carbon Fibre |
| Grip Material: | Cork and EVA foam |
| Item Weight: | 667g |
| Length: | 26" - 53" |
This lightweight and durable trekking pole provides stability across all sorts of terrains without breaking the bank.
Although these Cascade Mountain Tech Carbon Fiber Adjustable Trekking Poles won't give you the same durability as aluminum poles, if you're in need of a high-quality lightweight trekking pole these are suitable for men, women, and children. Made from 100% carbon fibre, these poles weigh 667g and have cork grip handles that ensure a comfortable grip while its quick lock feature makes adjusting the height on the fly easy.
5. Best All-Terrain Option: Foxelli Carbon Fiber Trekking Poles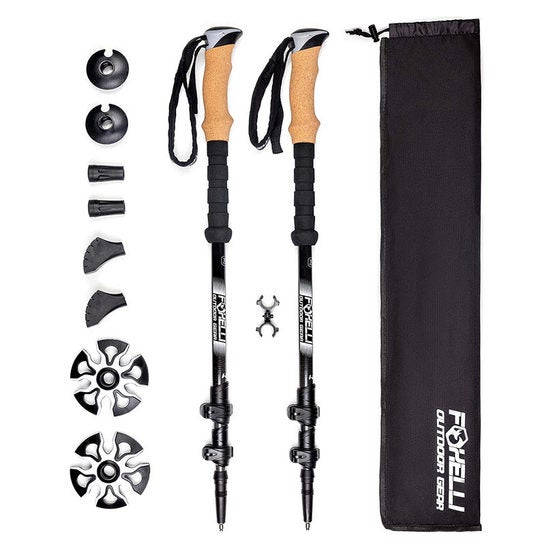 Three-year warranty
Easy to adjust poles
Padded adjustable wrist straps
Sweat and moisture absorbing handles
Includes rubber tips, baskets, carrying case and carrying clip
Expensive
Not as durable as aluminum
Key Specs
| | |
| --- | --- |
| Shaft Material: | Carbon fibre |
| Grip Material: | Cork and EVA foam |
| Item Weight: | 198g |
| Length: | 24" - 55" |
If you love to get outside and hike no matter the weather, these shock absorbing all-terrain trekking poles are ready to tackle whatever Mother Nature decides to throw your way.
This set of Foxelli Carbon Fiber Trekking Poles are made from lightweight carbon fibre materials and use anti-slip cork handles to help keep you balanced and stable throughout your hikes. They also come equipped with heavy-duty rubber tip accessories so you can enjoy a sturdy hike regardless of the weather conditions.
6. Best All-Weather Option: Glymnis Trekking Poles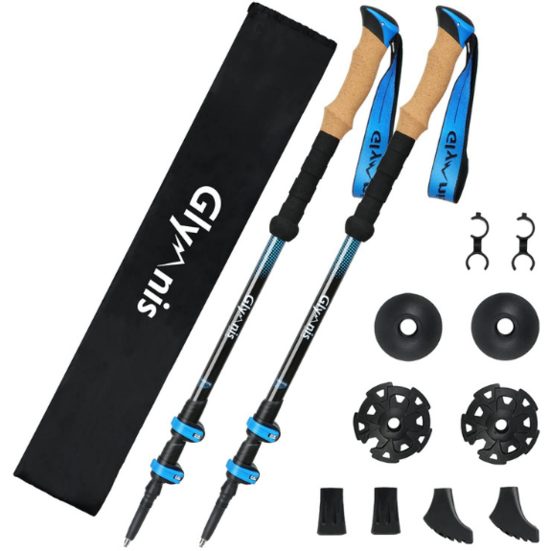 Tri-fold collapsible design
Easy to adjust height
Natural cork grip
Quick lock system
Not recommended for anyone under 5'2" or over 6'2"
Key Specs
| | |
| --- | --- |
| Shaft Material: | Aluminum 7075 |
| Grip Material: | Cork and EVA |
| Item Weight: | 800g |
| Length: | 65cm - 135cm |
Snow, mud, on the trail, or off the trail — nothing is going to deter you from hitting the trails with these poles.
For climbing hills and coursing through the woods in all kinds of weather conditions, you know you need a sturdy pair of trekking poles to keep you steady and walking tall. But since you hit the trail a few times a week, you're looking for something made from a sturdier material than carbon fibre. These tri-folding Glymnis Trekking Poles are made from a sturdy aluminum alloy which is a good option if you're out there every other day regardless of the weather. The hard aluminum telescopic shaft is strong enough to endure the kind of pressure and impact associated with rough terrain and snowy, rocky, or slippery surfaces, and the anti-skid cork handles are designed to fit comfortably in your hands and absorb sweat to keep your hands dry during a particularly exerting hike. These trekking poles have three sections that when folded, measure only 65cm each, and weigh 800g total. The set also comes with boot tips, rubber tips, snow baskets and mud baskets.
7. Best Shock Resistance: Crown Sporting Goods Shock-Resistant Adjustable Trekking Pole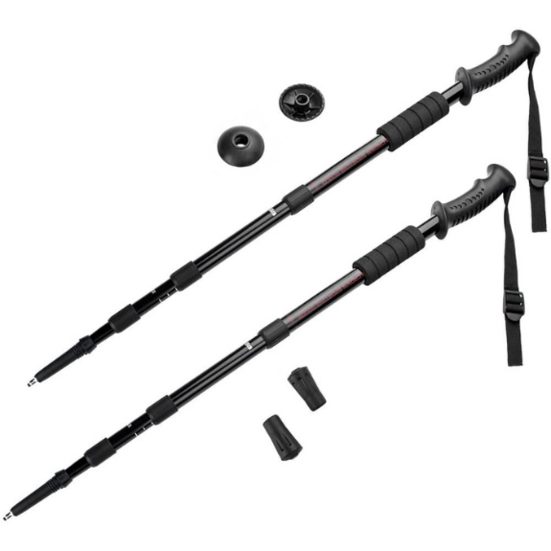 Includes three tips
Comes in 4 colours
Good shock absorption
Secondary soft foam grip
Adjustable handle straps
Small baskets
Poorly packaged
Better for easy or moderate trails
Key Specs
| | |
| --- | --- |
| Shaft Material: | Aluminum |
| Grip Material: | Plastic, Foam |
| Item Weight: | 680g |
| Length: | 20" – 43" |
Getting out on the trails is a great way to stay fit while enjoying nature, but if you suffer from back or hip issues walking on hard surfaces can end up giving you more pain than pleasure. These poles mean you don't have to give up exercising in the great outdoors.
These Crown Sporting Goods Shock-Resistant Adjustable Trekking Pole have an internal anti-shock spring in the bottom section of the pole that reduces up to 25% of your body weight from the lower area of your body, alleviating some of the strain to your joints and muscles. Simple and easy to use, the lightweight and durable aluminum telescoping trekking poles extend from 20" up to 43" and together weigh 680g. Once you adjust to your desired height, each section locks in with a simple twist and is marked with measurements for precision adjustments. These poles have an ergonomic grip, a secondary soft foam grip, an adjustable wrist strap, and three tips to get you through a variety of surfaces including flat, rocky, or snowy terrain.
8. Most Versatile: Defiant Outdoor Multi-Functional Trekking Pole
Lightweight
Adjustable height
Comes with many tips
Comes with a camo storage bag with belt loop
Only one pole
Not everyone will want or use the extra tips
Have to purchase extra extensions for tall people
Key Specs
| | |
| --- | --- |
| Shaft Material: | Aluminum alloy |
| Grip Material: | TRP |
| Item Weight: | 390g |
| Length: | 41.7" |
Sometimes you want a trekking pole to do what it's supposed to do – give you the stability and support you need while hiking on a trail – and sometimes you want something more. Well, we've got you covered with this versatile trekking pole.
Theis Defiant Outdoor Multi-Functional Trekking Pole is made of an aluminum alloy, has an ergonomic TRP grip and a sturdy lanyard, and weighs only 390g total. Super compact, you can collapse and disassemble it into five 20cm tubular sections with a hollow space for inserting and storing accessories, all of which fit into a portable bag that you can carry on your belt or stow away. What really makes this trekking pole stand out from the rest on this list are the number of attachments that turn it from a pole into an outdoor emergency tool. Aside from the metal walking tip, it also has a serrated harpoon knife, a double-headed screwdriver, a flint stone fire starter, a high-decibel whistle, a compass, and a utility knife. All of these options attach in less than 10 seconds for an enjoyable and safe walk around the neighbourhood or a mountaineering adventure.
Features To Look For
To make sure that you get the most out of your hike, finding a pole that's the right size for you is one of the most important elements to consider. Poles that are too long will cause you to lean back while you walk which may lead to discomfort in your shoulders, while poles that are too short result in you leaning forward which adds unnecessary strain on your back. A handy way to make sure that your pole is at the right length for you is by grabbing the handles and placing the tip on the ground near your feet. Your arms should create a 90° angle. Most of the trekking poles these days are adjustable so finding a style that fits your height won't be too difficult, but it's still something to be cautious of when shopping.
Pole Design
There are three main types of pole designs: telescoping, trifold, and fixed.
Telescoping poles are considered to be the original style of trekking poles and provide the most adjustability out of any of the designs. You can choose between two-section poles that are strong and ideal for those who need heavy duty equipment to handle winter hikes, or three-section poles that are commonly used on trails. Although two-section poles are durable, they're also often quite large and heavy. Three-section poles aren't as sturdy but they are lighter and more compact.
Folding poles are similar in design to tent poles in that they use a cord that links together multiple pieces. This style isn't as durable as telescoping poles but is lighter and the most compact style of them all. Folding poles are great for trail hikers and uphill skiers and can be the perfect companion for people who travel a lot.
The last style is fixed poles. This type of pole isn't commonly used because they're more difficult to travel with since they can't be contracted and are fixed to one height which makes finding for the right pole a more difficult task.
Shaft Materials
The material of the pole is usually made up of either carbon or aluminum. Carbon poles are lightweight and ideal for people who only use them when absolutely necessary since they can be quite pricey and are more likely to break if misused. Aluminum poles are more durable, less expensive, but also slightly heavier than carbon poles. This style is better suited for people who need their poles to help them with their balance since they're a lot less likely to break.
Grip Materials
A pole's grip can be made of cork, foam or rubber materials. While cork grips are comfortable, durable and can help to keep those sweaty palms dry, it is the heaviest and most expensive option of the three. Foam grips are the softest material and is also the least expensive option. They do however absorb water which causes them to break down faster than the other styles and aren't ideal for hiking in wet climates. Rubber grips are the most water resistant of the three, are typically really durable, and are also affordable. The downside? They're not the most comfortable material and may be hard to hold if and when your hands get sweaty.
Leave a Comment
Have you tried any of these poles? We've love to hear your thought — leave a comment below!
About the Author: Carlen Oliveira
Carlen Oliveira is a graduate from Ryerson University's RTA Sport Media program and is currently working as a writer based out of Toronto. She has an avid interest in all things sports and finding engaging new ways to workout. She discovered a love of individual activities like yoga and skipping, which pushed her both mentally and physically. When she's not writing or working out, you can find her exploring the outdoors and traveling, come rain or shine… and especially snow!
RedFlagDeals.com is reader-supported. We are a participant in the Amazon Services LLC Associates Program and other similar affiliate advertising programs. These programs are designed to provide a way for sites to earn advertising fees by linking to them. This means that RedFlagDeals.com will sometimes get a small commission if you make a purchase through our links.