The Best Trail Running Shoes
Table of Contents
Whether you're heading out for a casual off-road run or are preparing for a serious excursion through technical terrain, swapping out your everyday running shoes for trail running shoes is a must. Opting for trail specific shoes will help to ensure that you and your feet are well supported and protected during your runs. Trail shoes are typically heavier in design and are made to keep your feet safe from rocks, roots, sharp thorns, bushes and even streams that you may encounter out on your runs.
But odds are if you're reading this, you clicked on this article for a reason and we don't have to try and convince you to make the switch to trail shoes. So now the question becomes, how do you find the best trail running shoes for you? Like any shoe, there's a lot of different factors that come into play such as the type of shoe you need for your style of running, the amount of cushioning you want, how big or small the heel-to-toe drop is, and most importantly, the fit.
Below, we've highlighted some of the best trail running shoes to buy this year:
1. Editor's Pick: Altra Men's Lone Peak 4.5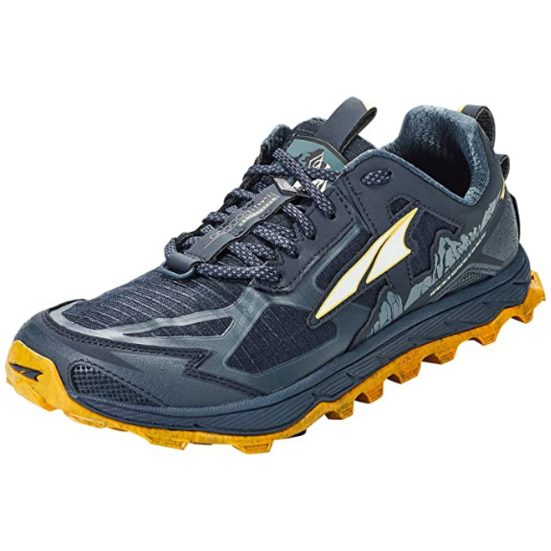 Lightweight
Flexible
Five different colour options
Micro-adjustment lacing system
Wide toe box
Heel tab may rub against achilles
Key Specs
| | |
| --- | --- |
| Weight : | 298g |
| Cushioning: | Moderate |
| Heel Drop: | 0 mm |
Perfect for tackling rough terrains, these Altra Lone Peak 4.5 runners use strategically placed canted lugs to provide ample traction in every step as well as extra grip under your toes. These trail runners will keep your feet comfortable and supported — with thin and lightweight materials providing ample flexibility throughout the foot, it also has a quick simple-lacing system that allows you to make the smallest of adjustments.
2. Runner Up (Best Women's): ASICS Women's Gel-Venture 5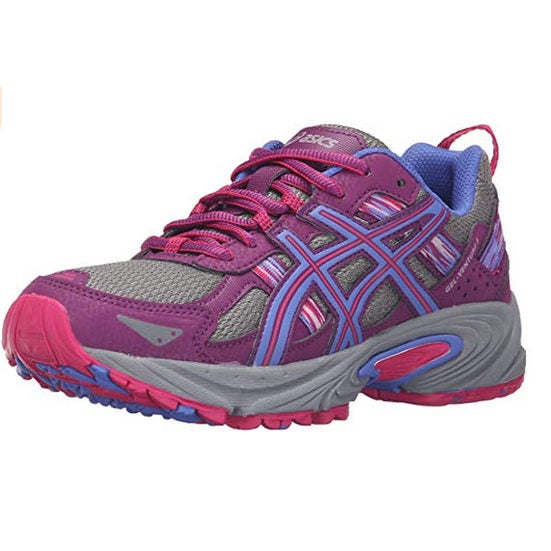 Removable sockliner
Rugged outsole
Comfortable
Stiff
Minimal flexibility
Minimal traction on wet surfaces
Key Specs
| | |
| --- | --- |
| Weight: | 283g |
| Cushioning: | Moderate |
Need to insert orthopaedics? No problem. These shoes have a removable sock-liner so you can accommodate and cater your shoes to meet your specific needs.
The ASICS Gel-Venture 5 trail runners feature a rearfoot GEL cushioning system that reduces shock to give you a smooth transition through each stride. Its high abrasion reversed rubber lugs help to ensure that you have a stable grip no matter the terrain — on both the uphill and downhill journeys.
3. Best Minimal Shoe (Women's): New Balance Women's Minimus 10 V1 Trail Running Shoe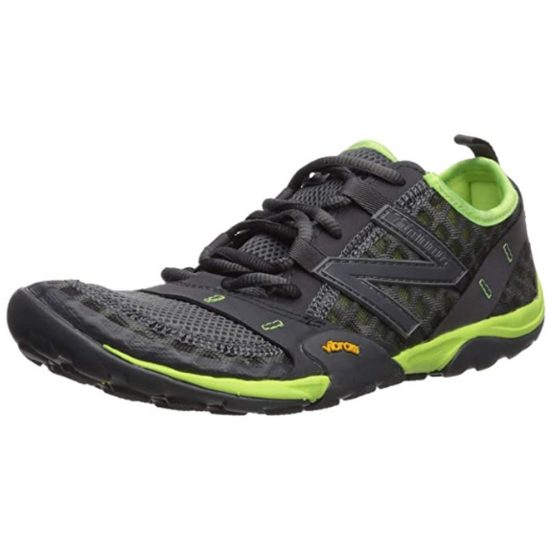 Small heal-to-toe drop
Flexible mesh upper
Available in four colour combinations
Limited sizes available in some colours
Key Specs
| | |
| --- | --- |
| Weight: | 340.19g |
| Cushioning: | Minimal |
| Heel Drop: | 4mm |
These trail running shoes for women from New Balance are a good choice for anyone who wants to experience a near-barefoot running experience.
They offer traction and durability while offering comfort and support on when you're running on rocky and uneven trails. They also have a relatively small heel-to-toe height drop of 4mm, which means the thickness of the sole is more uniform front to back, giving your foot freedom all the while.
The shoes are made from synthetic material, with a flexible mesh upper and a Virbram outsole with strategically placed flex grooves that will give you stability and traction on rougher terrain. The insides of the running shoes have been treated with an antimicrobial agent to help reduce foot odour and its lace up closure allows you to adjust the shoes to fit snugly and comfortably.
4. Best Zero Drop: Merrell Women's Trail Glove 5
Lightweight
Comfortable
Breathable
Great transition shoe to barefoot models
Narrow toe box
Minor arch support and cushioning
Key Specs
| | |
| --- | --- |
| Weight: | 170g |
| Cushioning: | Minimal |
| Heel Drop: | 0mm |
Made from recycled materials, these high-performance, vegan-friendly shoes provide you with a glove-like and barefoot feel so that your body can enjoy a natural stride.
These Merrell Trail Glove 5 runners were created to enhance your foot's natural ability to stabilize your body while running. Available in eight colours, its "barefoot" design and minimal heel-to-toe drop allows your feet to do the work while you run.
5. Best Mountain: Salomon Men's X Ultra 3 GTX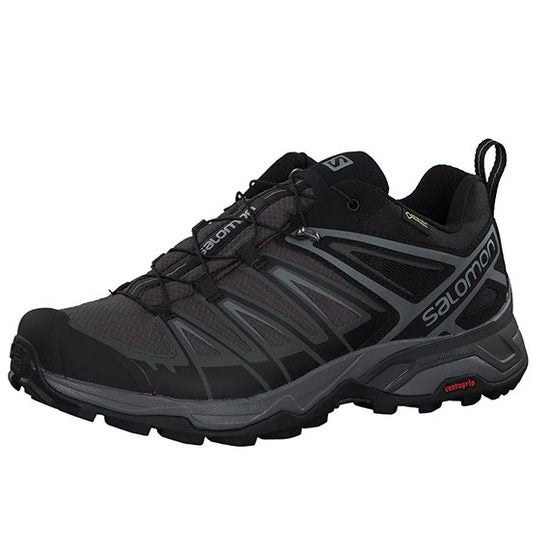 Waterproof
Breathable
Lightweight
Quick-lace system
Removable insole
Need to be broken in
Narrow
Expensive
Key Specs
| | |
| --- | --- |
| Weight: | 380g |
| Cushioning: | Moderate |
| Heel Drop: | 8 mm |
If technical hikes and rugged mountain terrains are calling your name, these Salomon X Ultra 3 GTX will be your go to shoe. It has a protective mudguard, anti-debris mesh upper, high-performance EVA foam, an OrthoLite sock-liner and Gore-Tex protection, making these durable runners a great addition. There are a great pair for your next challenging and demanding trail regardless of the weather.
6. Best Water-Resistant (Men's): GoodValue Trail Running Shoes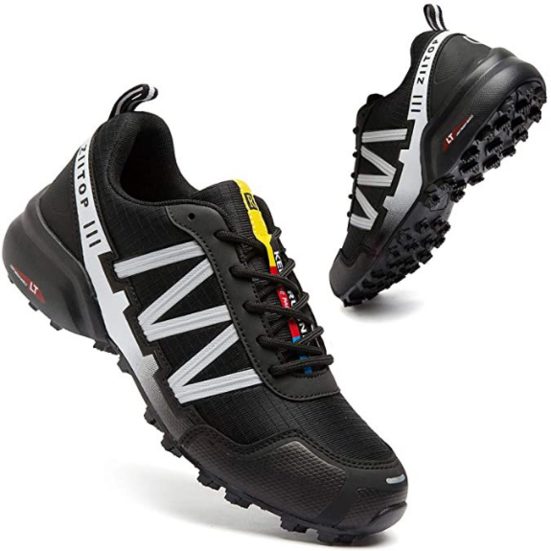 Water resistant
Long lugs with deep groove design
Mesh lining for breathability
Key Specs
| | |
| --- | --- |
| Weight: | N/A |
| Cushioning: | Moderate |
When you're out running on the trail, you never know when the rain will hit or you'll run across a stream or a boggy, soggy area blocking your way that you have to get through. These trail running shoes have a rubber sole with a high-tech leather and fabric round head, so your feet are better protected from the elements, including rain. They are also constructed to be super comfortable and have a mesh lining for breathability, a padded tongue and collar and a lace-up closure to ensure a good fit.
The shoes also have long lugs with a deep groove design that wrap the midsole to give you the added traction and stability you need on rough or slippery terrain. These men's trail running shoes are available in three different colours and range in size from 6.5 to 13, with some half-sizes.
7. Best Versatile (Men's): Saucony Men's Canyon Tr Trail Running Shoe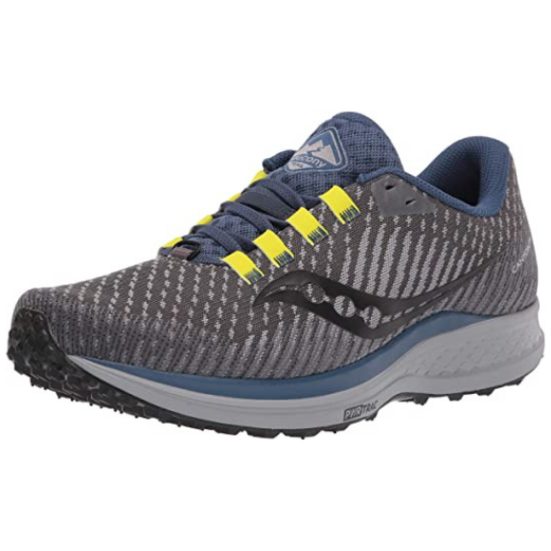 Suitable for trail and road running
Available in two different colours
Sizes 7 to 14 with some half sizes
No half sizes in the larger sizes
Key Specs
| | |
| --- | --- |
| Weight: | 312grams |
| Cushioning: | Good |
Sometimes you want to run on a trail and want to have the proper footwear, and other times, you may want to run on the road. Like many people, though, it's not practical to have two pair of running shoes and change into the one that suits the specific terrain you're in the mood to run on. That's why we included these trail running shoes that can easily transition from off trail to road with ease.
These trail shoes are made of 100 percent fabric, so they are light on your feet, with a rubber sole to keep you upright and stable in slippery conditions. They are designed with low-profile lugs that will give you plenty of grip for off-road, rough terrain, yet they are spaced out enough to make the transition from road to trail and back again feel smooth.
As well, the shoe has a good amount of cushioning with just the right softness to respond and absorb the shock of rougher surfaces, plus the sleek mesh upper is reinforced with a thin, flexible three-dimensional film to give you extra protection from mud and debris.
8. Best Budget Pick: todaysunny Trail Running Shoes
Sole made of anti-skid rubber tire material
Leather upper
Antimicrobial treatment
Limited sizes in some colours
Key Specs
| | |
| --- | --- |
| Weight: | 400grams |
| Cushioning: | Excellent |
The last choice on our list is a rugged trail running shoe that is budget priced. If you have other running shoes that you wear to cross train but also want a pair specifically for running on trails, this is a good option that won't hurt your wallet.
The interesting thing about these shoes is the sole, which is made of anti-skid rubber tire material. This provides the running shoes with a lightweight feel and substantial yet soft cushioning for running on dry terrain as well as good traction for wet ground and soft snow. Plus, the rubber lugs are patterned so you will have a stable and smooth experience on all kinds of surfaces.
The leather uppers have moulded breathable footbeds covered with a thin, soft material to balance lightweight comfort and performance while keeping your feet cooler, and an antimicrobial treatment helps prevent foot odour. These trail running shoes are available in three different colours and selected sizes.
Types of Trail Running Shoes
Light
Light trail running shoes have the most in common with the traditional style of a running shoe. They're designed to be used on uniform or well maintained surfaces such as gravel trails or long rolling hills, and are made with a basic structure and minimal protection so you can run effortlessly and comfortably on those somewhat stable surfaces.
This style of shoe offers very little protection from the rocks and roots you may encounter but are made from lightweight materials to help you run faster for longer periods of time.
The soles of the shoe feature shallow lugs to help provide solid traction on stiff soil and utilize a moderately stiff build to help keep your feet stable and secure while you run. Light trail shoes also typically range anywhere from minimal to generous amounts of midsole cushioning - it all depends on how much you want your feet to feel the trail while you run.
Rugged
This style of shoe kicks things up a notch and is designed for running on hiking trails. They provide more protection for the soles of your feet and also offer more midsole support to keep your feet steady while running on a wide variety of terrains.
Toe guards and other hidden protective elements like underfoot plates are used in this type of shoe to help shield your feet from any roots or rocks that you might encounter on the trails. On top of toe guards and plates, the materials themselves are more durable than light trail shoes to help protect the tops of your feet from harsh bushes or thorns.
Basically, almost every piece of material used in this shoe offers some form of protection or support to help keep your feet safe from harsh terrains while also working to stabilize your feet. Supportive uppers, stiff builds, diverse lug patterns, you name it - they all work to defend against the rough elements.
Off-Trail
The final type of trail shoe is the most durable and heavy duty of them all. These shoes are meant for the toughest of terrains and are similar in design to rugged shoes but incorporate a few extra safety features.
Since you'll be running on rough and questionable terrains, these shoes use heavy duty materials and a stronger and thicker body to limit the chance of your foot rolling or twisting. Because you may encounter some streams or rough weather during your outing, it's common for this type of shoe to integrate some form of waterproof elements to add another layer of protection to your feet.
Leave a Comment
Have a favourite trail running shoe you want to share? Leave a comment below and let us know!
About the Author: Carlen Oliveira
Carlen Oliveira is a graduate from Ryerson University's RTA Sport Media program and is currently working as a writer based out of Toronto. She has an avid interest in all things sports and finding engaging new ways to workout. She discovered a love of individual activities like yoga and skipping, which pushed her both mentally and physically. When she's not writing or working out, you can find her exploring the outdoors and traveling, come rain or shine… and especially snow!
RedFlagDeals.com is reader-supported. We are a participant in the Amazon Services LLC Associates Program and other similar affiliate advertising programs. These programs are designed to provide a way for sites to earn advertising fees by linking to them. This means that RedFlagDeals.com will sometimes get a small commission if you make a purchase through our links.