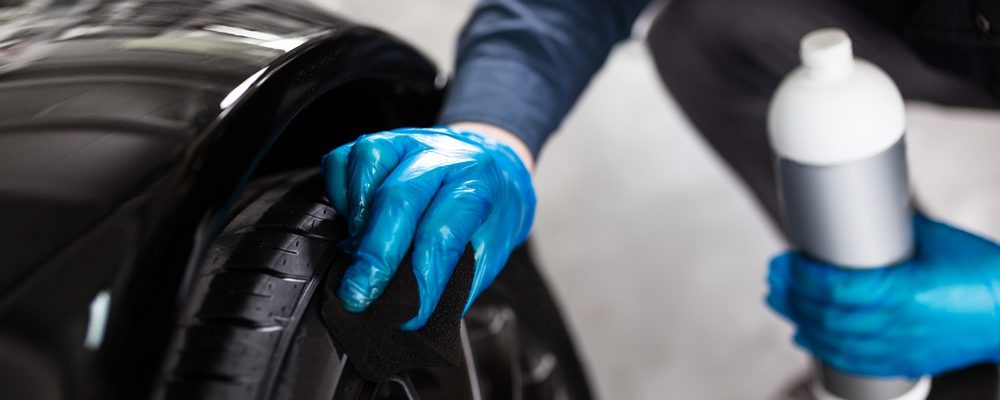 The Best Tire Shine for Your Vehicles
By
RFD Staff
January 22, 2021
We all want our cars looking clean and smooth. The tires are a defining piece of a vehicle and what good does it do you if the tires of your car look worn out and faded while the rest of your car looks clean? Car detailing includes a number of steps geared towards protecting, cleaning and improving the appearance of your car. It involves cleaning and treating the different parts of your car.
Now, like we said, the tires of your vehicle be it a passenger car, a bike or even a truck, are a defining piece or component of your vehicle. Asides from that, they are also an important part of your vehicle. You cannot move without the tires, so it's extremely important to take care of them. You might already take care of your tires by engaging in regular air pressure checks, rotations and even replacement, but keeping the tires clean and applying protective treatments that keep the sidewalls clean from grime and protect it from the rays of the sun is just as important as the other routine checks.
This is where tire shines come in. These products leave a high gloss finish that make your tires shine. They also contain chemical formulas that help restore the colour and rubber components of your tires that might have faded away. These tire shine products don't just contribute to enhancing the looks of your tires—they also add an extra layer of protection for them. Engaging in frequent checks and treatments like this helps maintain the lifespan of your tires. Here are some of the top tire shines you should consider:
1. Editor's Pick: Chemical Guys Extreme V.R.P. Dressing Shine
Pros
Cons

Repels dust
Gives luscious shine to your tires
Protects your tires from the UV rays of the sun

Leaves white streaks
Doesn't last in the rain
Chemical Guys' Extreme V.R.P. is our top pick for the best tire shine product. This product is really versatile. It is a dry-to-the-touch water-based dressing that works great on tires, leather, vinyl, rubber and plastic. What's also great about this product is that it works well on both exterior and interior surfaces. Its range to work for a lot of material surfaces is what makes it our top pick. Imagine all that it works for! All in one bottle! Awesome right? It definitely makes cleaning a whole lot easier. The Extreme V.R.P Shine promises to restore the shine to your old, dusty tires as well as your dashboards, interior pieces and plastic surfaces. It features built-in UV protection that helps protect surfaces and your tires from the rays of the sun. The patented formula has an absorber that seeps into your tires and surfaces to add an extra layer of protection. It also skips harsh chemicals like silicone and petroleum and it lasts relatively well except when it rains. When it rains, it leaves white streaks and doesn't last as well as it would've in a dry climate. Overall, it's a solid product.
2. TriNova Tire Shine Spray
Pros
Cons

Gives a slick and shiny finish
Repels dirt and grime
Provides additional coating and protection

Leaves spots if not applied well
The TriNova Tire Shine Spray is our best value pick because of its impressive performance for its price. This product assures you of a shiny and slick finish on your tires. All you need to do is apply the TriNova Shine Spray on your tires and wipe them and voila, they get their shine. It's so easy to apply. The product comes in a big 18-ounce bottle or gallon, so you're sure it lasts you for a long time. It features an anti-aging formula that also repels dirt and grime. They protect your tires from cracking, fading and wearing out as long as you apply frequently. This product offers additional protection against external elements. You should control the amount of shine you apply because it could give your tires a spotty finish. You should also apply with caution. This recommendation is quite cost efficient.
3. Meguiar's Endurance Tire Gel
Pros
Cons

Provides protection against UV damage
Long-lasting tire shine and gloss
Easy to apply and control

Could leave spots if not applied properly
Meguiar's Endurance Tire Gel is our pick for the best long-lasting tire shine. There are tire shines that only last a couple of hours or days after you apply them, but Meguiar's Endurance Tire Gel assures you of a longer-lasting shine and coating. Its advanced tire formula not only gives your tires the shine and gloss they deserve but also ensures that they stay shiny and glossy for weeks even in the rain. The tire protectant gel stops your tires from turning brown and is water resistant. The copolymers and macropolymers present in its formula help add an extra layer that protects your tires from the UV rays of the sun. It is indeed easy to apply due to its gel-based component and you can easily control the amount you want to apply on your tires.
4. Meguiar's Hot Shine Tire Spray
Pros
Cons

Easy to use aerosol spray
Affordable pick
Adjustable nozzle
This is our best budget pick. The Meguiar's Hot Shine Tire Spray is affordable and works effectively as well. Meguiar's make a lot of different tire shine products and if you are looking for one that doesn't necessarily cost a lot, then you should get this. If you need a quick shine then it is the one for you. It doesn't last as long as our other picks but it's good for quick use. It still gives your tires a high gloss wet look and also prevents cracking and browning if used regularly.
5. Carfidant's Ultimate Tire Shine Spray
Pros
Cons

Spray is non-toxic
Easy to use and apply
Protects the tires from grime and UV rays

Doesn't last in the rain
Can potentially stain your driveway
Carfidant's Ultimate Tire Shine Spray is another good tire shine product. Its specially formulated nano-polymer is safe for your vehicle and the environment. This product provides your tires with a glossy and shiny finish. It still provides them with a sheen even when applied in lesser quantities although that wouldn't as intense. You need to experiment with the amount of the product that works best for you. Carfidant's Ultimate Tire Shine Spray also protects your tires from UV rays and salt damage. Its formula helps repel dirt and grime also. This product unfortunately doesn't last in the rain and could also wear away unevenly.
Frequently Ask Questions About Tire Shine
We've given you our picks for the best tire shines and what they are good for. Now, we want to go over some things you might need to know before purchasing your very own tire shine. Shall we?
Why Do I Need Tire Shines?
The truth is that the tires of your car wear down before a lot of the other components. This is why you go through a lot of routine checks and maintenance to keep your tires in good shape. Most people use tire shines to make the appearance of their cars great. This is actually one of the purposes of tire shines because they do give tires the shine and gloss, however, that's not all they do. As you might have seen while reading this, they also provide extra protection to your tires. They help reduce cracks and browning of your tires as well as repel dirt, mud and dust. They also help sustain their lifespan. Quality tire shines also help protect your tires from UV rays so that even if your tires are constantly exposed to the sun, their surfaces don't wear away.
Are Tire Shines Bad for My Tires?
It's important to purchase tire shines from good brands. Some products contain harmful chemicals that could be bad for your tires.
What Are Tire Shines Made of?
Different brands use a combination of chemicals and polymers that are peculiar to them. It's more like a secret formula. This sets good products apart from others. We can however group them into two, which are: solvent based or water based.
What Are the Different Types of Tire Shines?
Solvent based tire shines contain oils and polymers and are suspended in solvents. Solvents are basically liquids in which a solute has been dissolved in to make a solution. Solvent based tire shines help the tires become better and last longer. They also have a shiny finish.
Meanwhile, water-based tire shines are also made with occurring oils and polymers but unlike solvent based, they are suspended in water. They are more compatible with the rubber that tires are made up of, so they can be applied frequently. Water based products do not last as long as solvent based ones. These products are way easier to apply compared to solvent based ones and they are good for the environment.
There are also gel and spray options. Gel tire shines take time to apply but still give a great shiny and glossy finish to your tires. Gel tire shines also allow you to control the amount of content you're applying. Unlike sprays, there is a lesser risk of over spraying and they give your tires a more uniform look after applying.
How Often Should I Apply Tire Shines?
A really good brand should last about two weeks so once in two weeks is just fine. However, if you notice that the product is wearing off, you can reapply.
RedFlagDeals.com is reader-supported. We are a participant in the Amazon Services LLC Associates Program and other similar affiliate advertising programs. These programs are designed to provide a way for sites to earn advertising fees by linking to them. This means that RedFlagDeals.com will sometimes get a small commission if you make a purchase through our links.