The Best Tire Inflators
Table of Contents
It is easy to neglect our tire pressures. After all, modern cars come with a Tire Pressure Monitoring System (TPMS) by law, so your car will tell you when a tire is low, and it's off to the gas station for a top-up. Problem is, TPMS sensors only alert drivers when the tire is at 75 percent of the specified tire range. On a 35 psi tire, that means you're driving around nearly nine psi under pressure. That could add 30 percent more tire wear, and two or three per cent worse fuel economy. Worse, it's unsafe, and can cause your car to handle poorly, and even increase stopping distance.
It's important to keep your tires properly inflated as part of your regular maintenance schedule — who wants to go to the gas station and inflate their tires once a month? These days, it's easy to find car tire inflators for home or emergency use. Some are powered by a traditional 110V home power outlet, some by the cigarette lighter in your car, and others are battery powered. Some, like our editor's pick below, offer all three solutions in one package.
No matter if you only need it for emergencies, or if you regularly tend to your tire pressures, this guide will highlight the best portable air compressors for your car or garage. Check it out below:
1. Editor's Pick: Cahot Portable Air Compressor
Key Specs
| | |
| --- | --- |
| Max pressure: | 150 psi |
| Power supply: | 12V battery, DC, 110V wall plug |
The Cahot portable air compressor comes with three different power supplies in an ergonomic and user-friendly multi-purpose package. We like this unit because it has a high maximum pressure, automatic shut off, and an integrated digital gauge. You can use the Cahot on air mattresses, pool toys, sports equipment, and bicycles, as well as on your car, truck, or motorcycles. All of the necessary attachments come with the unit in a handy carrying bag.
The device features an LED strip that can be used as a flashlight or as a red emergency beacon. It takes three hours to charge the 12V lithium-ion battery using the wall plug, but you can also use the DC power supply in your car's cigarette lighter outlet if you get caught short.
The fast-flowing unit will fill four empty sedan tires in four minutes, but you'll need to use the back-up cigarette adaptor if you are filling larger tires from empty. Most of us fill our tires from about 75 percent (when the TPMS triggers), so this won't be a problem.
It's important to note — it is a loud unit. What's more. it's not cheap, but the Cahot comes backed by a 12-month warranty.
2. Runner Up: DEWALT 20V MAX* Cordless Tire Inflator
Quick inflation
Operating range of between 3 and 160 PSI
Three power sources
Expensive
Battery, charger, and AC power adapter sold separately
Key Specs
| | |
| --- | --- |
| Max pressure: | 3-160 psi |
| Power supply: | 12V-DC, 20V battery, 110V AC |
We admit: this cordless tire inflator from Dewalt, a respected name in tools, is more expensive than any others on our list, but for everything that it does, this is a stellar option if you have a lot of vehicle tires and other items that need to be inflated on a regular basis.
With a high-pressure operating range of between 3 and 160 PSI, it will easily inflate everything from a football to truck tires. This versatile tire inflator can run on one of three power sources: 20V MAX battery (sold separately), 12V DC, or 110V AC. So, you can use it at home, on the jobsite or on the go.
The threaded chuck and included onboard accessories make it easy to inflate whatever you need. Just set the desired air pressure on the digital gauge, and when it's done, it will automatically shut off. When it comes to inflating items like an air mattress, you can move the hose to the deflation port for a quick and easy take down.
3. Best Budget Pick: AstroAI Portable Air Compressor Pump
Quality metal motor and fittings
Large backlit LCD gauge
Not cordless
Low max pressure
Key Specs
| | |
| --- | --- |
| Max pressure: | 120 psi |
| Power supply: | DC |
What the AstroAI portable air compressor lacks in looks it makes up in quality and power. The large, backlit LCD display is easy to read, and the four-LED flashlight floods the wheel area with light. The fittings are all brass, and the card-type fuse is higher quality than the simple glass tube fuses found in other units.
We like the metal motor for its strength and durability, but AstroAI notes that the metal motor is prone to overheating versus a plastic motor. No worries — they have equipped this rig with an automatic temperature cut off. AstroAI has programmed its automatic cut off to inflate just beyond your target, to compensate for the loss of air when you remove the hose attachment. Screw-on attachments are better for your valve stems and the life of the compressor hose, but they do let more air out when you disconnect. This solves that problem.
The maximum pressure rating on this hose is 100 psi, which is lower than most others on this list. AstroAI also notes this unit is not for LT (light truck) or truck tires. That's a conservative disclaimer because this unit is more powerful than many others on this list. On that note: make sure your car's DV outlet can handle up to 15 amp of draw before connecting this unit. What's more, AstroAI backs up this well-built unit with a three-year warranty.
4. Best Value: Fortem Digital Tire Inflator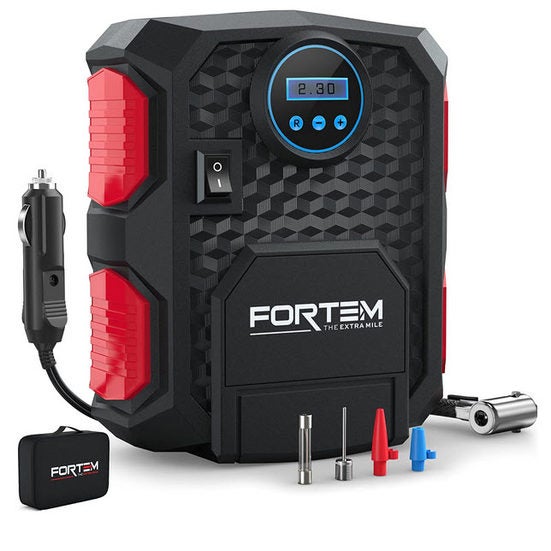 Stylish design
Easy storage
Not cordless
Slow to inflate
Key Specs
| | |
| --- | --- |
| Max pressure: | 150 psi |
| Power supply: | DC |
Fortem's neat looking digital tire inflator with auto shut off is a DC-powered compressor that features a digital gauge, LED light, and adaptors for non-automotive applications. It comes in a tidy carrying case, and the air nozzle and DC power cord fold neatly into the back of the unit. While not as convenient as a cordless inflator, the cable is long enough for use in most cars, trucks, and SUVs.
The tough plastic construction of the compressor is robust, as is the clamp-on style air hose. It is a little on the slow side, but the automatic shut off means you can safely do other things, like clean your interior, while you're pumping up your tires.
It features a small LED light, plastic adaptors for balls, and inflatable toys, and a digital pressure gauge that is easy to set with three simple buttons.
Bottom line? Fortem's digital tire inflator is a rugged and well-designed unit for the price.
5. Best Cordless Tire Inflator: Ryobi P737D
No good if the battery runs out
Expensive
Key Specs
| | |
| --- | --- |
| Max pressure: | 150 psi |
| Power supply: | 18V battery |
If you already own a set of Ryobi power tools, the P737D is the best car tire inflator for regular, at-home top offs. This powerful, cordless unit can inflate four large tires from flat with its 18v lithium-ion battery. The downside is that the battery doesn't come included, so unless you have a Ryobi tool set on hand already, the value proposition wears away fast. If you do have any of the Ryobi One+ 18V tools, then you are fine.
The 20-inch air hose and two-inch digital gauge make this tool super easy to use, thought the lack of an LED guide light means it's hard to use the air hose at nighttime. You also need to remember to store it in in your car with the battery if you want to use it for emergencies. For that reason, it's better used as a regular maintenance tool in your home garage. The P737D is backed by a three-year warranty and is the best-performing cordless unit on this page.
6. Best Emergency Inflating Kit: E-Heelp Electric Car Jack with Impact Wrench & Inflator
All-in-one tire change kit
Clever storage
Basic air compressor
No automatic shut off
Key Specs
| | |
| --- | --- |
| Max pressure: | 100 psi |
| Power supply: | DC outlet, direct-battery feed |
E-Heelp's innovative electric inflator kit with jack and impact wrench is the ultimate tire-emergency device for your car or SUV. It's available in two kits: one for sedans with a 12 cm min/37cm maximum height jack rated to three tonnes; and, an SUV kit with a 17cm min/42 cm max height and six-tonne capacity.
The kit includes an electric powered scissor jack that lifts your vehicle with no physical effort, and the jack itself features a lock-out that prevents it unwinding when the power is disconnected. A quick note: never work underneath a vehicle that is only supported by a jack. This tool is for emergency use only.
I'm a fan of the impact wrench that draws from the same power cable as the inflator and jack in this kit to produce lug-busting torque of up to 340 lb-ft. That's enough to get almost any stubborn lug nut loose.
The inflator is 14-amp draw unit with a maximum air pressure of 100 psi and an air flow of 35l/min — more than enough for any car or SUV. It has a simple digital gauge. The kit includes both a DC-outlet power supply and a battery clip-style power cord that is 3.5m (12 ft.) long.
The whole set is contained in a convenient blow-moulded case with spare fuses and wheel sockets for most vehicles. It's not the most impressive air compressor on our list, but E-Heelp's kit is a brilliant emergency solution for blow outs and punctures.
7. Best Miniature Compressor: Vastar Portable Mini Electric Air Inflator
Pocket sized
Portable power bank
Key Specs
| | |
| --- | --- |
| Max pressure: | 100 psi |
| Power supply: | Cordless (usb charger) |
Vastar's mini electric air inflator is barely bigger than a smartphone and yet delivers air compressor power sufficient to inflate four tires from 50 percent to full. At just 6cm by 15cm (2.3" x 6") this unit is the most compact air compressor available. It comes with an LCD screen and automatic cut-off, so you can preset your desired air pressure.
The 2000maH lithium battery will also charge your phone if you need to use it as an emergency power bank, and there is a small LED light for use at night. There are four "modes" for bicycles, cars, and motorcycles, but all the modes do is give you a preset maximum pressure. Use auto mode and preset the compressor to 35 psi for your car.
Vastar has supplied thermal protection for the metal coupling around the air hose, but you should know that this compressor is a small, hard-working unit that will get hot in your hands. On the plus side, it is quieter than many other units in this list. The company claims a rating of only 75 dB — versus the 90 dB of other units. To recharge the mini inflator, connect it to any wall or car socket via the supplied USB cable. This pocket-size unit is also perfect for cyclists.
8. Honourable Mention: EPAuto Tire Inflator Digital 12V DC Portable Air Compressor
Compact, portable
Has an easy-to-read digital display
LED flashlight
Not suitable for truck tires
Key Specs
| | |
| --- | --- |
| Max pressure: | 70 psi |
| Power supply: | 12V-DC |
This is another portable tire inflator that is compact, easy to use and an ideal choice to keep in your car for emergencies. We also like it for its easy-to-read digital display with four display units: PSI, KPA, BAR, KG/CM. It also has a cool LED flashlight, which is super convenient if you have to inflate a tire on the road at night.
The EPAuto tire inflator plugs directly into your vehicle's cigarette lighter, has a universal connector for a Schrader valve, with additional adapters like needles and short cone/long cone adaptors. This makes it suitable for cars, sedans and mid-sized SUVs (with an engine size under 3.5 litres), as well as other items that need air such as basketballs, inflatable kayaks, swimming pool accessories and more. It is not, however, recommended for light or heavy-duty truck tires.
Easy to use, once you attach the air chuck to the tire valve stem and screw it onto the tire's valve system, you then plug the power cord into the lighter socket, choose the display unit, set the desired pressure and wait until the inflator does its job, which will automatically shut off when it's done.
How Do I Know What Pressure to Set My Tires To?
Your car, truck, or SUV will have a placard on the door jam that shows the recommended pressures for your vehicle. You can also find it in the owner's manual, or even on inside your fuel door. You should note that those pressures are the cold-tire pressure. If you drive for any length of time and check your pressures, they'll show a higher pressure than cold. If you inflate warm tires to 35 psi, you'll still be under inflated.
How to Use a Portable Air Compressor
Most air compressors are simple to operate, but if you follow these steps, you'll get the best results and your valve stems, and compressor will last longer.
1. Make sure your tires are cold. Either wait until morning, or let your car sit for at least half an hour before checking your tire pressure.
2. Visually inspect all four tires. If any have a bubble, bulge, or crack, take the tire to a technician for inspection or possible replacement – do not inflate a damaged tire.
3. For air compressors powered by a DC-outlet. Start the car so the inflator doesn't drain the battery. Connect the 12v cord to the cigarette lighter outlet.
4. Pass the compressor through the back seat and out the rear door to get it close to the rear tire.
5. Connect the air hose to the valve stem – for clamp on units, use the lever on the hose, for screw-on units, make sure your air hose is thoroughly connected.
6. If the tire inflator has a digital gauge and automatic cut off, set the desired pressure and then turn on the unit. For compressors without automatic shutoff, monitor the gauge and turn off the unit when it hits your desired pressure.
Note: it is worthwhile to set the screw-on style hoses to a slightly higher pressure than what you want, to compensate for the loss of air when you disconnect.
7. Once you've disconnected your inflator, more to the next tire.
Remember — always check pressures with an accurate tire pressure gauge after inflation to make sure you've got the right pressures.
Leave a Comment
We're always looking for more feedback! If you own any of these items and would like to share your experience, please comment below!
RedFlagDeals.com is reader-supported. We are a participant in the Amazon Services LLC Associates Program and other similar affiliate advertising programs. These programs are designed to provide a way for sites to earn advertising fees by linking to them. This means that RedFlagDeals.com will sometimes get a small commission if you make a purchase through our links.