The Best TENS Machines to Relieve Pain
By
Carlen Oliveira
February 9, 2021
Transcutaneous electrical nerve stimulation, also known as TENS, is a popular form of electrotherapy that you can do from the comfort of your home. Working to ease pain in your joints and muscles, a TENS machine can provide short term relief for your arms or legs. The machine itself comes in a small, compact device that connects sticky pads — more commonly known as electrodes — to the pained area in question, and sends tiny shocks to your body.
Although there isn't a lot of scientific research to back up how effective this machine actually is, a lot of people love to use TENS machines to help with minor pains. Physiotherapists and other medical professionals frequently use these machines with their patients during recovery from sports injuries or automobile accidents. People who experience period pain, knee, neck or back pain, suffer from arthritis may also benefit from a TENS machine.
These portable devices are a great non-invasive way to help relieve pain. They also work to block or reduce pain signals that are being sent to your brain, thus increasing your endorphins — the body's natural painkillers — to improve blood circulation to the affected areas.
If you're thinking about trying out a TENS machine for yourself, talk to a medical professional before you invest in the device. Doctors can help to assess your body and figure out if using a TENS machine will be beneficial for you. If you've already passed that step, scroll below to see the best TENS machines you can buy.
1. Editor's Pick: TechCare Massager Plus
Pros
Cons

Rechargeable
Lifetime warranty
Large backlit LCD screen
24 pre-programmed modes

Not CSA approved
Have to cycle through all 24 modes to choose one, can't go back
Key Specs
| | |
| --- | --- |
| Rechargeable or Battery Operated: | 9-volt battery (included) |
| Numbers of Pads: | 4 |
| Intensity Levels: | 8 |
The TechCare TENS unit combines the best of both worlds — pain relief and massage therapy to provide users with a versatile, trustworthy device.
With 24 pre-programmed modes displayed on a large backlit LCD screen and a battery that can last up to 20 hours, this device is perfect for people dealing with arthritis, tendonitis, fibromyalgia, neck pain and so much more. This small USB rechargeable machine comes with a belt clip so you can easily throw the device on your hip and be on your way. Additionally, these high-quality machines are backed by lifetime warranty so you can feel confident that your money is being put to good use.
2. Best Runner Up: TENS 7000 2nd Edition Digital TENS Unit
Pros
Cons

Easy to use
5 different modes
Includes carrying case

Small screen
Uses up battery fast
Key Specs
| | |
| --- | --- |
| Rechargeable or Battery Operated: | 9-volt battery (included) |
| Numbers of Pads: | 4 |
| Intensity Levels: | 8 |
Keep things simple with this easy-to-use TENS 7000 battery operated portable machine. It includes two lead wires, four reusable electrodes, one 9-volt battery, a quick start guide and a hard-shell carrying case.
The TENS 7000 unit comes loaded with all the essentials to get you started and give you professional grade pain relief in your back, neck, shoulders, legs, elbows and more. If fancy screens and extra features are too much for you and you'd rather stick to the basics, this TENS 7000 2nd Edition machine is the way to go.
3. Best Budget TENS Machine: Easy@Home EHE009 TENS Machine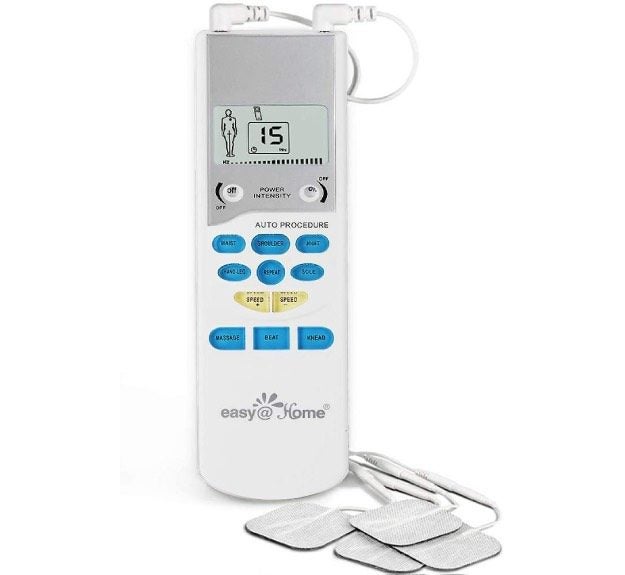 Pros
Cons

Portable
1-year warranty
LCD display screen
Health Canada approved
Three types of massage and six auto procedure options

Pads lose stickiness
No automatic shut off
Key Specs
| | |
| --- | --- |
| Rechargeable or Battery Operated: | 9-volt battery (included) |
| Numbers of Pads: | 4 |
| Intensity Levels: | 10 |
Save money without sacrificing quality with this Easy@Home TENS machine. This portable and simple device is Health Canada approved, and is perfect for relieving pain on the go.
Choose between three different pulse cycles and 10 levels of intensity to cater to your needs. Great for those on the go, this portable machine is the same size as a remote control making this small but mighty device an ideal travel companion. Although this little machine may not look like the fanciest of models, the Easy@Home TENS unit is an uncomplicated, easy to use machine that gets the job done without any hassle or setting confusion.
4. Best Luxury TENS Machine: Belifu Dual Channel TENS EMS Unit
Pros
Cons

24 modes
Backlit LCD screen
Compact and portable
Adjustable timer setting
Includes drawstring bag and fastening cable ties

Small on/off button
Have to replace pads every 15-20 uses
Key Specs
| | |
| --- | --- |
| Rechargeable or Battery Operated: | Rechargeable |
| Numbers of Pads: | 10 |
| Intensity Levels: | 20 |
Get the most bang for your buck with this Belifu Dual Channel Tens machine. With a wide variety of programs and intensities, you won't be disappointed.
With a rechargeable battery that can last for up to 20 hours, you can use this small machine while at work, at home and even while travelling. This multi-functioning TENS machine not only has 24 different pre-programmed massage modes, but also comes equipped with 20 levels of intensity. No matter if you're treating back pain, inflamed joints, easing period pains or simply want a relaxing massage, this portable machine has your back.
5. Best Standard TENS Machine: Schiara TENS Rechargeable Unit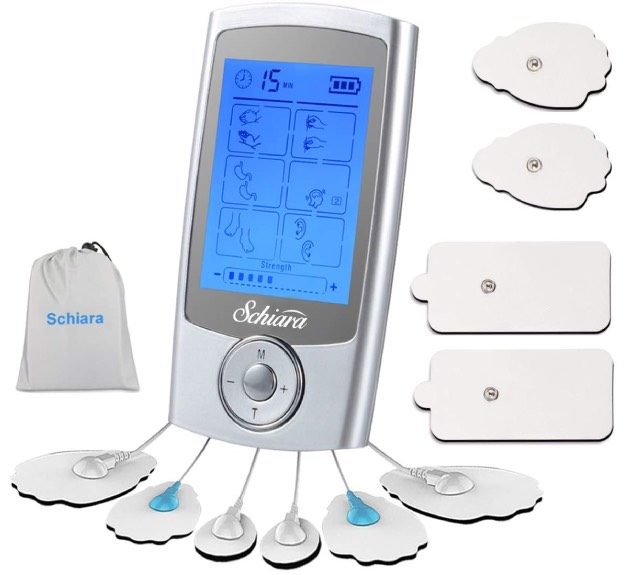 Pros
Cons

Small, portable
Backlit LCD display
Includes storage bag
16 pre-programmed modes

Short lifespan
Pads lose stick quickly
Key Specs
| | |
| --- | --- |
| Rechargeable or Battery Operated: | Rechargeable |
| Numbers of Pads: | 10 |
| Intensity Levels: | 20 |
Ideal for people looking for an inexpensive machine that can both provide pain relief and muscle relaxation, this Schiara TENS unit is small and easy to use.
With three different sized pads, 16 pre-programmed massage modes and 20 adjustable levels of intensity, this small, portable machine works to ease pain and reduce tension. New to the world of TENS machines? This Schiara TENS rechargeable unit is a perfect inexpensive option that keeps things simple so you can ease your pain without adding any frustration or confusion to the mix.
How To Use A TENS Machine
Like any cooking device or power tool, make sure that the machine is turned off before you use it. Also, before you apply the pads to your skin, check to make sure that the target area is clean, dry, has no open cuts, infections or any other skin irritations.
Once you're sure the machine is off and your skin is clear, you can start to put on the pads. Try and leave about 2-3 cm or at least one inch of space between each pad. (Your doctor or healthcare professional should have shown you how to properly place the pads onto your specific target area).
Now, most of the time wherever the pain strikes you should be able to place the pads with no problem. However, there are a few spots that you should never put them, a few of which may seem self-explanatory, but we're going to list them just in case a few curious people get some ideas.
Areas you should not place pads:
Temples
Mouth
Eyes
Chest and upper back simultaneously
Front and sides of neck
Varicose veins
Broken, infected or irritated skin
Once you've got your pads set up in the right spot, turn on the machine and gradually increase the strength until you feel a tingling sensation. Aim for a strong sensation but one that is still comfortable; your muscles shouldn't contract. If the area starts to hurt or causes discomfort, reduce the setting slightly.
After you've finished, turn off the machine before removing the pads from your body. Carefully remove the pads without tugging on the wires. Do a quick check of your skin to see if the pads caused any redness or irritation.
When Not to Use a TENS Machine
TENS machines can be a great way to help ease unwanted pain caused by injuries or chronic pain. Not to mention, it's a virtually painless and drug-free way to treat muscle and joint discomfort.
If you're near water (sink, bathtub)
While driving or operating heavy machinery
When pregnant (unless specified by a doctor)
If you experience epilepsy
If you have a heart condition
If you don't know the cause of your pain
If you have a pacemaker or other metal/electrical implants
TIP:
Most machines will come with their own instruction manual that you should follow to make sure you're using the device properly and getting the best results.
RedFlagDeals.com is reader-supported. We are a participant in the Amazon Services LLC Associates Program and other similar affiliate advertising programs. These programs are designed to provide a way for sites to earn advertising fees by linking to them. This means that RedFlagDeals.com will sometimes get a small commission if you make a purchase through our links.