The Best Tablets for Kids
Table of Contents
A tablet is a great all-in-one device that has lots of uses, especially for children. Whether they like playing games, watching movies or TV shows online, or making video calls to friends and family, a tablet can serve a multitude of purposes while being a fun, constant source of entertainment. If you're in the market for a good tablet for kids to use this up coming school year, albeit for education or for entertainment, you're probably looking for a device that has a fairly large screen, and one that's easy for them to navigate and durable as well — key feature. We all know how hard kids can be on their things, no matter how much we advise greater care and caution.

In addition to being durable, they should also have ample storage so connecting to Wi-Fi or downloading files is as easy as possible. Long-lasting battery life and parental controls should be top of mind too. Before you buy one, consider all the facts above before you check out the following list below. We've curated some of the best tablets for kids with you in mind! Check it out:
1. Editor's Pick: Fire HD 8 Kids Tablet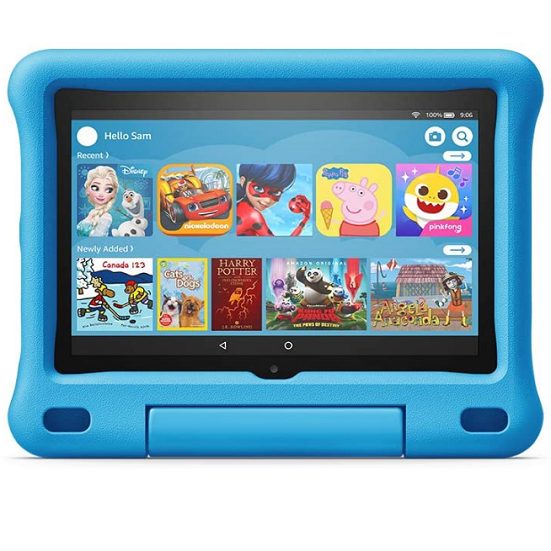 Free one-year Amazon Kids+ subscription
Parental controls
Comes with case
Cannot make any in-app purchases from kids' Freetime profile
Requires Amazon account
Slow response time
Limited content
Key Specs
| | |
| --- | --- |
| Battery Life: | Up to 12 hours |
| Display: | 8" HD |
| Storage: | 32 or 64 GB (expandable by up to 1 TB) |
| Resolution | 1280 x 800 (189 ppi) |
| Warranty: | 2 year |
With a spacious screen, lots of memory, and a reliable battery life, this tablet is a great first tablet for kids — the Fire HD 8 Kids Tablet has got it all. It has a high-definition eight-inch screen for a super-clear display, along with 32 GB, so you can store lots of apps and photos as well as connect to Wi-Fi or view content that you have downloaded (and a microSD card can add up to 1TB of additional storage).
It is also extremely practical, as it has a blue kid-proof case that will help prevent scratches, cracks, and other accidents that can occur as a result of unnecessary damage. What's more, with a 12-hour battery life, this tablet device can endure hours of screen time without needing a charge. And the great thing about this purchase is that the tablet also comes with a one-year subscription to Amazon Kids+, which has literally thousands of apps, games, videos, books, and educational content from leading brands and networks like Sesame Street, Nickelodeon, and Disney.
You can even use their handy parental controls, which are built into the tablet, to control how much screen time your child has, to set educational goals, and to filter content you deem inappropriate.
2. Runner Up: Aeezo Kids Tablet
Comes with parental controls: Kidoz and Tronpad
Comes with case
Anti-blue light screen cover
Adjustable ring stand for viewing
Camera quality isn't great
Slow response time
Key Specs
| | |
| --- | --- |
| Battery Life: | Up to 7 hours |
| Display: | 7" |
| Storage: | 128GB |
| Resolution: | 1920 x 1200 pixels |
| Warranty: | 1 year |
The AEEZO Kids Tablet was truly designed with kids in mind: it has a seven-inch touch screen to make manoeuvring around all the easier for smaller hands. Additionally, you can count on its 32GB storage capacity to handle downloads for both school and entertainment. This device comes equipped with pre-installed versions of Kidoz and Tronpad — these parental control apps allow moms and dads to choose the specific content they want their little ones to see, or they allow parents to filter content based on the child's age. It can even be used to protect your passwords and manage screen time.
With your child's eye protection in mind, it has an anti-blue light screen film on the monitor in order to protect your child's eyes from blue light projection. A silicone case will help safeguard the gadget from damage caused by falls and drops, and a convenient 360-degree adjustable ring stand lets kids get the perfect angle while viewing their tablet.
3. Best Tablet for Video Calls: Portal Plus From Facebook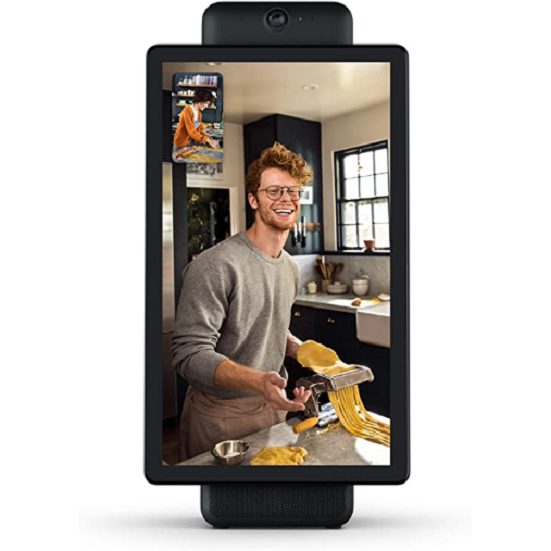 Alexa built-in
Smart technology
Comes with privacy controls
Simple to use
Poor audio quality
Poor connectivity
Limited apps
Limited support
Needs to be plugged in during use
Key Specs
| | |
| --- | --- |
| Battery Life: | 6 hours |
| Display: | 15.6" |
| Warranty: | 1 year |
| Operating System: | Android |
| Rear Webcam Resolution: | 12MP |
If you want smart hands-free video calling for you and your family, then the Portal Plus From Facebook is the perfect device for you. It has a large 15.6-inch screen so you can see people at the other end clearly and concisely watch TV and more. It also has Alexa built-in making it easy to control through voice recognition, especially for your kids.
Your child can move around freely and talk to their heart's content hands-free, as the built-in camera will follow their movements. Thanks to its Smart technology features, the lens will even widen its scope to make sure it catches all the action without missing a thing. Children will love making use of the music, animation, and augmented reality effects they can apply to their videos via the free installed Portal system, which also allows you to play music.
And you need not worry about privacy issues: all the calls made on the Portal Plus are encrypted, they remain private, and you can also disable the camera and microphone with the touch of a button.
4. Best for Young Kids: Fire HD 10 Kids Edition Tablet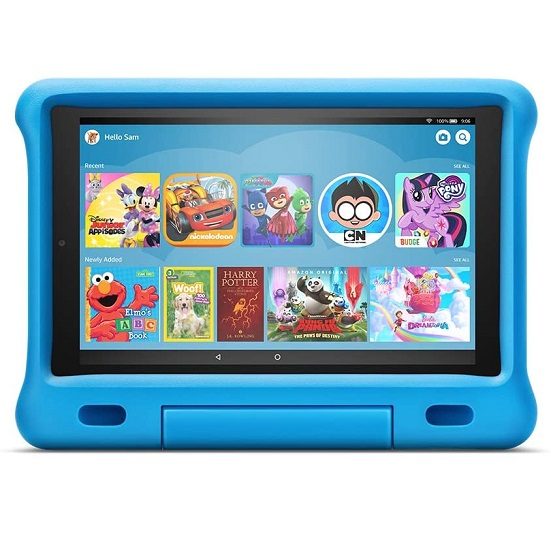 Comes with case
Includes one-year subscription to Amazon Kids+
Has parental controls
French language options available
Can expand storage up to 512GB
Account setup is frustrating
No screen protector included
Key Specs
| | |
| --- | --- |
| Battery Life: | Up to 12 hours |
| Display: | 10.1" |
| Storage: | 32GB |
| Resolution: | 1920 x 1200 |
| Warranty: | 2 years |
The Fire HD 10 Kids Edition Tablet does everything the previous version does but better — and with more options to boot. It's available in pink or blue, and it has its own included case (no screen protector included) to protect the HD 10.1" display (1920 x 1200 display). The included storage goes up to 32GB, but you can expand it to take up to 512GB so you'll never run out of space for your kids' favourite shows and games.
With a battery life of up to 12 hours, you can stream content with your little one over Wi-Fi or let them watch pre-downloaded content. Included with your purchase is a one-year subscription to Amazon Kids+, which gives your little one(s) additional options, with thousands of apps, games, videos, books, and educational content from leading brands and networks like Sesame Street, Nickelodeon, and Disney — and it even has access to French-language material.
5. Best Sound: Samsung Galaxy Tab A
Cinema-quality sound
Minimal bezel size
Can expand storage up to 512GB
Samsung Kids available on subscription basis
International model
Slow response time
No quick charge
No warranty in Canada on this model
Key Specs
| | |
| --- | --- |
| Battery Life: | 13 hours |
| Display: | 10.1" |
| Storage: | 32GB |
| Resolution: | 1920x1200 pixels |
| Rear Webcame Resolution: | 8MP |
Get ready for out-of-this-world capabilities with the Samsung Galaxy Tab A tablet, a great starter device for kids. It has a 10.1-inch HD screen that makes the quality of graphics and things like watching movies top-notch. With 32GB of storage — and the option to go to 512GB — it's fast and efficient, and it's made from lightweight materials, making it easy to bring with you, either around the house or on-the-go.
What really sets this tablet apart from the others is the sound quality — it is equipped with Dolby Atmos Surround sound, and music and other audio are sharp and crystal-clear. It has an impressive battery life as well and will run for more than 10 straight hours on a single charge. You can bring the experience of the movie theatre to the palm of your hands with this Samsung tablet.
6. Best Budget Pick: Huawei Mediapad
Blue-light filters
Low-light display
Two stereo speakers
Slow load times
Slow response time
Can't expand internal storage
Poor on/off button placement
Key Specs
| | |
| --- | --- |
| Battery Life: | 9.8 hours |
| Display: | 9.6" |
| Storage: | 32GB |
| Resolution: | 1280x800 |
| Rear Webcam Resolution: | 5MP |
The HUAWEI MediaPad is an ideal starter device for a child who is getting their first tablet. It has a roomy 9.6-inch monitor for great viewing of games and movies, and because the body of the machine is manufactured out of a single piece of space-age anodized aluminum, it's both durable as well as lightweight.
With 32 GB of storage (which is expandable up to 128 GB), you can be sure that your MediaPad will have all the room your little one needs for all their favourite apps and more. Something that makes this tablet unique and well-suited for younger users is the fact that it has both blue-light filters to ease the strain put on eyes while staring at a screen as well as low-light display to dim the picture ever so slightly, reducing additional eye fatigue.
The sound on this tablet is also fairly impressive for the price and you can always pair it with an external Bluetooth speaker if you need extra sound. What's more, one complete charge offers almost 10 hours of uninterrupted battery life.
7. Best Educational Tablet: Leapfrog Leappad Ultimate Ready For School Tablet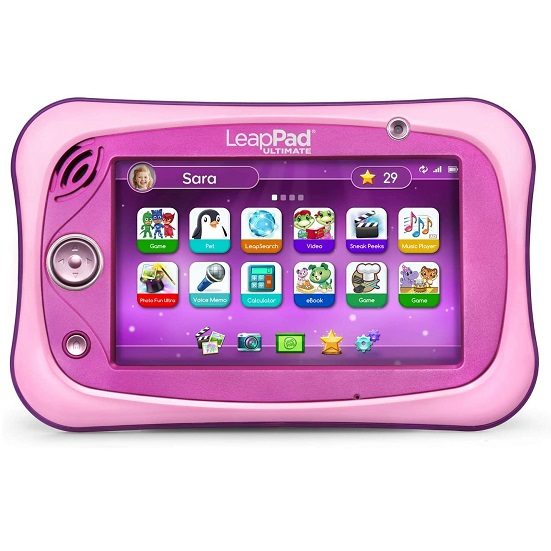 Shatter-proof touch screen
Comes equipped with educational apps
Comes with child-friendly web browser
Rubber bumper protects it from damage
Parental controls
Slow response time
No French mode
Holds charge poorly
Loaded with expensive apps
Key Specs
| | |
| --- | --- |
| Batteries: | Required and included |
| Display: | 7" |
| Storage: | 8GB |
| Resolution: | 1024x600 |
| Warranty: | 2 years |
What's one way of integrating technology into your preschool child's life while still keeping them engaged and eager to learn? Get them a LeapFrog LeapPad — it lives up to its name and is truly the ultimate get-ready-for-school tablet.
The device, which comes with a seven-inch shatter-proof touch screen, comes with more than $100 worth of school readiness apps, plus apps featuring music, problem-solving, reading, and creativity. They even allow access to child-friendly web browser that has specific content chosen and approved by educational experts, so you never have to worry about what your child is seeing on their device. The reason kids come back time and time again to their LeapPad is it has exclusive Just-for-Me learning technology and it's one of the main reason children stay so attached to their tablet.
It was smartly designed to include a rubber bumper around the device to save it from damaging dropping or slips, a common but avoidable problem with kids and their tablets. Finally, this tool comes with parental controls so mom and dad can add several kids to one tablet as well as set limits on play time.
8. Honourable Mention: Dragon Touch KidzPad Y88X 10 Kids Tablets
Rear and front cameras
Fast response time
10.1-inch screen
Can expand storage up to 128GB
For a really kid-friendly and parent-approved compact tablet for your child, take a look at the Dragon Touch KidzPad Y88X 10 Kids Tablet. It has a host of great features that make it a sensible first tablet for kids. It is pre-loaded with 32 GB of storage and can also support up to an additional 128G with a micro SD card.
Internet connections, downloads, and apps will never lag — a powerful 64-bit quad-core processor makes reaction time quicker than ever. For aspiring young photographers, the tablet has an 8MP rear camera and 2MP front-facing camera so your kids can take memorable videos, photos and selfies. And for the next Matisse or Van Gough, the tablet also includes a stylus and a pre-installed Paintbox app so they can perfect their doodles, drawings and mini-masterpieces.
It also has great parental control options. With the pre-installed Family Link or KIDOZ app (exclusive for kids), you can filtre websites, select games, customize content, set screen time limits and if more than one child is using the tablet, you can create separate profiles and track the activities of each user.
Leave a Comment
We're always looking for more feedback! If you own one of these items and would like to share your experience, please comment below!
About the Author: Jennifer Cox
Jennifer Cox is a full-time Montreal-based freelance journalist and mom. She writes about parenting for outlets like CBC Parents, Huffington Post Parents, Today's Parent, and more. She also loves staying on top of the latest home decor and wedding trends. When she's not busy being a mom or writer, she's spending too many hours on Pinterest and shopping online. She runs the Instagram/Facebook handle Whoa Mama, where she shares cooking, crafts, gardening, and other DIY projects at home.
RedFlagDeals.com is reader-supported. We are a participant in the Amazon Services LLC Associates Program and other similar affiliate advertising programs. These programs are designed to provide a way for sites to earn advertising fees by linking to them. This means that RedFlagDeals.com will sometimes get a small commission if you make a purchase through our links.