The Best Sports Bras
Table of Contents
A good sports bra is imperative for any successful workout for women. Not only will it help to keep your breasts in place during extreme workouts or activity but they also help to reduce breast pain, absorb sweat and, they're fashionable too! Before buying one, it's important to think about what type of exercises you want to do. Some activities like walking or yoga are classified as low-impact exercises, which means you can use a bra that has low to medium support. If you're thinking more along the lines of running or aerobics, sports bras with high support might be where you want to start looking.
Aside from the level of support, your breast size will also impact what type of sports bra you should use. Someone endowed with larger breasts will get more out of bras with specific cups, while smaller breasts might only need bras that compress their breasts against their chest wall.
As for the bras themselves, there are countless different designs, shapes, styles, and colours. Once you've figured out what level of support you need, you can start to play around with some of the other features such as racer-backs, tank styles, criss-cross straps, clasped, slipover, materials, etc.
Ready to start shopping? Here's a list of a few sports bras to help get you moving.
1. Editor's Pick: Under Armour Women's Armour Mid Keyhole Sports Bra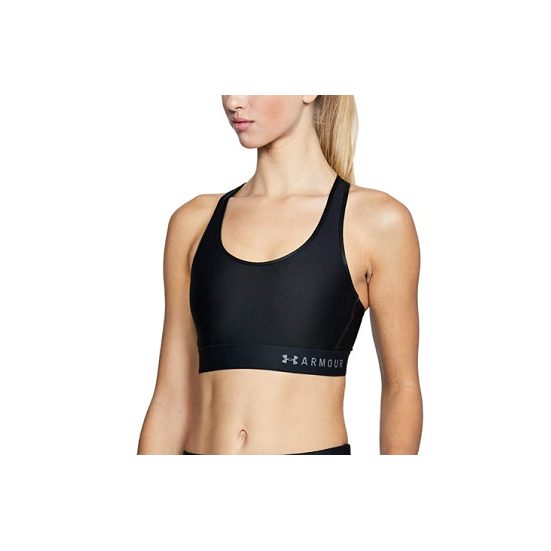 Moisture wicking
Stretchy fabric
Sleek design
Machine washable
Nine different colours
Not ideal for large cup sizes
Sizes run small
With moisture-wicking fabric, its racerback design and an extra keyhole for ventilation, this medium support Under Armour sports bra has got your back — literally. No single sports bra is going to do the trick for every person, but this Under Armour sports bra will come pretty damn close.
This classic pullover sports bra with a racer back design allows you to move freely through all of your medium and low impact activities. Made from stretchy, moisture wicking polyester material, this sports bra works to keep you supported so you can push yourself to your limits comfortably.
2. Runner Up: Champion Women's Spot Comfort Full-Support Sport Bra
Full support
Suitable for larger chest sizes
No underwire
Five different colours
Machine washable
Thin material
Sizes run small
This full support sports bra from Champion is made from nylon and spandex and it has breathable mesh at the front of its design. It also has: gel-infused straps, moulded cups and a padded hook-and-eye closure. Great for yoga, running, CrossFit, weightlifting and other sports activities, you can fulfill your workouts with confidence.
3. Best Medium Support: PUMA Womens Women's Seamless Sports Bra
Removable cups
Adjustable straps
Machine washable
Comfortable
Limited colours
Not ideal for large cup sizes
The PUMA seamless sports bra was built from soft nylon and spandex materials, making it a comfortable sports bra that contours naturally to your body. It will provide medium support when dancing, hiking or cycling needs, and it features adjustable straps and removable cups so you can adjust it as your body changes.
4. Best Low Support: Fruit of the Loom Women's Spaghetti Strap Cotton Pullover Sports Bra
Three pack
Comfortable versatile
Over 20 different colour combinations
Machine washable
No cups
Long length
May shrink in wash
Whether you need a sports bra to throw under your everyday clothes or need a little more support for your low impact workouts, these Fruit of the Loom sports bras will make a great addition to your closet.
Sometimes, a regular bra just doesn't cut it. On those lazy days where you just can't bring yourself to strap on a traditional bra, this low support Fruit of the Loom cotton sports bra gives you the full coverage and comfort you need. These machine washable sports bras come in packs of three that are available in over 20 different colour combinations, so you can find sports bras that fit your day to day needs.
5. Also Consider: YIANNA Sports Bras for Women Cross Back Padded Sports Bra
Removable cups
Four different colours
Stretchy, comfortable
Medium support
No underwire
Hand wash only
Straps not adjustable
For women who want a little bit of style to go with their workouts, these cross back padded YIANNA sports bras are beautifully designed and give you the coverage and support you need to feel confident during your workouts. Perfect for any low-impact workouts and even for everyday use, these moisture wicking, soft and stretchy sports bras will feel like a second skin.
6. Best Tank Top Bra: THE GYM PEOPLE Longline Sports Bras
Stretchy fabric
Nine different colours
Removable cups
Medium support
Can be used as an everyday bra
May not be ideal for larger breasts
Some reviewers received faulty products; ensure product is sold by THE GYM PEOPLE
Do you ever feel like doing a workout outside but don't feel comfortable heading out in just a sports bra? Or maybe you're loving the recent athleisure trends and want a sporty new bra that you can wear out and about. Whatever the reason may be, this tank top inspired sports bra is a great stylish option.
By using soft stretchy materials and a wide u-back design, this full-coverage sports bra will allow your body to breathe while also wicking away moisture. It's also free of wires and features removable padding so you can choose how much support and lift you get depending on your personal preference and needs!
7. Best Plus Size: Yvette Women High Impact Sports Bras
Breathable
Machine washable
Available in a wide range of sizes and colours
Sizes may run small; some users recommend buying one size up
Straps may twist
If you're well endowed in the chest, it's no secret it can be a bit of a challenge finding a sports bra that not only fits, but also provides decent support. Thankfully the Yvette high impact sports bra is here to save the day.
Ranging widely in size from 32A to 46DDD, this sports bra was created to give your girls support without squishing them or creating a uniboob. The design of the bra itself is also aesthetically pleasing — the back of the bra features a criss-cross pattern that attaches to a thick hook and loop band.
8. Best High Impact: WingsLove Women's High Impact Comfort Full Support Non Padded Sport Bra
Available in six colours
Wide adjustable straps
Wicks away moisture
Full support
No underwire
Not machine washable
May sit to high on chest for some users
Built with wide, adjustable, padded straps and a wireless design, this high-impact sports bra works to disperse the pressure on your shoulders so you can run, dance and jump to your heart's content.
To give your girls as much support as possible, this bra relies on a full coverage design with high sides to fully cover your breasts in hopes to minimize bounce while you workout. It's also made from moisture wicking materials to keep you cool. An extra useful feature is the mesh panel located on the front of the bra to give your girls a little extra privacy.
Choosing the Right Support in a Sports Bra
Did you know that when you exercise without the right support, your breasts are put under a huge amount of strain that can cause damage to the ligaments and skin that holds them up? Finding a sports bra that provides proper support regardless of your cup size and the exercise is the main goal of sports bras. Will they be a hassle to take off when you're gassed out and covered in sweat? Absolutely, but the support is worth the struggle.
Low Support
Low support bras will help to reduce bounce, but not side to side swaying if you plan on doing high-intensity workouts. These bras are more ideal for low impact workouts and people with smaller cup sizes.
Low support bras use a compression technique that works to restrict movement by compressing your breasts to your chest wall and features a cup-less design that is usually pulled on over your head.
Activities: walking, yoga, strength training
Recommended for: smaller cup sizes (A-B)
Medium Support
Medium support bras are similar in design to low support bras but have just a tad more support. Where low support bras might use thin, lightweight materials, medium support bras use wider, thicker straps and bands and sometimes feature some form of defined cup.
Activities: hiking, skiing, cycling, dancing
Recommended for: smaller to medium cup sizes (A-C)
High Support
High support bras use a cup design similar to everyday bras but also have some element of compression to help keep them in place. This style has the widest and largest bands and instead of using an over the head design, they follow the typical hook and loop closures and band sizing of a regular bra.
Activities: running, aerobics, mountain biking, HIIT
Recommended for: larger cup sizes (D and higher)
Tips For Finding The Perfect Fit
1. Tight, but not too tight
You want your sports bras to be tight enough that they offer support, but not so tight that they start to cut off your circulation or affect your breathing.
2. Wrinkles are a no-go
No one likes wrinkles, and if you see them in your bra, then you'll know it's too big - aim for a smooth cup.
3. No spillage
On the other hand, if your breasts are overflowing from your bra, then switch it out for a bigger size.
4. No gaps
Your bra should lay flat against your body, so if it doesn't fully sit under your boobs or on your ribcage, or if it pinches you in any spot, then it's not the right bra for you.
5. Wash it cold
Most sports bras will lose their elasticity overtime, so to help them live as long as possible, hand wash your bras in cold water and lay them out flat to dry.
Leave a Comment
We're always looking for more feedback! If you own one of these items and would like to share your experience, please comment below!
About the Author
Carlen Oliveira is a graduate from Ryerson University's RTA Sport Media program and is currently working as a writer based out of Toronto. She has an avid interest in all things sports and finding engaging new ways to workout. With limited access to gyms and friends during the pandemic, she discovered her love of individual activities like yoga and skipping, which push her both mentally and physically. When she's not writing or working out, you can find her exploring the outdoors and travelling, come rain or shine… and especially snow!
RedFlagDeals.com is reader-supported. We are a participant in the Amazon Services LLC Associates Program and other similar affiliate advertising programs. These programs are designed to provide a way for sites to earn advertising fees by linking to them. This means that RedFlagDeals.com will sometimes get a small commission if you make a purchase through our links.