The Best Sous-Vide Machines
Table of Contents
Start cooking like the pros with a sous-vide precision cooker. Known as a cooking technique that employs precise temperature control to deliver restaurant-quality results, sous-vide lets you cook like a Michelin-star chef using this machine. If you're a foodie and a "professional" home cook, chances are you've used an instant pot and other classic techniques to make all of your favourite recipes. Why not take it to the next level with a sous-vide machine?
The cooking method has increased in popularity over the last few years, so if word of mouth has finally reached your doorstep we'll walk you through the ins and outs in this guide. Delivering consistency, taste, waste reduction, and flexibility, you can learn more about enhancing your home cooking skills. Check out some of the best sous-vide machines to buy below.
1. Editor's Pick: Anova Culinary Nano Sous Vide Precision Cooker
Has Bluetooth and Wireless connectivity (not required for use)
Recipes included in the Anova app
Easy to use
Connectivity is for one device at a time
WiFi is hard to setup and range is short
Underpowered compared to other models
Slow to heat
Key Specs
| | |
| --- | --- |
| Material: | Plastic |
| Power: | 750 wattage |
| Item Dimensions: | 10.4 x 5.6 x 32.5 cm |
| Item Weight: | 1.37kg |
| Connectivity: | WiFi, Bluetooth |
Launched in June 2018, this is one of the premier models on the market. The nano is a smaller, quieter model that is perfect if you're new to sous vide or looking for an additional cooker to add to your arsenal.
With the Anova Precision Sous-Vide Cooker, all you have to do is attach the cooker to your pot, add water, and drop in the desired food in a sealed bag or glass jar. It can even be remotely controlled with your phone allowing you to escape from the kitchen while you cook. All you have to do is download the Anova app to monitor, adjust, or control the device from your iPhone and Android smart device. It also provides you cooking notifications while you're out of the kitchen so you'll know when your food is ready. The precision cooker's Bluetooth connection also allows you to control the device up to 30 ft. away.
2. Runner Up: Ricardo Sous-Vide Precision Cooker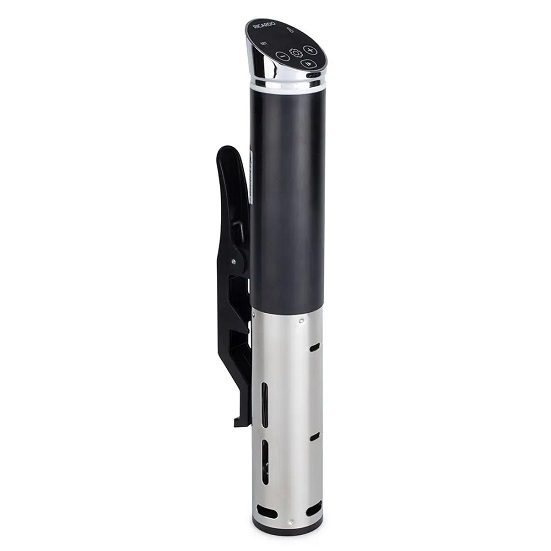 Water heats fast
LED light ring changes colour to indicate cooking phase
Control panel is digital with touch screen
Has automatic shutdown when water levels get too low
Spring clip attaches securely to all pans
Not user-friendly; takes some trial and error
Clamp not removable
Cooking vessels become extremely hot
Key Specs
| | |
| --- | --- |
| Material: | Stainless Steel |
| Power: | 1000 watts |
| Item Dimensions: | 41.1 x 14.8 x 9.7 cm |
| Item Weight: | 1.16kg |
| Connectivity: | None |
Get the quality you'd expect from Ricardo, Canada's favourite chef, with his sous-vide precision cooker that is as durable as it is useful.
The Ricardo Sous Vide Precision Cooker comes with a stainless steel build, a touch screen digital control panel, and an LED light ring that indicates changes in cooking phases. Running at 1000 watts, you'll be able to heat water fast and cook anything from 1 minute to 99 hours and 59 minutes and never be worried about hazards with the automatic shut off feature included. Cook perfectly and get consistent results every time with this device.
3. Best All-Purpose Option: Instant Pot Accu Slim Sous Vide Immersion Circulator
Easy to use
Easy to read display with touch-screen digital controls
Active pump system circulates water without convection
Quiet motor
Easy to clean
Auto shut off can result in food sitting in dangerous temperatures
Power cable gets in the way of the knob
Clamp may not fit all vessels; best on Instant Pot
Key Specs
| | |
| --- | --- |
| Material: | Stainless Steel |
| Power: | 110 volts |
| Item Dimensions: | 6.48 x 11.68 x 32.77 cm |
| Item Weight: | 748.43g |
| Connectivity: | None |
Creating quality dishes that will test your home-cooking abilities, the Instant Pot sous-vide machine will take your meals to the next level. Great for meat, poultry, seafood, eggs, vegetables, and fruits, this model is cheaper but doesn't sacrifice quality and versatility.
The Instant Pot Accu Slim Sous Vide Immersion Circulator is one of the quieter machines on the market and clamps securely on a 6-or 8-quart inner of your Instant Pot (if you own one)! But don't worry as it can also be used without an Instant Pot as well.
4. Best Lightweight Option: Breville Joule Sous Vide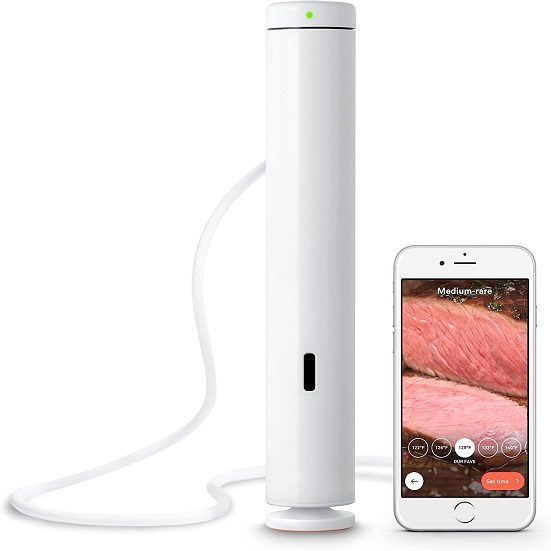 Water heats quickly
Magnetic foot replaces need for a clamp
Stylish appearance
Comes with 1 year warranty
Requires connectivity to app for use
No manual controls
Key Specs
| | |
| --- | --- |
| Material: | Polycarbonate |
| Power: | 1100 watts |
| Item Dimensions: | 27.9 x 4.7 x 4.7 cm |
| Item Weight: | 580.6g |
| Connectivity: | Bluetooth or WiFi |
This is one of the smallest, sleekest sous-vide tools on the market as it's just 11" tall and 1.1 lbs. The Wi-fi and Bluetooth-enabled machine may be pricier than the other options but it's certainly worth it. It's one of the more powerful tools that heats water faster than any other immersion circulator or precision cooker.
The Breville Joule sous-vide machine holds the temperature with fairly accurately and can be controlled through an app. What's great about this model as well is that it works with Amazon Alexa so you can control your eggs, desserts, and steak dishes from afar. It also comes with a thorough cookbook with 100 easy-to-use cooking guides, custom developed for the Joule community by in-house chefs.
5. Best Sous-Vide Kit: SousVide Art Immersion Circulator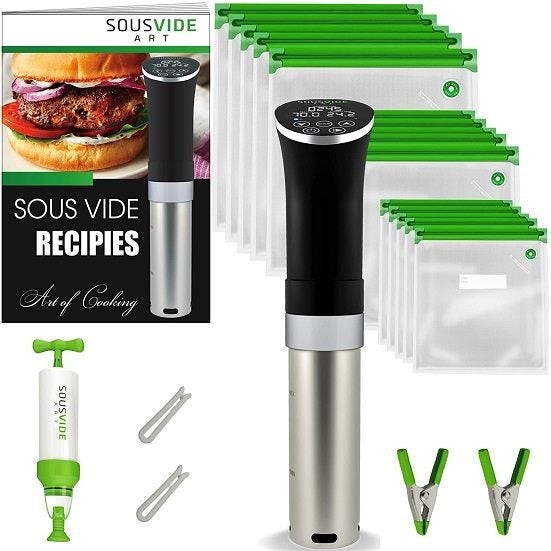 Good customer support
Comes with clamp
No app required
Buttons are finicky
Bags are not durable
Learning curve is a bit steep
Key Specs
| | |
| --- | --- |
| Power: | 1000 watts |
| Item Dimensions: | 41.7 x 18.8 x 10.2 cm |
| Item Weight: | 1.97kg |
| Connectivity: | None |
This sous-vide cooker immersion circulator and sous vide kit is so convenient as you'll have everything at your fingertips the minute you open the box.
This SousVide Art Immersion Circulator offers accurate temperature control, a simple and intuitive interface, and attaches to any pot or container with an ergonomic, rubberized grip. This kit is ideal for anyone starting out and makes a thoughtful gift for the budding chef in your life as it comes with 15 sous-vide bags.
Depending on what you're cooking, pick one or two bags and put in the food, complete with seasonings and marinade, and seal it with a white clip. Then, using the hand pump, suck the air out of the bag through the round valve. Once that is done you place the sous-vide circulator into a pot with water and set the temperature needed according to the recipe. Once the water reaches the desired temperature, put the bags in and then let the circulator do its job of maintaining the bath at precisely controlled low temperatures so your food will be cooked evenly from edge to edge. And to take the guesswork out of it all, a timer will sound when the food is ready.
6. Best Set-and-Leave: Inkbird Sous Vide Cooker, 1000 Watts Wi-Fi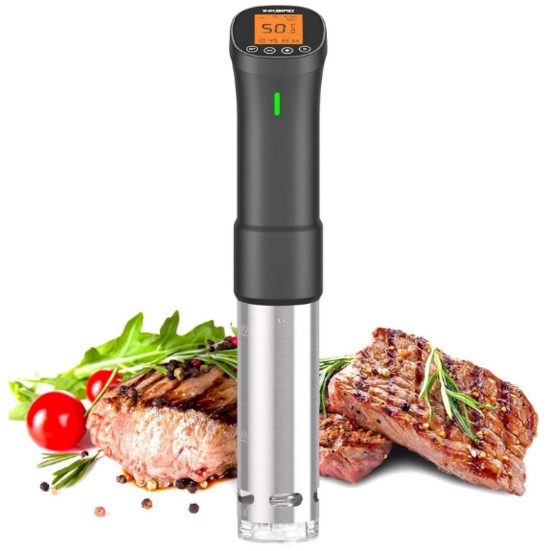 Control device from your phone with WiFi
Low water indicator and auto shut off
Powerful and durable
Comes with warranty
Face plate is not secured
On the large side
Doesn't connect to 5G
Buttons are sensitive
Key Specs
| | |
| --- | --- |
| Material: | Stainless Steel |
| Power: | 1000 watts |
| Item Dimensions: | 43.2 x 16.2 x 10.2 cm |
| Item Weight: | 1.42kg |
| Connectivity: | WiFi |
This sous vide machine is the perfect solution for anyone who leaves early for work and wants to come home at the end of the day to a perfectly cooked meal.
The temperature control range of the Inkbird Sous Vide is 32 degrees to 194 degrees Fahrenheit, with an accuracy of one-degree Fahrenheit. With 1,000 watts of power, a stainless steel column, and high-end fast heating element, this sous vide will heat up the water to the set temperature quickly and then perfectly maintain the temperature for an extended period of time. And there's no need to worry about water levels running too low.
Download the free Inkbird app and connect the sous vide to a 2.4GHz Wi-Fi network so you can set it before you leave and monitor the progress in real time on your phone, no matter where you are. You can even share the responsibility with other members of your family and have up to 100 administrators at a time using the app. The cooker will also stop working and an alarm will sound if the water level is lower than the minimum scale line or reaches the target temperature.
7. Best Budget Pick: Weston Sous Vide Immersion Circulator
Programmable
Pairs with the Weston Vacuum Sealer
Has 3' cord
No app required
Buttons are finicky
On the larger side
Screws instead of a clamp
Only works with vessels at least 7" tall
Key Specs
| | |
| --- | --- |
| Material: | Stainless steel and plastic |
| Power: | 800 watts |
| Item Dimensions: | 8.9 x 16.5 x 41.3 cm |
| Item Weight: | 1.72kg |
| Connectivity: | None |
If you're thinking of trying the sous vide way of cooking but don't want to spend too much money, you can't go wrong with this affordable model from Weston.
The Weston Sous Vide Immersion Circulator's five-gallon capacity offers up lots of flexibility to use different sized cooking pots so you can prepare small or large quantities for whatever suits your needs. The intuitive digital controls easily adjust the temperature with a range between 86 degrees and 210 degrees Fahrenheit. With 800 watts it's not as powerful as some of the more expensive options but it will certainly do a good job of helping you turn out the delicious tasting food for which the sous vide method is famous.
While this sous-vide machine does not have an app and can't be monitored or controlled via a smartphone, you don't need a Wi-Fi connection for it to work or have to worry about a wonky Internet connection affecting your cooking temps.
Sous-Vide FAQs
Elevate your home-cooking skills with the help of a sous-vide precision cooker. It can help take your favourite meats and other meals to the next level. You might lose the experience of cooking but you'll also gain the flavour and tenderness that you've been looking for. Check out some of the most frequently asked questions below.
What Is Sous-Vide?
Sous vide, which means "under vacuum" in French, refers to the method of vacuum-sealing food in a bag then cooking it to a very precise temperature in a water bath. This technique produces high-level results that are very difficult to attain through conventional cooking methods. All you have to do is:
1. Attach your sous-vide precision cooker to a pot of water and set the time and temperature according to the recipe or to your desired level
2. Put your food in a sealable bag or vacuum-sealed bag and clip it to the side of your pot
3. Finish it by searing, grilling, or broiling the food to add a crispy, exterior layer
Why Cook Sous-Vide?
Sous-vide allows you to retain the vitamins and minerals from within the food, but it naturally intensifies the food so that it's more flavourful. It's also healthier, more tender, juicier, and tastier. When using traditional methods of cooking you don't have control over heat and temperature and that makes it hard to consistently cook great food. Unless you're an expert at cooking your dish, the quality will fluctuate from time to time as food can get overcooked on the outside. The food can lose its flavour as a result, especially with a steak, and you can end up with a dry and chewy texture.
The Benefits of Sous-Vide
Providing control over the temperature of your food, you can deliver some of the most tender meats you've ever enjoyed cooking through the sous-vide method. You can perfectly cook a steak or chicken from edge to edge and know that the consistency will be there. Through pan cooking you'll lose moisture from loss of volume and flipping the meat. Even when cooking fish such as salmon, the fish is more likely to overcook in the pan; same goes with eggs.
Types of Sous-Vide Machines
There have been a number of gadgets that have existed for decades. Whether it's a water oven, a precision cooker, or a slow cooker there are a lot of great options you can use to explore sous-vide cooking. Sous vide water ovens heat water, but unlike immersion circulators they do not circulate the water. This can lead to inconsistencies in the food's resulting texture.
Types of Sous-Vide Packaging
The type of packaging really does depend on the type of machine that you've purchased or are planning to purchase. Sealing foods can prevent evaporation and allows you to transfer energy from the water to the food. You can use:
Resealable bags or jars
Reusable silicone bags
Vacuum sealing bags
Canning jars (beans, grains, desserts, cakes and custards)
What Are Some of the Best Foods to Start With?
If you're just starting out with this cooking method, there are a number of foods that you can start with. We recommend that you perfect the art of sous-vide, starting with:
Steaks
Chicken breasts
Eggs
Carrots
Pork chops
Pulled pork shoulder
Shrimp
Lobster
Legs of lamb
Ribs
Tips and Tricks with Sous-Vide Cooking
One of the best things about this sous-vide method is that there is very little prep involved. Most meats, fish, and vegetables need basic seasoning such as salt and pepper, but through sous-vide you can also get creative and add more flavours and marinades. The most important thing is the packaging and how well you seal the bags. Also important is to do your best to master the time and the temperature. Selecting the right temperature is all about knowing your desired level of finish on meats and other foods.
Sous-vide foods must cook long enough to reach their target temperature. Most animal proteins have a four-hour cooking limit but most machines come with specific guidelines for time and temperature for items such as like steak, chicken breasts, and hamburgers. Once completed, it's recommended that you get a good sear in a hot cast iron skillet for meats like a steak. You can also broil or deep-fry certain meats and other foods too depending on your preferences. Lastly, not every sous-vide precision maker comes with a vacuum sealer or reusable bags so make sure that you're prepared to buy them separately if need be.
Leave a Comment
We're always looking for more feedback! If you've purchased one of the sous-vide machines on this list and would like to share your experience, please comment below and let us know what you think about our picks.
RedFlagDeals.com is reader-supported. We are a participant in the Amazon Services LLC Associates Program and other similar affiliate advertising programs. These programs are designed to provide a way for sites to earn advertising fees by linking to them. This means that RedFlagDeals.com will sometimes get a small commission if you make a purchase through our links.