The Best Sound Bars
Table of Contents
TVs today are designed to be as slim as technologically possible, but the consequence is that sound equipment needs more room to breathe — literally. This is not to fault TV designers, but to look critically, we can identify a few simple things that will have someone wanting to improve their set up with a sound bar.
The obvious is that speakers in TVs are just smaller. Some TVs have speakers around the outer edges rather than centred in the back, which drastically helps for directing sound waves, but this doesn't make up for the fact that when a TV is only an inch thick, it doesn't leave a lot of room for the space to let sound grow. TVs must be designed to be as light as possible, and so the encasement of the TV has the risk of rattling. Anything you watch that has very loud sounds and/or lots of bass runs the risk of being too powerful for those built-in speakers — thereby shaking the plastic they're built into.
The remedy? External speakers in the form of a sound bar. It can be a great addition to your TV for three major reasons:
As a piece of sound gear, it is designed solely for the best sound output possible (as opposed to a TV's need for good sound and great display)
It's cheaper than investing in something like a 5.1 surround sound system made up of satellite speakers
It is aesthetically pleasing to look at
Below is a list of sound bars from brands that include some of the sound equipment giants like JBL and Bose. Some companies who design sound bars, such as Sony, also design TVs and so you can rest assured that if you love their TVs, you might enjoy the sound bars and accessories that go with it.
In addition to improving the sound quality of your movies and TV shows, many sound bars also include Bluetooth connectivity so that you can play from other devices as well — the best sound for all listening!
1. Editor's Pick: VMAI 36" TV Sound Bar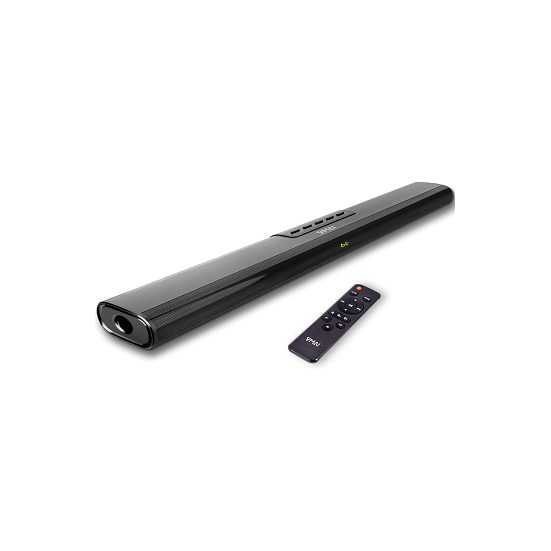 Wide compatibility
Wall mountable
2.0 is equivalent to two satellite speakers
Key Specs
| | |
| --- | --- |
| Connections: | Bluetooth, HDMI (ARC), Optical, AUX, and USB |
| Item Dimensions: | 6.35cm x 9.4cm x 91.44cm |
| Item Weight: | 1.81 kg |
The VMAI S5 is a 2.0 system with two six-inch mid-range drivers and one-inch tweeters and their own power bass tech built-in for the low frequencies. With Bluetooth 5.0, you can connect your devices from anywhere within 50' of your sound bar. What's more, it has four preloaded sound modes, making it perfect for movies, music and news — even in 3D.
2. Runner Up: Sony HT-S350 2.1CH Soundbar - 41"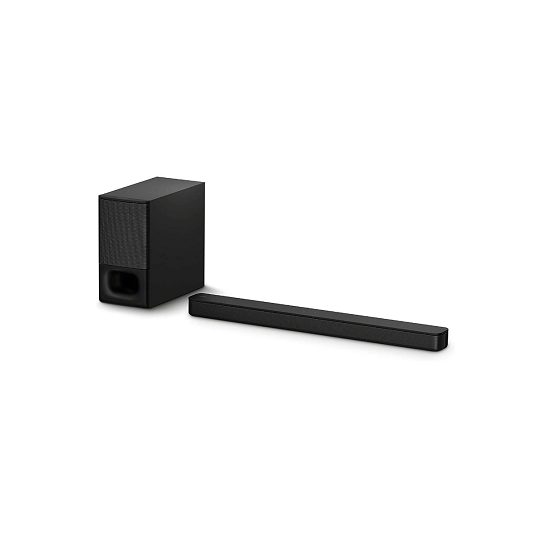 In addition to sound modes, there are two sound effects: Night Mode, and Voice Mode
Wall mountable
Bluetooth latency is high when connected to a Bluetooth enabled TV for watching movies
Key Specs
| | |
| --- | --- |
| Connections: | Bluetooth, HDMI (ARC) |
| Soundbar Dimensions: | 104.19cm x 51.69cm x 24.89 cm |
| Soundbar Item Weight: | 12.7 kg |
| Subwoofer Dimensions: | 19cm x 38.2cm x 39 cm |
| Subwoofer Item Weight: | 7.8 kg |
Do you already have a Sony TV? This is the sound bar for you! With 320W output power, all sounds come out strong and with the added subwoofer you have access to the full frequency range. This sound bar comes with seven sound modes: auto sound, cinema, music, game, news, sports, and standard.
3. Best Budget Pick: Sakobs 37 Inches Sound Bar for TV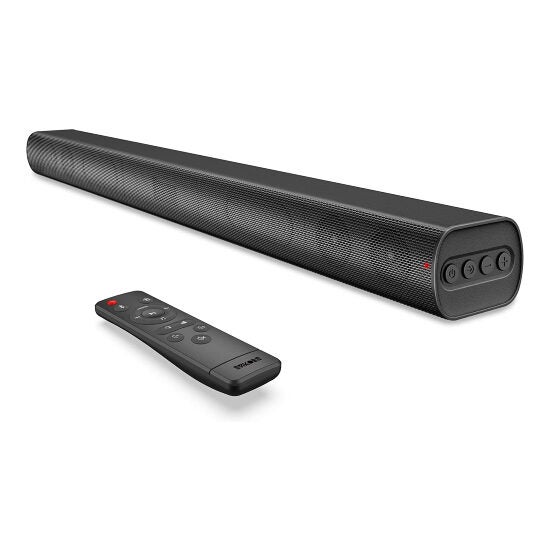 Remote control with three equalizer modes
Can be wall or desk mounted
Four built-in speakers
Some users report difficulties with the remote control
Key Specs
| | |
| --- | --- |
| Connections: | RCA, Bluetooth, Auxillary |
| Item Dimensions: | 100.2 x 14.1 x 10.41 cm |
| Item Weight: | 2.95 kg |
This is an affordable option from Sakobs that doesn't lack in quality or features. The 37-inch 2.1 sound bar comes with four built-in speakers, with deep bass modules that deliver a strong, accurate bass without you needing to add an external subwoofer.
This sound bar comes with a remote control that has three different equalizer modes to meet your mood: Music Mode turns up the base; Movie Mode gives you more of a dynamic home audio experience with surround sound; and TV Show mode gives you crystal clear dialogue so you can catch every word of the drama or action.
This sound bar will automatically connect to any TV, laptop, or smart phone using Bluetooth 5.0 or with a 3.5mm, RCA, or optical input cable, and is compatible with most TV brands including Samsung and Sony. Lightweight and slim, it is equipped with a snap-in integrated structure for easy installation without screws.
4. Best High End: JBL Bar 2.1 Deep Bass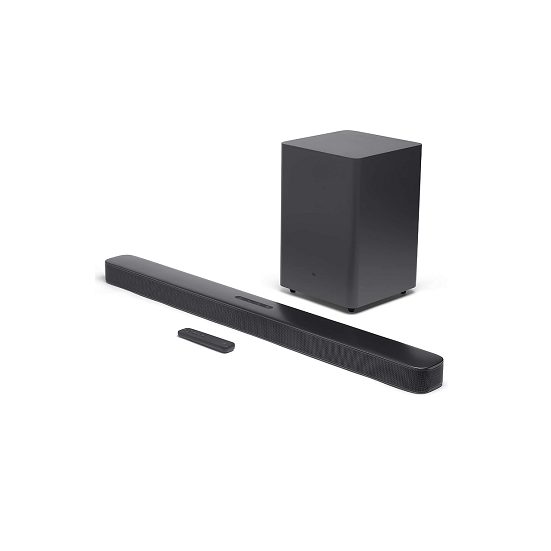 300W power makes every sound incredible
JBL Signature Bass technology
Elegant and subtle design
An added subwoofer means one more box to find room for
Key Specs
| | |
| --- | --- |
| Connections: | Bluetooth, HDMI (ARC), Optical |
| Soundbar Dimensions: | 104.5cm x 40.49cm x 30.99 cm |
| Soundbar Item Weight: | 10.23 kg |
| Subwoofer Dimensions: | 24cm x 24cm x 37.9 cm |
| Subwoofer Item Weight: | 5.67 kg |
JBL is a well-known brand in the sound gear market for their incredible bass amplifying technology that makes this 2.1 system superb. It features four full-range drivers, two one-inch tweeters, and 6.5" subwoofer. It also has Dolby Digital, so you can get the best cinematic sound right in your living room.
As it's Bluetooth-enabled, you also get access JBL's signature bass through any of your smart devices. Although a tad bit more expensive than other models, it's worth every penny for its sound and portability.
5. Best Compact Size: Bose TV Speaker - 23"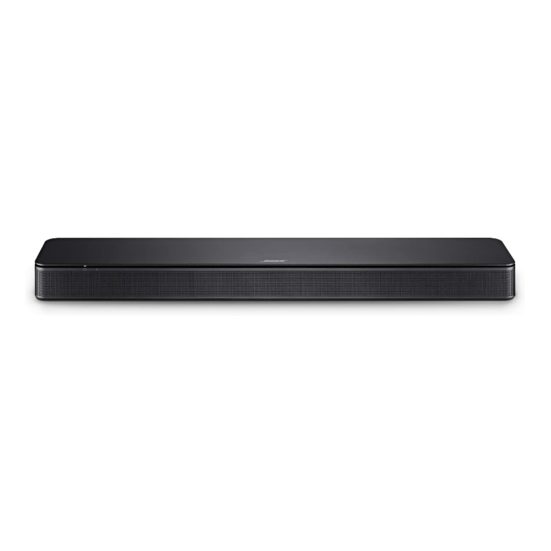 One connection setup makes it easy to get listening
Easily add one the Bose Bass Module when you're ready for more power
Subtle design that looks nice or hides easily
Designed to make your TV sound clearer and stronger, not necessarily louder
Key Specs
| | |
| --- | --- |
| Connections: | Bluetooth, Optical, HDMI (ARC) |
| Item Dimensions: | 10.21 cm x 59.39 cm x 5.61 cm |
| Item Weight: | 3 kg |
Now for one of the best in the industry: Bose. Allowing you to connect to Bluetooth, this sound bar is designed to connect with most flat-screen TV models.
While it doesn't have a subwoofer, it doesn't need one. It's patented technology packs enough of a punch, whether it's for music, movies, TV, and more.
6. Best Bass: VMAI 2.1 Sound Bar - 38"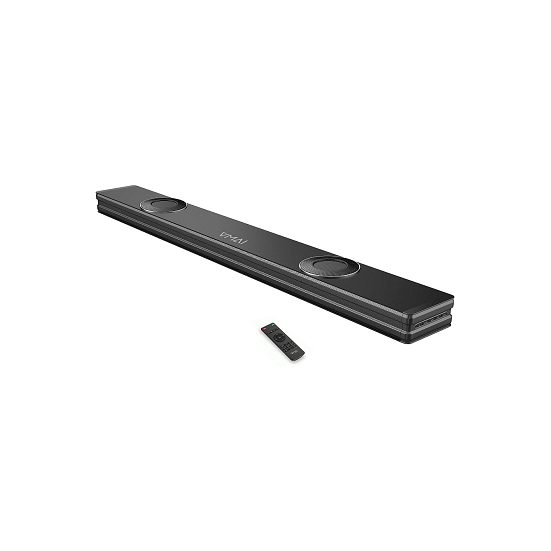 Compatible with your TV, projector, computer, Blu-ray player, tablet, gaming consoles, amplifier, etc.
Bluetooth 5.0 — connect from up to 50" away
Lifetime support warranty
2.1 is a quite basic "surround sound" feel - 5.1 is ideal for surround sound
Key Specs
| | |
| --- | --- |
| Connections: | HDMI (ARC), Optical, AUX, USB |
| Item Dimensions: | 96.52cm x 10.16cm x 7.62cm |
| Item Weight: | 2.72 kg |
This VMAI is a step up from the previous model as this one is a 2.1 system — that's right, a built in subwoofer! With the heightened bass from the subwoofer, you can get the most out of the four listening modes: music, movies, news, and 3D. The way a 2.1 system allows you to hear every whisper and feel every explosion will make you wonder how you ever lived without it.
7. Honourable Mention: Samsung HW-A550/ZC 2.1CH 410W Sound Bar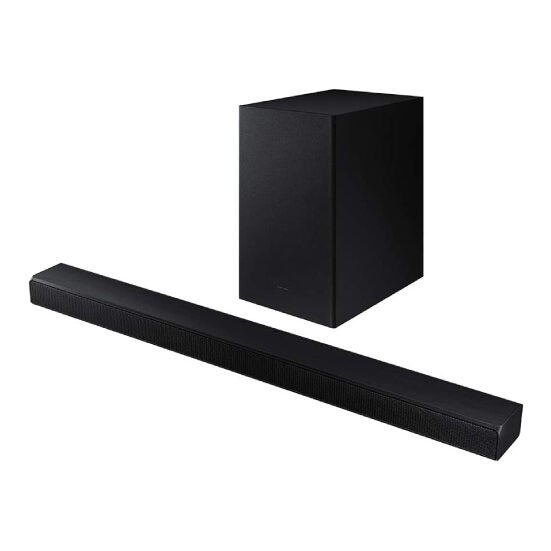 Comes with a subwoofer
Connects using Bluetooth
Key Specs
| | |
| --- | --- |
| Connections: | Bluetooth, HDMI (ARC), Optical |
| Item Dimensions: | 85 x 860 x 55 cm |
| Item Weight: | 7.39 kg |
This 2.1 channel sound bar, which is compatible with Samsung TVs, comes with a 6.5-inch subwoofer that will optimize your viewing and audio experience with a powerful, deep bass.
The sound bar is especially appealing for gamers who use their TV as a gaming monitor since the auto settings will optimize the game's sound through its cross-talk cancellation technology that removes distracting sounds. You'll be able to hear clear audio from the right direction to help you gain your gaming advantage.
But even if you're not a gamer, this sound bar will enhance your experience. In fact, this unit is compatible with Samsung wireless Surround Kit so you can expand your sound bar to a surround sound system without any messy wires.
The sound bar connects easily to your TV using Bluetooth or Wi-Fi and the Smart Sound feature will automatically analyze the source of the sound to optimize the audio track for the specific content. So, whether you're watching an exciting, loud sports match or a drama with quiet dialogue, you will receive the clearest sounds for optimal TV viewing.
What To Look For
Before you take the plunge and buy a sound bar, you'll need to consider where in your space it's going to go. Is your TV on a stand or mounted on the wall? Will your sound bar fit on a stand or the wall if there's a TV also on it? Could you do one of each? It may sound silly, but this is actually one of the more important things to figure out. Speakers are directional, so it's important to buy a sound bar that can fit comfortably below your TV. From TV to viewer, most sound bars are designed to push sound waves towards a target directly in front of it.
It's important to note that if you choose to mount a sound bar on top of your TV, it has to be adjusted to cast sound downwards towards the couch, not the ceiling. Of course, personal preference and space limitations will play a factor in the way you display your new sound bar but it's recommended that you place it directly under your TV for the best results.
Next, most important thing to think about is whether you're looking for a 2.0+ or 2.1+ sound setup. The "2" in both means two speakers, while the ".1" refers to the subwoofers. Any 2.0 is a pretty standard and is ideal for anyone looking for their TV to sound just a little bit better than its factory setting. A sound bar makes this easy and achievable without the mess of extra cables.
Sound bars are a great and relatively inexpensive way of bringing a strong audio element to your TV, filling your space with clearer and stronger sound than a TV's speakers alone. When paired with a subwoofer, you can turn your living room into an impressive entertainment destination. With the eight great options above, you won't be disappointed when you're set up and ready to go.
Leave a Comment
We're always looking for more feedback! If you own any of these items and would like to share your experience, please comment below!
About the Author: Cullen Elijah McGrail
Cullen Elijah McGrail is a researcher, writer, and award-winning playwright currently residing in Southwestern Ontario. He has worked for arts and culture organizations, as well as other non-profits, from coast to coast. His favourite highlights include a summer at the Banff Centre for Arts and Creativity, creating a tour for the Toronto Zoo, and touring with a ballet company across Newfoundland. When he's not writing, Cullen can be found listening to every podcast he can get his hands on.
RedFlagDeals.com is reader-supported. We are a participant in the Amazon Services LLC Associates Program and other similar affiliate advertising programs. These programs are designed to provide a way for sites to earn advertising fees by linking to them. This means that RedFlagDeals.com will sometimes get a small commission if you make a purchase through our links.