The Best Snorkelling Gear
Table of Contents
Picture this: you're on a vacation and finally get the chance to go snorkelling. The resort supplies you with gear, but the fins are too small and they're starting to cut into your skin. Your mask feels good, but once you submerge water starts to leak in. And the snorkel? You have no idea how well it was cleaned or where it was before it went into your mouth.
In a pre-covid world sharing gear, especially ones that go in your mouth, might not have been that big of a deal, but if you've been patiently waiting and dreaming for over a year to go snorkelling you don't want faulty equipment to ruin your special moment. Snorkelling gear can get pretty expensive, but buying your own gear in a set can actually save you money in the long run and ease your mind about using unsanitary equipment. Buying your own gear means you can choose a mask, fins, and snorkel in the right size for you so you can be sure that you'll enjoy the experience and not have to constantly re-adjust your gear.
Taking the time to research snorkelling gear will ensure you have a safe and comfortable snorkelling adventure. So, how do you find the best snorkelling gear for you?
What Should I Look For?
It's important that your gear is made from quality materials to ensure that it doesn't break on you in the middle of an excursion. Products made from plastic and PVC won't last you very long, but might suffice for casual use. If you live near open water and plan to get some serious use out of your kit, look for products that use a glass lens and silicone in both their masks and snorkels.
To help you narrow down your search, establish a budget prior to shopping so you can save yourself some time by crossing off gear out of your price range. But keep in mind the saying that you get what you pay for — the lower the price point, the cheaper the materials in your gear will be. For more details on what to look for in your snorkelling gear, checkout our quick guide at the bottom of the article.
1. Editor's Pick: Phantom Aquatics Adult Speed Sport Set
Removable mouthpiece
Includes safety whistle and fast drying mesh bag
Low internal volume of mask
Wide range of colours
Stiff fins
Fins may be too short for some users
Mask may fog
This Phantom Aquatics Adult snorkelling set includes a mask with a dual tempered glass lens to give you crystal clear vision and is surrounded by an ultra soft silicone skirt to create a perfect fit on your face. The snorkel features an angled purge chamber and a swivel adapter to easily mount to your mask while keeping water from sneaking in through the top. Its fins use simple but effective adjustable straps and a contoured foot pocket to make your feet as comfortable as possible.
2. Best Runner Up: ZEEPORTE Mask Fin Snorkel Set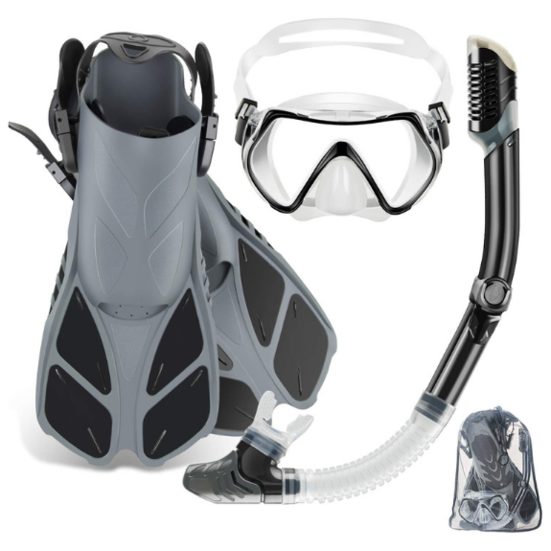 Comfortable flippers
Great for travel
Easy to use
Limited sizes
Fins are not full size
Using high-quality materials, this ZEEPORTE mask, fin and snorkel set was created to give you a comfortable and worry-free snorkelling experience. It's available in two sizes and one colour option and it includes two adjustable fins, a two-window tempered glass lens mask, a dry-top silicone snorkel, and a travel gear bag to safely store and transport all of your equipment. Both fins are made from a lightweight and responsive blade with a thick adjustable strap to give you a powerful kick that's also super comfortable. The foot pocket of the fins and the strap are made of durable rubber that also contribute to a comfortable fit.
The mask has a skirt that is designed with soft and flexible silicone while the snorkel has a food-grade silicone mouthpiece and a dry-top valve that seals the breathing tube when submerged. It is designed to keep water from entering the breathing tube. The reusable zip-up bag that comes with this set has a shoulder strap and nicely fits all the pieces of your snorkelling gear.
3. Best Budget Pick: U.S. Divers Cozumel Snorkeling Set
Perfect for beginners
Easy to adjust
Splash guard snorkel
Vented fin blades
Includes mesh carrying bag
PVC face skirt (stiff)
Fins not adjustable
New to snorkelling? Enjoy the beautiful views on a budget with this U.S Divers Cozumel snorkelling set! Each set includes: a two-window, adjustable tempered glass lens mask; a snorkel equipped with a splash top to prevent water from sneaking into the barrel; and, a one-way purge and full-foot dual composite vented fins. If you're gearing up for your next water adventure, this U.S Divers Cozumel snorkelling set is a great value set for those of you who are new to the world of snorkelling. It's made to take with you anywhere there's deep water — it comes with a storage bag too!
4. Sleeper Pick: Speedo Adult Adventure Mask Snorkel Fin Set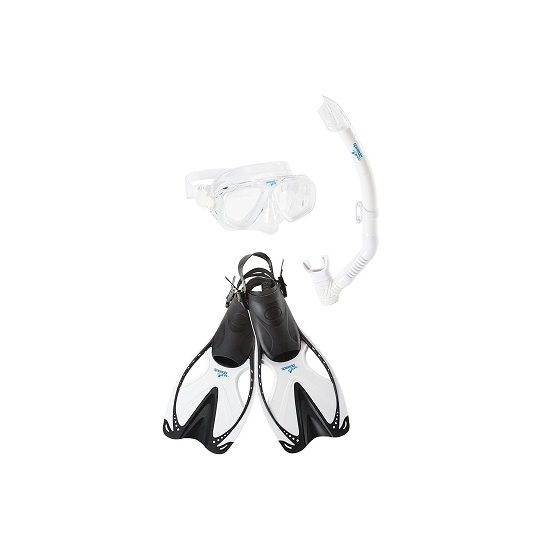 Comfortable fit
Removable mouthpiece
Wide field of vision
Easy to adjust
Short fins
Fins may be uncomfortable on bare feet
Whether you plan to go for a casual swim, or want to try your hand at recreational snorkelling, this Speedo Adult Adventure snorkel set is perfect for people ages 14 and up. Its polycarbonate lenses use an anti-fog coating to help keep your views clear and a silicone skirt to give you a leak proof fit. The snorkel features an adjustable clip, as well as a splash resistant top, while the fins are designed with open heels and adjustable straps so you can find your perfect fit.
5. Best Field of Vision: Cressi Dry Panoramic Wide View Mask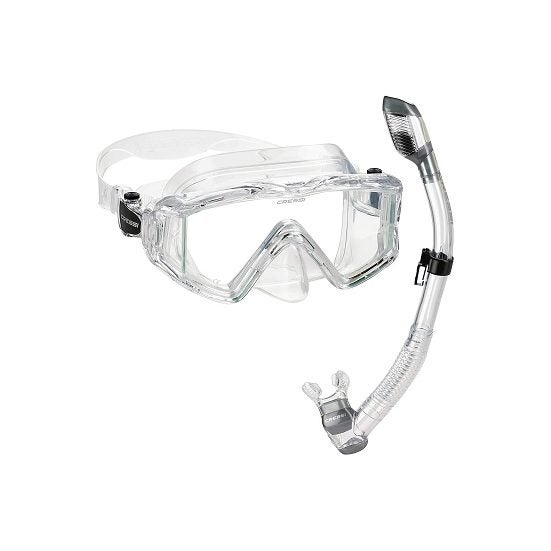 Small mouthpiece reduces jaw fatigue
Wide field of view
Hypoallergenic
Wide range of colours
Doesn't include fins
Bulky mask
Perfect for snorkelling or scuba diving, this Cressi Dry Panoramic mask combines comfort with durability to give you a clear view underwater. Its mask is hypoallergenic, and it's made of soft silicone and tempered glass, which will provide you with ample visibility and a secure fit. What's more, the snorkel features a dry top that's submersible as well as a bottom purge valve to release any excess water.
6. Best for Kids: Adicop Kids' Snorkel Set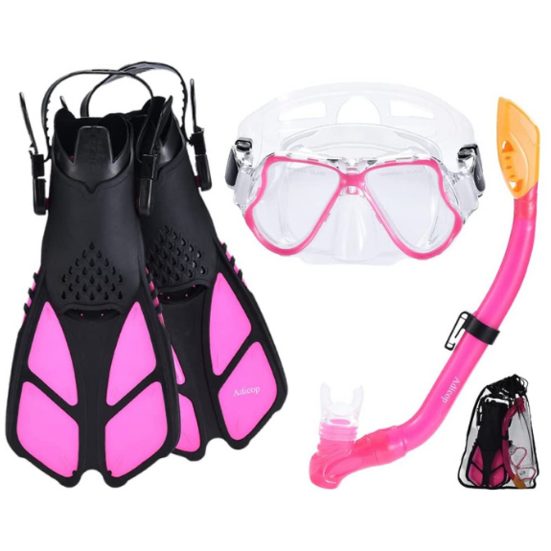 Designed for children 4 to 8 years old
Soft silicone mouthpiece
Anti-fog, tempered glass mask
If you're teaching your little one about the beauties that lay beneath the surface of the water, it's best to use a snorkelling set that is specifically designed with small faces and feet in mind.
This mask, snorkel and fin set is suitable for kids between the ages of 4 and 8. The mask is outfitted with anti-fog, tempered glass with an adjustable elastic silicone strap to fit snugly around different face sizes and shapes. It also has a soft silicone skirt to reduce any water pressure on their face, while creating a seal to prevent water from leaking in.
The fins have an open-heel design with a quick buckle release, so they are easy to put on and take off. The drop-shaped mesh instep and open toe offers better water flow, and the fin material is just the right tension to let your little mermaid or merman powerfully kick their way across the surface of the water.
7. Also Consider: Odoland Snorkel Set 6-in-1 Snorkeling Packages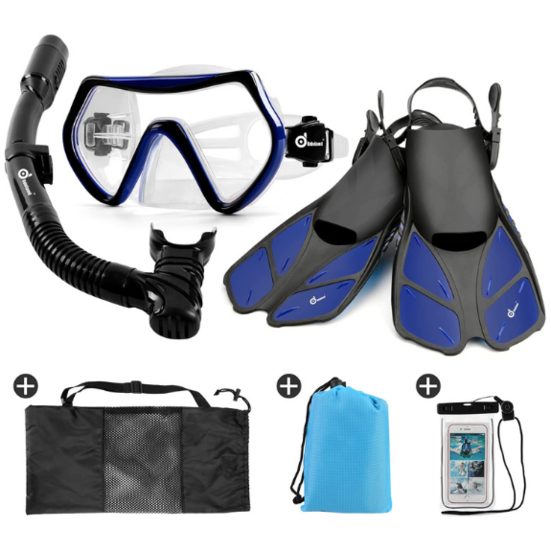 Available in two sizes, medium and large
Includes a waterproof phone case, beach blanket and carry bag
Available in four different colors
May include items not everyone wants or needs
Some users complained about the quality of the fins
The six-in-one snorkelling set from Odoland is a convenient package that includes all that you will need for your next snorkelling adventure. In fact, it even comes with a waterproof case for your smartphone, a beach blanket and a large mesh bag to tote it all around in.
When we look at the actual snorkelling gear, you'll find the mask has a wide 180-degree view with an anti-fog, shatter-resistant lens. Buckles on the side make it easy to adjust to fit your face and soft silicone cups keep the water out.
It comes with a dry snorkel designed with a splash guard and a one-way purge valve so when you dive, the tube is sealed and you won't swallow water. The snorkel also has a flexible, hypoallergenic silicone mouthpiece with bite tabs for a secure hold and relaxed jaw.
The fins have quick-release fin buckles with lots of options to use the adjustable strap for a snug fit. With this set, you will have everything you need and a great bag to carry it in.
8. Honourable Mention: Gintenco Kids Snorkel Set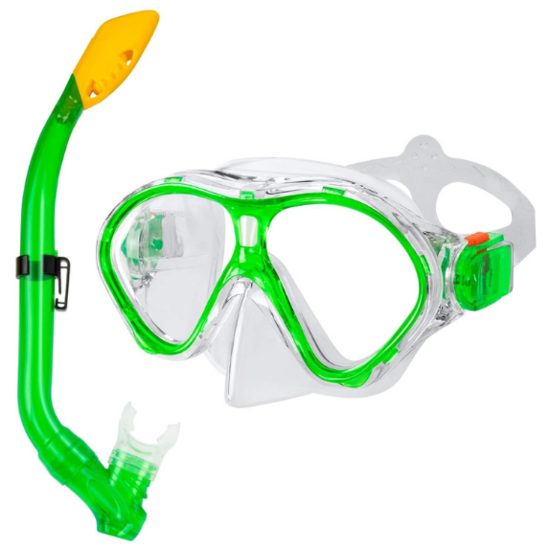 Suitable for kids and teens
Mask has a 3D nose pocket
180-degree view
Because we have so many choices for adults on this list, we have included another set for kids and youths that is worth mentioning.
This snorkel set does not include a pair of fins, so it is a good choice if your child already has fins and he or she needs a good mask and snorkel. Suitable for children and teens between the ages of four and 16, the mask can be easily adjusted from 10 inches to 19.6 inches to fit a variety of face sizes and shapes.
The mask also has a 3D nose pocket, side adjustable buckles, and a wide 180-degree panoramic view, with a lens made of 3.8mm anti-fog tempered glass. The mask's skirt is made of soft, flexible silicone that creates a watertight seal, making it comfortable and leak-free.
The snorkel has a float valve splash guard to keep air in and water out, and a dry top system. The mouthpiece is made of premium silicone that is odour free and is designed for long-term use, giving the user a worry-free, enjoyable experience.
How to Choose the Best Snorkelling Gear
Although other pieces of gear like a dry bag, a snorkel vest or anti fog sprays can be useful to have handy, the three most essential pieces of equipment are your mask, fins, and the snorkel itself. And while you can buy each piece of gear individually, buying them as a set will end up saving you a good chunk of money.
Set a Budget
Some snorkelling sets are pretty inexpensive while others can take quite a dent out of your wallet, which is why setting your budget right off the bat will help you narrow down your options significantly. Keep in mind that the more you spend on your gear, the higher quality it will be and vice versa.
Consider Durability
If you know you'll be using your gear for more than an occasional family vacation, buying gear made from high quality, durable materials will help you get the most bang for your buck. Cheaper gear is typically made from plastic or PVC materials which can be great for short term use, but masks and snorkels made from silicone materials are less prone to breaking and can withstand being dropped or an accidental collision underwater. Beginner sets can range anywhere from $40-100, with $70 and up being more higher-end models, while sets priced under $40 use materials that won't hold up too well in water.
Mask Fit
Without a good mask, you might as well be swimming with your eyes closed. Your mask is vital in ensuring that water stays out of your eyes and doesn't fog up so you can enjoy the beautiful underwater scenery. Look for masks that use a glass lens with a wide field of vision so you can take in as much of your surroundings as possible. The straps should be wide and easily adjustable to help make sure that the mask can sit firmly and comfortably on your face. The mask's seal should also be made from soft, pliable silicone which will help to keep the mask from sliding around on your face and keep it airtight.
Fin Fit
Fins are available in a wide range of sizes, so it's important that you find one that's the right size for you. Fins with a wide, adjustable heel strap allow multiple people to wear the same fin since you can alter the size until it's nice and comfortable on your feet. The fins should have a decent amount of flex, whereas the foot should be more stiff. Your fins should feel nice and snug on your feet so they don't slide off, but not so tight that they begin to cut into your feet.
Snorkel Fit
Your snorkel should comfortably fit your jaw: if it starts to tire out your jaw, it's likely too big; but if it falls out of your mouth easily, it's too small. Your snorkel should include a way to attach directly to your mask (most snorkels have a small clip) as well as a lip guard to stop any water from sneaking into your mouth. Higher-end models will also have splash guards on the top of the barrel and a locking dry valve to keep water from finding its way in.
Leave a Comment
We're always looking for more feedback! If you own any one of these snorkelling items and would like to share your experience with us and other readers, please leave a comment down below!
RedFlagDeals.com is reader-supported. We are a participant in the Amazon Services LLC Associates Program and other similar affiliate advertising programs. These programs are designed to provide a way for sites to earn advertising fees by linking to them. This means that RedFlagDeals.com will sometimes get a small commission if you make a purchase through our links.