The Best Smoker Grills
Table of Contents
If you're not familiar with a smoker grill, you may not know that while it looks like a typical barbecue, it does not cook food in the same flame-broiled manner. A smoker grill works more like a convection oven because the food doesn't have direct contact with a flame. Instead, the heat is circulated inside the smoker at either a low and slow temperature for smoking, or a higher one for grilling. And while there are smoker grills that are fueled with charcoal, the majority use wood pellets, often with different flavours, as a fuel source.
Wood pellets are made from compressed wood with a smoky taste that is subtle and can impart flavours depending on the kind of wood used, such as apple, hickory or cherry. The best smoker grills will automatically feed the pellets into the hopper as needed to maintain the set temperature and provide a convenient set-and-go situation. After all, if you are smoking a side of beef for over 12 hours, you don't want have to check on its progress every hour.
Below, you will find a list of our recommendations for the best smoker grills, along with information on how they work, the size of the grilling space and the various features to consider. Picking the right one for you comes down to how you intend to use it, and of course, your budget.
1. Editor's Pick: Z Grills ZPG-700E 2020 Upgrade Wood Pellet Grill & Smoker
Key Specs
| | |
| --- | --- |
| Product Dimensions: | 121.92 x 55.88 x 129.54 cm |
| Hopper Capacity: | 20 lbs. |
| Material: | Stainless Steel, Metal |
| Fuel Source: | Wood pellets |
| Item Weight: | 42 kg |
This upgraded Z Grill smoker grill is perfect for the consummate cook who loves the flavour and taste of a long, slow smoke. Special attention can be given to the new upgraded digital control board that auto ignites the grill and allows you to set the cooking temperature from 180 to 450 degrees Fahrenheit.
But once the grill is ignited, the key to successful results and easy cooking is the ability of the device to keep the temperature accurate relative to what is needed to do the job right. With this grill's automated electric feed system, the internal heat is maintained within 10 degrees of the set temperature. You don't have to stand around checking up on the temperature, or come back numerous times during a long smoke; just set it and go.
Equipped with a fan-forced convection-style of heat distribution, you won't need a rotisserie as it creates a versatile environment for all kinds of cooking: grilling, roasting, smoking, braising and baking. And with this efficient heating system, you can cook for about 20 hours per 20 pounds of pellets.
Finally, this smoker grill offers up a large 700 square-inches of cooking space, including a smoking/warmer rack, and also has a waste oil collector, locking caster wheels on the cart and a built-in storage cabinet.
2. Runner Up: Giantex 3-in-1 Charcoal BBQ Smoker
Key Specs
| | |
| --- | --- |
| Product Dimensions: | 50.8 x 40.64 x 81.28 cm |
| Material: | Iron |
| Fuel Source: | Charcoal |
| Item Weight: | 5.9 kg |
We included this charcoal-style grill because of its portability to take on the road camping or to use at a tailgate party. The main body of this smoker is divided into three layers. The bottom can be used as a fire pit and the adjustable barrel grill is what you would use for steaming, grilling, baking or roasting. With two different heights, it can either be a barbecue roaster or a smoker, depending on your needs, with a large chrome-plated cooking grid that can hold large cuts of meat. A porcelain-enameled water pan helps infuse smoky flavour into your meat.
A built-in thermometer with a detailed temperature scale allows you to easily observe and control the temperature. The adjustable vents on the top help you to control the smoke as well as the airflow to maintain a steady temperature for the best cooking results.
The vertical design of the smoker offers up a decent amount of usable space, with two cooking racks with a total of 342 sq. in. of cooking surface. An iron support with three sturdy hooks is high enough to hang large breasts, chicken legs, turkeys and other food inside the lid, so feeding a crowd is easily done.
There are two access doors to check the condition of the food and to add charcoal; the grill's raised feet in a triangular manner increases its stability as well. Easy to take apart and store in the trunk of a car, this smoker grill is ideal for anyone who likes to camp or host a seaside barbecue or backyard party.
3. Best Mid-Size: ASMOKE Portable Wood Pellet Grill and Smoker
Key Specs
| | |
| --- | --- |
| Product Dimensions: | 62.99 x 44.5 x 36.7 cm |
| Hopper Capacity: | 4 lbs. |
| Material: | Metal |
| Fuel Source: | Wood pellets |
| Item Weight: | 40 kg |
This smoker grill looks a bit like a large tackle or toolbox, but don't let its utilitarian looks fool you. Inside the lid you'll find two tiers of porcelain-coated cast-iron grills that offer up 256 sq. in. of cooking space.
The smart technology temperature control system has two programmable meat probe ports. You can go low and slow, or fast and hot with a temperature dial that ranges from 180 to 500 degrees Fahrenheit. The colour LED digital control makes it easy to set the temperature and the auto-pellet reloading systems and heating fan maintains it. No need to babysit the food and miss all the fun at your party.
You can have direct or indirect grilling, due to a slide plate flame broiler for searing, making this smoker grill ideal for barbecuing, baking, roasting, braising, smoking and charbroiling all cuts of meat and food. This unit also comes with a grill cover, precision tracking stainless steel meat probe, meat tongs and claws and gloves.
4. Best High-End: Pit Boss Grills 77350 3.5 Cu. ft. Vertical Digital Pellet Smoker
Key Specs
| | |
| --- | --- |
| Product Dimensions: | 66 x 55.9 x 134.6 cm |
| Hopper Capacity: | 40 lbs. |
| Material: | Metal |
| Fuel Source: | Wood pellets |
| Item Weight: | 44 kg |
In real estate, they say if you don't have the space, go vertical. Well, the same can be said for a smoker grill. Pit Boss's vertical wood pellet smoker fits where other models can't, yet with its multi-tiered system, you can smoke everything on your menu for up to 24 hours and more of continuous use.
This model has integrated its top-loading pellet hopper to the rear of the smoker, increasing the cooking capacity of the hopper to hold 40 lbs. of wood pellets. There are five porcelain-coated cooking racks for a total cooking area of 901 sq. in.
The fully programmable digital controller gives you complete control of the temperature, which ranges from 150 to 450 degrees Fahrenheit. The double-walled construction with blanket insulation protects the internal temperatures on even the coldest nights, so if you like grilling in the winter, this is the model for you.
Comes with an auto-start, 300-watt igniter with auto shut-off and a digital LED read out on the meat probe, so it's easy to monitor the internal temperature of your food for perfect cooking every time.
5. Best Propane Smoker: Cuisinart COS-244 Vertical 36" Propane Smoker
Includes a 40-inch hose and regulator
Four removable racks
Built-in thermometer
Key Specs
| | |
| --- | --- |
| Product Dimensions: | 49 x 46 x 98 cm |
| Hopper Capacity: | N/A |
| Material: | Metal, stainless steel |
| Fuel Source: | Propane |
| Item Weight: | 31.52 kg |
Not all smoker grills use pellets as a fuel source. Cuisinart, a trusted brand that is popular with many home chefs, offers up an alternative to pellets with this propane powered vertical smoker grill that is ideal if you don't want the fuss of filling and managing a hopper.
This 36-inch propane smoker grill is easy to use — you just turn the valve on the propane tank and give the control knobs a twist and you're good to go. A porcelain enamelled tray holds water and wood chips to infuse your food with smoky goodness and between the tightly sealed doors to help with consistency and the back vents to raise or lower the temperature, you'll get delicious results no matter what you are cooking.
Inside the smoker you have 784 square inches of cooking space and four, 14-inch by 14-inch stainless steel shelves that can be removed to make room to smoke large birds or joints of meat. This vertical, compact propane smoker grill doesn't take up much space and is a good option for patios
6. Best Two-in-One: Outsunny 48" Freestanding Charcoal BBQ Cooking Smoker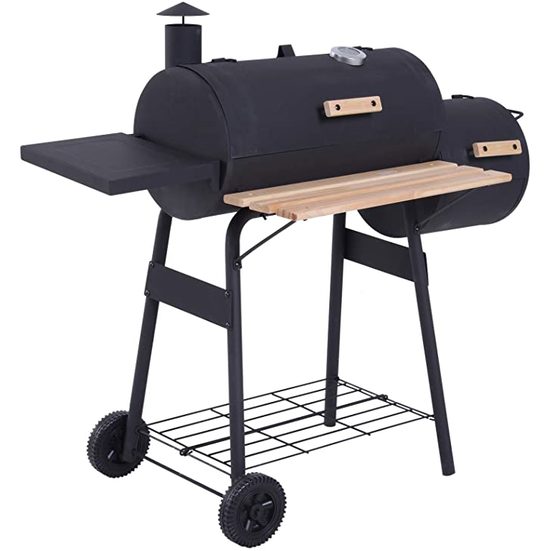 Combination of an offset smoker, BBQ and charcoal grill
Smoker firebox
Side vent
Not easy to assemble
Small size
Key Specs
| | |
| --- | --- |
| Product dimensions: | 101.83 x 36.42 x 36.42 cm |
| Hopper capacity: | N/A |
| Material: | Cold-rolled steel, wood |
| Fuel source: | Charcoal |
| Item weight: | 17 kg |
We understand that die-hard charcoal loving grillers are dedicated to using charcoal over any other grilling heat source, and that's why we have included this charcoal BBQ smoker on our list.
This grill has a unique design as it combines an offset smoker, barbecue and charcoal grill to offer up three different ways to cook food. It has two separate openings, one for the grill and the other for the connected offset smoker. The firebox helps to offset the heat and provides that delicious smoked flavour, while the side vent is used to supply the air flow to keep the heat going.
The barbecue is made from rust-resistant cold-rolled steel with angled legs that makes the grill stable. However, that doesn't mean it's cumbersome and heavy. This smoker grill is lightweight and with two wheels, is easy to move around.
An easy-to-read thermometer that registers from 100 to 1,000 degrees Fahrenheit is connected on the main lid, so you don't have to lift the lid to check the temperature.
The smoker also has two shelves and a metal grate to give you enough space for all your cooking utensils and accessories.
7. Best Large Capacity: Dyna-Glo Signature Series Vertical Offset Charcoal Smoker & Grill
Smoker and grill
Removable offset charcoal grate and ash pan
1,382 total sq. in. of cooking space
Heavy steel construction
May be too large a capacity for some needs
Key Specs
| | |
| --- | --- |
| Product dimensions: | 115.57 x 63.25 x 149.35 cm |
| Hopper capacity: | N/A |
| Material: | Steel |
| Fuel source: | Charcoal |
| Item weight: | 56.38 kg |
This smoker grill from Dyna-Glo's Signature Series has an extra-large capacity, and is multi-functional machine that offers up flexible cooking options as a charcoal grill and an offset smoker.
With 1,282 sq. in. of cooking space — 284 sq. in. of dedicated to offset grill space — you can understand why it will easily accommodate a large quantity of food to grill and to smoke. The grill itself has a heavy-duty steel body with a sturdy construction that will give you years of performance.
The vertical build saves space if that is a consideration, but it doesn't affect the interior real estate of this machine, which has five chrome-plated steel cooking grates that measure 17" in diameter each. You have enough space to smoke everything from whole birds to pork and beef roasts. There are even pre-installed sausages hooks to further open your culinary options.
You can grill and smoke food at the same time with this smoker grill, and it's all made easier with the separate analog 'grill zone' and 'smoke zone' indicators, so you can set the ideal temperatures for each mode of cooking you're focussing on.
8. Best Smart Smoker Grill: Weber 22510201 SmokeFire EX4 (2nd Gen) Wood Fired Pellet Grill
Comes with two meat probes
DC powered engine prevents auger jams
672 square inch dual cooking space
Key Specs
| | |
| --- | --- |
| Product dimensions: | 77 x 110.5 x 79.5cm |
| Hopper capacity: | 20-pound bag |
| Material: | Porcelain enamel finish |
| Fuel source: | Wood pellet |
| Item weight: | 77.2 kg |
Our final recommendation to consider is this pellet grill and smoker from Weber that sears as well as smokes a wide variety of foods. With a temperature range of 200℉ to 600℉, you can grill steaks or hamburgers and with its large capacity hopper that can hold a 20-pound bag of pellets, it's perfect for all day, low-and-slow smoking.
The grill has a large 672 sq. in. dual cooking space with an overall design to encourage an even distribution of heat across the cooking area. But what makes this smoker grill different from the others is its integrated smart grilling technology. You can connect it with your smart phone to make your experience easier.
For example, while you're in the kitchen preparing other foods, you can adjust the temperature or shut down the grill using the Weber Connect app. It will also notify you when it's time to flip the food and give you a countdown to when the food will be done.
What To Look For
Types of Smoker Grills
Freestanding Smoker Grills
These grills are large and meant to stay in one place, although many offer some mobility and come equipped with a handle and wheels so you can move it around the backyard. Some of these also have additional bottom shelves with doors to store things like bags of wood pellets or cooking utensils. Other models offer side shelves and extra cooking attachments like a side gas burner.
There are also portable smoker grills that you can take with you to a tailgater, the cottage or camping. While these are great to travel with, they also have a smaller cooking surface.
Vertical Smoker Grills
Most smoker grills can cook in just about any way — some with six- or eight-in-one cooking options such as grill, roast, smoke, braise, bake or barbecue — but vertical smoker grills are specifically designed for low-and-slow smoking. Many have a top temperature range of around 450 degrees, but the trade-off is that they generate steady temperatures as low as 150 degrees for smoking delicate foods like salmon. These space-saving, usually large-capacity vertical smokers create combustion using a gravity feed of wood pellets.
The Controller
Many people enjoy using smoker grills because of their set-and-leave capability. That being said, look for a model that has a good temperature controller to help keep everything steady and on point, managing pellet consumption and stoking the fire as needed to achieve the desired heat and smoke levels.
Wood Pellets
Wood pellets used in smokers are made from wood that is milled and heat compressed into small cylindrical pellets that are perfect for smoldering and smoking in a smoker grill. As well, 100 per cent natural wood pellets supply a more consistent smoke with very little ash or creosote build up.
Be aware that not all wood is safe to be used as cooking pellets and the ones you choose should be marked as food-grade. The flavors of wood pellets include mesquite, cherry, oak, apple, alder and hickory and the different flavors bring out the best in specific foods. For example, alder wood is recommended for salmon, poultry and game birds; apple for poultry, pork, lamb and seafood; and hickory for pork and ribs.
Leave a Comment
We're always looking for more feedback! If you own any of these items and would like to share your experience, please comment below!
About the Author: Marlene Eisner
Marlene Eisner has spent years working as a writer, editor, content producer, and product reviewer for home décor and renovation magazines and home and garden websites. She loves all things associated with indoor and outdoor spaces and enjoys sharing the newest trends, devices and products with readers.
RedFlagDeals.com is reader-supported. We are a participant in the Amazon Services LLC Associates Program and other similar affiliate advertising programs. These programs are designed to provide a way for sites to earn advertising fees by linking to them. This means that RedFlagDeals.com will sometimes get a small commission if you make a purchase through our links.