The Best Sit-Stand Desks
Table of Contents
Now that so many people are working from home these days, it's important to make sure that our desk space is doing favours for our health; having an aching back might be a sign that you've been sitting down at your desk for too long. Many professionals are opting for a standing desk in their set up to give their backs and bodies a break. Standing desks on the market right now can be adjustable too, called sit-stand desks, so you can decide in the moment how you want to use it. If you're looking for a new desk that you can either sit or stand at, or maybe you're just looking for a standing desk converter so that you can stand at the desk you already have, you'll find one on this list that's right for you.
We've been trained to believe that we must sit down at our desks for so long that many people might not even know the benefits of standing at their desk; we've put together some information at the end of this article to teach you all about why it can be good for your overall health to stand more, and some of the negative side effects that sitting down too often can have. We'll also outline some of the key features you should be on the lookout for in your new desk, so you can get ready to change the way you approach your workday!
1. Editor's Pick: SHW Electric Height Adjustable Computer Standing Desk
Easy to assemble
Good value for the price
Comes in a variety of colours
Electronic lift system with pre-set options
Grommets that can help you organize your wires
Can be expensive if you're on a tight budget or already have a desk you like
Key Specs
| | |
| --- | --- |
| Weight Capacity: | 110 lbs |
| Colours: | Black, Maple, Oak, or Walnut |
| Electronic Motor: | Yes |
| Max Height: | 46" |
| Weight: | 31.8 kg |
We're loving the SHW Electric Height Adjustable Computer Standing Desk the most because it's affordably priced if you're looking for a whole desk, it comes in a variety of colours, and it's easy to assemble, making it the perfect choice for anyone looking for their first sit-stand desk.
It's easy to adjust the height of this desk for anyone looking to change up their working position often; it has an electronic motor and a height adjustment control, which you can program with your favourite height settings for easier access. You'll be controlling the height using an LED panel, and it could take some time to learn all the commands but it's worth it in the end. This desk also has leveling glides that screw right into the bottom of the feet, which helps to stabilize and level your new table.
Another great feature with this sit-stand desk is that there's a grommet in the back corner that can help you organize your computer wires — great for anyone who has many electronics or monitors in their set up.
2. Runner Up: VIVO Electric 60 x 24 inch Stand Up Desk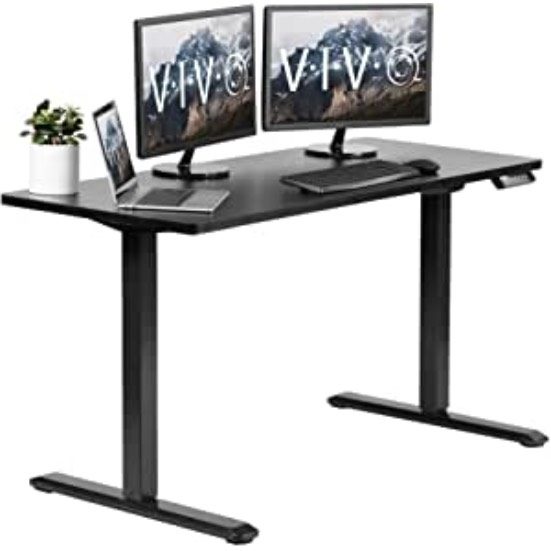 Elegant and sturdy
Great value for the price
High quality materials and design
Huge variety of colours available
Expensive
Not the easiest to assemble
Key Specs
| | |
| --- | --- |
| Weight Capacity: | 176 lbs. |
| Colours: | Black/Black, Black/Dark Walnut, Black/Espresso, Black/Light Wood, Black/White, White/Black, White/Dark Walnut, White/Espresso, White/Light Wood, White/White |
| Electronic Motor: | Yes |
| Max Height: | 50" |
| Weight: | 25.4 kg |
The VIVO Electric 60 x 24 inch Stand Up Desk is a bit better than our top pick in most regards but it's also a lot pricier, which makes it a tad inaccessible to be our first choice, however it's well constructed and you get what you pay for.
This is a wonderful unit because it's large enough to fit many different monitors and electronic devices, it has an electronic motor that adjusts the position of your desk for you, and it comes in a huge variety of colours so you're sure to find one that matches your home. Many users noted that this desk can be pretty difficult to assemble; keep this in mind if you tend to have trouble assembling your furniture. It'll be worth it in the end though because this desk has an extra sturdy construction, and it can hold a lot of weight without worry.
3. Best Standing Desk Converter: FLEXISPOT Stand Up Desk Converter
Sturdy and reliable
U-shaped design for comfortable laptop use
Good value for the price
Comes preassembled, you'll just need to add the keyboard tray
Easy to shift between sitting and standing
Key Specs
| | |
| --- | --- |
| Weight Capacity: | 33 lbs. |
| Colours: | Black, Mahogany |
| Electronic Motor: | No |
| Max Height: | 19.9" |
| Weight: | 17.1 kg |
The FLEXISPOT Stand Up Desk Converter is very highly rated, and for good reason; it's spacious enough to fit many of your electronic devices, it has a special groove for easy laptop placement, and it's very easy to fully assemble.
Not everyone is going to want to replace their current desk they're in love with; a converter like this can transform your current table into a sit-stand desk, so you don't need to get a whole new desk to reap the benefits of standing while working. This particular model is spacious enough to hold multiple devices without issues, and it's very sturdy.
Many workers use a laptop in addition to their desktop computer; it's very easy to keep both screens in the same line of sight with this model, because the top tray of the converter has a little groove in its design, so that when you put your laptop on the bottom tray it'll be able to fold back without hitting the top table.
4. Best Frame: MotionGrey - German Electric Dual Motor Height Adjustable Standing Desk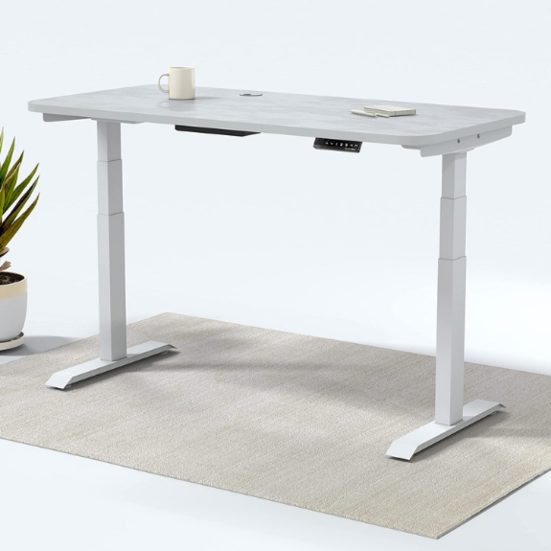 Adjusts easily to different heights
Can set and save favourite settings
Reinforced frame and base
Dual Bosch motors
A bit pricey
Does not come with a desktop
Key Specs
| | |
| --- | --- |
| Weight Capacity: | 220 lbs. |
| Colours: | Black, White |
| Electronic Motor: | Yes |
| Max Height: | 50.3" |
| Weight: | N/A |
Not everyone wants or needs a full standing-sitting desk, so we have included this option from MotionGrey that does not come with a tabletop and is ideal if you want to customize the look and functionality of your desk.
In terms of the frame, it easily adjusts to different heights, from 60cm to 128cm. A control pad controls the motors and displays the height of the desk. It can also store up to four pre-defined settings, so you don't have to fuss or feel frustrated trying to find your favourite sitting and standing heights.
There are Bosch motors located in each leg of the desk that move the legs up or down to give you quick ascending and descending elevations. And since the frame is made with thick steel tubing and reinforced base plates for the footers, the desk remains sturdy and durable even when it is raised to its highest setting.
The frame can fit standard, large and extra-large tabletops that measure 47 inches by 28 inches by one inch; 60 inches by 30 inches by one inch; and 71 inches by 30 inches by one inch. The screws to fix the top to the frame are included.
5. Best for Tablets: Seville Classics Airlift Height Adjustable Stand Up Desk Converter/Riser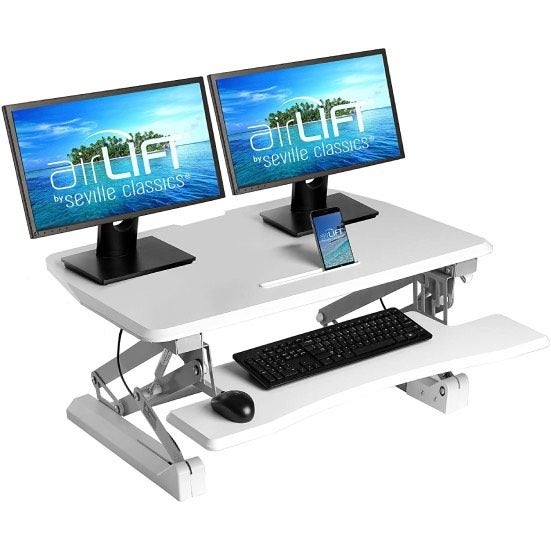 Easy to set up
Easy to adjust height
Feels sturdy and solid
Slot to prop up your tablet or smartphone
Designed for dual monitors, and has a large keyboard tray
Heavy
Less smooth transition if keyboard tray is installed
Key Specs
| | |
| --- | --- |
| Weight Capacity: | 33 lbs. |
| Colours: | White, Walnut, or Black |
| Electronic Motor: | No |
| Max Height: | 19.1" |
| Weight: | 22.7 kg |
If you use a smartphone or a tablet in your workflow, you'll appreciate the extra slot that's built into the Seville Classics Airlift Height Adjustable Stand-Up Desk Converter, where you can safely store your device while you're working — digital artists who use a tablet in their daily work would enjoy this set up.
This sit-stand desk converter is almost ready to use right out of the box — the only thing you'll need to assemble yourself is the keyboard tray if you want to use it in your set-up. Although this converter isn't motorized, it's still easy to adjust the height; just squeeze both the levers and push down or pull up to move it.
We also love that this unit ships with a variety of clips and brackets, which will help you keep all your wires organized and reduce any potential clutter.
6. Best for a Corner: FITUEYES L-Shaped Electric Standing Desk Adjustable Computer Desk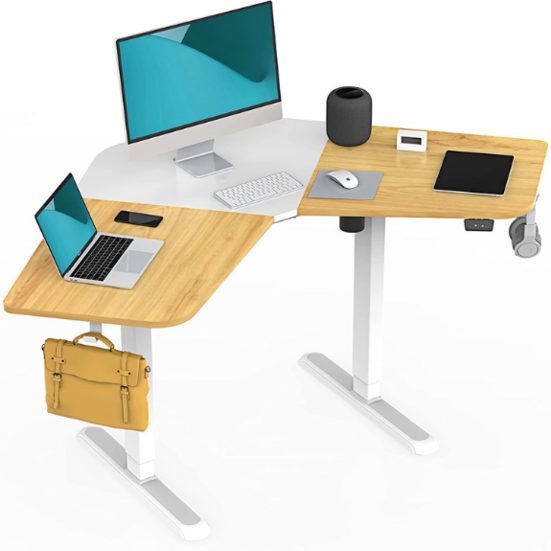 Ideal for placement in a corner
Large L-shape with three sections
Two-key control panel
Key Specs
| | |
| --- | --- |
| Weight Capacity: | 176 lbs. |
| Colours: | Bamboo ecru desktop and white frame; dark brown desktop and black frame; red brown desktop and black frame |
| Electronic Motor: | Yes |
| Max Height: | 48.2" |
| Weight: | N/A |
There's nothing like a big desk to fit all the devices and paraphernalia you need to get you through a workday. What we love about this electric standing-sit desk from Fitueyes, aside from all the desktop space, is its L-shape that fits perfectly into a corner of a room.
With a weight capacity of 176 lbs., this desk is sturdy enough to support all of your work-related devices like a monitor, laptop, keyboard and a printer. It even has two heavy-duty hooks on each end where you can hang a pair of headphones, your purse or laptop bag.
The L-shaped desk has a total surface measuring 36.3 inches by 35.5 inches to provide ample room and is set up into three separate areas to keep you better organized — left, middle and right. The frame has sturdy T-shaped metal legs and there is a two-key control panel that lets you customize the height from 29.5 inches to 48.2 inches to accommodate you as you stand or sit. Also, this electric standing-sit desk is available in three colour combinations.
7. Best Budget Pick: sogesfurniture Height Adjustable Sit Stand Workstation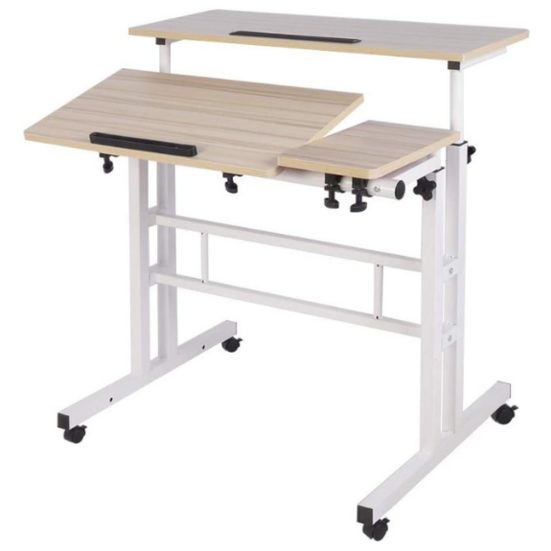 Affordable
Lockable castor wheels
Three surfaces that can be individually adjusted
Keyboard and mouse panel can be tilted
No electric motor
Not a huge surface space
Key Specs
| | |
| --- | --- |
| Weight Capacity: | 88 lbs. |
| Colours: | Black, maple, oak |
| Electronic Motor: | No |
| Max Height: | 45.3" |
| Weight: | 21.3 kg |
Not everyone can afford to spend a lot of money to take advantage of the benefits of a stand-sit desk, since they can cost a few hundred dollars. That's why we have included this manual stand-sit desk that is affordable and still offers a lot of neat features to get you through your workday without getting a backache from sitting too long.
This rolling desk has lockable castor wheels, which is great for portability to move it from room to room. It has three adjustable desktops, all of which are separate. This is not a huge desktop, but there is enough room for a monitor, a laptop, your keyboard and mouse. As well, the keyboard panel and the mouse panel are separate and they can be tilted, separately, from 0-90-degree angles.
The desktop is made of particle wood with a high gloss finish for easy cleaning and the frame is made from heavy-duty powder-coated metal that gives the whole desk stability. The height of this desk can be manually adjusted 27.6 to 45.3 inches.
8. Best Manual: Duramex (TM) Manual Sit to Stand Height Adjustable Desk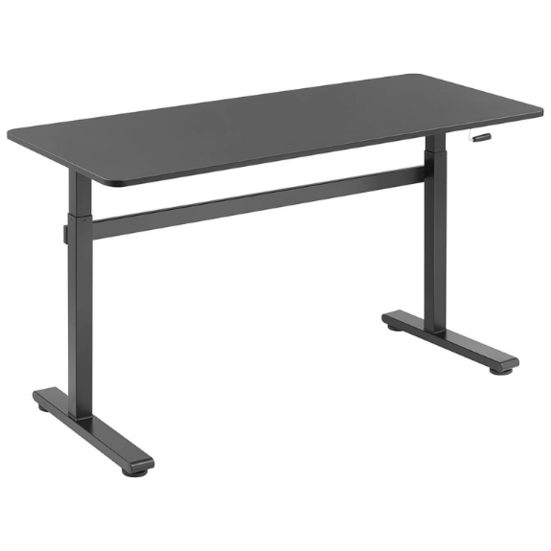 Sleek design
Easy to assemble
Adjustable to four heights
Removable crank to save space
Key Specs
| | |
| --- | --- |
| Weight Capacity: | 88 lbs. |
| Colours: | Gray |
| Electronic Motor: | No |
| Max Height: | 47.6" |
| Weight: | N/A |
Standing-sitting desks that have an electric motor are so convenient. But those models can be expensive, plus not everyone wants an electric device that could break and render the adjustment feature useless. We've included this option from Duramex because of its sturdy construction and its manual function to adjust the height.
The desktop is made of strong, impact-resistant and durable engineered MDF wood to withstand the rigours of daily use and the weight of your electronics, and with its sleek, modern look it will fit into any space. It can be adjusted to four different heights for standing or sitting using a hand crank located on the side of the tabletop. The crank is also removable so once you've adjusted the height to your liking, you can take the crank off, so it doesn't get in the way.
The desktop measures 23.6 inches wide by 55.1 inches long by 1.8 inches thick, and you can easily fit a monitor, keyboard or laptop on the surface.
What are the Benefits of a Standing Desk?
While this isn't intended to be direct medical advice, there's been research done to show that sitting at your desk for too long can lead to some negative side effects; many office workers complain of an aching back after sitting down for an eight-hour workday, and it's been shown that sitting for too long can increase your risk of weight gain and obesity because we burn much less calories while seated. Standing throughout your workday can help combat some of the negative effects of sitting, and research is still being done on how our bodies respond to standing more often at work.
We especially love the sit-stand category of standing desks because they're all adjustable, so that they give you the option of sitting or standing — best of both worlds. Going from only sitting in your workday to only standing can also injure your body though, because you'll be adding extra pressure on your legs and feet. It's best to stagger out your position, as standing for the whole day could come with its own negative effects.
Features to Watch For in a Sit-Stand Desk
Converter: You might already have a desk that you love and are attached to; if you purchase one of the standing desk converters on this list, you won't need to replace your current desk to be able to stand at it. You can set one right on your current desk and then adjust the height high enough for you to be able to stand — when you're ready to sit again, just bring the height back down and you're good to go.
Size: Your electronic devices and number of computer monitors should really dictate the size of desk that you buy; make sure you read the product description to see if all the devices you use in your set up will fit on top of the desk. This likely would only be an issue if you use multiple monitors in your workflow — coupled with a laptop, you could run out of desk space quick if you purchase too small of a desk. If you're purchasing a converter, make sure that it'll fit on top of your current desk.
Shape: The shape of your new desk should also be influenced by the devices you're using; many sit-stand converters in particular will have a groove on the top table, so that you'll be able to comfortably fit your laptop on the bottom table and still be able to tilt its screen back. Some options also have a little slot where you can place your smartphone or tablet, so that they're easily accessible if you need them throughout your workday without missing a notification.
Leave a Comment
We're always looking for more feedback! If you've purchased one of these sit-stand desks on this list and would like to share your experience, please comment below and let us know what you think about our picks.
RedFlagDeals.com is reader-supported. We are a participant in the Amazon Services LLC Associates Program and other similar affiliate advertising programs. These programs are designed to provide a way for sites to earn advertising fees by linking to them. This means that RedFlagDeals.com will sometimes get a small commission if you make a purchase through our links.