The Best Running Socks
Table of Contents
If you love to run, chances are you've invested a good amount of time and money to find the best running shoe for you. However, have you ever thought about wearing the right pair of socks? Turns out, wearing the right type of socks while running can make a world of a difference. I mean, why spend potentially upwards of $200 on a nice pair of running shoes just to throw on a crappy pair of socks? Not only do they wear down over time — sending you back to the store — but the cheap socks don't have moisture-wicking technology or sweat-reducing properties.
Unlike cotton socks that are great at absorbing moisture and water, running socks use synthetic materials like nylon and polyester to help wick away moisture so that your feet stay nice and dry. Not to mention, running socks have all sorts of specially designed features that work to support your arches, provide compression to boost recovery time, and improve circulation as well as specific cushioning around your toes and heels to help protect your feet from chafing and blisters.
If you have Athlete's foot or other conditions that make your feet odorous, you may benefit from extra odour repellent or moisture-wicking materials. No matter when or where you run, you can't go wrong spending a few extra bucks on a proper pair of running socks. In fact, we recommend it. Check out some of the best running socks to buy below:
1. Editor's Pick: Balega Hidden Comfort No-Show Running Socks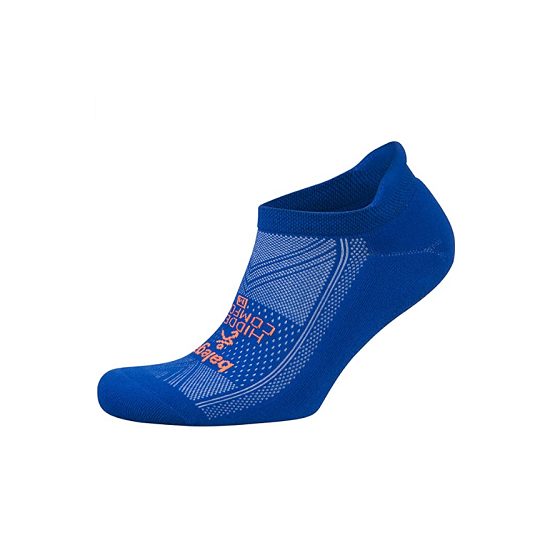 Wide range of colours
Plush cushioning on sole
Heel tab and deep heel pocket
Machine washable
Seamless
Minimal arch support
Sizes run large
Available in a wide range of bright and subtle colours, these breathable socks will help your feet stay dry and protected during your long runs.
They're made from a blend of Drynamix polyester, nylon and other moisture-wicking materials, these Balega socks will help keep your feet comfortable during long workouts and extended runs. These specially constructed socks use moisture-wicking materials and reinforced mesh ventilation to make sure your feet stay dry, while its high volume impact resistant cushioning and 200-needle count fabric offer ample comfort and protection.
2. Runner Up: Rockay Accelerate Anti-Blister Running Socks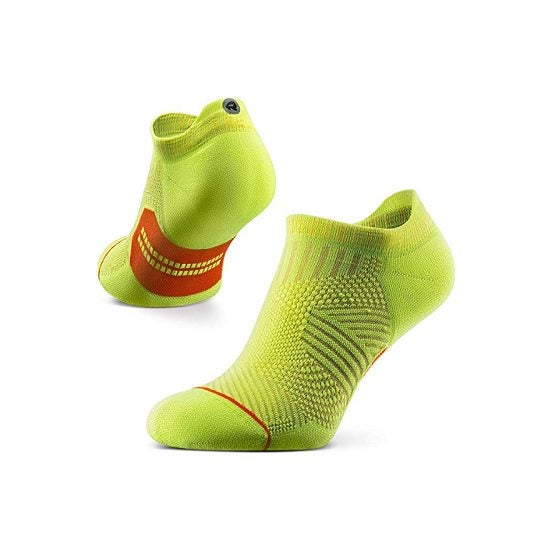 Anti-odour technology
Sustainable
Arch support
Reinforced heel and toe box
Comfortable
Minimal cushioning
Sizes run small
Every pair of Rockay socks equals 22 plastic bottles being removed from the ocean. Why not help protect your feet and the ocean in one purchase?
Aside from the amazing benefits running socks provide to your feet, these Rockay Accelerate Anti-Blister running socks are made from 100 percent recycled materials so you can help out the environment along with your feet. These socks use ventilated mesh zones to help wick away sweat and keep your feet dry as well as a seamless design to reduce unnecessary chafing or abrasions. By using a regenerated nylon yarn, made from recycled ocean and landfill waste, you'll be able to get more wear out of these socks and wash them less as well.
3. Best Long Distance: DANISH ENDURANCE Running Socks for Long Distances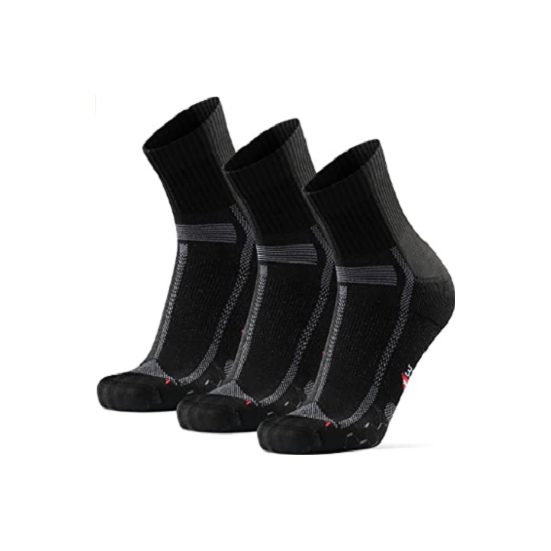 Cushioned anti-blister areas
Arch compression
Breathable
Thin
Stitching used in toe box
May rip along toe seam
Perfect for runners training for their next marathon, these quarter length Danish Endurance socks provide comfort, support and breathability to help you perform at your best.
If you're preparing for a marathon or love to push your body to the limit, these quarter length Danish Endurance long distance running socks will give your feet all the support they need to cross that finish line. It's built from a lightweight and breathable fabric equipped with ventilation channels to wick away sweat, and your feet will benefit from the socks' anti-blister cushioning properties, in addition to its supportive arch compression.
4. Best Compression: Vitalsox Graduated Compression Performance Socks
Wide range of colours and sizes
Moisture wicking
Environmentally friendly
Temperature control
May be too long for some users
Difficult to put on
Created in Italy, these compression performance socks stimulate your blood flow to help reduce cramping, swelling and lactic acid production.
Why not show off a little bit of your personality through your socks? With 30 different colours to choose from, these compression socks were built for walking, running, heading to the gym, and even come in handy if you spend most of your work day on your feet. These moisture-wicking socks offer ample compression from your mid-foot all the way up your calf to help your body recover quickly on top of reducing the chance of injury when out and about.
5. Best Budget Pick: Saucony Performance Heel Tab Athletic Socks
Heel tab design
Arch support
Air-mesh ventilation
RunDry moisture management
Wide range of designs
Short shelf life
Limited arch support
For athletes who want all the benefits of a high-quality running sock at half the price, these Saucony Performance athletic socks will do the trick. With Airmesh Venting technology to give your feet maximum breathability, and targeted cushioning in high impact areas, these inexpensive socks are a great introduction to running socks. They also have arch support for added stability and compression, which is great when you're running on other surfaces.
6. Best Moisture-Wicking: Closemate Ankle Athletic Running Socks Low Cut Wicking
Mesh knitting design for ventilation
Cushioned soles
Reinforced toes and heels
Wicks away moisture
Some users had issues with the sizing
Running on hot days often means wet, sweaty and smelly feet if you're wearing all cotton running socks. And while cotton is a great natural fabric that adds durability and comfort to your socks, 100 percent cotton absorbs moisture, which can be uncomfortable.
These low-cut ankle running socks are made from a blend of quality materials, including 85 percent cotton, but with a mesh knitting design for ventilation and added nylon, polyester and spandex to the fabric blend, the socks offer a comfortable feel that wicks moisture away from your feet, keeping your skin dry.
These running socks also go the distance in long-lasting wear and support with cushioned soles and toes and heels reinforced with thicker yarn for extra durability and comfort in these high-wear areas. The extra padding on the soles also help protect your feet from the shock of pounding the pavement mile after mile.
Available in two sizes and three colours, the socks are also machine washable.
7. Best to Avoid Blisters: TJOY Performance Athletic Ankle Socks, Anti-Blister Running Socks
Heel tab for easy on and off
Arch support
Cushioned sole
Seamless toe design to reduce blisters from forming
Machine wash and dry with no shrinking
Pricey
Thin material
Does not contain any cotton
Running any distance wearing socks that are too thin, too tight, or don't fit properly can cause friction that can quickly turn into a blister that will not only hurt, it will stop you from running for a few days.
The seamless toe design of these running socks reduces friction that can occur between your toes and your shoes, effectively preventing blisters from forming. Aside from saving your skin from blistering, these ankle running socks from TJOY offer up a lot of other key features that are important to consider when looking for good running socks.
A mesh construction on the instep provides the type of ventilation your feet need to breathe easy, while the sock's blend of fabrics offer up a level of moisture protection so your feet remain dry and odour-free. The socks also have just the right amount of compression to keep your arch stable and secure during a long run.
The socks are available in men's and women's sizes small, medium and large and a wide range of colours and colour combinations.
8. Best Padding: thorlos Men's J Max Cushion Running Rolltop Socks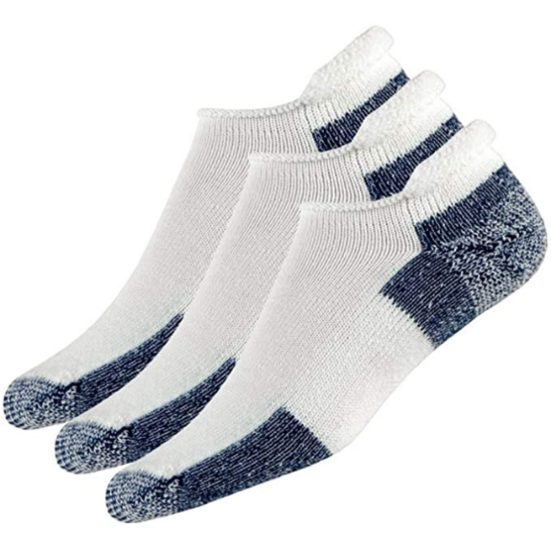 Contain Thor-Lon fibres to wick away moisture
Clinically proven to reduce foot pain from the impact of running
Extra padding on the heel, mid sole and toe
No-rub toe seam
Limited sizes and colours
Pricey
Our final pair of running socks on our list is worth considering if you love running but have sensitive feet and need socks with superior cushioning and padding to keep the pain at bay and comfort at the forefront of your experience.
The thorlos brand is known for the quality of the thick padding on the heel, ball of the foot and around the toes of its socks that provide extra cushioning when your feet hit the pavement. In fact, the padding on these socks has been clinically tested and shown to reduce blisters, foot pain and other foot conditions by absorbing shock and impact loads from running on hard surfaces. This extra padding is especially beneficial for anyone with high arches.
Made in the United States, they are a fabric blend of 84 percent acrylic, 15 percent nylon and 1 percent elastic plus exclusive Thor-Lon fibres that wick away moisture to keep your feet dry. Unfortunately, they are available in limited sizes.
What to Look for in Running Socks
Material
The material used in your socks is one of the most important factors to consider when buying running socks. Materials play a big role in the comfort, breathability and the moisture-wicking abilities of your sock, which are all super important elements that can affect not only the socks overall performance, but yours as well.
If you can avoid it, never buy socks made from 100 percent cotton. Cotton is known for holding onto moisture and heat which makes them great at creating blisters and keeping your feet wet — both of which are less than ideal on long sweaty runs. Instead, look for socks made from synthetic fibres like polyester or nylon that are fast drying, durable, breathable and help wick away moisture. Merino wool is also a great option to help regulate your temperature during those warm summer months and chilly winters. They're also super useful if you have naturally smelly feet.
Cushioning
Most running socks feature some sort of extra cushioning around the toes and the heels to help absorb impact and keep your feet comfortable during long runs, however not all socks use the same amounts of cushioning. Finding the right thickness depends on your personal preference and running style.
Athletes who enjoy trail running for example may benefit from thicker socks to help soften their steps and can also be beneficial to people who run outside during cold winter months. Thin socks are ideal for people who want maximum breathability and are often used by runners during warm summer months. Keep in mind your feet still have to fit in your shoes, so if you have a little extra space in your shoes, thick socks can help prevent your foot from sliding around, or it could make putting on your shoes a bit of a challenge.
Ventilation
Choosing socks with mesh ventilation will be a big help to ensure your feet stay dry during long runs. Socks with targeted mesh ventilations will allow your feet to breathe while also making sure that your feet stay protected in high impact areas like your toes and heels.
Seamless
This may seem like a small factor to consider, but you might be surprised at how much of a difference seamless socks can make. With less fabric and stitching throughout your sock, it reduces the chance for chafing and irritation along your feet, especially around your toes. Seamless socks are the secret to comfortable feet.
Compression & Arch Support
Running socks typically incorporate some form of compression systems into their designs to help improve blood circulation which can reduce fatigue, improve recovery time and may even help prevent injuries like plantar fasciitis. Compression combined with arch support can help keep your sock locked in place while running so you don't have to stop and deal with socks that continuously slide down your feet.
Leave a Comment
We're always looking for more feedback! If you own one of these running socks and would like to share your experience with us and other readers, please leave a comment down below.
RedFlagDeals.com is reader-supported. We are a participant in the Amazon Services LLC Associates Program and other similar affiliate advertising programs. These programs are designed to provide a way for sites to earn advertising fees by linking to them. This means that RedFlagDeals.com will sometimes get a small commission if you make a purchase through our links.