The Best Routers
Table of Contents
The internet keeps the world moving and without a good quality router you wouldn't be able to wirelessly stay connected to our fast-paced digital world. With so many of us working and playing inside nowadays, older routers might not be able to keep up with all the digital devices you and your family are using at the same time. If you're paying for a high-speed internet connection, you'll need one of the best routers to match.
We've put together this list with a variety of uses and internet speeds in mind. Whether you're a gamer who needs to link many devices to your router, an individual who wants the fastest internet you can get to stream your favourite movies, or a family looking for a reliable router with parental controls, you'll find a model on this list that's right for you. We know that technology can sound complicated on paper so stay tuned until the end of the article and we'll teach you all about some of the most complicated terms you'll find while shopping so you can rest easy about making an informed decision.
1. Editor's Pick: Asus AC5300 Wireless Tri Band Gigabit Router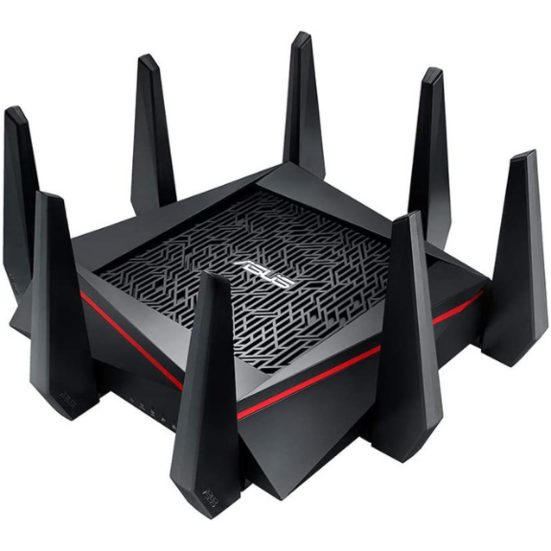 Powerful dual-core processor
Easy to manage with the Asus Router app
Can connect many devices without slowing the network
Large number of ports, including USB 2.0 and 3.0
Built with technology that reduces ping
Expensive
Some users had trouble connecting their devices to the router
Signal strength isn't that strong
Bugg firmware
ASUS customer support is poor
Key Specs
| | |
| --- | --- |
| Wireless Standard: | 802.11ac/n/g/a/b |
| Data Transfer Rate: | 5334 Mbps |
| Number of Ports: | 4 |
| Product Dimensions: | 62.23 x 16.51 x 62.23 cm |
| Weight: | 1460g |
With a blazing fast data transfer rate, many connectivity options, and three bands, this is the best all-around router for anyone to use at home.
The Asus AC5300 Wireless Tri Band Gigabit Router is expensive, but it's one of the best home routers you could buy because of its massive data transfer rate and variety of features, like game acceleration which can reduce ping in your games, and a four-transmit, four-receive antenna design that boosts signal range and stability.
This model is also built with Smart Connect software, which automatically manages the traffic that's assigned to either your 2.4Ghz or 5Ghz frequencies and can automatically move connections from one to the other based on how much speed or bandwidth they need.
2. Runner Up: TP-Link AC4000 Tri Band Wi-Fi Router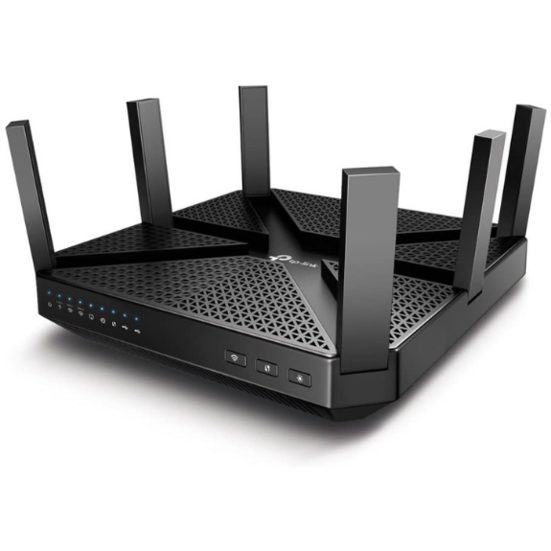 Tri band
Reliable and easy to set up
Great speed for this price point
Wi-Fi encryption and anti-virus security
Long range, with RangeBoost and beamforming technology
Some users were only able to use one of the two 5Ghz bands
Some printers won't connect to the 2.4GHz band
Bands can sometimes drop
Has faulty firmware
Key Specs
| | |
| --- | --- |
| Wireless Standard: | 802.11ac |
| Data Transfer Rate: | 1625 Mbps |
| Number of Ports: | 6 |
| Product Dimensions: | 20.07 x 20.02 x 3.81 cm |
| Weight: | 1360g |
This is the model for you if you're looking for a more affordable tri band router than our top pick while still having excellent internet speed and range performance.
The TP-Link AC4000 Tri Band Wi-Fi Router may come at a lower price point and have less speed than our top pick, but for most home uses this will be all you need. One of its best features is its Wi-Fi encryption and anti-virus security which can help you feel safe while browsing the web. It also comes with a variety of different ports so that you can connect any device you need and you can also choose which devices you want to prioritize in terms of speed and bandwidth.
3. Best Budget Pick: TP-Link AC750 Wireless Dual Band Router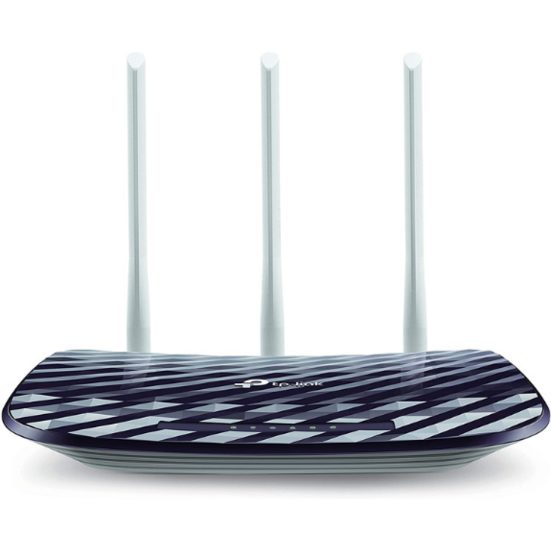 Dual band
Good speed and ports for the price
3 omnidirectional antennas
Easy firmware updates that are simple to manage using their app
Four Ethernet ports
Hard to set up for some users
Slower internet than other pricier options
Bands often drop connection
Often needs to reboot
Key Specs
| | |
| --- | --- |
| Wireless Standard: | 802.11ac/n/g/a/b |
| Data Transfer Rate: | 867 Mbps |
| Number of Ports: | 5 |
| Product Dimensions: | 28.5 x 22.3 x 9.09 cm |
| Weight: | 589.67g |
Not everyone needs a heavy-duty router to support gameplay and video streaming. The TP-Link AC750 Wireless Dual Band Router comes at a great price and it will still give you decent enough speed to carry out your everyday browsing tasks. You'll appreciate the reliability of this model because it's easy to set up and manage using their app and it has easily accessible firmware updates.
This router also has a bandwidth control function so you can select which of your devices you want to give the most speed to which can come in handy if you're using one device to play games and the other just to browse the web.
4. Best for Entertainment: Netgear Smart Wi-Fi Router R6850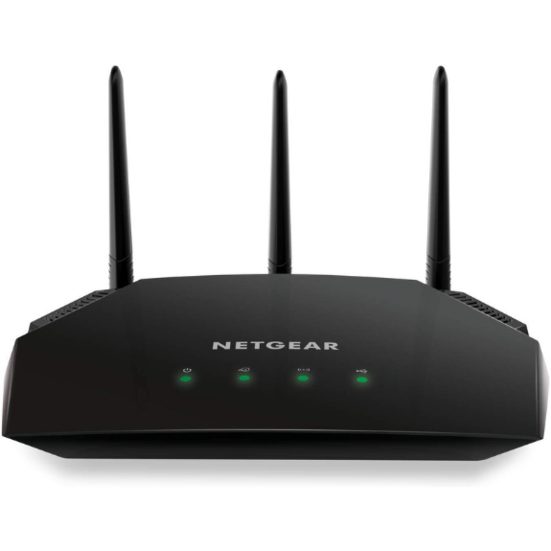 Parental controls
Seamlessly connect up to 20 devices
Network protected by wireless security
Easy to set up and monitor with their Nighthawk app
Fast internet speed that's great for HD streaming and gaming
Some users noted that the firmware was unreliable
Can be difficult to install
2.4GHz band sometimes drops
Key Specs
| | |
| --- | --- |
| Wireless Standard: | 802.11ac/n/g/a/b |
| Data Transfer Rate: | 2000 Mbps |
| Number of Ports: | 6 |
| Product Dimensions: | 15.09 x 5.44 x 23.55 cm |
| Weight: | 376.48g |
You'll need a router that can connect to many devices if you want the best digital entertainment for your home — if you don't want to splurge on our top pick, this is a great option for gaming and streaming videos.
For heavy gaming and streaming uses, you'll need a router like the Netgear Smart Wi-Fi Router R6850 that can keep up with you; it has a fast data transfer rate, it can seamlessly connect to 20 devices wirelessly, and it has four ethernet ports you can use for devices like gaming consoles so that you don't lose speed while playing your favourite games. You can also rest easy knowing that this router has a high level of wireless security and firewall protection.
5. Sleeper Pick: Speedefy AC2100 Smart Wi-Fi Router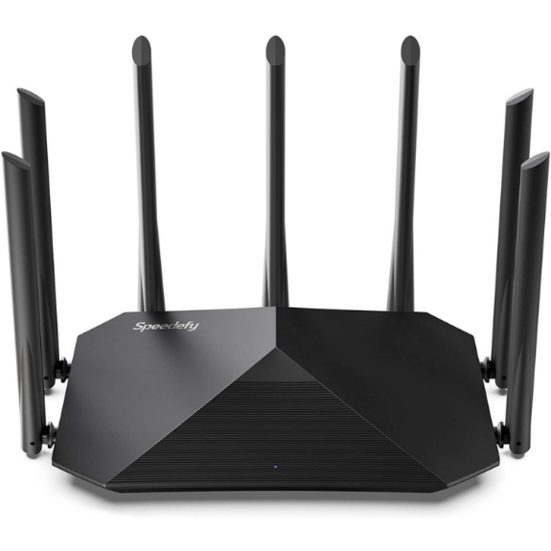 Simple set up
Long range without losing speed
Easy to manage with Smart control features
Can support many internet users at once
Helps protect you from hackers and safeguard your privacy
Occasionally drops internet connection
Can be difficult to contact support if you ever need it
Weak signal; won't work in multi-floor situations
Key Specs
| | |
| --- | --- |
| Wireless Standard: | 802.11ac/n |
| Data Transfer Rate: | 2100 Mbps |
| Number of Ports: | 4 |
| Product Dimensions: | 39.6 x 8.13 x 32.99 cm |
| Weight: | 498.95g |
This router will fare great with families because of its long-range capabilities, ease of use and plethora of internet safety features.
The Speedefy AC2100 Smart Wi-Fi Router is great for families who need to manage their children's internet access, and families who have many internet users; it comes equipped with smart control features that allow you to manage your children's internet use, and you can create a specific Wi-Fi network for your guests to ensure your home network's security.
If you have many gamers or video streamers in the family, this model is built with 4*4 MU-MIMO (Multi-User Multiple Input Multiple Output) technology, which sounds really complicated but essentially just means that it can transmit data to and from four different sources without reducing speed — perfect for families where many people need to use the internet at once.
6. Best for Offices: Netgear Orbi Pro AC3000 Business Mesh WiFi System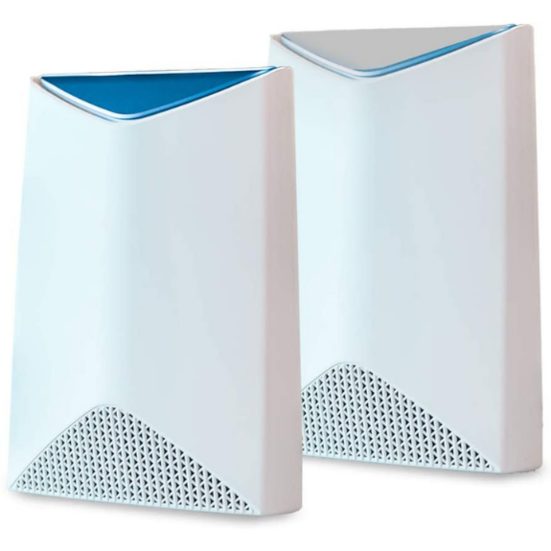 Tri band
Seamlessly connect up to 80 devices
Easy to set up and monitor with Insight app
Ability to separate devices over four networks
Hard to set up for some users
Can be difficult to contact support if you ever need it
Signal not strong enough for larger houses
Too large for some spaces
Key Specs
| | |
| --- | --- |
| Wireless Standard: | 801.11ac |
| Data Transfer Rate: | 3000 mbps |
| Number of Ports: | 7 |
| Product Dimensions: | 8.38 x 17.27 x 24.64 cm |
| Weight: | 934.4g |
With the ability to separate devices across four different networks, this powerful Wi-Fi system is a great option if you're looking to expand your connection and improve your internet speeds at the office.
The Netgear Orbi Pro is a powerful system that uses Tri-band Wi-Fi and MU-MIMO to help maximize speed and connections across 5,000 sq. ft. And while most homes don't need to cover that big of an area, office spaces do. With up to 80 connections available (40 per unit), and dedicated portals for guests, customers, employees, and managers, you and everyone else in the office can enjoy a secure and easy-to-use system that can connect to your pre-existing internet service.
7. Best for Smart Homes: D-Link AX1500 Mesh Wi-Fi 6 Router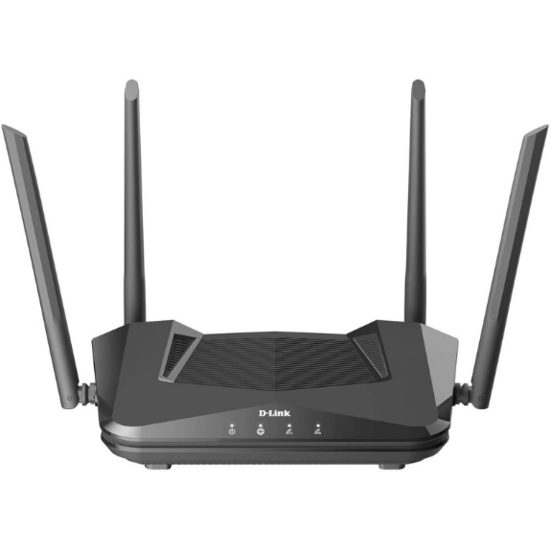 Parental control
Compatible with Alexa and Google Home devices
Good range for a budget router
Easy to set up
Some users found it difficult to create customizable settings
Parental controls are set in hour time increments
Signal not long or strong enough for larger houses
No up-to-date security options
Key Specs
| | |
| --- | --- |
| Wireless Standard: | 802.11n/ac/ax/a/g |
| Data Transfer Rate: | 1500 mbps |
| Number of Ports: | 5 |
| Product Dimensions: | 15.24 x 24.64 x 19.05 cm |
| Weight: | 880g |
If your home is outfitted with smart devices, this router is compatible with both Alexa and Google Home devices so you can control your network with a simple voice command.
Last up is the D-Link AX1500 Mesh Wi-Fi 6 Router. Although this router isn't as powerful as some of the other high end models on the list, it still provides respectable streaming and downloading speeds at a lower price point. With OFDMA and MU-MIMO technology, four high-gain external antennas, and a high power amplifier you can equip your home with a seamless mesh network that reaches every nook and cranny.
Features You'll Find in a New Router
In this section we'll breakdown some of the key specs that we laid out above. We're hoping that it will help you better understand internet routers so that you can bring the right one home.
Wireless Standard: The wireless standard will always be varying levels of 802.11, followed by a letter. The only one you should be purchasing these days is 802.11ac, while a, b, and g, are older standards that generally aren't used anymore. You can get by with an 802.11n router if your devices are older, but 802.11ac is the better and more future-proof choice to purchase because it allows you to operate on both the 2.4Ghz and 5Ghz frequencies (read more about this below). Also keep in mind that if a router is 802.11ac it's backwards compatible so you'll often see all the letters listed in the product description.
Data Transfer Rate: You'll find this number listed in Megabits per second (Mbps) and it tells you how fast your router will be able to transmit information. If you're doing things like streaming movies or playing video games you'll want a higher Mbps because you'll have a smoother experience with less lag. An important thing to note is that the number that's listed is a theoretical maximum — there are many factors that go into your actual speed, like your internet provider, interference, and the layout of your home so if you're not seeing the speeds advertised one of these factors are likely influencing your router.
Bands: Your router will operate on a specific frequency, either 2.4Ghz or 5Ghz or both, and you'll know which based on how many bands your new router has. If it's a single band it will only run on the 2.4Ghz frequency, dual band routers will run on both frequencies, and tri band models will have one band for the 2.4Ghz frequency and 2 bands for the 5Ghz frequency. Many of your other household gadgets, like your microwave and Bluetooth devices, run on the 2.4Ghz frequency which is why being able to operate on the 5Ghz frequency makes for less internet interference. Having more bands means you can have more devices running with less interference than you'd have with less bands.
Ports: While you can often connect many devices to your router wirelessly, if you're looking for the fastest internet connection for something like gaming or streaming videos you'll want to connect your devices through an ethernet cable so you don't lose speed. Consider the number of devices you want to connect this way and try to find a router that has enough ethernet ports for you. Another option to think about is purchasing a router with USB ports. With these models, you can connect devices like hard drives and share data with any device on the network — you can even connect electronics like your printer for a seamless data transfer.
Signal Range: How far your router can push your internet is an important feature to consider; think about how large your home is then find a router that can offer around the same square footage in range. If you have a large home or find that you often have internet dead zones because of electronic interference you can buy an additional Wi-Fi extender to help your internet reach further areas than you could with just a router.
Leave a Comment
Do you agree with our review? Did we miss your favourite router? Let us know in the comments!
About the Author
Michael Pilon is a writer based in Toronto, who loves everything tech, gaming, and digital art. With two years of professional writing experience and a lifetime of learning about new gadgets, he aims to provide helpful, accurate stories. He received his Bachelor of Arts in English and media studies from the University of Toronto, and a Master of Arts in fashion from Ryerson University, exploring digital and technological applications throughout. When he isn't writing, you can find him playing the newest fantasy and horror games, or out discovering new coffee shops in the city.
RedFlagDeals.com is reader-supported. We are a participant in the Amazon Services LLC Associates Program and other similar affiliate advertising programs. These programs are designed to provide a way for sites to earn advertising fees by linking to them. This means that RedFlagDeals.com will sometimes get a small commission if you make a purchase through our links.