The Best Robot Vacuums
Table of Contents
Few people enjoy cleaning their house, especially when those hours could be spent doing, well, anything else. A robot vacuum cleaner is the solution to getting rid of dust, hair, and dirt on your floors — all without you lifting a finger.
A robot vacuum makes quick work of cleaning floors and carpets. Just set it on its course and let it zoom around to effortlessly clean any room in your house. There are many robot vacuums on the market, each offering different features to enhance the experience. Read more about robot vacuums you can purchase online and make an informed decision before buying one for yourself.
1. Editor's Pick: eufy by Anker, BoostIQ RoboVac 11S (Slim) Robot Vacuum Cleaner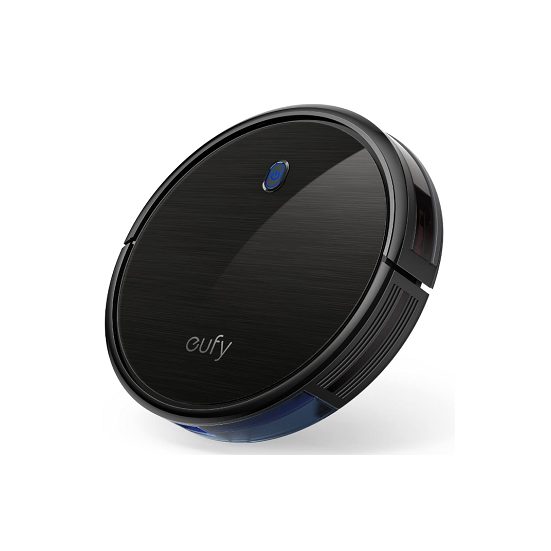 Slim size can clean under low-lying furniture
Triple filter system with 0.6-litre dustbox
1,300Pa of suction power
Three cleaning modes
Pre-set vacuuming time
Not great picking up pet hair
Key Specs
| | |
| --- | --- |
| Brand: | eufy |
| Surfaces: | Hard Floor, Carpet |
| Controller Type: | Remote Control |
| Item Dimensions: | 32.5 x 32.5 x 7.2 cm |
| Item Weight: | 5.73 lbs. |
Between work, going to the gym, and volunteering, life can get pretty busy. It's not easy to set aside time to clean the house yet all the dirt and dust that piles up can get pretty gross. That's when a good robot vacuum can come in handy, dusting and sweeping the floors while you get on with the other aspects of your life.
This powerful eufy robot vacuum from Anker was included in the best robot vacuums of 2019 by Tom's Guide and is the perfect little machine that will do the work for you so you can keep your busy schedule and still be proud to bring friends over to your clean house. Its three-point cleaning system and auto-clean scheduling ability ensure an effortless, thorough clean in every room. Measuring 2.85" high, there's no issue cleaning under low-hanging furniture. Its 1,300Pa of suction power can take on dirt, dust, and crumbs with ease.
For hard-to-clean surfaces, the vacuum's BoostIQ Technology will automatically increase the suction power within 1.5 seconds when extra vacuuming strength is needed. Other features include: a 0.6-litre dustbin; 100-minute run time on hardwood floors, approximately 60 minutes of run time on carpets; large wheels that roll over carpets and climb over door ledges; drop-sensing technology to avoid it falling down stairs and off ledges; a triple filter system; and automatic return to the charging base when power is low.
Ideal to use on low-pile carpet, tile, laminate, and hardwood floors and comes with a remote control, charging base, AC power adapter and an extra set of high-performance filters. Not suitable for high-pile carpet or very dark-coloured floors.
2. Runner Up: iRobot Roomba i6+ (6550) Robot Vacuum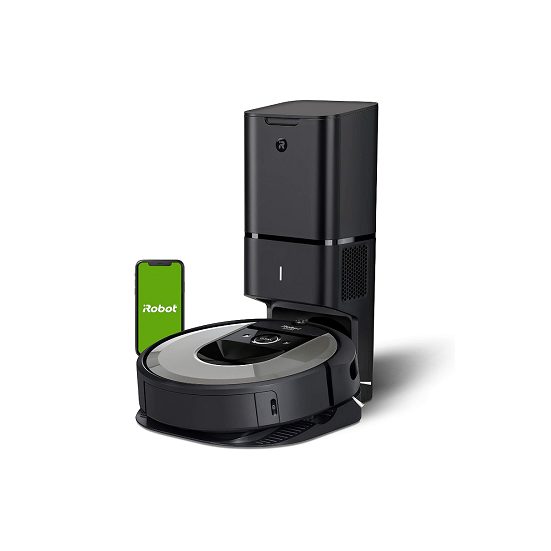 Ideal for dust, dirt and human and pet hair with 3-stage cleaning system
Patented iAdapt technology with vSLAM navigation
Recharges and resumes cleaning when low on battery
Automatically empties dustbin into Allergenlock bags that can hold dirt for up to 60 days
Dual multi surface rubber brushes, including edge-sweeping brush to clean in corners
Very expensive compared to other models
Key Specs
| | |
| --- | --- |
| Brand: | iRobot |
| Controller Type: | Voice Control |
| Battery Cell Type: | Lithium Ion |
| Batteries Included: | Yes |
| Item Dimensions: | 33.9 x 33.7 x 9.2 cm |
For households filled with kids and pets, the dust, dirt, and human and pet hair can accumulate at an alarming rate if not cleaned on a regular basis. It all needs to be picked up on a daily basis, but who has time to keep up? You're busy with so many other things and your back issues make sweeping and mopping a painful, unpleasant experience anyway.
To take the hardship out of keeping your home clean, we recommend this iRobot Roomba for all the features that will have you relaxing while it zooms around grabbing dust, dirt, and hair from all the floors in your home. With many robot vacuums you have to manually empty the dustbin after each time the machine cleans, but not with this model. Instead, the Roomba cleans up after itself by automatically emptying the dustbin into Allergenlock bags that can hold up to 60 days of dirt and dust and captures and traps 99 percent of pollen and mould.
This powerful machine can intelligently map and clean an entire level of your home through the patented iAdapt technology with vSLAM navigation that actively captures thousands of precise measurements each millisecond to optimize coverage. It will also learn your cleaning habits for a personalized schedule and with the iRobot Home app, or through Google Assistant or Alexa, you can begin the cleaning actions with just the sound of your voice.
Perfect for dog and cat lovers, the unique dual multi-surface rubber brushes don't get tangled with pet hair. The brushes adjust and flex to stay in constant contact with carpets and hard floors and the high efficiency filter traps 99 percent of cat and dog allergens. Other features include: recharging itself and resuming activity when running low on battery; an edge-sweeping brush to get into corners and along edges; and, a three-stage cleaning system.
3. Also Consider: ILIFE A4s Robot Vacuum Cleaner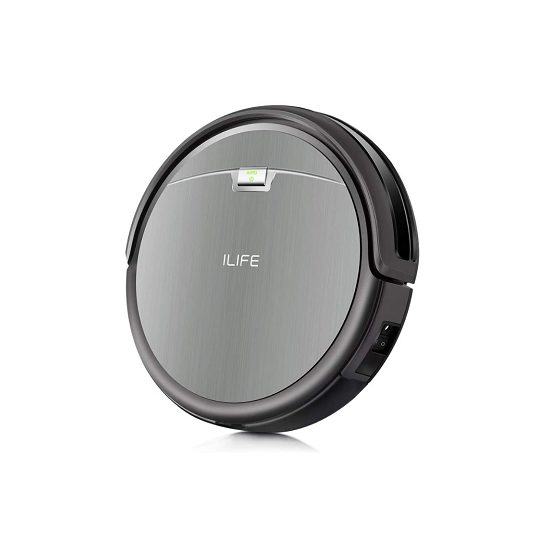 Well-priced
Japanese Nidec high-speed motor is quiet and powerfu
Auto-cleaning schedule so you can leave the house
Smart sensors to detect furniture and stairs
Cleans up to 100 minutes on a full charge in auto-cleaning mode
Not to be used on thick, high-pile carpet
Not suitable on black coloured floors
Charging doc needs to be placed against a wall in a wide-open area
Key Specs
| | |
| --- | --- |
| Brand: | iLife |
| Surfaces: | Laminate, tile, hardwood and thin or low-pile carpet |
| Controller Type: | Remote Control |
| Battery Cell Type: | Lithium Ion |
Some of the pricier robot vacuums are versatile enough to clean all types of flooring, from wood and tile to carpet and, in some cases, even thick shag rugs. While that's good for some people, some homes mainly have hardwood flooring with a thin carpet in the basement so you're not interested in paying extra for those features.
The ILife A4s robot vacuum cleaner is a well-priced option under $200 that fights the bill as it has a strong suction capability that provides thorough and concentrated cleaning for all types of floor coverings such as thin carpet, tile, hardwood and laminate. This vacuum offers enough battery power to run the robot in the auto-cleaning mode for up to 100 minutes on a full charge for efficient cleaning, and if you live in a multi-level dwelling and are worried about stairs, well, don't be. This unit has multiple smart sensors to stop it from bumping around on furniture or falling down stairs.
It can also clean under beds, along walls, and around clutter like shoes, piles of paper, books, or floor plants. As an added convenience, you can also schedule the cleaning time for when you're gone and when the power is low it will automatically return to the power base. Say goodbye to dust and dirt and hello to clean floors and healthy living.
4. Sleeper Pick: Dibea Robotic Vacuum Cleaner
Unique shape allows it to get close to walls and into corners
Thin design to clean under furniture and beds
Six cleaning modes
Remote control, triple filters, side brushes, and 0.4-litre dustbin
Can also mop the floor
Not suitable for high-pile carpets
Empty dustbin after every use
Key Specs
| | |
| --- | --- |
| Brand: | Dibea |
| Surfaces: | Hard Floor, Low Carpet |
| Controller Type: | Remote Control |
| Item Dimensions: | 53.5 x 36 x 13.8 cm |
| Item Weight: | 3.72kg |
Sometimes you want to dry clean the floor and other times it needs to be mopped. This robot vacuum from Dibea offers a two-in-one vacuum and mopping feature that makes it an ideal choice for an all-round clean. No more pails and mops; just one convenient machine.
With a charging time of between three and five hours, 120 minutes of battery life, auto-return charging and three suction levels for optimal performance, there's a lot to like about this cleaning machine. The unique shape of this unit allows it to get close to walls and into corners so you can be sure no clumps of hair or dust will be left behind for you to clean by hand. Equipped with six cleaning modes — auto mode, path mode, max mode, edge mode, mopping mode and spot mode — it can tackle pretty much any job you throw at it, including mopping the floor.
Finally, the robot has no trouble moving over barriers or a threshold of a maximum 15mm height, and with a 0.4-litre detachable dustbin it can pick up a lot of dirt before it needs to be emptied.
5. Best Budget Pick: PureClean Automatic Robot Vacuum Cleaner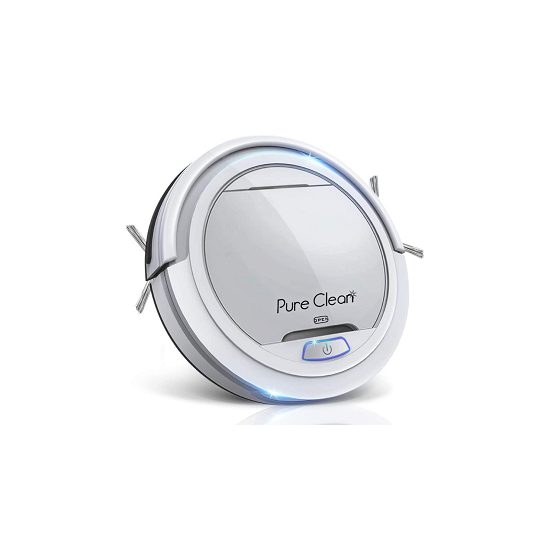 Affordable
Anti-fall stair sensors and protective bumper housing
Slim design to clean under furniture and beds
HEPA filter
Average charge time of four hours
Average run time of 55 minutes
Small dustbin capacity of 0.2 litres
No programmable features
Key Specs
| | |
| --- | --- |
| Brand: | Pure Clean |
| Surfaces: | Ideal for hardwood, linoleum, tile, low-pile carpet |
| Battery Cell Type: | Lithium |
| Item Dimensions: | 7.4 x 27.9 x 27.9 cm |
| Item Weight: | 3.53 lbs. |
Now that you're retired, you have more time to clean; but back issues and arthritis make sweeping painful and unpleasant so your home is not as clean as you'd like it to be. You know a robot vacuum cleaner would be such a help, but so many models are out of your price range. This basic automatic robot vacuum, however, is an affordable option to regularly clean your floors.
If you have a dog or a cat, the Pure Clean robot vacuum is perfect for picking up all that hair. The vacuum cleaner's HEPA filter keeps air pure and fine dust particles trapped inside dustbin, and the no-brush design does not clog with dog or cat hair like the units that have a rotating under brush. Instead, the two auto side sweeper brushes on this model extend the reach of the vacuum and rotate to catch dirt and debris in corners and on hardwood floors.
The slim 2.9-inch profile allows the vacuum to travel through any room and is small enough to clean under the couch or bed, and the anti-fall cliff sensors will detect a gap and keep it from falling down the stairs. Suitable for tile, hardwood flooring, linoleum and short, thin carpet.
What to Look for When Choosing a Robot Vacuum Cleaner
Price: Not having to take out the broom and mop to clean the floors is like a gift from heaven. And having a cute little robot do the work for you is just the icing on the cake. There are many different kinds of robot vacuum cleaners on the market, all of which offer a variety of functions and features. But these helpful little machines are not cheap, so perhaps the most important factor to consider before purchasing one is the price. The most basic model starts at around $125 and can go up to the thousands, depending on many factors including the brand, power, features, functionality and versatility. It's never a good idea to spend more than you can afford, but when it comes to a robot vacuum it sometimes pays to invest in a more expensive model that will last longer and perform the specific functions you desire.
Leave a Comment
We're always looking for more feedback! If you've purchased one of the robot vacuums on this list and would like to share your experience, please comment below and let us know what you think about our picks.
RedFlagDeals.com is reader-supported. We are a participant in the Amazon Services LLC Associates Program and other similar affiliate advertising programs. These programs are designed to provide a way for sites to earn advertising fees by linking to them. This means that RedFlagDeals.com will sometimes get a small commission if you make a purchase through our links.