The Best Robot Vacuums
Table of Contents
Few people enjoy cleaning their house, especially when those hours could be spent doing, well, anything else. A robot vacuum cleaner is the solution to getting rid of dust, hair, and dirt on your floors — all without you lifting a finger.
A robot vacuum makes quick work of cleaning floors and carpets without much need for a cordless vac. Just set it on its course and let it zoom around to effortlessly clean any room in your house. There are many robot vacuums on the market, each offering different features to enhance the experience.
Here we list our top picks for the best vacuums. If you are unsure we have some helpful info and tips at the end of the article you can reference to help you make an informed decision before buying one.
1. Editor's Pick: Roborock S6 Pure Robot Vacuum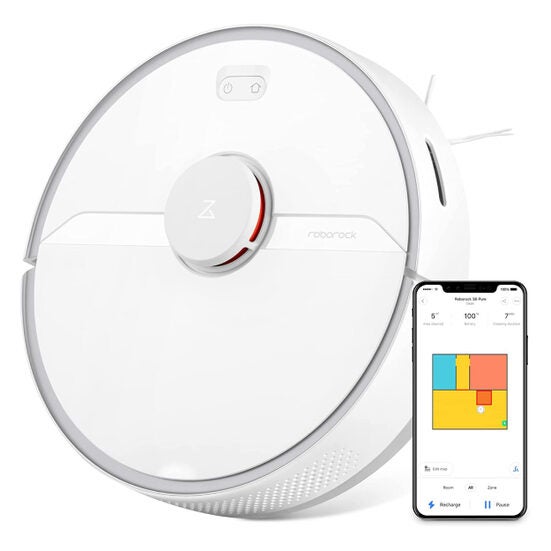 2-in-1 design with vacuuming and mopping features
Precision LiDAR Navigation and multi-floor mapping
Quiet operation
A network of sensors prevent falls down stairs
Single charge can mop and vacuum up to 1610 square feet of space
Mopping feature leaves a lot to be desired
Key Specs
| | |
| --- | --- |
| Surfaces: | Hardwood floors, laminate, tiles, carpets |
| Controller Type: | App control, voice control, touch control, Google Assistant & Amazon Alexa compatible |
| Battery Life/Runtime: | Up to 3 Hours |
With mopping and vacuuming features all bundled into one robot vacuum, Roborock S6 Pure will effortlessly keep your floors spotless.
Thanks to the multi-level mapping, selective room cleaning, and no-go zones features, this robot vacuum will allow you to completely tailor the cleaning experience to suit your needs and preferences. You can protect fragile furniture or avoid disturbing a sleeping baby or a working spouse by preventing room access, and opt for cleaning specific rooms or the whole house when needed, all with a few taps on your smartphone.
The powerful 2000Pa suction with automatic carpet boots easily picks up dust and debris from hard floors and automatically switches to full power when going over carpets to truly get all the dirt embedded in the fibers. The integrated mopping feature is also quite handy, as you can adjust the water flow from high to low, adjusting the process to the type of flooring you have in your home (e.g. high for tiles and low for hardwood floors).
If you are interested in the Roborock brand and want a few more features, then consider the Roborock S7. It has some additional smart features and app-based options, but overall we felt the extra cost was not worth it compared to the Roborock S6. Though if you have a big budget for a new machine, consider the Roborock s7 MaxV Ultra, as it have quite a few advanced features as well as a comprehensive dock.
2. Runner Up: iRobot Roomba j7+ (7550) Self-Emptying Robot Vacuum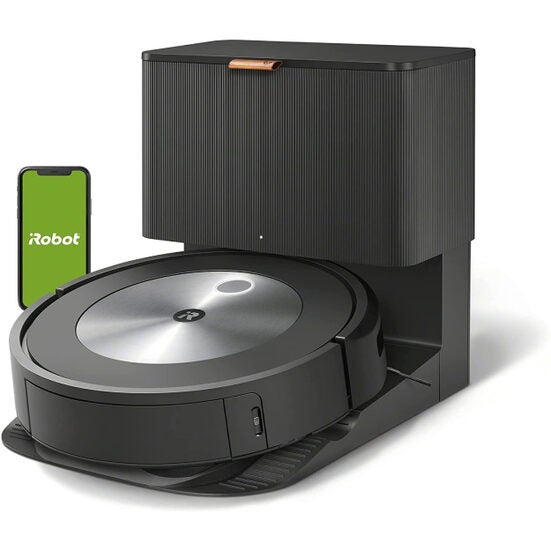 Automatically empties itself into the base
Excellent pet waste avoidance
Customized cleaning schedules
Detects and avoids obstacles
App or voice control
Battery life could be better
Key Specs
| | |
| --- | --- |
| Surfaces: | Tiles, hardwood floors, laminate, vinyl, carpets |
| Controller Type: | App control, voice control |
| Battery Life/Runtime: | About 90 minutes |
Continuously learning and adapting to your home, this robot vacuum cleaner boasts PrecisionVision navigation which allows it to avoid obstacles in real-time.
The smart navigation in the iRobot Roomba j7+ vacuum means it will avoid things such as electric cords and pet poop. Not only it won't try to suck up stuff it's not supposed to, but it won't get stuck, either, thanks to Reactive Sensor technology which detects obstacles in time.
When it comes to the performance, this clever robot vacuum excels with intense suction power, which, when combined with its dual multi-surface rubber brushes, is guaranteed to pick up the tiniest crumbs, dust, pet dander and hair, and any other debris from the floors.
The best part is that this robot vacuum actually empties itself into the Clean Base Automatic Dirt Disposal with an enclosed bag, so you don't ever have to come in contact with dust and dirt. Additionally, despite the Roomba having the lowest Runtime estimate it will continue a cleaning session after interruptions for things like charging or emptying.
If you like the iRobot brand, but are looking something a bit cheaper, consider the Roomba i3+ EVO. This cheaper model is missing some of smart mapping features and has worse object avoidance, but has all of the usual attributes that make iRobot a quality brand.
For a more deluxe option, consider the iRobot Roomba s9+. This model has all the same features as the J7+ with even better hazard detection and stronger suction power! The Roomba s9+ is highly recommended for anyone with a lot of carpet. As a bonus the shape and placement of the brush heads allows this model to clean corners with ease.
3. Best Value: ILIFE A4s Robot Vacuum Cleaner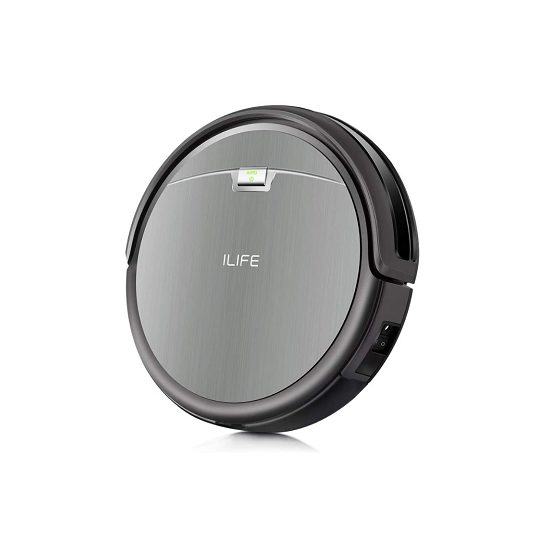 Well-priced
Japanese Nidec high-speed motor is quiet and powerfu
Auto-cleaning schedule so you can leave the house
Smart sensors to detect furniture and stairs
Cleans up to 100 minutes on a full charge in auto-cleaning mode
Not to be used on thick, high-pile carpet
Not suitable on black coloured floors
Charging doc needs to be placed against a wall in a wide-open area
Key Specs
| | |
| --- | --- |
| Surfaces: | Laminate, tile, hardwood and thin or low-pile carpet |
| Controller Type: | Remote Control |
| Battery Life/Runtime: | 100 minutes |
Some of the pricier robot vacuums are versatile enough to clean all types of flooring, from wood and tile to carpet and, in some cases, even thick shag rugs. While that's good for some people, some homes mainly have hardwood flooring with a thin carpet in the basement so you're not interested in paying extra for those features.
The ILife A4s robot vacuum cleaner is a well-priced option under $200 that fights the bill as it has a strong suction capability that provides thorough and concentrated cleaning for all types of floor coverings such as thin carpet, tile, hardwood and laminate. This vacuum offers enough battery power to run the robot in the auto-cleaning mode for up to 100 minutes on a full charge for efficient cleaning, and if you live in a multi-level dwelling and are worried about stairs, well, don't be. This unit has multiple smart sensors to stop it from bumping around on furniture or falling down stairs.
It can also clean under beds, along walls, and around clutter like shoes, piles of paper, books, or floor plants. As an added convenience, you can also schedule the cleaning time for when you're gone and when the power is low it will automatically return to the power base. Say goodbye to dust and dirt and hello to clean floors and healthy living.
4. Best Slim Option: eufy BoostIQ RoboVac 11S, Robot Vacuum Cleaner
1300Pa of suction power
Triple filter system
Thin enough to slide under furniture
Multiple cleaning modes
Large 0.6l dustbin
Key Specs
| | |
| --- | --- |
| Surfaces: | Hard floors, low and medium-pile carpets |
| Controller Type: | Remote control |
| Battery Life/Runtime: | 100 minutes |
Slim enough to get under furniture, like couches, and reach areas that are usually inaccessible to most robot vacuums.
This affordable model still manages to offer a large dustbin and impressive suction power despite its compact dimensions. With just 2.85" in thickness, the eufy Robovac 11s will slide underneath couches and tables with ease and clean up to 100 minutes on one charge.
The 1300Pa suction power deals with dust, dirt, and debris without breaking a sweat, and BoostIQ™ Technology recognizes when it's time to up the game and increases suction power for tough areas like carpet.
While this design doesn't have a mapping option, it does have an infrared sensor to avoid obstacles and a drop sensor to prevent it from falling down.
5. Best Budget Pick: ECOVACS DEEBOT 500 Robotic Vacuum Cleaner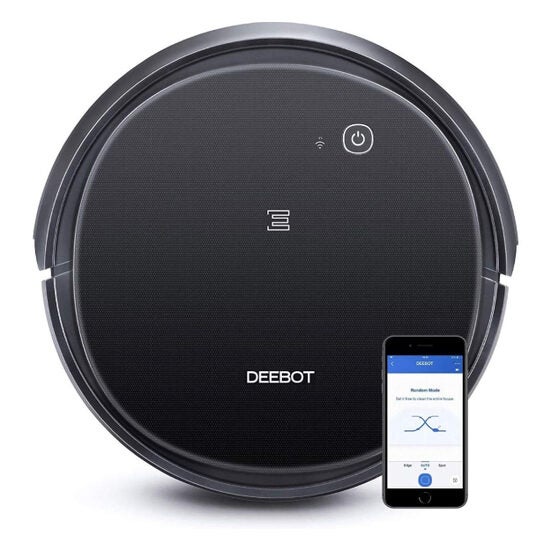 Long battery life
3-stage cleaning for through vacuuming
Voice and app controls – compatible with Alexa and Google Assistant
Large wheels for improved mobility over thresholds and thicker carpets
Auto return and recharging
Compatible only with 2.4G internet
Key Specs
| | |
| --- | --- |
| Surfaces: | Hard floors, carpets |
| Controller Type: | Remote control, app control, voice Control |
| Battery Life/Runtime: | 110 minutes |
You don't have to compromise on performance quality to save money – this budget-friendly Ecovacs robot vacuum offers plenty of smart features with an affordable price tag.
With two side brushes and a main brush, this robot vacuum will efficiently clean both hard floors and carpets, whether it's the whole area, spot vacuuming, or edge vacuuming – you can choose the mode you need. Cleaning modes, as well as control, scheduling, and status updates are all accessible through an app and can be set through Alexa or Google Assistant voice commands.
Though you'll have to rely on anti-drop and anti-collision sensors for obstacle evasion as there is no mapping feature. On the other hand, long battery life, quiet operation, and powerful suction more than make up for the lack of mapping technology – especially when one considers the price.
If you like the Ecovacs brand, but are looking for something with more power and features, consider the Ecovacs DEEBOT OZMO T8 AIVI Vacuum. This model has mapping, better collision avoidance and an up to 3 hour runtime!
6. Best for Pet Hair: Bissell EV675 Robot Vacuum Cleaner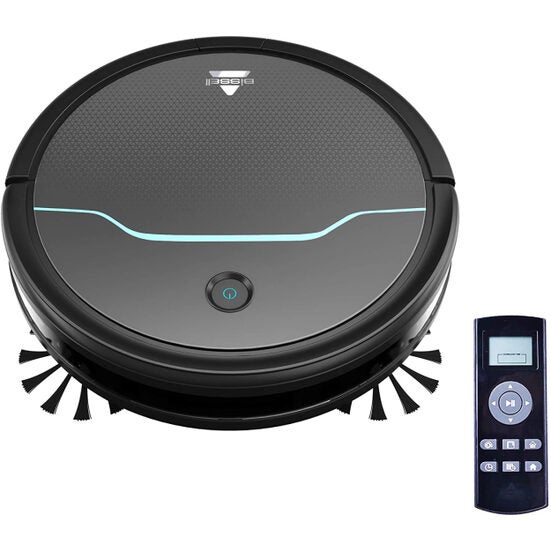 Dual-edge brushes get into corners and pick up pet hair that would otherwise be missed
Low profile allows the robot vacuum to reach inaccessible areas
Recognizes and adapts to clean multiple surfaces
Cliff detection prevents falling
Scheduled cleaning via remote control
No smart features, a basic design
Key Specs
| | |
| --- | --- |
| Surfaces: | Hardwood floors, laminate, tiles, low pile carpets |
| Controller Type: | Remote control |
| Battery Life/Runtime: | 100 minutes |
Most robot vacuums don't live up to standards in households with pets, mostly because they struggle with hair – but Bissell EV675 utilizes dual-edge brushes, a rotating brush roll, and powerful suction to tackle all the mess your pet leaves behind.
Thanks to its triple action cleaning system, this robot vacuum doesn't just pick up dirt and debris from the center of the room, as its dual-edge brushes reach into corners and edges to pick up dust bunnies and hair tufts from all nooks and crannies of your home. Plus, the low profile allows this robot vacuum to reach under the furniture and thoroughly clean all traces of dirt and pet hair, even in inaccessible areas.
Even though it generally lacks smart features, Bissell EV675 can be pre-programmed to clean on a schedule, even when you're away at work.
7. Best with Mop Feature: eufy RoboVac X8 Hybrid, Robot Vacuum and Mop Cleaner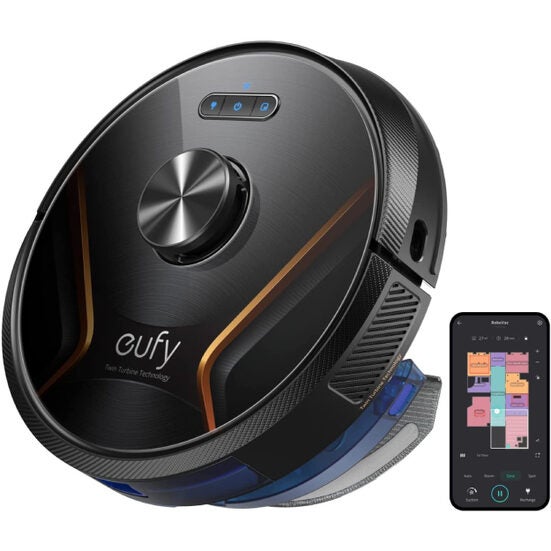 Long battery life with 180 minutes on one charge
Dual-turbine technology
Mops and vacuums at the same time
AI navigation with LiDAR technology
Large capacity water tank
Mapping could be improved
Key Specs
| | |
| --- | --- |
| Surfaces: | Hard floors, carpets (only when vacuuming) |
| Controller Type: | App control |
| Battery Life/Runtime: | 180 minutes |
Built for heavy-duty floor cleaning, the eufy RoboVac X8 Hybrid mops and vacuums simultaneously to save time and do more in a single charge.
With an impressive battery life of 180 minutes per charge and two turbines, each of which is generating 2000Pa of suction power, it's clear that this robot vacuum is equipped to tackle messy floors and large spaces with ease. This innovative design creates 80% more airflow, which, in turn, sucks up more dust, debris, and pet hair from the floors – both hard floors and carpets. The mopping feature is powered by a large 250 ml water tank for longer scrubbing and more efficient cleaning and comes with one washable mopping cloth and 5 disposable ones.
Of course, you can expect all sorts of smart features, such as AI navigation with LiDAR technology, multiple-floor mapping, no-go zones, and cleaning schedules – everything that you need to make the floor cleaning process run smoothly and efficiently. An easily overlooked feature is spot cleaning. Tap anywhere on your home's smart map to send the vacuum there for a quick clean.
8. Honourable Mention: Shark IQ Robot Vacuum AV1010AE with XL Self-Empty Base
Bagless self-emptying base
IQ navigation
Automatically recharges and resumes cleaning
Not a long battery time before it needs to recharge
Some users said set-up takes a long time
Key Specs
| | |
| --- | --- |
| Surfaces: | Wood floor, Carpet |
| Controller Type: | App and voice controlled |
| Battery Life/Runtime: | About 100 minutes |
Consider this model from Shark that has many features for less.
This model comes with a bagless, self-emptying base where your robot vacuum will go to rid itself of all the dirt, dust, debris and hair it's gathering during its time roaming around on your floors and carpets. And since the base holds up to 30 days of residue, you don't have to think about emptying it every time the vacuum does its work, no matter how dirty your floors are.
This updated model also allows a faster mapping speed than its previous model so it will methodically clean a room row by row, navigating from room to room. You can also schedule a whole-home cleaning or target specific rooms using the SharkClean app or voice control with Alexa or Google Assistant.
Perfect if you have a home with a few pets, the vacuum's multi-surface brush roll, and a multi-stage filtration system will take care of dust, dander, and pet allergens.
Why get a Robot Vacuum?
A robot vacuum can seem like a big investment with limited value. Admittedly, they are not the best for homes with more then one floor, can pick up and spread messes, can fill up quickly, and often depend on apps or cloud-based services to operate properly.
Given that, why bother? Well, It can be demoralizing to look around at your home at the end of a long day and realize you have not vacuumed in weeks. When you get the right model for you it can remove that constant concern about keeping up the largest surface in your home.
A robot vacuum cleaner may not be a full replacement for a traditional vacuum or upright vacuum, but it will remove a lot of pressure on keeping up your home.
How do Robot Vacuums work?
Robot vacuums can navigate around your home and avoid obstacles thanks to a variety of built-in sensors. Most basic functions rely on infrared sensors, such as cliff sensors and wall sensors, with light reflected from the object alerting the receiver inside the vac to change course accordingly. Obstacle sensors are usually located on the bumper on older and more basic models, so when the vacuum touches an object with the bumper, it signals it to back away.
However, more and more robot vacuums are being equipped with more advanced technologies that rely on various mapping techniques to help them navigate through rooms without bumping into objects.
LiDAR mapping is one of the most popular options, and it uses laser technology to collect data about the space that's being vacuumed, mapping the room layout and the obstacles in each area to be able to clean in straight lines without hitting furniture, walls or thresholds. Some robot vacuums also use camera mapping technology (although this isn't the best for low-light conditions).
What to Look for
Price
Not having to take out the broom and mop to clean the floors is like a gift from heaven. And having a cute little robot do the work for you is just the icing on the cake. There are many different kinds of robot vacuum cleaners on the market, all of which offer a variety of functions and features.
Though these helpful little machines are not cheap, so perhaps the most important factor to consider before purchasing one is the price. The most affordable robot vacuum starts at around $125 and can go up depending on many factors including the brand, power, features, functionality and versatility.
A potentially big factor in the price is not just the vac itself, but the docking station. Some models come with just a simple charging dock, but can sport many more features. More comprehensive docks serve as an auto-empty station for the vacuum with its own dustbin.
It's never a good idea to spend more than you can afford, but when it comes to a robot vacuum it sometimes pays to invest in a more expensive model that will last longer and perform the specific functions you desire.
Flooring Compatibility
Sleek, even surfaces are best suited for robot vacuums, which means that most, if not all, bare floors are compatible with robot vacuums, such as hardwood floors, laminate, tiles, and vinyl flooring. Some robot vacuums can perform with success on carpets, too, but mostly low and medium-pile carpets. Robot vacuums are usually not suited for shaggy, thick carpets.
On a somewhat related note, if you have pets, you will want to consider a vacuum that can deal with their hair and dander effectively. This means tools and suction that can more thoroughly clean carpets, mopping pads for hard surfaces, and a hepa filter for the finer dander.
Control Options
Robot vacuums are remotely controlled, but the controllers differ from model to model. More basic models come with a remote controller, but most average and high-end robot vacs use smartphone apps and voice controls instead integrating well into a smart home setup.
With an app, you can usually have a wider variety of features, such as mapping, scheduling, choosing cleaning modes, and setting no-go zones. Voice-controlled robot vacuums can be paired with Alexa or Google assistant and will respond to vocal commands that start or stop the vacuum. Keep in mind, most smart home or app features depend on good wi-fi connectivity. So consider whether your home has wi-fi that can effective serve a robot vac.
Navigation Ability
All robot vacuums have a cliff or drop sensor that prevents them from falling down the stairs, but when it comes to avoiding obstacles around the home, technologies differ. Infrared sensors and gyroscope or accelerometer sensors are usually used for simpler, more affordable models – they are not as precise as some more advanced technologies.
LiDAR navigation utilizes lasers to accurately detect all kinds of obstacles, from walls and thresholds to furniture, pet waste, and electric cables. Robot vacuums equipped with a built-in digital camera will use camera smart mapping technology to detect obstacles, but this is not as efficient at nighttime.
As an ultimate failsafe most models will include the ability for you to create or modify a floorplan. With this you can set no-go zones for your vac. The may be especially useful for pet owners that keep there pets in a specific room or space that could be a major hazard for most robots.
Leave a Comment
We're always looking for more feedback! If you own any of these items and would like to share your experience, please comment below!
About the Author: Marlene Eisner
Marlene Eisner has spent years working as a writer, editor, content producer, and product reviewer for home décor and renovation magazines and home and garden websites. She loves all things associated with indoor and outdoor spaces and enjoys sharing the newest trends, devices and products with readers.
RedFlagDeals.com is reader-supported. We are a participant in the Amazon Services LLC Associates Program and other similar affiliate advertising programs. These programs are designed to provide a way for sites to earn advertising fees by linking to them. This means that RedFlagDeals.com will sometimes get a small commission if you make a purchase through our links.