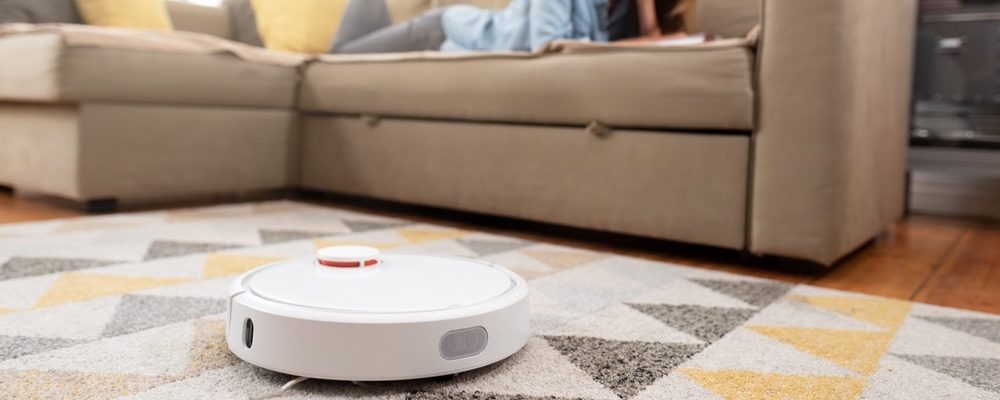 The Best Robot Vacuum Cleaners
By
Jordan Maxwell
January 25, 2021
Maintaining a clean home isn't always easy. Life gets busy from time to time and chores can get pushed to the side. Why not have a robot help you out? Robot vacuum cleaners can be an effective tool to help you keep your home clean and organized. Whether it's for your living room, kitchen or bedroom, robot vacuum cleaners make it easier to keep your floors clean, especially if you have a pet. No more cleaning dog hair and cat fur; you can let a Roomba or another robot vacuum model do it for you. We've all had a corded vacuum but if you're looking for a bit of flexibility without all of the extension cords and untangling, robot vacuum cleaners can give you some relief. They can loosen, lift, and suction everything from small particles to large debris from carpets and hardwood floors. We've reviewed some of the best robot vacuum cleaners in case you're in the market for some cleaning help.
1. Editor's Pick: iRobot Roomba 960 Robot Vacuum
Wi-Fi connectivity
Voice-activated control
HEPA filtration system
Dimensions: 34 cm x 9cm x 34cm
See also: iRobot Roomba 980 Robot Vacuum
As a pet owner, cleaning pet hair is a huge undertaking and a Roomba can definitely help you out with that, especially if you aren't always home or available to do it yourself. Its sensors can guide the robot under and around furniture, cleaning your spaces for up to 90 minutes without charge. Controlled through the iRobot Home app, you can schedule or immediately clean hardwood floors or carpets using the iRobot Roomba 960 vacuum. It has five times the air power compared to the Roomba 600 series (see below) and you can map out an entire level of your house for scheduled cleaning.
2. Bissell 1974 Smart Clean Robot Vacuum
Auto-charge docking base (automatic return for recharging)
Invisible wall technology
Works on tile and laminate flooring
This robotic vacuum cleaner has a shorter battery life than the Roomba (up to 80 minutes on hard floors) but it's highly effective for a cheaper robot vacuum option. Its custom settings allow you to schedule focused cleaning for up to seven times per week. If you live in a multi-storey home, the great thing about this model is that it has cliff detection so it won't fall down the stairs or other drop-offs. It's also versatile enough to fit in the tight corners to get all the pet hair or other debris that's floating around your home.
3. Dyson 360 Heurist Robot Vacuum
360 Vision system
Three power modes
Strong suction power
Needs strong Wi-Fi connection
The Dyson 360 Robot Vacuum is one of the more expensive models on the market but it's worth it if you have heavy-duty cleaning needs. It has really strong suction power and can map out an entire room with its 360 eye-vision system. You can control it using iOS or Android. It also has voice control so you can give it specific instructions. With a battery life of up to 75 minutes, it can handle most jobs. The only thing about this model is that it's not ideal for under-the-furniture cleaning because of its size and it needs a strong wireless connection to navigate its functions through the Dyson Link app.
4. ILIFE A9 Panoramic Navigation Robot Vacuum Cleaner
Four cleaning modes
Obstacle-avoiding wheel
600ml dustbin
Better on light floors and hardwood
With its Cyclone Power cleaning system with whirlwind technology dustbin, the iLife A9 has four cleaning modes: auto mode, edge mode, spot mode and max mode. It has a capacity of 600mL so the A9 doesn't require frequent emptying, making it a help to large homeowners. The iLife A9 automatically returns to charge when it runs low on power or has finished cleaning. It also had an obstacle-avoiding wheel so it can circle around larger objects to get the pet hair or dust on your floors.
5. eufy BoostIQ RoboVac 11S (Slim)
Suction power: 1300Pa
Vacuums for up to 100 minutes
Recognized as the Best Robot Vacuum of 2018 by Digital Trends, the eufy Robovac is one of the slimmest available on the market. It's built to handle under-the-furniture jobs and is great with pet hair. It can automatically increase its suction power within 1.5 seconds of recognizing hard-to-do jobs and it can clean your hardwood floors for up to 100 minutes. While it's not suitable for high-pile carpet and dark-coloured floors, its dustbin allows you to continue cleaning without emptying it frequently.
What to Look for When Buying a Robot Vacuum
There are a couple things to consider when you're buying a robotic vacuum. Because all of them are wireless models, the battery life will be a factor when it comes time to purchase one. Hardwood flooring is much easier to clean and your robot vacuum will not waste as much battery life. Carpeting, depending on its thickness, is a lot harder to clean and will drain your device's battery life. You also need to consider the model you buy if you have pets. For instance, if you have a cat or a dog that sheds a lot of hair and also occasionally kicks its litter box contents on the floor, you might want to get a robot vacuum cleaner with more height as opposed to a slimmer version. Some models come with Wi-Fi connectivity and operate with apps while others do not. Realize what's more important based on how much space you have. It will likely dictate the price you pay for a robot vacuum cleaner.
Why Get a Robot Vacuum?
Smart technology is the way of the future and robot vacuum cleaners save you the time and the energy. Not only is it more convenient when used properly, you can also free up time to do other things. While not every model can fully replace an upright vacuum, you can be a little more selective with a wired vacuum cleaner. A robot vacuum cleaner allows you to do a surface clean a couple times a week and do a deeper clean once every two weeks or so. It's a good middle ground — just because you don't feel like it, doesn't mean it doesn't have to get done. Regular vacuuming can increase the life of your carpet. It also makes it look better.
Getting a Robot Vacuum with Wi-Fi vs. Getting One Without
As robot vacuum cleaners have evolved over time, so has some of its features. When robot vacuum cleaners first came out, you had to schedule them to clean your spaces on the device itself or through a remote control while you were in the presence of the robot. These days, robot vacuum cleaners come with Wi-Fi settings that allow you to control the device from anywhere. The benefit of using Wi-Fi-controlled robot vacuum cleaners is that you can pair it with smart home technology devices and voice-controlled assistants like Amazon Alexa. You don't have to worry about losing the remote or having to physically set the robot vacuum cleaners to handle your chores. You can also keep tabs on its cleaning cycles without being in the room, or even in your house.
Consider a Robot Vacuum
While it won't completely replace your traditional vacuum cleaner, it can help you keep your home clean on a daily basis and do the little jobs that can be tedious at times. Who wants to clean pet hair off the floor everyday? You can let a robotic vacuum handle the load. Check out some forums and deals for the best robot vacuum cleaners available today and learn more about what people are saying about a variety of models and brands.
RedFlagDeals.com is reader-supported. We are a participant in the Amazon Services LLC Associates Program and other similar affiliate advertising programs. These programs are designed to provide a way for sites to earn advertising fees by linking to them. This means that RedFlagDeals.com will sometimes get a small commission if you make a purchase through our links.