The Best Punching Bags
Table of Contents
When life gets you down, sometimes you just need to find an outlet to get rid of all of that pent up energy and frustration. For some people, that may mean channeling their energy into writing or playing an instrument. For others, it might mean punching and kicking the crap out of a bag. Punching bags are an amazing resource to help get rid of any stress, anxiety or aggression where you can put aside everything in your life for a while and just focus on the matter at hand — hitting an inanimate object. You might be pleasantly surprised at how cathartic punching a bag is, not to mention how great of a workout can be. When boxing and kickboxing, your body has to use every major muscle group — from your feet to your abs, your arms, brain, even your breath — every part of your body has to work in sync.
If you're looking to buy a punching bag of your own, choosing the right bag for you all depends on the type of training you do, style, size and material of the bag. For a breakdown of the different types of bags and what fighting styles use each bag, head to the bottom of the article; but first, check out some of the best punching bags to buy for your home, office of garage spaces:
1. Editor's Pick: Ringside 100-Pound Leather Heavy Bag
Comes with chain and swivel
D-ring on bottom
Durable
High quality construction
Filling may settle at bottom
Logo stitching placement not ideal
Key Specs
| | |
| --- | --- |
| Weight: | 100 lbs. |
| Size: | 14" x 42" |
| Material: | Leather |
Made from high-quality leather, this standard-sized, Ringside heavy-duty bag is ideal for fighters looking to build muscle and increase mobility.
The Ringside leather heavy bag is perfect for all of your boxing, MMA, Muay Thai and karate needs. Weighing in at 100 lbs. and wrapped in a soft 2" foam liner, this standard sized heavy-duty bag will help you build muscle and endurance while reducing strain on your wrists, elbows and shoulders with its comfortable hitting surface.
2. Runner Up: Dripex Free Standing Punching Bag
Tear resistant
Fast rebound
Easy to relocate
Quiet; springs can be removed for an even quieter session
Base can be filled with water or sand
Arrives in two different parts
Takes a long time to fill with sand
Key Specs
| | |
| --- | --- |
| Weight: | 82.55 kg |
| Size: | 19.6" x 69" |
| Material: | 2 mm PU leather, high density EPE foam |
Whether you want to de-stress or build strength, this Dripex free standing punching bag is the perfect at home punching bag that can be used by the whole family.
With 12 strong suction cups securing the bag to even the smoothest of floors, this durable bag was made from a multi-layer material construction to help minimize the chance of bruising or injury and features dual PVC shock absorbers to reduce vibration and noise.
3. Best Speed Bag: Hunter Speed Ball Boxing Punching Bag
Made from cowhide leather
Lined with four layers of poly cotton
Easy-to-attach swivel
Latex bladder needs to be inflated regularly
Need something to hang it on
Key Specs
| | |
| --- | --- |
| Weight: | 635 g |
| Size: | 27.3 x 13.1 x 7.8 cm |
| Material: | Cowhide leather, latex bladder |
Ready to take your boxing skills to the next level? This Hunter Speed bag is made from genuine cow hide leather material and is lined inside with four layers of poly cotton. Durably constructed, each speedball is individually shaped and balanced for rebound accuracy and its lightweight design means lightning-fast rebounds.
This Hunter speed bag has an inflatable bladder inside that you can pump using a normal football pump. Its tie design means the bladder can be replaced should it tear. It comes with a swivel that can be attached to any suitable surface, and it has a reduced centre hub for optimal speed, balance and the rhythm of the ball in action. Quality bearings allow the speed ball to move freely in the direction of the punch for fast, continuous striking rhythm when hit.
Speed bags are a great way to work your arm, shoulder and back muscles while improving your timing, hand-eye coordination and endurance skills and are ideal for mixed martial arts, boxing and Muay Thai.
4. Best Body Bag: Century Bob Body Opponent Bag
Helpful to visualize targets
One-year warranty
Seven height adjustments (60"-78")
Ideal for all combat sports
Expensive
May move around
Key Specs
| | |
| --- | --- |
| Weight: | 270 lbs. |
| Size: | Mannequin: 30" x 22" x 12", Base: 24", Diameter x 19.5" |
| Material: | High-strength plastisol, urethane foam |
Unless you want to give the people you live with a scare, make sure to warn your friends and family of Bob's arrival before bringing home this Century Body Opponent Bag.
With seven different adjustable heights, this high strength body bag uses a vinyl "skin" to help give you a more realistic training session. This life-like body bag is the perfect partner for practicing sparring techniques and target work — it's perfect for MMA, boxing and other fitness training sessions.
5. Best Double End Bag: Toco Freido Double End Punching Ball
Includes 3 reflex balls
Comes with pump and needle
Easy to use
Durable
Not high quality materials
Air may leak
Short shelf life
Key Specs
| | |
| --- | --- |
| Weight: | 740 g |
| Size: | 27 x 16.5 x 7.5 cm |
| Material: | PU leather |
Perfect for home, gym or garage workouts, this Toco Freido double-end punching ball will help you learn all of the fundamentals of fighting while building your hand-eye coordination.
This Toco Freido double end punching ball is made from durable PU leather, reinforced seams, and a high elasticity rope. Looking to improve your reaction time, endurance, hand eye coordination and reflexes? You can sharpen your MMA and boxing skills with this inexpensive double-end bag.
6. Best for Kids: Mdikawe 63-inch Inflatable Kids Punching Bag
Ideal for kids ages 5 and up
Swings back up after being hit
Made from thick PVC material
Needs to be weighted down with water or sand
Can lose air over time
Key Specs
| | |
| --- | --- |
| Weight: | 770 g |
| Size: | 34.79 x 24.4 x 8.5cm |
| Material: | PVC |
Whether it's to release stress and tension or to practise their kickboxing or karate moves, kids can benefit from a punching bag made specifically with them in mind. This inflatable model from Mdikawe is ideal for kids ages five and up.
Made from high quality, thick PVC material, the air-filled punching bag is leak proof, portable and measures approximately 62" tall. You can fill the sturdy base with sand or water, although sand is recommended if an older, stronger child is doing the punching. The nice thing about this punching bag is that it will swing up again after it's been hit, each and every time.
This is ideal for smaller children who just want to let off steam as well as older children learning and practising karate, taekwondo, drop-kick or kung fu. The punching bag comes with a pump and when you are ready to deflate it, it folds up nicely for easy storage.
7. Best for Beginners: Protocol Punching Bag with Stand
Ideal for beginners
Adjustable stand
Comes with a pump and a pair of boxing gloves
Not suitable for heavy workouts
Some users had problems with the screw holding the ball on to the stick
Key Specs
| | |
| --- | --- |
| Weight: | 3.36kg |
| Size: | 52.83 x 50.04 x 15.24 cm |
| Material: | N/A |
This punching bag from Protocol is an ideal choice for adults just starting out in the boxing or martial arts arena, or for a family of kids who want to build strength, tone their shoulders and arms, and aerobically work their entire body with the benefits of a punching bag.
This all-in-one punching bag set comes on a sturdy base that you can adjust from 48 to 58 inches high, which makes it ideal to use for many members of a household. The punching ball can withstand moderate use and is not made for seasoned fighters or boxers. It comes with a pump, a pair of deluxe padded boxing gloves with re-closable straps, and a sturdy base
Setting up the punching bag is pretty easy and includes instructions on how to fill the base with sand or water to keep it in place. Then tighten the punching ball at the top and the base at the bottom, inflate the ball, and you're ready to go.
8. Best Heavy Bag Set: RDX Punching Bag Set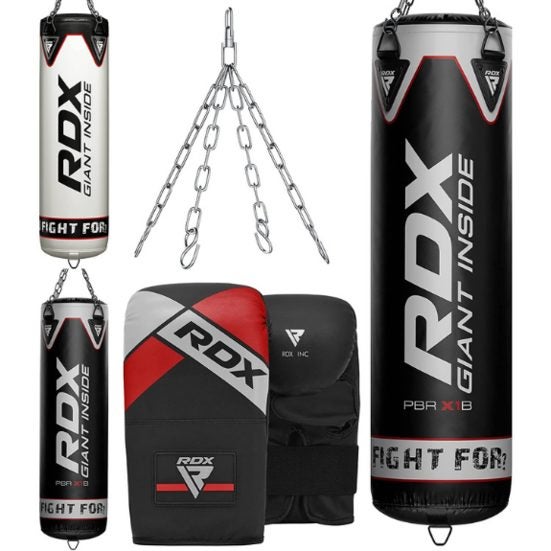 Exterior made of Maya leather
Comes with steel chains
Inside is packed with shredded textiles
Some users find the bag to be too lightweight
Key Specs
| | |
| --- | --- |
| Weight: | 2.95kg |
| Size: | 40.64 x 27.94 x 15.24 cm |
| Material: | Leather |
This heavy punching bag set is a good choice for anyone who is a serious boxer or fighter who delivers hard-hitting blows. The four-foot bag is engineered from sturdy Maya hide leather that can endure blow after blow and offers an extra-large striking surface for training across a variety of disciplines.
The RDX bag is made of non-tear, double layered, high-quality leather with a mesh weave coating for long-lasting durability. The inside of the bag is packed with shredded textile material and the exterior also has shock absorbent padding. The ventilated design keeps your palms dry and odour free.
The bag comes with HG four-panelled steel chains with corrosion resistant S-hooks for superior holding strength, and a swivel for smooth rotation. You also get a set of punching gloves that are a universal fit. This heavy punching bag is suitable for anyone training in karate, boxing, mixed martial arts, kickboxing, Muay Thai, and Taekwondo.
Finding the Best Punching Bag for You
When it comes to punching bags, there are countless sizes and designs created for different types of training. It's important to understand the different styles of bags and what they're made of; that way you can find the best punching bag specific to your needs.
The type of punching bag you buy should fit in with your unique athletic goals, don't just run out and buy the first bag you see.
Types of Punching Bags
Heavy Bag
When you hear people talk about punching bags, there's a good chance that the first image that comes to mind is a heavy bag. You know, that big chunky bag that hangs down from the ceiling and makes a cameo in virtually every boxing movie?
This type of bag is designed to withstand a lot of impact, and whether it takes a beating from your arms or legs, heavy bags help improve your overall technique and strength. Heavy bags are usually hung from the ceiling with a chain, swivel or rope and can weigh anywhere from 30 to 200 lbs.
Your size will help you determine how heavy of a bag you should get. Simply divide your weight by two and voila, that's how heavy your bag should be to give you the best resistance training. Also, before you buy a heavy bag, check to make sure that your ceiling can support the weight.
Best for: Boxing, MMA, Muay Thai, Karate
Free Standing
Free standing bags are what the name implies. They don't have a fixed mounting system that supports them; just a sturdy base placed on the floor that's filled with water or sand to keep it stable. An added benefit of these bags is that they aren't stuck in just one spot. Instead, you can move them wherever you need them to go.
These bags usually have some form of spring loaded feature inside them that help them return back to a fighter after each hit which is helpful in developing speed and movement training. Free standing bags can be a useful tool for building muscle, practicing low kicks and are an ideal choice for at home workouts if your ceiling can't support a heavy bag.
Best for: MMA, Muay Thai
Speed Bags
Speed bags are those small, teardrop shaped bags filled with air that hang above an athletes head that help to improve a fighters timing, endurance, shoulder strength and hand eye coordination.
If you're new to speed training, you can start with larger speed bags that are easier to hit, and slowly work your way down to small bags.
Best for: Traditional boxing
Double-End Bags
Double-end bags are similar to speed bags, just with an added layer of difficulty. This type of bag is attached to both the ceiling and the floor which allows it a greater range of motion.
If you want to improve your reflexes, hand eye coordination, speed or your rhythm, double end bags are a great way to get a feel for what it would be like to face a moving target and prep you for a real breathing opponent.
Best for: Boxing
Body Bags
Body bags are designed to look like a human outfitted with a face, arms and a torso to help you familiarize yourself with hitting the different parts of the body.
This style of bag is especially useful for MMA fighters or people preparing to eventually switch out the bag for the real thing.
Best for: MMA
Finding the best punching bag for you isn't always an easy task. It may take some time and research before you settle on a style that suits your specific needs. Whether you're looking for a new outlet or are training for a combat sport, investing in a punching bag can be a fantastic way to improve both your physical and mental skills.
Leave a Comment
Do you own a punching bag? Did your favourite make our list? Share your thoughts with us in the comments below!
RedFlagDeals.com is reader-supported. We are a participant in the Amazon Services LLC Associates Program and other similar affiliate advertising programs. These programs are designed to provide a way for sites to earn advertising fees by linking to them. This means that RedFlagDeals.com will sometimes get a small commission if you make a purchase through our links.