The Best PS5 Games
Table of Contents
You've waited and waited, and finally received your PlayStation 5 after it's been out of stock for so long — congratulations! Now it's time to think about the games you want to play, and while it's still a newer console, there are so many options out there you can pick up and play through. We've put together this list of some of the best and most enjoyable PS5 games you can play right now, in a variety of genres, so you're sure to find one that speaks to you.
If you're new to the gaming world and don't know where to start, we've put together a guide at the end of this article that goes over some of the best games you should start with, so hopefully you can find one that you want to play. Did you purchase the digital edition of the PlayStation 5? If you answered yes, there's some additional information you'll need to know before browsing the list, so scroll on down and let's get started!
1. Editor's Pick: NBA 2K21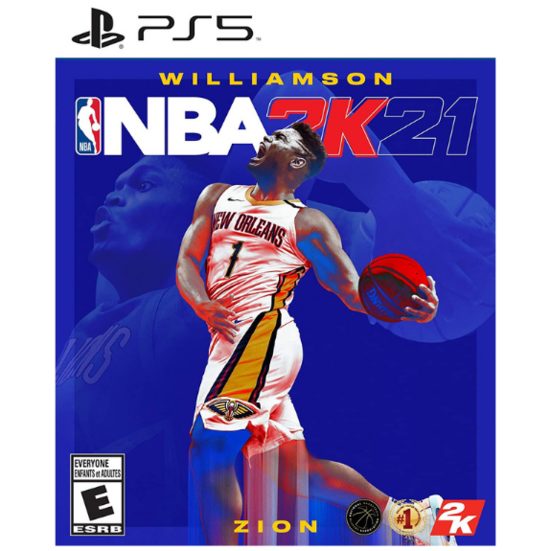 Next Generation technology allows players to move more fluidly
Advanced Pro Stick provides new ways to handle and pass the ball
New lifelike graphics
Ability to immerse yourself in all aspects of basketball and play different game modes
Key Specs
| | |
| --- | --- |
| ESRB Rating: | Everyone |
| Release Date: | November 12, 2020 |
| Multiplayer: | Yes |
| Online: | Yes |
For all you hoopers and sport fanatics out there — NBA 2K21 brings the next generation of elite players and superstars right into your living room. Whether you've been playing NBA 2K for years, or if this is the first time you'll be exploring its vast city, its regenerated visuals and graphics will leave you stunned; never before has 2K run so smoothly or looked so life-like.
You can enjoy real-time reactions and behaviours from the fans, players, security and other in-game characters to bring you closer to the game than ever before. With multiple distinct neighbourhoods, you can rep your city and fight to prove your town is number one. And if you felt like it, you could even run for mayor.
2. Runner Up: Just Dance 2021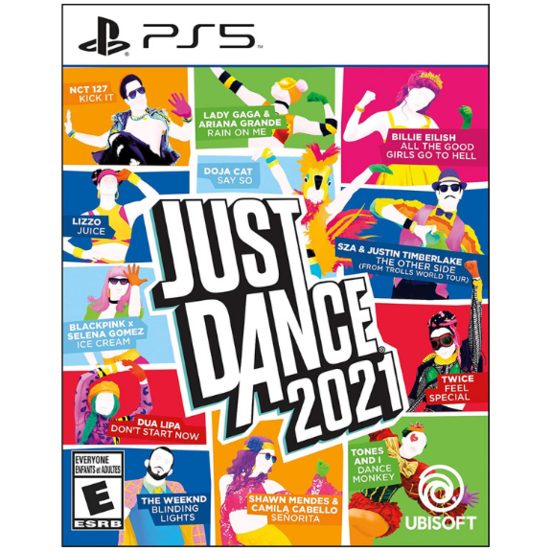 40 dance tracks are available right away, and there's 600 more if you subscribe to Just Dance Unlimited
Online multiplayer mode called the World Dance Floor, where you can climb the leaderboards and dance with other people online
Requires the use of your smartphone as a controller — can't connect to PS5 camera or PlayStation Move controllers
Key Specs
| | |
| --- | --- |
| ESRB Rating: | Everyone |
| Release Date: | November 24, 2020 |
| Multiplayer: | Up to six players |
| Online: | Yes |
Just Dance 2021 is great fun for the whole family; with up to six players at once, your whole fam can be dancing the night away to the newest tracks, and if you're competitive, you'll find out who's the best dancer among you.
You'll have access to 40 hot new tracks right away, but if you subscribe to Just Dance Unlimited, you'll get access to 600 more tracks to dance to. If you've got a competitive spirit and an internet connection, you can connect to the World Dance Floor and battle it out with other dancers online — you'll get an online rank and climb your way through the leaderboards.
Keep this in mind if you've played Just Dance before: on the PlayStation 5, you'll need to use your smartphone as a controller, because this version of the game can't connect to your PS5 camera or the PlayStation Move motion controllers. You'll need to hold your phone in your hand the entire time while dancing, which is kind of a strange departure from other games but it's still fun nonetheless.
3. Best Online Game: Fortnite: The Last Laugh Bundle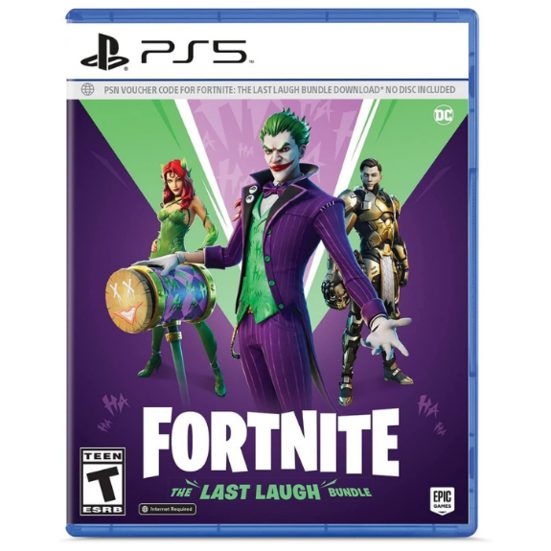 Shoot enemies and build your way to a win, either solo or as a team
You'll receive many different weapons and outfit options, including both the Joker and Poison Ivy themed outfits
Comes with 1000 V-Bucks
Key Specs
| | |
| --- | --- |
| ESRB Rating: | Teen |
| Release Date: | November 17, 2020 |
| Multiplayer: | Yes |
| Online: | Yes |
If you're into games that'll have you competing against others online, you'll probably love Fortnite; it has a charming graphic style, and it's insanely addictive as you try to win. This is a Battle Royale-style game, where you'll be in a match with other people online and try to find the best weapons and eliminate them before they get to you. As time goes on the map will shrink, drawing you closer to your enemies, until there's a showdown for the win. You can also collect materials and build structures to help save you during intense situations.
Fortnite itself is a free game, but this bundle comes with a bunch of themed outfits and weapons for you to use — perfect if you love the Joker or Poison Ivy. You'll also get 1000 V-Bucks, which you can use to buy more weapons and outfits, or you can use it for a Battle Pass so you can keep earning cool rewards.
4. Best Racing Game: Dirt 5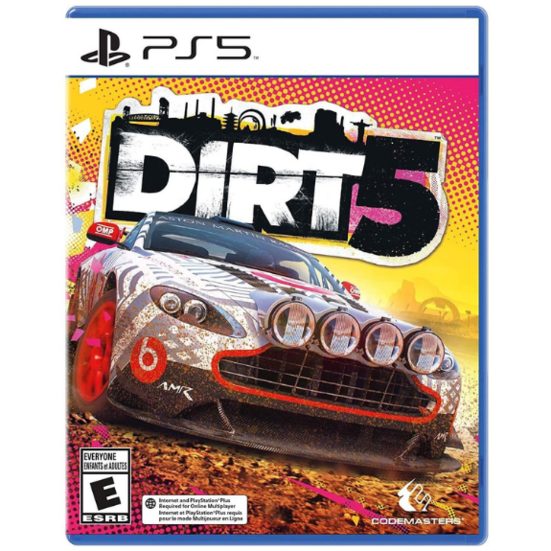 70 different racing routes available in the game
Online multiplayer modes
Takes advantage of the PS5 DualSense controller's features, like haptic feedback
Key Specs
| | |
| --- | --- |
| ESRB Rating: | Everyone |
| Release Date: | November 19, 2020 |
| Multiplayer: | Up to four players |
| Online: | Yes |
Racing games are a staple for many gamers, and we think that Dirt 5 is one of the best entries in the genre for the PlayStation 5. In this racing game you'll be able to race around and explore 70 different routes, which are included from 10 different global locations. If you're playing offline, you can play with up to four of your friends locally, and for your biggest jumps and moves there's a photo mode so you can capture every moment.
While it's available on other consoles too, the haptic feedback on the new DualSense controllers for the PS5 make it so much more fun to play — if you're driving over ice, for example, the rumble will feel different than if you were driving over gravel.
5. Best Fighting Game: Mortal Kombat 11: Ultimate Edition
Two different story campaigns to play through
Many game modes, including towers of time, krypt, online, klassic towers and more
Thousands of skins, weapons, and outfit options, so there's a huge amount of character customization available
Roster of 37 different characters to play
Key Specs
| | |
| --- | --- |
| ESRB Rating: | Mature |
| Release Date: | November 17, 2020 |
| Multiplayer: | Up to 3 |
| Online: | Yes |
If you've been a fan of the Mortal Kombat series, you'll need to get Mortal Kombat 11: Ultimate Edition too; with a full roster of characters and two different story campaigns to play through, you'll have many hours of fun.
This has been such a beloved fighting game for good reason — the characters are super fun to play, and there are so many different game modes that help keep the classic two people fighting game genre fresh, including towers of time and online play.
Many players were upset that Mileena wasn't in the game at launch, but now she's back and ready to fight! You'll also find previous guest fighters, like Terminator and Spawn, here in the roster.
6. Best Superhero Game: Marvel's Spider-Man: Miles Morales Launch Edition
Single player game that will have you discovering Miles Morales' new powers, and are a fun new take on the superhero genre
Combat that feels fresh and exciting, and takes advantage of the haptic feedback on the new DualSense controllers
Fun to control, and swing through the bright city
Snowy streets and surroundings are beautiful to explore
Key Specs
| | |
| --- | --- |
| ESRB Rating: | Teen |
| Release Date: | November 12, 2020 |
| Multiplayer: | No |
| Online: | No |
Marvel's Spider-Man: Miles Morales is one of the first you should buy when you purchase a new PlayStation 5 — it improves upon the experience of past Spider-Man games, and it takes full advantage of the console's newest features.
Miles has a few new tricks up his sleeve compared to past Spider-Man games, which help the controls feel fresh and exciting — he has new bioelectrical attacks, which take advantage of your controller's haptic feedback to make you feel the crinkles of electricity. Miles can also cloak himself and disappear for a short period of time, which you can use in the middle of a fight to slip away from enemies, or just sneak around.
All these new ways to experience combat makes the game feel so much more fun to play, and you really need to experience it for yourself.
7. Best Open World Game: Assassin's Creed Valhalla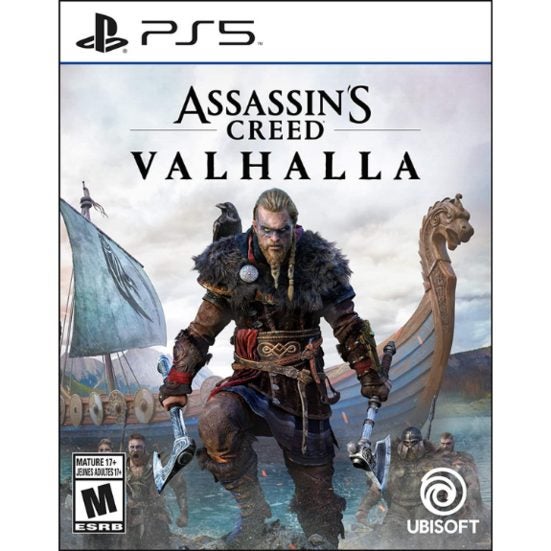 Explore a beautiful world as you lead your clan to their new home
Fight against enemies, raid fortresses and make alliances
Influence the world around you based on your leadership abilities and choices
Key Specs
| | |
| --- | --- |
| ESRB Rating: | Mature |
| Release Date: | November 12, 2020 |
| Multiplayer: | No |
| Online: | No |
For those of you who love exploring new worlds, roaming through games and finishing quests, Assassin's Creed Valhalla is an epic escape back into the dark world of Vikings that takes place on the coast of Norway spanning all the way to kingdoms in England.
In this game you can lead Viking raids against rival troops and castles while yielding unique and brutal weapons used during that era. From fighting enemies with dual wielded axes, swords and more, you can also slow things down by kicking back and fishing, hunting and drinking with other characters in game. You'll also be shaping the future for not only yourself, but your clan as well with every decision that you make, so choose wisely.
This game sports some beautiful graphics, sceneries and is fun to play, but it is a bit violent and gruesome in nature, so it may not be suitable for kids of all ages or those with weak stomachs.
8. Honourable Mention: Sackboy: A Big Adventure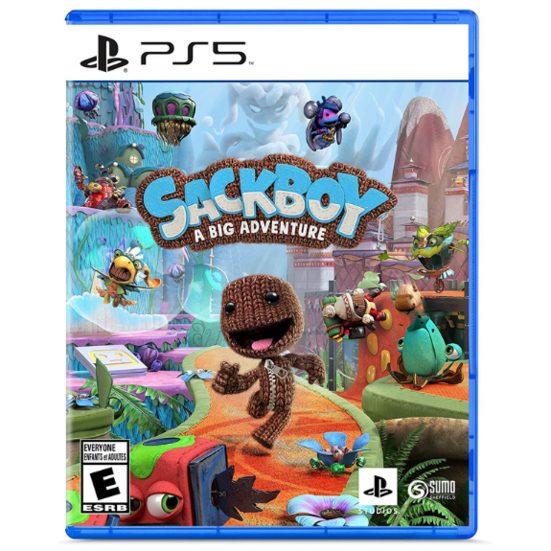 Many different level mechanics to keep you on your toes
Diverse move-set and powerups to help you master every level
Co-op play modes so you can explore the levels with your friends
Many world themes for you to explore
Wonderful music that draws you into the world
Key Specs
| | |
| --- | --- |
| ESRB Rating: | Everyone |
| Release Date: | November 12, 2020 |
| Multiplayer: | Up to four players |
| Online: | PlayStation Plus required |
If you're only going to start out with one game, we think that Sackboy: A Big Adventure should be the one; you'll face unpredictable challenges as you explore the PlayStation 5's expressive controls. This game is a spin-off of LittleBigPlanet, so if you've played and enjoyed one of the other charming games with these sack creatures on the PlayStation before, you're bound to love this one too. It has a similar structure, so you'll be exploring puzzling pathways looking for point bubbles, beating up the bad guys, and grabbing collectibles.
There are so many different adorable world themes to explore, so the world feels vast and exciting, and Sackboy has a diverse move-set to help you navigate each level. Most of the levels can be pretty easy to complete, but the challenge comes with trying to complete each one 100 percent by finding every point and collectible. When you're done with playing alone, you can play with your friends online, and explore special co-op only levels that have multiple pathways for you and your team — if you're planning on playing online, just keep in mind that you'll need a PlayStation Plus subscription in order to play.
What Type of Game Should I Get?
If the PS5 is your first gaming console, you might not exactly know which types of games you'll love to play and just buying all of them isn't always an option. We recommend starting with a game like Sackboy: A Big Adventure or Marvel's Spider-Man: Miles Morales because they're action-packed adventures loaded with fun, and they both give you a good grasp on what the PlayStation 5 is capable of.
If online games are more of your thing and you want to beat other players, you could try something like Fortnite which will have you battling other players by shooting and building your way to victory. All in all, most of the games out for the system right now are pretty great, so listen to your heart and find a game and genre that speaks to you — that's the best way to choose a game.
Can the PlayStation 5 Digital Edition Play Games from Disks?
In short, no! The digital edition of the PlayStation 5 doesn't come with a disk drive, so it can only play games purchased digitally, which means that these disk versions of the games won't fit the bill. This might seem like a major setback for the PS5 digital edition, but being more affordable, thinner, and easier to place in your set up isn't necessarily a bad thing. Just make sure that if you've purchased the digital edition, you don't buy a game that only has a disk and no digital download option, because you won't be able to play it. There isn't really a work around for this either — the PlayStation 5 doesn't support external disk drives that plug in through USB.
Leave a Comment
Do you already own and love or hate one of these PS5 games? Did we miss your favourite one? We're always looking for more feedback, so please comment and share your experiences and other favourite games in the comments below!
RedFlagDeals.com is reader-supported. We are a participant in the Amazon Services LLC Associates Program and other similar affiliate advertising programs. These programs are designed to provide a way for sites to earn advertising fees by linking to them. This means that RedFlagDeals.com will sometimes get a small commission if you make a purchase through our links.