The Best Power Bars
Table of Contents
Wall outlets can be out of the way and difficult to reach if they are located behind furniture or a TV stand and when you find yourself needing to plug in a third device in, you have to start making decisions about what does or doesn't deserve power. The simple solution is to invest in a great power bar that will get you at least double the number of outlets in an easy to reach spot in your space.
Many power bars on the market have at least double your AC outlets, and with USB cables being used for more and more devices, you'll see some brands now include a number of USB ports in their models, too. As well, every brand knows that the devices you plug into your power bar cost money, so most power bars come with surge protection energy ratings, so you can feel comfortable with your computers, TVs, or gaming consoles being plugged into them.
With the options we've found for you, you're able to get up to 12 extra outlets anywhere from three to 12 feet away from the wall outlet, plus a handful of USB ports, and most with surge protection. Not only that, but we have included different design styles so that you can get what you need for the space you're working with.
1. Editor's Pick: GE 6-Port Power Bar
Comes in black or white so you can camouflage it into your space
Modest surge protection for added peace of mind that will stop giving your devices power when they're no longer protected
Get it off the ground with convenient mount slots so you can get it on your wall, desk, entertainment stand, etc
Outlets are compactly placed which can make it difficult to get all your plugs placed
Power on/off switch is easy to accidently hit
Key Specs
| | |
| --- | --- |
| Number of Ports: | 6 AC |
| Cable Length: | 3', 4', 6', 8', 10' |
| Surge Protection: | Yes, 800 joules |
| Product Dimensions | 5 x 11.4 x 28.6 cm; 500g |
General Electric is a trusted name in home appliances, so starting off our list with their six-port power bar just makes sense. It comes with a flat, angled plug so that you don't have to negotiate the space of the small wall outlet, it's made to sit out of the way of your other plugs. The ports on the bar itself all have twist-lock safeties, so if you're not using them, simply twist the covers to make sure nothing — or no one — risks a shock.
2. Runner Up: Belkin 12-Port Power Bar
Intelligent circuit detects and accommodates the power needs of your devices
Casing is built to be durable and long-lasting, but takes up as little space as possible
Sliding covers protect yourself or others from getting things in the ports that shouldn't be
When brand new, it can be tough to get plugs into the ports as they're tight to keep them from slipping out
The cable is very long if you don't have a long distance to cover
Key Specs
| | |
| --- | --- |
| Number of Ports: | 12 AC |
| Cable Length: | 8', 10' |
| Surge Protection: | Yes, 3,940 joules |
| Product Dimensions: | 15.49 x 5.33 x 39.62 cm; 907.18g |
If you need just a ton of outlets for all the gear you have for your home entertainment system, this model from Belkin will get the job done. Designed to support all your entertainment or office needs, these 12 ports that face three different directions and offer wide spacing for larger plugs will get power to everything you own. Not only does it comes with surge protection but its cord stretches as long as 10".
3. Best USB Access: TROND Prime II Power Bar with 4 AC Ports + 4 USB Ports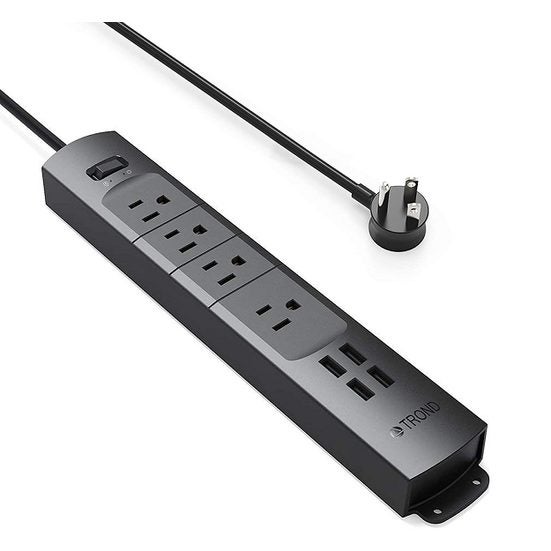 The three- and six-foot cables allow you to get the Power Bar just where you need it without having feet of extra cable
Made with top-grade fire retardant materials ensure any spark-turned-flame will be out in less than 10 seconds
Slim design can me easily mounted onto a desk, TV stand, or wall
Some buyers report a sensitive safety off trigger
Key Specs
| | |
| --- | --- |
| Number of Ports: | 4 AC, 4 USB 2.4A |
| Cable Length: | 3", 6" |
| Surge Protection: | Yes, 1440 joules |
| Product Dimensions: | 30 x 5 x 2.8 cm; 322.05g |
This stylishly designedpower bar from TROND offers you four AC ports and four USB ones. The flat and angled plug takes up little space on your wall outlet, and the AC ports include room for four standard plugs and one larger plug. This is the perfect choice for your desk at the office or at home, with just enough ports for what you need, and modest surge protection.
4. Best Variety: AmazonBasics 8-Port Power Bar
Long lasting power bar with the high energy rating
Super long cable options so you can get these extra ports wherever you need them
Lots of surge protection, but there's no connected equipment warranty
Ports are tight when first plugging in
Key Specs
| | |
| --- | --- |
| Number of Ports: | 8 AC |
| Cable Length: | 6', 12' |
| Surge Protection: | Yes, 4500 joules |
| Product Dimensions: | 29.85 x 7.59 x 2.9 cm; 644.1g |
This is a solid power bar from AmazonBasics, that offers five standard AC ports and three extra wide ports for clunkier plugs, plus, 4500 joules of surge protection with an LED light to indicate when your devices are no longer protected — have peace of mind for all your devices. In addition, there are sliding covers on each port to keep out dust or anything else that shouldn't go in a socket.
5. Also Consider: Tessan Power Bar with 4 AC Ports + 3 USB Ports
The flat, square design works beautifully on a table top or mounted on a wall
Designed for cruise ships as it meets all requirements to take out on the sea
Overload Protection Switch flips to protect your devices
No guaranteed surge protection
Only comes with a 5" cable, no longer or shorter options
Key Specs
| | |
| --- | --- |
| Number of Ports: | 4 AV, 3 USB 2.4A |
| Cable Length: | 5" |
| Surge Protection: | No |
| Product Dimensions: | 15.75 x 14.22 x 4.83 cm; 320g |
This is the first of two models from Tessan that are a much more interesting take on the power bar design. There are three USB ports on the side to help keep a compact form and it has a flat and angled plug to take up minimal room at your wall outlet. In pairs, the AC ports face opposite directions to help accommodate any and all plugs.
6. Best Cordless: EyGde Power Bar Wall Outlet Extender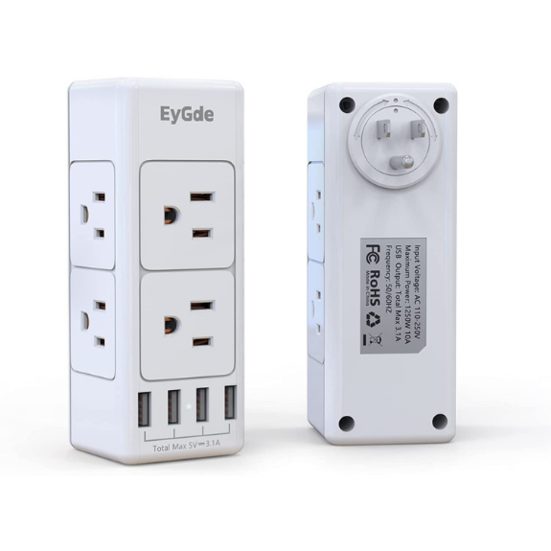 Compact
Plugs right into the outlet
No cord
Great for travel
Does not lock into position
USB ports do not support "Fast Charging" for Samsung phones
Key Specs
| | |
| --- | --- |
| Number of Ports: | 6 AC, 4 USB 2.4A |
| Cable Length: | N/A |
| Surge Protection: | Yes, 1700 joules |
| Product Dimensions: | 19.2 x 11.2 x 5.41 cm; 431g |
Power bars with long cords are great for when your wall outlet is located in a hard-to-reach place. But if you need to plug in a few devices and the socket is easy to access and close to your workspace, then using a power bar that is large and chunky and is attached to a long cord can be messy and a hassle. That's why we've included this space saving wall outlet extender power bar that plugs directly into a wall socket to give you access to numerous plug-in options.
This power bar is a three-dimensional four-sided cube that plugs directly into the wall. On each of the other three exposed sides are two AC outlets for a total of six, and four USB ports. The unique design gives enough space to fit all plugs and since it rotates to a 90-degree angle, you can plug the power bar in vertically or horizontally. What's more, it's fire-resistant and has surge protection of 1700 joules, so you can plug in with peace of mind.
7. Best Protection: Superdanny 10 ft. Power Bar Strip Tower Wireless Charger
Space saving vertical design
Surge, overload, overcurrent and overheating protection
Wireless cellphone charging
Wireless charger does not work while phone is in a case
Key Specs
| | |
| --- | --- |
| Number of Ports: | 9 AC, 4 USB 2.4A |
| Cable Length: | 10' |
| Surge Protection: | Yes, 1080 joules |
| Product Dimensions: | 27.5 x 15.7 x 15.1 cm; 840g |
The more high-powered devices you have plugged into a power bar, the more chances there are of you overloading the circuit, which in the worst-case scenario, can be a fire hazard. This vertical power bar has made it to our list for a number of reasons, but for starters, it has a number of features to protect your devices if you plan to plug your coffee machine, fan, lamp and computer into the power bar at the same time.
This unit has a 1080 joules internal surge protector and a two-in-one power/reset switch that will automatically go off if there is a surge (lightning), an overload, an over-current or it starts to overheat. You just need to press the switch to reset it.
Aside from all that protection, this power bar has some other interesting features such as a wireless charging function for cell phones such as iPhone, Samsung, LG, HUAWEI, and Google Pixel, as well as nine AC outlets and four USB ports.
8. Most Versatile: SmallRT Surge Protector Power Strip 6.6 FT
Has a USB-C port
Vertical design
Power button and LED indicator
Key Specs
| | |
| --- | --- |
| Number of Ports: | 8 AC, 3 USB 1 USB-C |
| Cable Length: | 6.6' |
| Surge Protection: | Yes, 1200 joules |
| Product Dimensions: | 18.01 x 14.6 x 12.8cm; 748.43g |
If you have a Macbook, you know how necessary it is to have a USB-C port. This is yet another space-saving vertical power bar, and while it has a lot of the features of the other power bars on our list, it also has the addition of a USB-C port.
You'll also find eight AC plugs and three USB outlets plus a 6.6-foot cord so it will reach that out-of-the way socket located under your desk or behind your entertainment centre. This power bar can also support more high-powered devices plugged in at the same time, as it has a wide voltage of between 100 and 250V and a maximum load power of 2500 watts.
And in case you end up overdoing it, you can have some peace of mind knowing that with this power bar, you will have surge, overload, short-circuit, over current, and over voltage protection — the power bar will automatically cut off to protect your devices in the event of an overload.
Things to Consider
Surge Protection
Power bars are a great way to not only get more outlets for the gadgets around your home entertainment system, bedroom, or office, but you'll get them in more convenient places too.
When you have your devices plugged directly into the wall, or even using an extension cord, there is the risk that in the case of a thunderstorm or even an old appliance that uses a lot of energy malfunctioning, a power surge of any kind could end up damaging your electronics. The benefit of buying a power bar that has surge protection is that you get more outlets to use and anything plugged into it will be better protected!
That being said though, when you see surge protection, you'll notice that the energy rating mentions a certain amount of joules of protection. Basically, if you get power surges of any size, they chip away at the total number of joules. The issue is that there's not a countdown of any kind. You won't know how many joules of surge protection are left on your power bar, but some will come with an LED light that lets you know it's protected — the light goes out, your electronics aren't protected from surges.
Depending on which kind of power bar you get though, when the surge protection ends, some models will stop giving any power to your devices, which is an even more sure-fire way of knowing you need to get a new one, but some just let that LED go out but will still continue to power through. So if you place your power bar behind a TV stand or desk, make sure you check in on it!
How Many Outlets Are Too Many?
Any expert will tell you to go big.
If you're buying a power bar because you have four things that need power, don't just get a model that has four ports, because the minute you make the purchase, you'll surely find something else that needs to be plugged in too.
Try to be forward thinking, especially depending on where you need it. A home entertainment system will always have more and more things being added to the setup, whereas your home office might not have more than six devices ever. It makes more sense to be aware of the space you're working with — don't add clutter to your desk by placing a 12-port power bar on it when you at most need six AC ports and a couple USBs.
Leave a Comment
We're always looking for more feedback! If you own any of these items and would like to share your experience, please comment below!
RedFlagDeals.com is reader-supported. We are a participant in the Amazon Services LLC Associates Program and other similar affiliate advertising programs. These programs are designed to provide a way for sites to earn advertising fees by linking to them. This means that RedFlagDeals.com will sometimes get a small commission if you make a purchase through our links.