The Best Point and Shoot Cameras
Table of Contents
Point and shoot cameras, also known as compact cameras, are one of the most easily accessible forms of photography, because they're simple to use compared to other more advanced photography methods like DSLR (digital single lens reflex) cameras or mirrorless cameras. They don't have interchangeable lenses like the others do, and they're built to take great photos without the need to fuss with settings and customization options.
Their lack of fancy tech means that they're more compact and lightweight, so you can bring it anywhere you can imagine without a hassle — like a night on the town or on an outdoor adventure while travelling. Even though most people have smartphones with a camera these days, you'll generally be able to take better pictures with these ones.
Here's a list of our favourite point and shoot cameras for you to browse, and if you're still trying to decide if a point and shoot camera is right for you, you've come to the right place! At the end of the article, we'll teach you all about the best scenarios where this kind of camera comes in handy, and then we'll go over some of the most important features you should be looking for while you shop.
1. Editor's Pick: Canon PowerShot SX740 Digital Camera
Easy to carry around
Long zoom capability
Can film videos in 4k resolution
Good quality photos for the price
Photos and videos can be transferred quickly and easily
Not the best at taking photos in low light settings
Key Specs
| | |
| --- | --- |
| Sensor: | 20.3 Megapixel |
| Zoom: | 40x |
| Video Resolution: | 4k (3840 x 2160 pixels) |
| Wireless Connectivity: | Wi-Fi, Bluetooth |
| Dimensions: | 4.06 x 10.92 x 6.35 cm |
This is our favourite point and shoot camera on the market right now because of its high-quality sensor, long zoom capabilities, and the ability to film videos in 4k resolution.
We're loving the Canon PowerShot SX740 Digital Camera because its from a reputable brand and has some of the best features in this price point, like a high-resolution sensor and the capability of filming video in 4k. This model is built with an LCD screen that you can flip around, so that you can see everything that will be in the shot if you're taking videos of yourself — plus there's a remote shooting option, so that you can snap a photo from your phone without pressing the shutter button on your camera.
2. Runner Up: Sony DSCHX80/B Point & Shoot Camera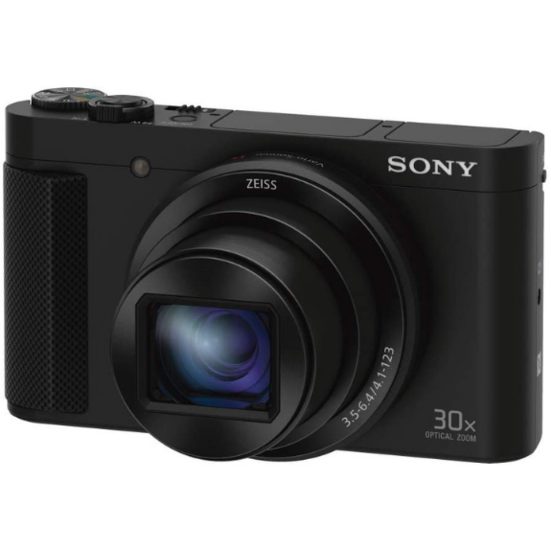 Works great with Macs
Light and highly portable
Takes high quality photographs
Many customizable options for this style of camera
You can use your smartphone as a remote control
Some users were upset that it didn't come with a memory card
Key Specs
| | |
| --- | --- |
| Sensor: | 18.2 Megapixel |
| Zoom: | 30x |
| Video Resolution: | HD (1920 x 1080 pixels) |
| Wireless Connectivity: | Wi-Fi, NFC |
| Dimensions: | 15.88 x 12.7 x 6.99cm |
Coming in at a close second, this camera is built with a great sensor, and has various options that will improve your photography experience, like image stabilization and some customizable settings.
The Sony DSCHX80/B Point & Shoot Camera is a wonderful camera at this price point because it has a variety of adjustment features that can help your photographs look better, such as aperture priority, shutter speed priority or manual exposure — as you can probably tell, these extra settings are probably more suited towards more advanced photographers, and it might take some time to learn if you're a beginner.
Like the first camera on our list, this one also has an LCD screen that you can rotate and point towards you, which can be great if you need a camera for vlogging and selfies.
3. Camera with the Best Optical Zoom: Canon PowerShot SX540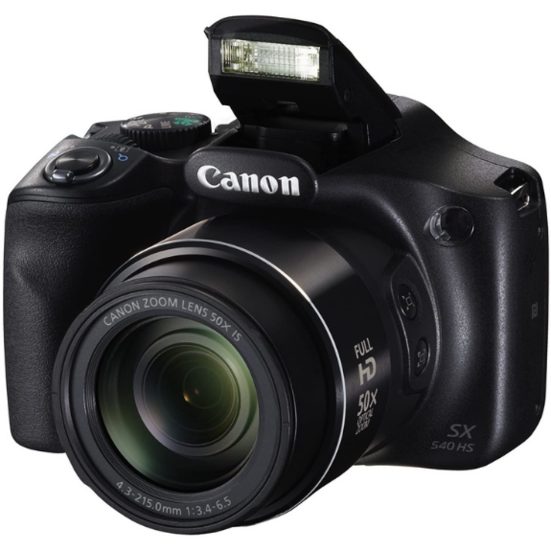 Great price for the quality
Automatic adjustment features
Easy customizable options and creative modes
Takes beautiful photos, including from far distances
Simple to send photos to your computer over Wi-Fi
Doesn't shoot in RAW format, which a professional photographer might want
Key Specs
| | |
| --- | --- |
| Sensor: | 20.3 Megapixel |
| Zoom: | 50x |
| Video Resolution: | HD (1920 x 1080 pixels) |
| Wireless Connectivity: | Wi-Fi, NFC |
| Dimensions: | 4.7 x 11.94 x 8.13 cm |
Having a long zoom can make or break your photographs — especially if you like taking pictures of something from far away, like sweeping landscapes or animals that you don't want to disturb by getting too close.
The Canon PowerShot SX540 is the perfect camera to take out while adventuring through nature because of its long zoom and variety of features that can enhance your photography, like an auto focus mode and an optical image stabilizer so you likely won't have blurry photos again. It even captures videos in full HD resolution, so you'll be able to capture the most exciting moments on video to relive again and again — if you're a real video enthusiast and want the highest quality you can find, however, opt for a model that can capture video in 4k resolution instead.
4. Best Budget Pick: Kodak FZ53-BL Point and Shoot Digital Camera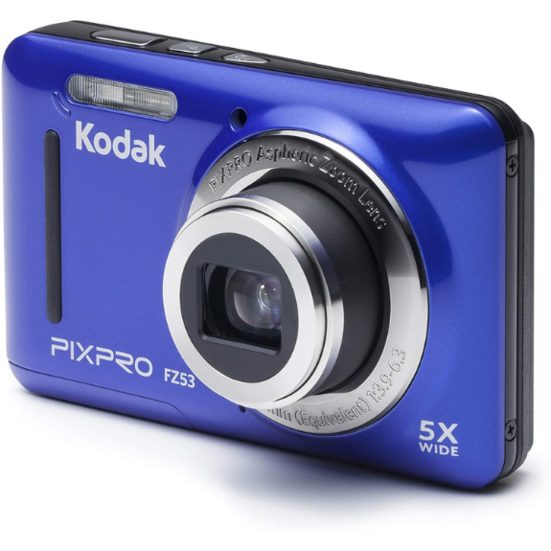 Affordably priced
Practical and compact size
Adjustable exposure for different lighting
Face, blink, and smile detection to catch the right moments
Great for light use and making memories with family and friends
No wireless connection options
Low video resolution and less zoom than other models
Key Specs
| | |
| --- | --- |
| Sensor: | 16 Megapixel |
| Zoom: | 5x |
| Video Resolution: | HD (1920 x 1080 pixels) |
| Wireless Connectivity: | N/A |
| Dimensions: | 2.29 x 9.14 x 5.64 cm |
One of the major advantages to purchasing a point and shoot camera is that it's more affordable than the others — this is one of the most affordable, while still being able to take decent photos.
The Kodak FZ53-BL Point and Shoot Digital Camera is a great option for anyone who doesn't take photography too seriously, and just wants a reliable camera that can take good quality photos on the go. This one does that, and it also gives you some quality-of-life features like face detection and auto exposure adjustments that can help you through the photography process.
It's not going to give you the best photos in town by any means, but sometimes that can be the charm of a compact camera like this, and trading off some photo quality for affordability and easy of use can be a great option for many consumers.
5. Best for a Night Out: Canon PowerShot ELPH 360 HS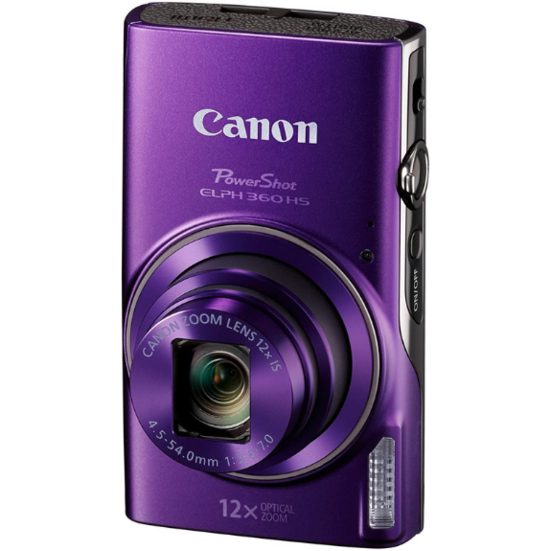 Brightly coloured
Light and compact, easy to carry around
Wireless connectivity for easy photo sharing
High sensor and video resolution for the price
Optical image stabilizer — helps you out on the wildest nights
Confusing menus on the interface
Hard to connect to Mac computers
Key Specs
| | |
| --- | --- |
| Sensor: | 20.2 Megapixel |
| Zoom: | 12x |
| Video Resolution: | HD (1920 x 1080 pixels) |
| Wireless Connectivity: | Wi-Fi, NFC |
| Dimensions: | 9.96 x 2.29 x 5.79 cm |
Taking photos is one of the best parts of a night out on the town — pick up a camera like this and share your adventures with all your friends easily.
Get the party started with the Canon PowerShot ELPH 360 HS; it's small enough to be carried around easily, and it takes much better photographs than most smartphones can. It also comes with image stabilization software, which can save your photos from looking blurry and distorted if you're having too much fun to focus on taking a steady picture.
Some users noted that it was hard for them to transfer photos to their Mac computers, which is something to keep in mind if you're an Apple enthusiast.
6. Sleeper Pick: Kodak AZ421-RD PIXPRO Astro Digital Camera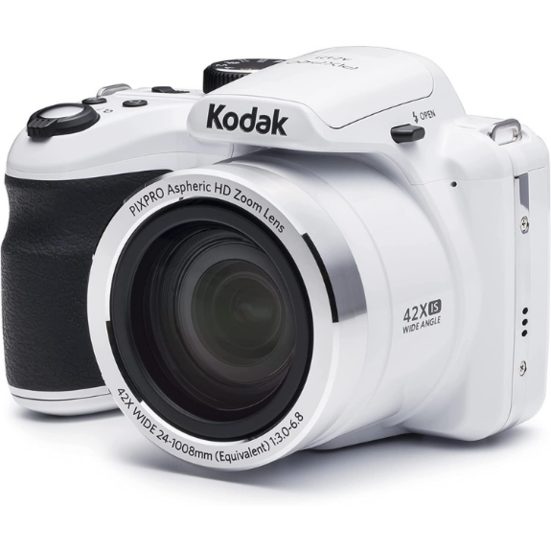 Long zoom capability
Great camera for beginners, easy to use
Takes good quality photos for this price point
Face detection mode that can enhance your features and lighting
Not very high video resolution
Heavier than other point and shoot cameras
Key Specs
| | |
| --- | --- |
| Sensor: | 16.1 Megapixel |
| Zoom: | 42x |
| Video Resolution: | HD (1080 x 720 pixels) |
| Wireless Connectivity: | N/A |
| Dimensions: | 8.43 x 11.28 x 8.15 cm |
Not to be outdone, this camera also boasts a variety of useful features, like a long zoom capability and a variety of creative modes like face beautifying, and skin tone or eye enhancing.
The Kodak AZ421-RD PIXPRO Astro Digital Camera is a great classic point and shoot camera because it's simple to use and will still deliver high quality photographs. This model in particular comes equipped with a wide-angle lens, as well as a panorama mode, which can help you take beautiful sweeping photos of any landscape you're in.
This camera falls a little flat with its video capability because it can only film on the lower end of HD. If taking high quality videos is something that you care about, try one of the other models on this list — like the ones that can film in 4k resolution.
7. Best Durable: Olympus Tough TG-6 Waterproof Camera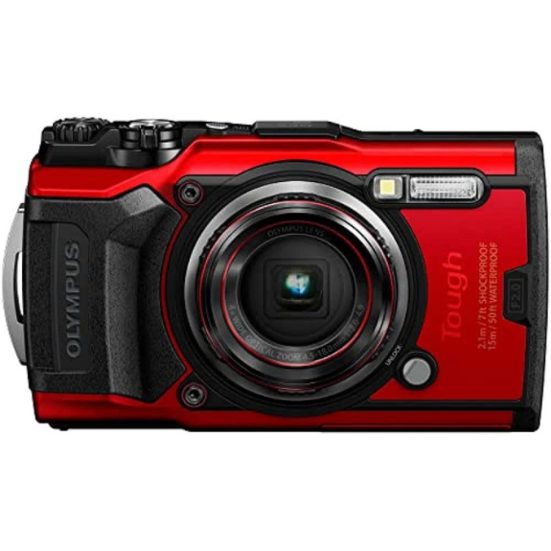 Great price for quality
Can film videos in 4k resolution
Waterproof
Fast burst speed
Small sensor
Doesn't include protective case or lens cover
Key Specs
| | |
| --- | --- |
| Sensor: | 12 Megapixels |
| Zoom: | 8x |
| Video Resolution: | 4k |
| Wireless Connectivity: | N/A |
| Dimensions: | 6.6 x 11.18 x 3.3 cm |
With a high resolution F2.0 lens paired with Macro and Micro shooting modes, you can enjoy a quality camera that's perfect for both families and photographers in need of a waterproof and durable camera. The Olympus Tough TG-6 Waterproof Camera is a great option for photographers who love to journey off road and need a camera that can withstand the elements. This super durable camera is not only waterproof, can be submersed up to 50 ft. and features a handful of underwater shooting modes.
This camera can also withstand freezing temperatures up to -10℃. Thanks to its shockproof and dust-proof abilities, even clumsy little fingers can give this camera a try. Although it's sensor isn't as powerful as other models, it can shoot in 4K with full HD 120 fps.
8. Honourable Mention: Fujifilm X100V Digital Camera
Light and compact, easy to carry around
Can film videos in 4k resolution
Two way tilting touchscreen
Powerful CPU
Expensive
Doesn't include memory card
Key Specs
| | |
| --- | --- |
| Sensor: | 26.1 MP |
| Zoom: | N/A; Fixed focal length of 23mm |
| Video Resolution: | 4k (4096 x 2160) |
| Wireless Connectivity: | Bluetooth, Wi-Fi |
| Dimensions: | 5.04 x 2.94 x 2.1" |
With the power and high resolution of a professional DSLR camera packed into a small, compact point-and-shoot body, this sleek camera has intuitive controls to help you shoot incredible images or record videos in 4k. The Fujifilm X110V is a great compact option for photographers who know their way around a camera. It's high price point is well worth the extra dollars if you want to be able to capture high resolution photos instantly without having to worry about distortion.
Every aspect of this camera incorporates high quality technology, whether it be the advanced hybrid viewfinder, state-of-the-art X-Trans CMOS 4 sensor, powerful quad-core CPU and much, much more.
What Kind of Camera Should I Get?
If you're looking up the point and shoot cameras, chances are you want an easy-to-use machine that will still give you great quality photographs and videos without the need to alter too many settings. These cameras are great for taking around the town and making memories because they're light and compact, and they're much easier to carry around than the other types.
If you're looking for many customization options with your camera, like adjusting the exposure, light, or focus, or being able to change out the lens to change up your focal length and zoom capabilities, a more expensive and advanced camera like DSLR or mirrorless models would be your best bet. These ones will take much more professional looking photographs as well, so if you need to take photos for any form of business or professional need, we suggest splurging on a more expensive camera type.
Features to Look for in a Point and Shoot Camera
Sensor: The sensor in your camera is a big determinant of how your photographs will look, and will be listed in megapixels; having a sensor with a higher megapixel count means that more light will be let into your camera, and thus your image will be more detailed and have a higher resolution.
Zoom: Not all cameras are made equal, and if a long zoom capability is something that you want in a camera, look into the zoom range on each product before you make your purchase. It'll be listed as a number followed by an x, and that will tell you how many times it can magnify your image by. Point and shoot cameras aren't like DSLR or mirrorless ones where you could change out the lens to get more zoom — the zoom you'll get is the one you'll have for the camera's life, so make sure you're happy with it!
Video Resolution: If you want a camera that can film great videos, you'll want one that can film in 4k resolution, which means your video will have 3840 horizontal pixels and 2160 vertical pixels. This will give you the sharpest and most detailed videos around, especially on 4k enabled monitors and screens. HD quality, which is 1920 horizontal pixels by 1080 vertical pixels, will also be sufficient, but might not look as good on higher quality screens.
Creative Options: Most users just want their point and shoot camera to be simple, but many of them come with easy-to-use creative options that can help enhance your photograph, like red eye removal or face beautifying modes. If you're still a beginner but want to get a little more creative with your photography, try finding a camera that comes equipped with modes like these.
Connectivity: Being able to transfer photos to your other devices is a big part of owning a digital camera; if you want extra ease of use, find a model that can send images over Wi-Fi, or connect to your devices through NFC (near field communication), so that you won't need to use any wires.
Leave a Comment
We're always looking for more feedback! If you own any of these items and would like to share your experience, please comment below!
RedFlagDeals.com is reader-supported. We are a participant in the Amazon Services LLC Associates Program and other similar affiliate advertising programs. These programs are designed to provide a way for sites to earn advertising fees by linking to them. This means that RedFlagDeals.com will sometimes get a small commission if you make a purchase through our links.