The Best PC Cases for Your Computer
Table of Contents
Looking to build a custom PC? It's not as hard as you might think. The easy availability of a range of PC cases and component parts means anyone can build their own computer. Choosing your PC's case is the perfect place to start your build. If you're ready to move away from the one-size-fits-all pre-built options at your local electronics store, we've got a round-up of the best PC cases to buy this year.
1. Editor's Pick: Lian Li Lancool II Mesh
Affordable
Includes 3 fans
Good thermal performance
Excellent cable management
No dampening
Plain exterior design
Key Specs
| | |
| --- | --- |
| Form Factor: | Mid-tower |
| Dimensions: | 18.8 x 9.0 x 19.5 |
| Motherboard Support: | Mini-ITX, Micro-ATX, ATX, E-ATX |
| Fans: | 3 included |
| I/O: | USB 3.0 x 2, 3.5mm mic/audio x 1, optional USB-C |
Whether this will be your very first PC build or you're a seasoned build enthusiast, this PC case is a good all-rounder.
The Lian Li Lancool II Mesh is our pick for best PC case of 2021. It features a sleek yet uninspired exterior design with standard mid-tower dimensions that should fit in your work or gaming space nicely. Creating your custom build with this case will be fairly easy — something both beginners and hobbyists can appreciate.
2. Best Budget PC Case: Thermaltake Core V1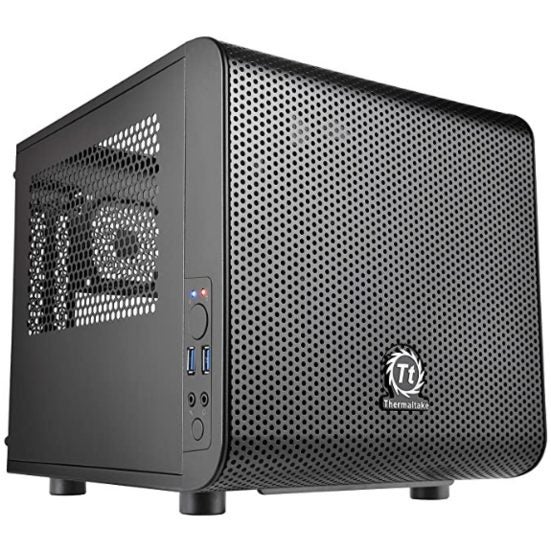 Compact
Easy to use
Fan included
Key Specs
| | |
| --- | --- |
| Form Factor: | Mini case |
| Dimensions: | 10.9 x 10.2 x 12.4 |
| Motherboard Support: | Mini-ITX |
| Fans: | 1 included |
| I/O: | USB 3.0 x 2, HD audio x 1 |
Small budget? Meet this small case. If you're in the market for an ultra-affordable budget PC case that still performs well, consider this one.
With the Thermaltake Core V1, you'll be able to pack a lot of powerful hardware into this case, including an ATX PSU (power supply unit), full-size graphics card (must-have for gamers), and a water-cooling system. Modular chassis options and tool-free drive bay design make custom configurations easy. In terms of I/O port placement, there's really only one option. However, if this is your pick for a low-cost custom PC, chances are that's not a top priority. This case is small enough to sit on a tabletop next to you, so there's no need to worry about your aux or USB cables not being long enough.
3. Best Dual-System PC Case: Phanteks Evolv X
RGB lighting
Great cable management
Clean, contemporary design
High-end water-cooling support
Key Specs
| | |
| --- | --- |
| Form Factor: | Mid-tower |
| Dimensions: | 9.45 x 20.5 x 20.1 |
| Motherboard Support: | E-ATX, ATX, Micro ATX, Mini ITX |
| Fans: | 3 included |
| I/O: | USB 3.1 GEN 2 Type-C x 1, 2x USB 3.0 x 2, power button, mic, audio, D-RGB Mode button, D-RGB Color button |
This PC case offers a clean contemporary design includes ambient RGB lighting and tempered glass sides to show off your custom-built PC's beautiful insides. A key feature is the excellent cable management which is critical when building two systems in one case.
By design, dual-system PCs work harder and generate more heat than their single-system counterparts, so a good cooling system is important. The Phanteks Evolv X is built to support high-end water-cooling for optimal efficiency and heat reduction. This also means that you really only have one option when it comes to choosing your cooling system type. With this case, you'll be committing to including a top-tier water-based cooling system as part of your build.
4. Best High-End PC Case: Corsair Obsidian 1000D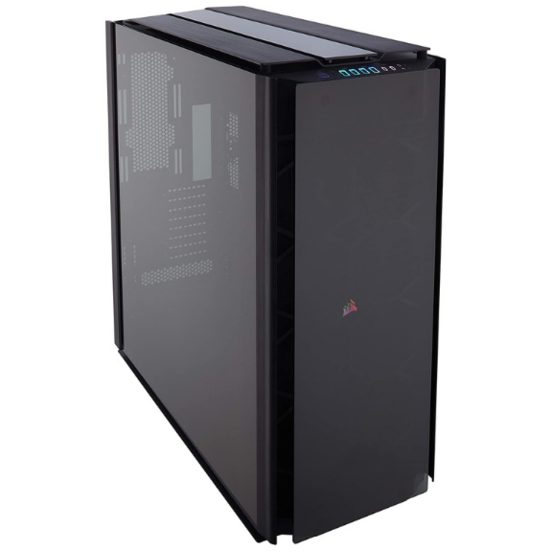 RGB lighting
Dual-system
Supports 2 PSUs
Large storage capacity
Expensive
Large, heavy chassis
Fans sold separately
Key Specs
| | |
| --- | --- |
| Form Factor: | Mid-tower |
| Dimensions: | 9.45 x 20.5 x 20.1 |
| Motherboard Support: | E-ATX, ATX, Micro ATX, Mini ITX |
| Fans: | 3 included |
| I/O: | USB 3.1 GEN 2 Type-C x 1, 2x USB 3.0 x 2, power button, mic, audio, D-RGB Mode button, D-RGB Color button |
Weighing in at roughly 65lbs, without internal hardware, this monster of a case is a dual-system builder's dream. With space for up to 13 fans, three radiators, and liquid cooling system, it's designed for maximum efficiency. You'll also get full software control of cooling and RGB lighting.
If you're an enthusiast for whom money is no object, you will love the Corsair Obsidian 1000D for its excess in style, storage capacity, and just about everything else you want in a high-end PC case. This certified super-tower packs a real performance punch giving you the ability to stream and game simultaneously. Each system has dedicated power and I/O ports for ease of use, so you're able to build two full systems in one massive case. In terms of size and price this case is outside the realm of practicality for most people looking to build a custom PC. If you're looking for a big fun build though, the Corsair Obsidian 1000D will certainly fit the bill.
5. Best Mini-ITX PC Case: Cooler Master NR200
Durable construction
Tool-free access
Optimal cooling support
Key Specs
| | |
| --- | --- |
| Form Factor: | Mini-ITX |
| Dimensions: | 14.8 x 7.3 x 11.5 |
| Motherboard Support: | Mini-ITX, Mini-DTX |
| Fans: | 2 included |
| I/O: | USB 3.2 GEN 1 Type-A x 2, 3.5mm audio/mic |
This is a popular model and the best Mini-ITX PC case for your money. Its modern aesthetic and compact size make this case a great fit for any work or gaming station.
Whether you're a new builder or an experienced enthusiast looking for a quick, easy build, the external panels and top-mounted fans offer easy removal as they're secured with pins. Every frame and panel of this case is removable, offering what Cooler Master calls 360-degree accessibility. A standout feature for the The Cooler Master NR200 is the optimal cooling support provided by housing for up to seven fans. If you want to create a custom cooling system, you can install your pump with the built-in mounting holes. Exceptional airflow is made possible by open ventilation on 5 sides of the case. There's a lot to customize in this compact PC case, so you'll be able to build the perfect system for you.
6. Best Sound-Dampening PC Case: Cooler Master Silencio S600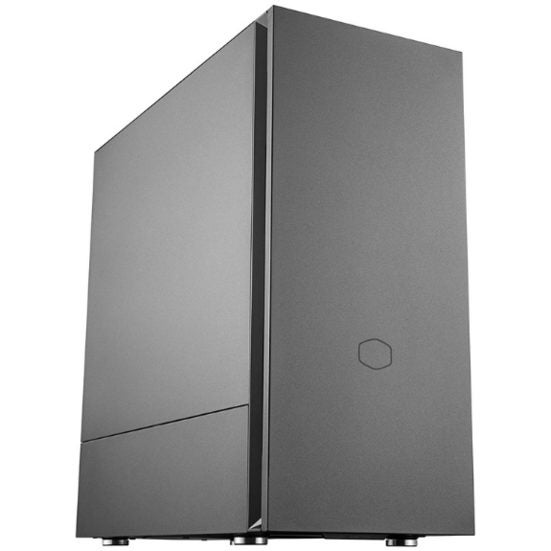 SD card reader
Minimalist design
Ultra-quiet fans included
Heavier side panels
Average thermal performance
Key Specs
| | |
| --- | --- |
| Form Factor: | Mid-tower |
| Dimensions: | 18.8 x 8.2 x 18.5 |
| Motherboard Support: | Mini-ITX, Micro-ATX, ATX |
| Fans: | 2 included |
| I/O: | USB 3.2 GEN 1 x 2, 3.5mm audio/mic x 1, SD card reader x 1 |
If you dream of a whisper-quiet, powerful computer, this highly-rated sound-dampening PC case is for you. While silent operation isn't top of mind for everyone, if your build is particularly powerful your PC might sound more like a fighter jet once you hit that power button.
The Cooler Master Silencio S600 is engineered with mass-loaded vinyl and thick, soft foam to minimize noise. Even the pre-installed fans come with rubber padding. Wondering whether all that sound dampening has an impact on cooling? Correct, it does. While the thermal performance of this case is far from poor, it is not optimal when compared to other mid-tower cases. It would be a good idea to ensure the rest of your build accounts for this issue. An easy solution is to leave the front door of the case open during extended use times.
7. Best for Gaming: Corsair Icue 220T RGB Airflow Tempered Glass Mid-Tower
Beautiful design
Great airflow and cooling
Comes with 3 RGB fans
Compact form factor
Key Specs
| | |
| --- | --- |
| Form Factor: | Full tower |
| Dimensions: | 39.5 x 21.01 x 45.01 cm |
| Motherboard Support: | ATX |
| Fans: | 3 included |
| I/O: | 2x USB 3.0, 3.5mm audio |
If you're a gamer with a beastly PC, you'll need a tower like this one that can efficiently keep your PC cool, even when lots of intense internal components are being used. Its layout is specifically designed to improve airflow, and there's a steel grill panel on the front for the right amount of air intake.
This tower also comes with three RGB fans included — each one has eight LEDs that can be individually assigned, so your PC can light up with all the colours of the rainbow if you want. We're also loving that the side panel is tempered glass, so you can see all your internal components, which might also have RGB lighting to show off. We're also loving the removable dust filters on this case, which makes it easier to keep clean.
8. Honourable Mention: Cooler Master MasterBox NR600 ATX Mid-Tower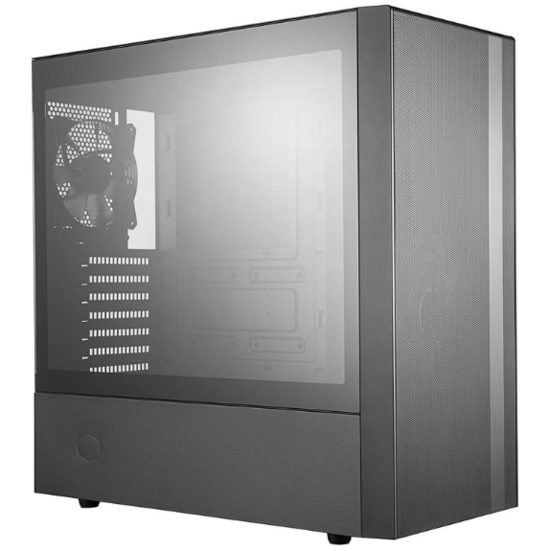 Affordably priced
Roomy design
Materials feel sturdy
Comes with zip ties for cable management
Limited I/O
Looks a little simple
Key Specs
| | |
| --- | --- |
| Form Factor: | Mid Tower |
| Dimensions: | 54 x 54 x 28 cm |
| Motherboard Support: | ATX |
| Fans: | 2 included |
| I/O: | 2x USB 3.0, headphone jack |
Here's another affordably priced computer tower to consider, that has a minimalistic design and lots of space to store your internal components. It might not be as flashy as some other towers out there, but it makes up for it in functionality — and you might prefer a more streamlined look, anyway.
It was designed with cable management in mind, and you'll find long length rubber grommets and lots of clearance behind the motherboard to make sure you'll have the space you need. You'll also find that it has great thermal performance, with a full mesh front panel and ventilated top panel. If you do happen to have some RGB components on the inside, you'll be able to see them clearly through the glass side panel.
How to Choose a PC Case
Now that you've had a brief overview of the best PC cases for 2021, it's decision time. The whole point of building a custom PC is to ensure your computer is a perfect fit for your needs and usage. Here's what to look for when buying a PC case:
Form factor
Cost
Internal design
Cooling options
Aesthetic
Form Factor: Form factor basically refers to the size of your PC case. Mid-towers are, as indicated by the name, right in the middle between mini-ITX cases like the Cooler Master NR200 and the Corsair Obsidian 1000D super-tower. The case that best suits your needs will need to accommodate your motherboard of choice, graphics card, PSU, cooling system, cables, and all the other internals you deem essential.
Cost: All other specs aside, cost is a big factor when choosing the right PC case. As we saw with the Thermaltake Core V1, budget PC cases can still offer a quality build at a low cost. On the other end of the spectrum, if you're looking to build the ultimate super computer, there are a number of high-end cases that come with every bell, whistle, and ambient RGB lighting system imaginable. The difference for you is how much you have to spend to get what you need, and how much you're willing to spend to get what you want.
Internal Design: Cable management, tool-free design, fan placement, and cooling system support are key things to look for on the inside of your case. If you're a beginner with rudimentary routing skills, a case with good cable management will keep the inside of your PC from looking like a spider web. Tool-free components are typically mounted with easy-to-use pins, and generous cooling system support will ensure you don't have issues due to overheating.
Cooling Options: Some cases, like the Phanteks Evolv X, don't offer much choice when it comes to cooling systems. That case is specifically designed for use with a water-cooling system. If you have something else in mind for your custom rig, look for a PC case with diverse cooling-system options.
Aesthetic: Whether you prefer the minimalist design of the Cooler Master Silencio S600 or the eye-catching ambient RGB lighting of the Corsair Obsidian 1000D, there's a PC case out there for everyone. Available in a range of colours, shapes, and styles, your PC's chassis can really speak to your tastes. Choose tempered glass sides to show off your build, or a sleek all-black tower that can decorate your desk like a monolith.
Leave a Comment
We're always looking for more feedback! If you own any of these items and would like to share your experience, please comment below!
RedFlagDeals.com is reader-supported. We are a participant in the Amazon Services LLC Associates Program and other similar affiliate advertising programs. These programs are designed to provide a way for sites to earn advertising fees by linking to them. This means that RedFlagDeals.com will sometimes get a small commission if you make a purchase through our links.