The Best Packing Cubes for Suitcases
Table of Contents
Everyone could use a little organization in their life. So why not take that mentality and use it when packing your suitcase? Whether you're a frequent traveller, or only pack your bags a couple times a year, everyone knows the struggle of trying to keep your suitcase tidy. Taking the time to painstakingly fold your clothes into neat piles, only to open your bag after a long car ride or a flight to find your belongings all muddled together, is not fun. I know I've tried and quickly given up on keeping my suitcase tidy during family trips. Little did I know that packing cubes existed and could solve all of my problems while tricking my family and friends into thinking I'm way more organized than I actually am.
But are packing cubes worth all the hype? Well, you won't know for sure until you try them out for yourself, but what I can tell you is that they help you stay organized while you travel, make a world of a difference when packing and unpacking your clothes, save you time and effort rummaging around your suitcase, and can even help prevent wrinkled shirts and pants.
What To Look For In Packing Cubes
Packing cubes come in all sorts of sizes, shapes, materials, and colours which can make finding a quality cube a bit overwhelming. To find the best packing cubes, consider what you need out of your packing cube. Packing cubes with strong stitching and heavy duty zippers are a good indicator that your cube is built from durable materials and can handle rough roads. Other factors like abrasion resistance, waterproof materials, and compression will help you cater your bags to your specific travel needs.
Not sure if packing cubes are right for you? To learn more about the benefits of packing cubes, a few additional ways you can use them and common packing mistakes, scroll down to the bottom of the article.
1. Editor's Pick: eBags Packing Cubes
Features two zippers and double cords
Breathable soft mesh
Snag free zipper design
Lightweight
Largest cube may be too big for some suitcases
Not compression bags
Key Specs
| | |
| --- | --- |
| Material: | Nylon |
| Dimensions: | Large: 17.5" x 12.75" x 3.25", Medium: 13.75" x 9.75" x 3", Small: 11" x 6.75" x 3" |
| # of Cubes: | 3 |
Durable in construction and colourful in design, these eBags packing cubes are a great investment for frequent and casual travellers.
They're sold in a pack of three and available in eight different colours, and make great travel companions and also double as additional storage units around the house! Its sheer mesh lets you get a sneak peek of the contents inside in case you forget what clothes you packed away, while its premium YKK zippers, breathable nylon, and fabric bound interior seams ensure your packing cube lasts for years to come.
2. Runner Up: Eagle Creek Pack It Specter Compression Cube Set
Waterproof
Machine washable
Lightweight
Quick grab handle
Zippers may snag
Bags small in size
Key Specs
| | |
| --- | --- |
| Material: | Nylon, ripstop |
| Dimensions: | 25.5 cm x 3 cm x 36 cm |
| # of Cubes: | 2 |
These high-quality Eagle Creek Pack It compression cubes were created to maximize space and protect your gear wherever you go. This ultra lightweight Eagle Creek Pack It Specter Compression Cube set is the perfect product for those of you constantly on the go. No matter where your next adventure takes you, these bags feature extra compression so you can free up more space in your pack. Made from lightweight, water repellent nylon and a ripstop design, these high-quality, durable bags were built for the road.
3. Best Budget Pick: Bagail 6 Set Packing Cubes
Quick grab handles
Durable, double zipper
Fully finished interior seams
Wide range of colours
Not machine washable
Heavy
Key Specs
| | |
| --- | --- |
| Dimensions: | Large: 17.5" x 13.7" x 4", Medium: 13.7" x 9.8" x 4", Small: 13.7" x 5" x 4" |
| # of Cubes: | 6 |
Getting ready for a long vacation or a trip with the family? These Bagail 6 Set Packing Cubes provide plenty of storage space to help you pack fast, light, and smart. It's built with a fun mesh design to help you see inside each pack, sturdy YKK zippers, quick grab handles, and double stitched seams, so if you're on the hunt for some quality cubes that won't break the bank, you've come to the right place.
4. Best High End: Osprey UL Packing Cube Set
Lightweight
Durable
Large storage capacity
Not compression bags
Smallest bag very small
Key Specs
| | |
| --- | --- |
| Material: | 40D Nylon ripstop |
| Dimensions: | Fits 1L, 2L and 3L |
| # of Cubes: | 3 |
It's equipped with a convenient grab handle, a wide opening zipper, and durable 40D nylon ripstop, and it's perfect for non-stop travellers and adventure seekers.
Osprey has created a line full of handy and versatile travel packs from low key wallets to document slips and durable packing cubes. All of their travel accessories were built to help you organize and protect your belongings. Sold in a set of three packing cubes, this pack uses a rectangular design to maximize space and is made from 40D nylon ripstop to keep your clothes safe inside and out.
5. Best Compression: Tripped Travel Gear Compression Packing Cubes
Set of six
Reinforced zipper stops
Includes a bag for laundry or shoes
Sometimes clothes can get caught in the zipper
Only two compression cube sizes
Key Specs
| | |
| --- | --- |
| Material: | Ripstop polyurethane |
| Dimensions: | Large expanded 14"x10"x4"; small expanded 10"x7"x4"; laundry 18"x13"; slim tube 4.5"x3"x12.5" |
| # of Cubes: | 6 |
Save space, pack smart and stay organized with these Tripped Travel Gear compression packing cubes. Whether you like to keep things plain and simple or love bright and interesting graphics, you can choose from a number of different colours and designs with this packing cube set to match your personal style.
Each set includes six expandable cubes made from tough, ultra-lightweight ripstop polyurethane that uses a two-zipper system to help eliminate the extra bulk when packing your luggage. The zippers literally compress your clothes together and eliminate wasted space.
Whether you travel a lot or infrequently, you still want packing cubes to last a long time and with reinforced zipper stops and the zippers used to expand and compress the bags reinforced with double stitching, you know these cubes can withstand lots of wear without the tear!
This set includes two large compression cubes, two small compression cubes, a slim non-compression tube and a non-compression bag that can be used for laundry or for shoes.
6. Best Bulk Set: OrgaWise Packing Cubes
Many pieces to organize different items
Can be folded flat when not in use
Waterproof
May contain too many pieces for some people
Some users complained about the quality of the zippers
Key Specs
| | |
| --- | --- |
| Material: | Polyester, mesh |
| Dimensions: | Extra-large 15.7" x 12.2" x 4.7"; large 12.2" x 10.2" x 4.3"; medium 11.8" x 8.6" 4.3"; small 10.6" x 7.8" x 4.3"; shoe bag 12.9" x 8.2"; laundry bag 13.9 x 10.2; cosmetic bag 10.2" x 6.2" x 3.5"; pocket bag 10.2" x 2.3"; toothbrush case 8.2" x 1.1" |
| # of Cubes: | 9 |
If you're the type of person who travels to destinations for long-term stays of a month or so, then you know you want to take as much clothing as you can, especially if you are going to a place where the weather is changeable. You will need clothes for hot days, cold nights, inclement weather, casual days and sleek evenings out for fine dining.
This set of nine travel organizers is perfect for any travel destination where you don't want to leave anything behind. Intelligently conceived, the polyester cubes are waterproof and super soft to touch. The set allows you to separate and organize almost everything you will take on your travels from clothing and towels to cosmetics and shoes.
For your clothing, the three different-sized cubes have see-through lids with double-ring zip closures, and you will also get two compression pouches, a shoe bag, a bag for your underwear, a separate cosmetic bag, a drawstring laundry bag and even a toothbrush box. Choose from five different colours to suit your style or to match your luggage.
7. Best for Carry-On: AmazonBasics Packing Travel Organizer Cubes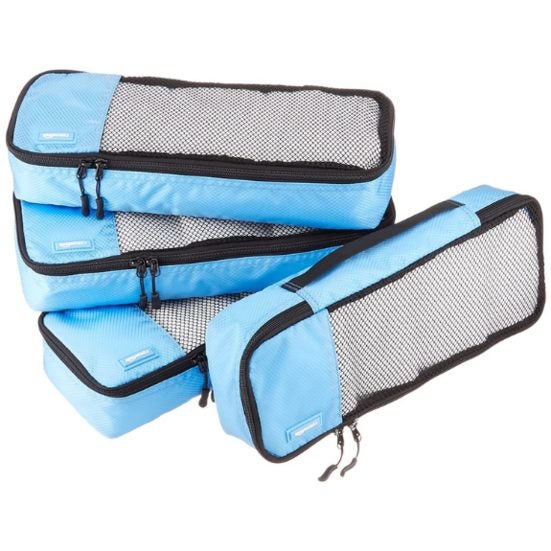 Slim design
Ideal for carry-on bag or packing children's clothing
Mesh cover for ventilation
Size may be too small for some people
All cubes are the same size
Key Specs
| | |
| --- | --- |
| Material: | Polyester |
| Dimensions: | 14" x 5" x 2.8" |
| # of Cubes: | 4 |
Just because you travel light doesn't mean everything in your carry-on bag stays neatly organized. That's really where packing cubes can save the day, especially if you're inclined to use a small carry on.
This set of four packing cubes from AmazonBasics are slimmer in design than many other brands, so they are ideal for anyone who wants to organize their stuff in a smaller sized piece of luggage or backpack. The slimmer size is also a good choice if you are travelling with children. Their child-sized clothing and items will fit perfectly into the cubes, keeping it all together and organized.
The four cubes are all the same size and are made of soft polyester with double zipper pulls that make opening and closing simple and fast. The mesh top panel provides ventilation and make it easy to quickly identify the contents. Each cube measures 14 x 5 x 2.8 inches and has a webbed carrying handle. This set is available in a choice of green, red or sky blue.
8. Honourable Mention: Shacke Pak Packing Cubes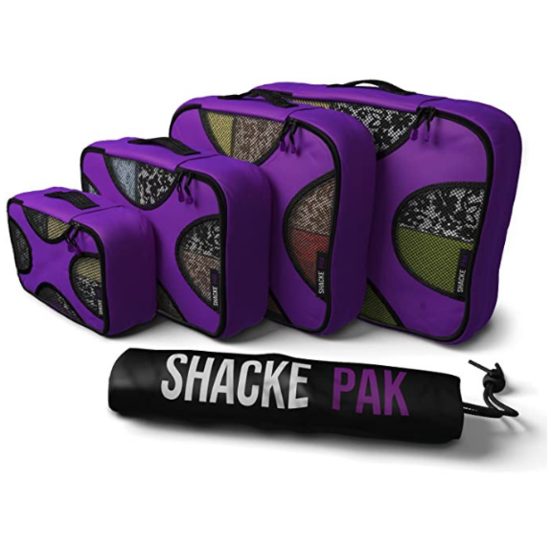 Mesh pattern design on lid for visibility
Made of water-resistant nylon
Storage bag can be used for laundry
Can only wash by hand with cold water
Key Specs
| | |
| --- | --- |
| Material: | Nylon |
| Dimensions: | Extra-large 17.5" x 12.75" x 4"; large 13.75" x 12.75" x 4"; medium 13.75" x 9.7"x 5.4"; small 11" x 6.75" x 4" |
| # of Cubes: | 4 |
If you are an eclectic traveller – sometimes it's an overnight bag, sometimes a backpack and other times you're taking the big set of luggage – then you need the kind of packing cubes that will suit each of these scenarios.
We love this set of five packing cubes from Shacke Pak because of the mesh cover that lets you see at a glance what's inside, so you don't have to unpack everything to find that new bikini to get to the beach as soon as you check in. The sizes are also convenient so you can throw a smaller one in a backpack, two in an overnight bag and all of them in your suitcase.
The cubes are made from water-resistant nylon and the sleeve in which you store the empty packing cubes can be used as a laundry bag. As for the cubes themselves, they are available in a variety of eight coloured patterns, all with a see-through mesh design on the lid, which also helps with ventilation to keep your clothes fresh.
Each cube is four inches deep, which allows you plenty of space to fit all of your clothes.
Benefits of Using Packing Cubes
Allows you to organize and separate your clothes however you like - by category, colour, activities, etc
Stop your socks, underwear or other small items from floating around in your suitcase
Versatile
Can be used as a laundry bag, shoe bag, accessory bag
Extra protection from accidental spills in your bag
Helps keep your clothes wrinkle free
Once you get into a groove (know what system you like to use) packing can become much easier and faster
Some packing cubes use compression technology to help you fit more clothes into the designated space
Sold in all sorts of sizes so you can find the best match for your bag and items
Should I Use Packing Cubes?
You don't need to be constantly travelling to invest in packing cubes - anyone who's ever used a suitcase can benefit from these handy little inventions. And if you're obsessed with shows like Tidying Up With Marie Kondo, or The Home Edit, packing cubes will help satisfy your need to keep everything perfectly concise and organized. If you love backpacking, you'll benefit from soft packing cubes. With such a small amount of space available in your pack, having the ability to keep your things organized will allow you to easily and quickly sort through your gear so you can find what you need in a pinch.
Not everyone has the luxury of heading to their hotel to unpack and freshen up after a flight. If you constantly travel for business and have to run to a meeting as soon as you land, packing cubes can help keep your clothes tidy and save you from scrambling through your suitcase to find a fresh pair of socks, underwear, or a clean shirt. If you're the type of traveller who needs (or wants) to pack as much as you possibly can into your suitcase, compression cubes will help shrink down your clothes so you can create your very own Mary Poppins bag. It also doesn't hurt that a full packing cube can double as a pillow or be used as a laundry bag on the road. They can also come in handy if you need to keep your kids' clothes separate in the same suitcase. Or to organize your closet at home. Or as your emergency kit. The options are endless.
Common Mistakes When Using Packing Cubes
It's easy to get carried away and try to stash as many packing cubes as possible into your bag, but using too many packing cubes can cause you to pack more things than you actually need. Just because you have extra packing cubes to spare doesn't mean you need to use them so refrain from over packing.
Another common mistake people make is either over or under-packing. If you fill your cube to the brim, you'll place extra stress on the materials and zippers and add extra weight to your suitcase. Not to mention trying to put your clothes back in the cube will be a challenge. If you under-pack, your clothes will slide around and may wrinkle.
Lastly, bigger isn't always better. Sometimes having two small cubes instead of buying the biggest one available can help you organize your clothes more efficiently and allow for more versatility from bag to bag.
Leave a Comment
We're always looking for more feedback! If you own one of these packing cubes and would like to share your experience with us and other readers, please leave a comment down below!
About the Author: Carlen Oliveira
Carlen Oliveira is a graduate from Ryerson University's RTA Sport Media program and is currently working as a writer based out of Toronto. She has an avid interest in all things sports and finding engaging new ways to workout. With limited access to gyms and friends during the pandemic, she discovered her love of individual activities like yoga and skipping, which push her both mentally and physically. When she's not writing or working out, you can find her exploring the outdoors and travelling, come rain or shine… and especially snow!
RedFlagDeals.com is reader-supported. We are a participant in the Amazon Services LLC Associates Program and other similar affiliate advertising programs. These programs are designed to provide a way for sites to earn advertising fees by linking to them. This means that RedFlagDeals.com will sometimes get a small commission if you make a purchase through our links.