The Best Outdoor Activities for Kids and Teens
Table of Contents
There's nothing like a breath of fresh air when the weather outside is fine and the world is ripe for the taking. Unfortunately, kids and especially teens don't always feel that way so it can be a hassle to make them as free-range as your food. Giving them something to do is always a better option than leaving them to their own devices - especially when those devices have a screen - and that's where finding outdoor activities is key to keeping kids busy.
From arts to sports and group activities to solo play, there is something out there for every kid that will keep them outdoors way past their bathtime and engaged the whole time. Just as important as engagement is keeping kids healthy, so you'll also find ideas on keeping them active so dinner time is less of a chore and more of a necessity to keep up their energy so they can go back outside and play some more.
Below you'll find ten activities designed to keep kids and teens interested, thinking, active, and out of your hair. Check out our selection and keep in mind your goals and your kids' preferences when shopping and you're sure to find a hit activity or two to keep them occupied.
1. Editor's Pick: Dripex Ninja Warrior Obstacle Course
Two 50' slacklines
Bonus carrying bag
250lbs weight capacity
Includes 1 auxiliary line, 2 slacklines with steel ratchets, 4 tree protectors, and 17 webbing and connecting buckles
Comes with a monkey fist, 2 monkey bars, 2 monkey rings, a trapeze swing , climbing net, rope ladder, and a swing
Expensive
Not durable
Directions aren't clear
Need sturdy trees to attach set to
Adult supervision required for younger children
Key Specs
| | |
| --- | --- |
| Difficulty: | Medium |
| Ages: | 5+ |
| Players: | 1+ |
| Cost: | $$$$ |
Have your own challenges in the comfort of your own backyard with this obstacle course kit.
There's no better way to keep kids active than with this Dripex Ninja Warrior Obstacle Course as it turns your own backyard into the challenge hub of your dreams. Included are a monkey fist, two monkey bars, two monkey rings, a trapeze swing, a climbing net, a rope ladder, a swing, an auxiliary line, two slacklines with steel ratchets, four tree protectors, 17 webbing and connecting buckles, and a carrying bag. Able to withstand up to 250lbs, even adults can have fun on this obstacle course.
2. Runner Up: Starlux Games Capture The Flag Redux Game
23 game lights
12+ hours of batteries
Includes 25 light-up game pieces
Free download of 12 ways to play
Not durable
Hard to get replacement parts
Quality control issues with missing parts
May need more lights if playing with lots of people
Key Specs
| | |
| --- | --- |
| Difficulty: | Medium |
| Ages: | 8+ |
| Players: | 4 - 20 |
| Cost: | $$ |
Turn the classic Capture the Flag game on its head with this glow-in-the-dark version.
If you're looking for something for kids to do when it gets darker outside but you still want to see what they're up to, this Starlux Games Capture The Flag Redux Game keeps your kids off their screens and on the grass with a brand new way of experiencing everyone's favourite gym glass game: Capture the Flag. It can even be played indoors with the lights off in the gymnasium! Great for anyone over 8 years old, kids and adults can play together as long as you have space to run and the rules understood. Included in the kit is a free download of 12 different ways to play so you never get bored, and the 25 light up pieces and the 23 game lights (with over 12 hours of battery life) will last you ages. Games go on average for between 30 - 60 minutes so you're sure to tire everyone out before bedtime.
3. Best Classic Activity: Creatology 48 Piece Jumbo Sidewalk Chalk Set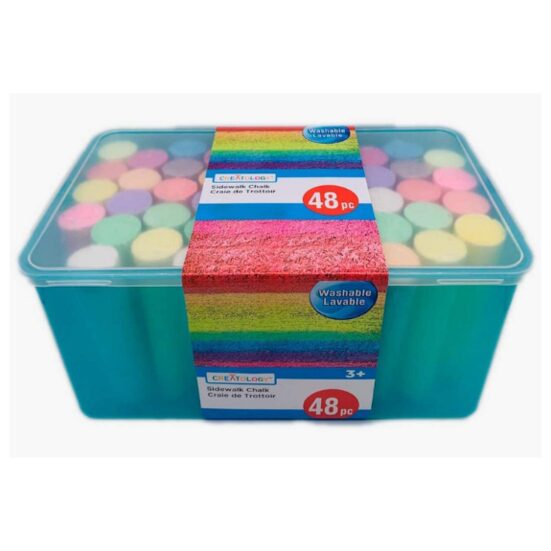 48 pieces
Jumbo sized
Bright colours
Reusable case
Can be used on sidewalks, blackboard, or driveways
Chalk breaks easily
May arrive damaged
Not enough variety in colour
Key Specs
| | |
| --- | --- |
| Difficulty: | Easy |
| Ages: | 3+ |
| Players: | 1+ |
| Cost: | $ |
Never run out of tools to create your sidewalk masterpiece with this 48-piece chalk set.
There's nothing like coming home from work or school and seeing the graffiti art of children adorning your driveway. This Creatology 48 Piece Jumbo Sidewalk Chalk Set contains enough chalk to last you a whole spring and summer's worth of creativity with jumbo pieces that are easy for kids to hold, bright enough to see from a distance, and are easy to share with friends. The durable case ensures that your chalk stays clean and dry between uses and can even be upcycled for other purposes when all 48 pieces of chalk are gone.
4. Best Rollerblades: Gonex Adjustable Inline Skates
Triple protected
8 light up wheels
Comes in 3 size
Comes in 3 colours
Pricey
Not durable
Lights don't turn off
Only sizes are for younger kids
Wheels need to be tightened regularly to prevent them from falling off
Key Specs
| | |
| --- | --- |
| Difficulty: | Medium |
| Ages: | 1+ |
| Players: | 1 |
| Cost: | $$$ |
Be active and look cool while doing it with these inline skates.
Roller blading is back in style and these Gonex Adjustable Inline Skates are just the thing to keep your kids active and in style. Made from PP material, sandwich mesh, PVC leather, and EPE foam, these comfortable skates come with ABEC-7 bearings for smooth, quiet, and safe glides. Available in small, medium, or large sizes (for younger kids only), these adjustable skates are triple protected and even come with eight flashing wheels for added coolness and so you can keep an eye on them from a distance when the sun starts to set.
5. Best Scooter: Razor A5 Lux Light-Up Kick Scooter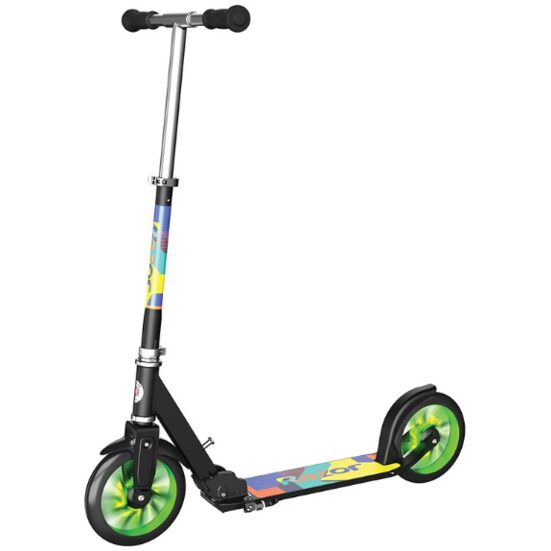 Foldable
Light up wheels
Comes in 2 colours
Adjustable handlebar
220lbs weight capacity
May arrive damaged
Lights glow more than light-up; barely visible during daytime
Key Specs
| | |
| --- | --- |
| Difficulty: | Easy |
| Ages: | 5+ |
| Players: | 1 |
| Cost: | $$$ |
This scooter is foldable, has an adjustable handlebar, and has light up wheels for the ultimate ride.
Hanging out with friends is fun, but riding with them is even better and this Razor A5 Lux Light-Up Kick Scooter will let him or her be the envy of all his friends while they hang out. The aluminum frame is sturdy, the handlebars are adjustable to support taller riders up to 220lbs, and the rear fender brake makes stopping quick and easy. The urethane wheels make for a smooth ride and when in use activate the light show that mirrors the company logo while spinning, and there are bold, colourful graphics on the deck and handlebar for a youthful look. The best part is the scooter is foldable so it can be taken anywhere your kid can carry it.
6. Best Board: Skatro Mini Cruiser Skateboard
22" in length
Great for beginners
Comes in 22 colours
200lbs weight capacity
Includes a bonus colour matching T-tool
Pricey
Too soft and flexible for some
Replacing bearings is recommended
Some colours can look dingy after a while
Questionable operation closer to the weight limit
Key Specs
| | |
| --- | --- |
| Difficulty: | Medium |
| Ages: | 5+ |
| Players: | 1 |
| Cost: | $$$ |
Available in over 20 colours this mini cruiser skateboard will have your kid stylishly gliding around the place in no time.
Make commuting or chilling easy with this Skatro Mini Cruiser Skateboard that comes in over 20 colours to match anyone's style. The ABEC-7 bearings, 59mm urethane wheels, and 3" lightweight aluminum trucks made it durable, and the Skatro Flexy Technology ensures optimal flex on every board. At only 22" in length (smaller than the average skateboard), it's compact and lightweight enough to carry and even comes with a bonus T-tool that matches in colour with the rest of the board so you can fine-tune or repair it yourself.
7. Best Educational: NATIONAL GEOGRAPHIC Air Rocket Toy
Foldable legs
Batteries included
Stomp pad is extra large
Comes with learning guide with instructions
Includes 3 LED-equipped rockets, 1 rocket launcher base, and 1 launch tube
Not durable
Rockets don't launch far
Batteries aren't replaceable
Lights don't turn off automatically
Need a large open field or you may lose the rockets
Key Specs
| | |
| --- | --- |
| Difficulty: | Medium |
| Ages: | 6+ |
| Players: | 1+ |
| Cost: | $$ |
These air rocket toys let your kids experience the joys of STEM with a high quality toy that puts on a show and educates them.
Encourage physical exercise, scientific exploration, balance, and fine motor skills with this NATIONAL GEOGRAPHIC Air Rocket Toy that lets you launch rockets up to 30.5 metres into the air with just the power of your body. With an adjustable launch tube that lets you launch in any direction, kids can read through the learning guide and go through detailed flight experiments while getting insight into the physics of motion and aerodynamics. The three differently designed rockets come with foam-tips and LED lights (that can be turned on or off) for a safe and spectacular show. Just use both feet to launch the rockets by stomping on the extra large stomp pad and watch each rocket go. Kids can be kept entertained as long as they have stamina - and then some - with how fun this set is. When you're all done, the legs are foldable for both quick setup and easy storage.
8. Best Sports Activity: Franklin Sports Badminton Net Set
Comes with a carry bag
Available in a starter, family, or professional set
Includes 4 rackets, 2 birdies, and 6 stakes and guy ropes
20' x 2' net comes with 1.25" diameter steel poles that can adjust from 5'1" to 8' high
Not durable
Need a large space for the net
Quality control issues with missing pieces
Ordering additional birdies is recommended
Key Specs
| | |
| --- | --- |
| Difficulty: | Medium |
| Ages: | 5+ |
| Players: | 2+ |
| Cost: | $$ |
Have fun with the whole family with this complete badminton net set that has everyone active and entertained at the same time.
The Franklin Sports Badminton Net Set has everything you need to get started having your own matches or tournaments of badminton. An easy to assemble 20' x 2' net comes with 1.25" diameter steel poles that can adjust from 5'1" to 8' high to accomodate all ages as well as four aluminum badminton rackets, two nylon birdies, six stakes and guy ropes, and a deluxe carry bag to bring it all in with. Set it up in your backyard or on your next outing and watch everyone go wild at beating each other at this fun sport.
9. Best Trampoline: Stamina Folding Trampoline
Has a steel frame
Folds for easy storage
250lbs weight capacity
Comes with a safety pad
Rubber legs are detachable
Noisy
Short lifespan
Too stiff for some
May be hard to set up for some
Key Specs
| | |
| --- | --- |
| Difficulty: | Easy |
| Ages: | 5+ |
| Players: | 1 |
| Cost: | $$ |
Burn off extra energy with this 3' folding trampoline.
This Stamina Folding Trampoline lets kids and even adults go wild until they can't go anymore. The jumping surface isn't too narrow and has a 250lbs weight capacity and the rubber legs are detachable so that the foldable trampoline can be easily stored away when not in use. Cranky toddlers are no fun, but sleepless ones are even worse so this trampoline can be used to burn off any excess energy before bed so that everyone can sleep better.
10. Honourable Mention: 4 Fun Cosmic Mini Golf 5 Hole Set (Deluxe)
40+ hour LED light
Obstacles like spinning windmill is included
Kit is glow in the dark when exposed to black lights
Includes 5 obstacles, 5 holes with flags, 5 tee mats, 2 LED golf balls, 1 steel putter
Comes with wrinkle-free 7.5' x 6' mat, plastic border, a reusable scorecard, and storage tote
Only one putter
Mat won't lie flat on grass
Mat isn't large enough for some
Black lights are sold separately
Key Specs
| | |
| --- | --- |
| Difficulty: | Medium |
| Ages: | 4+ |
| Players: | 1+ |
| Cost: | $$$ |
There's no need to leave your house to have your own session of mini gold with this set.
Assemble this 4 Fun Cosmic Mini Golf 5 Hole Set whenever, wherever, and however you want. The 7.5' by 6' green printed felt mat is wrinkle free and allows for multiple configurations with the plastic border, five obstacles, five holes with flags, five tee mats, two LED golf balls, one steel putter with rubberized head, a reusable scorecard, and a convenient storage tote. Play indoors or out and enjoy a glow in the dark experience when the set is exposed to black light (sold separately). Obstacles like a spinning windmill make the game as challenging as you need it to be and makes it great for competing against friends. Only one putter is included, though, so if your kids don't like sharing a separate one might need to be bought.
Conclusion
Fresh air is a must have for everyone, but without something to do outside besides walk and look at trees it can get boring pretty quickly. Outdoor activities should be engaging and encourage physical movement. In this article we've looked at a host of activities from sports to toys and more to ensure that people of all ages have something to do alone or with others. Consider your needs and budget and you're sure to find something here to take home or to inspire you.
Leave a Comment
We're always looking for more feedback! If you own any of these items and would like to share your experience, please comment below!
RedFlagDeals.com is reader-supported. We are a participant in the Amazon Services LLC Associates Program and other similar affiliate advertising programs. These programs are designed to provide a way for sites to earn advertising fees by linking to them. This means that RedFlagDeals.com will sometimes get a small commission if you make a purchase through our links.