The Best Nintendo Switch Accessories
Table of Contents
The Nintendo Switch is one of the most impressive video game consoles of the 21st century for its versatility of being able to take it with you as a portable console as well as being able to play through your TV. Because of the many ways you can play, it only makes sense that there are some add-on purchases you might want to make to get the most out of your Switch.
For this list, we're put together six accessories we think everyone would be wise to invest in, and they range from physical safeties like glass screen protectors to microSD cards to controller adaptations, and so much more! After the list we'll go into some finer details about why these accessories, and others like them, will help you out in the long run as you continue gaming on the Nintendo Switch.
1. Editor's Pick: Hestia Goods Screen Protector
Includes screen cleaning kits and instructions for easy and confident application
9H hardness level is scratch, chip, and fingerprint resistant, and is 99.9 percent transparent
Filters blue light to reduce eye strain while gaming
Does not fit the screen for the Nintendo Switch Lite
Key Specs
| | |
| --- | --- |
| Quantity: | Three glass screen protectors |
| Materials: | Tempered glass; oleophobic coating |
What good is a Nintendo Switch with a broken screen? Keep it safe from harmful cracks with these solid and lightweight glass protectors.
We are all used to putting glass screen protectors on our smartphones because we know that the cost to fix a cracked or worse screen is too much, but in price and inconvenience, so why not get that same peace of mind for your Nintendo Switch? In this pack you'll receive three glass screen protectors that are 0.3mm thick, to ensure perfect compatibility with the touchscreen, and they won't add weight to your console or give any visual distortions.
2. Runner Up: SanDisk 256GB MicroSDXC
Works with the Switch and Switch Lite
Bright yellow design makes it easy to find if misplaced
Lifetime warranty
As with all memory cards, you will only have capacity just under 256GB
Key Specs
| | |
| --- | --- |
| Read/Write Speed: | 100 MB/s Read; 90 MB/s Write |
| Product Dimensions: | 11 x 15 x 1 mm |
Don't worry about deleting games or game files in order to make room for the next one, easily expand your storage possibilities with a MicroSDXC.
Let's be honest, in this day and age where video games files are massive, the Nintendo Switch's 32GB internal storage isn't going to go very far. There is a very easy solution of course, a memory card. These aren't new concepts to gamers, and so the Switch has a convenient slot for a microSD. This model from SanDisk was specifically created with Nintendo for the Switch to ensure full compatibility. With 256GB, you'll be able download pretty well all the games you can manage to play at one time.
3. Most Useful: Pro Controller
This is Nintendo's official Pro Controller, ensuring full compatibility with all their games
Use it with TV and Tabletop Modes
Joysticks are a huge improvement over the Joy-Con's
R, L, ZR, and ZL buttons are not pressure sensitive as we see in Playstation and Xbox controllers
Key Specs
| | |
| --- | --- |
| Wireless or Wired?: | Wireless controller |
| Battery: | Rechargeable |
| Product Dimensions: | 6.4 x 15.6 x 14.4 cm; 399.16 g |
They call it the Pro Controller because it's definitely more for the pro gamers and less the casual/hobby gamers, but there are still reasons you may want to keep it on your radar. While the Nintendo Switch does come with a traditional controller for you to slide your Joy-Cons into, many gamers will notice it still feels cramped and can be difficult to accomplish some tasks required in-game. The Pro Controller eliminates this cramped setup by giving you a controller reminiscent of the Gamecube controller — a favourite among professional gamers — which gives you more space to make sure you can game as easily as possible.
4. Sleeper Pick: FastSnail Grip Kit
Available in Black, Blue and Red, Green and Pink, Green and Yellow
Come with joystick Thumb Grip Caps (in three sizes) to give ease to your thumbs but extending them up to meet you
Easier to press the Joy-Con SR and SL buttons
The rubber is harder than some buyers expect
Key Specs
| | |
| --- | --- |
| Materials: | High-Quality ABS with non-slip rubber matte surface; silicon thumb grip |
Sometimes you just need a more ergonomically correct way to play, especially with the small little Joy-Con — try these!
One of the best things about the Nintendo Switch is that when you want to play a game with your friend, you can literally just take off the Joy-Cons and you have two controllers! If you've played this way before, and like me you're an adult, you may have noticed it can be hard to hold on to those small little controllers with confidence. This FastSnail Grip Kit offers you two non-slip rubber cases that you slide your Joy-Cons into for an easier and cramp-free experience holding your controllers.
5. Also Consider: Mumba Blade Rugged Case
Available in Black, Red, Green, Navy, Purple
Easily remove the Joy-Cons for Tabletop or TV Mode playing without removing the case
Clean off fingerprints with a damp cloth and don't worry about hurting anything
The dock can be a tight squeeze
Key Specs
| | |
| --- | --- |
| Materials: | Thermoplastic polyurethane, Polycarbonate |
| Product Dimensions: | 27.18 x 12.19 x 4.32 cm; 124.74 g |
This case not only protects your Switch from any bumps or falls with shock-absorbing TPU, or scratches with PC materials, but it also will protect your wrists and hands from unnecessary strain associated with improper ergonomics. The handles that extend out the sides are made to give your hand a fuller grip — no collapsing in on your palms which can lead to cramping and pain. The best part is that the case is slim through the body of the Switch and has cutouts so that you can easily place your Switch on the dock to charge without removing the case itself.
6. Honourable Mention: Orzly Carry Case
Heavy duty zippers are designed to remain zipped until you pull them open
The handle on the outside is rubberized for comfortable and easy holding
The casing is shock resistant — it can fall off a table and your Switch will remain unharmed
Won't fit a charging cable with AC plug
Key Specs
| | |
| --- | --- |
| Product Dimensions: | 12.7 x 12.7 x 1.78 cm; 280 g |
Pack everything you need in this one convenient case, and don't worry, the outside is a sturdy Ethylene-vinyl acetate (EVA) material that will withstand bumps and falls while ensuring everything inside is OK. Now what's inside, you ask? The bottom of the unit has space for your Nintendo Switch in a snug and movement free slot, which also has two elastic bands to keep it from bumping up and down. The screen will be protected by the soft padding that contains eight-game cartridge slots on its opposite side. In the roof of the case is a pouch that fits up four additional Joy-Cons, as well as your charging cables.
7. Racing Games: Joy-Con Wheel Pair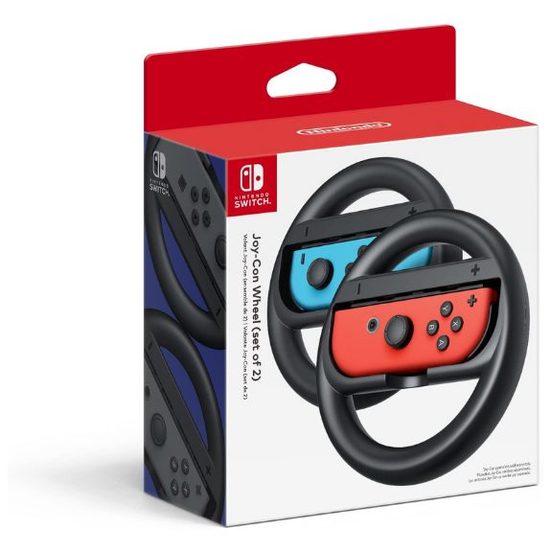 Authentic feel
Easy to pop controllers out
Sleek design
Small construction; better suited for small hands
Wheel is top heavy
Key Specs
| | |
| --- | --- |
| Product Dimensions: | 6.4 x 13.69 x 16.69 cm |
Compatible with Mario Kart 8 Deluxe and other Nintendo Switch games, you and a friend can throw in your Joy-Cons and enjoy an afternoon of realistic racing with this durable and sleek Nintendo Switch Joy-Con Wheel set.
If you can't get enough of Mario Kart or other racing style games, you need to add a set of steering wheel adapters to your accessory collection. Aside from a more realistic driving experience, you'll enjoy better in-game control to help you zoom past your competition.
Each Joy-Con set includes 2 sleek, all black wheels so that you and a friend can feel like you're behind the wheel!
8. Charging Stand: FastSnail Controller Charger for Nintendo Switch
Backed by a one-year warranty
Great way to keep all of your devices organized
Compatible with multiple charging configurations
Simple operation
Available in black, blue or green stands
May be difficult to travel with
Lights not always 100% accurate
Key Specs
| | |
| --- | --- |
| Product Dimensions: | 12.45 x 11.43 x 5.84 cm |
Great for busy houses who need a one-stop-shop to charge and store all of their electronics, this FastSnail Controller Charger can charge 4 Joy-Cons simultaneously, or 2 Joy-Cons and a pro controller.
As you build up your accessory collection, you'll need an easy and convenient way to charge, organize and store all of your electronics. Luckily, that's where this FastSnail Controller Charger comes into play.
It's slide-in design makes this versatile charger easy-to-use and will help keep your floors or tables clear when all the fun and games are finished for the day. This handy stand can charge up to 4 Joy-Cons at a time, or 2 Joy-Cons and one pro controller! In addition, four colourful lamp posts indicate each device's charge level while adding a fun design element.
How To Know What Accessories Will Suit Your Needs
There's something to be said to the fact that there are almost as many accessories for the Nintendo Switch as there are games — this is of course hyperbole, but you get the idea. This just means that no matter how you use your Nintendo Switch, or how much, there are accessories that will help you either get the most out of your gaming experience, or keep your Switch safe from any damage.
With the Switch specifically, there are three distinct ways to play: TV Mode, Tabletop Mode, or Handheld Mode — all of which come with accessories that will suit one or two modes. First thing to consider when looking at accessories is figuring out how you prefer to play, or at least how you play usually, because you won't want to invest in an accessory that doesn't compliment your preferred method.
For those who prefer to take their games with them — if you have a long commute to work, or like to game on a lunch break, that kinda thing — one of the most important things you'll probably want is a screen protector. Even if you never have to replace your screen protector, having one on is just an insurance of sorts, peace of mind really. It's so easy to replace a phone screen with so many shops offering it, but I for one wouldn't know where to turn to get a Nintendo Switch screen replaced! Also, to keep your hands functioning later in life, you would be wise to invest in a case like the Mumba Blade. Something that offers you better ergonomics and your hands and wrists in better placement than a Switch alone lends itself towards.
If you're the kind of gamer who only plays on a TV, you're really going to need to invest in the Pro Controller. The Joy-Con's classic controller that comes with your Switch will get the job done, but if you've ever spent a few hours in a game, you'll know that it's not ideal. It's noticeably smaller than competitors controllers, or even those of past Nintendo generations (such as the Gamecube and N64 controllers). The Pro Controller will help your hands have the space and ergonomics they need for long-haul gaming sessions.
No matter how you play your Nintendo Switch, we have to encourage you to invest in more space. Just get the SanDisk 256GB MicroSDXC, please? You won't be sorry! Let's take a look at four of the most popular titles released so far on the Nintendo Switch:
The Legend of Zelda: Breath of the Wild has a file size of 13.4GB; Super Mario Odyssey is 5.7GB, Super Smash Bros. Ultimate is 13.6GB, and Animal Crossing: New Horizons is 6.2GB. Those four games need 38.9GB of space, and that's not including game files and updates. If you can't budget for 256GB, get what you can afford!
Leave a Comment
Playing the Nintendo Switch is always a fun experience, whether you're in bed, in the car, or in your home cinema, there are just so many ways to play anywhere and everywhere that it's truly one of the coolest consoles on the market today. Even though it's already very cool, this doesn't mean that some accessories won't enhance your experience even more, whether that means safety, storage, or ways to control your system. We truly think all six items on our list are worth investment, but if not, any one will improve your gaming.
Did we miss any essential Nintendo Switch accessories? Let us know in the comments!
RedFlagDeals.com is reader-supported. We are a participant in the Amazon Services LLC Associates Program and other similar affiliate advertising programs. These programs are designed to provide a way for sites to earn advertising fees by linking to them. This means that RedFlagDeals.com will sometimes get a small commission if you make a purchase through our links.