The Best Night Driving Glasses
By
Jordan Maxwell
February 17, 2021
The concept of sunglasses is an obvious one, and most of us know the benefits of using a pair while driving during the day. Night driving glasses serve a similar purpose, reducing reflections and glare caused by street lights and oncoming traffic. Your visibility is already hindered when you drive at night, which causes your eyes to work harder to stay focused on what's on the road. By wearing night driving glasses, you can reduce eye fatigue and ensure you're seeing things as clearly as possible.
To do this, night driving glasses generally feature yellow-tinted lenses that are designed to filter blue light. In addition, some will have anti-reflective coating on those lenses, further reducing reflections from light.
Now before we dive into our top picks, it's worth mentioning that night driving glasses may not work for everyone. In fact, some companies have a disclaimer stating just that. But if you experience eye fatigue or have trouble seeing clearly while driving at night, it's worth trying out night driving glasses. Some of our recommendations have a money back guarantee, so it's little to no risk to try out a pair.
Also, you'll find that many night driving glasses have similar features and choosing the best pair for yourself may come down to style, comfort and even price. Because of how similar night driving glasses are, we diversified our picks based on styling and price, so hopefully there's something that fits your personal taste.
1. Editor's Pick: Blupond Night Driving Glasses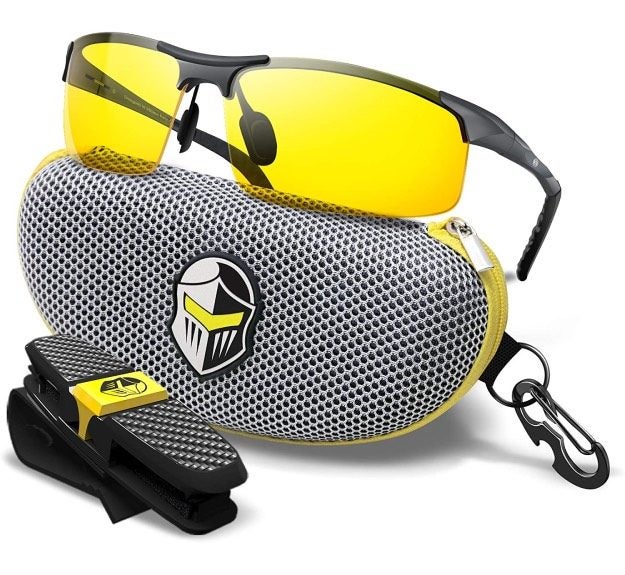 For many people, the glasses they wear not only have to be comfortable, but stylish. As we mentioned before, many of our recommendations will be similar aside from their style and materials. Our top pick goes to Blupond's night driving glasses, featuring a designer semi-rimless frame for a larger field of sight and shatterproof lenses made from polycarbonate. The metal frame uses reinforced hinges, while a black anti-slip nose bridge contributes to comfort and prevents smudging on the lenses.
Constructed from durable materials, these sunglasses will endure with its metal frame built to survive inevitable drops and dings. The 100-percent UV400 polarized lenses work to reduce blue light to reduce eye strain and improve visibility.
The company includes a hard case, screwdriver, pouch, microfiber cleaning cloth, clip for convenient car storage and a gift box with each order.
2. Best Rimless Design: ATTCL Polarized Sunglasses
ATTCL's offering is actually available with a variety of different lenses, but you'll want the 'HD Night Vision' option for nighttime driving. These glasses use yellow lenses to reduce glare and eye strain, while improving vision and color clarity. The company claims the lenses on these glasses can filter out about 20 percent of glare at night.
The frame is manufactured from aluminum-magnesium alloy, keeping them strong yet light. Adjustable and soft silicone nose pads contribute to comfort. It's worth noting that while these glasses do offer 100-percent UV protection, these are non-polarized lenses. But one major reason why we have this recommendation towards the top of our list is the company's 30-day money back guarantee. Try them out at no risk to see if they improve your nighttime visibility.
3. Best Retro Design: TERAISE Night Driving Glasses
If you're a fan of retro-styling, here's our recommendation for you. From TERAISE are these night driving glasses that are available in either gray or black. The company also offers a more classic, semi-rimless frame design in the same colors. Regardless of which style you choose, you'll get a textured metal frame and smooth, curved temples with hinges that contribute to comfort. Those temples are constructed from durable aluminum-magnesium alloy so they can safely stretch to accommodate your face without worrying about durability.
The UV400 lenses not only enhance polarized light, but will also filter out glare and reflections. Further enhancing comfort are silicone nose pads that work to eliminate pressure on the bridge of your nose. Along with the sunglasses, you'll get a foldable case, cloth, adjustment mini screwdriver and a pair of extra nose pads with your order.
4. Best for Poor Weather: Lumin Night Driving Glasses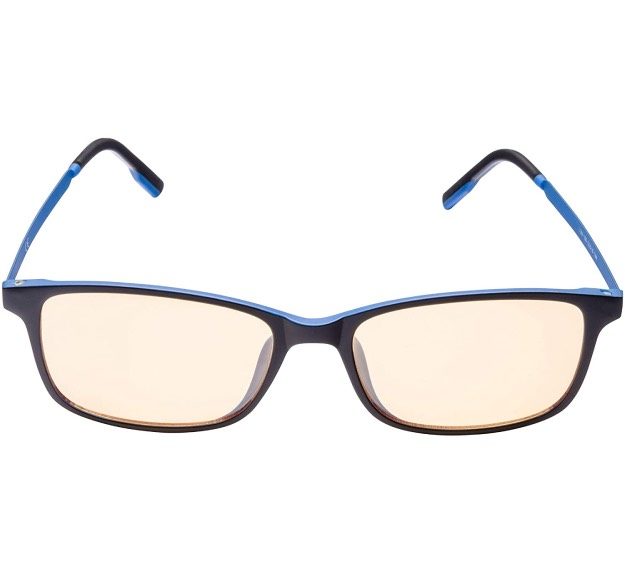 Now for something a bit different, this recommendation from Lumin is actually designed for poor weather conditions. That means the lenses aren't tinted as yellow as other options, since these glasses are designed to work in rain, mist, fog and smog. The lenses work to reduce eye fatigue and prevent headaches, while the low yellow tint improves vision by letting just the right amount of light in. You can choose from three different styles: Shift, Sol and Vector.
The shatterproof and scratch-resistant lenses are made from polycarbonate and they offer UV400 protection. They are also hydrophobic, so water doesn't linger and form spots. This recommendation is ideal for drivers who often commute in various forms of poor weather and want a solution that also helps during nighttime driving.
Lumin also offers a 30-day guarantee so you can try these glasses out risk-free.
5. Best on a Budget: Optix 55 Polarized Glasses
One of the most popular options on our list comes from Optix 55. These are extremely affordable night driving glasses, which gives you an opportunity to try them out to see if they have any benefit to you. As our budget pick, these glasses have a plastic frame with a non-slip rubber finish. The polarized lenses have a coating designed to eliminate intensely reflected light to reduce glare and reflections. You can choose from black or tortoise finishes for the frame.
While night driving glasses don't really get too fancy, this option is one of the most basic. But combined with its price tag, it's easy to see why it's also one of the most popular options. Optix also gives you a 30-day guarantee, so if you're not satisfied, simply send them back for a refund.
6. Also Consider: Bircen Night Driving Glasses
If you want a more modern style, consider Bircen's night driving glasses, which are available in two different designs. Regardless of which one you choose, you'll get a magnesium-aluminum frame with polarized composite lenses. These yellow lenses are designed to block headlight glare so you have a clearer view while driving in the dark. They'll also help on rainy and foggy days for a safer drive.
As you can expect, the lenses are made from shatterproof polycarbonate. The lightweight frame is highly elastic and durable with flexible arms and nose pads to fit different faces. As a more premium option, Bircen does offer a 30-day money back guarantee with its product. Each order also includes a cleaning cloth, case and bag.
Benefits of Using Night Driving Glasses
There are plenty of debates on the benefits of night driving glasses, but as we all know, everyone's eyes are different. Some drivers may not notice any benefit from night driving glasses, while others refuse to drive at night without them.
Here are some of the benefits you might enjoy from night driving glasses, if they're helpful to you.
Reduce Eye Strain and Fatigue
If you often drive at night and need to strain your eyes, you may want to try out a pair of night driving glasses. Eye fatigue can be exhausting and clearer nighttime visibility could be just what you need.
Anti-Glare
Many night driving glasses are designed to have anti-glare lenses to reduce incoming lights and reflections. Naturally this helps improve nighttime visibility, but just how much largely depends on the person.
Tips on Buying Night Driving Glasses
As we mentioned before and you might have discovered while looking over our top picks, most night driving glasses have similar features. You'll generally find yellow-tinted lenses made from shatterproof polycarbonate, designed to cut down on reflections and glare so it's easier to see at night. But you shouldn't just shop based on design—here are some other factors to consider.
Comfort
Comfort is an important factor when choosing the right glasses since you don't want them to bother you while you're driving. Unfortunately, if you're shopping online, it's difficult to check how they fit. This is why we recommend purchasing a product with a good return policy. This way if they're not comfortable, you can ship them back for a refund.
Materials
Most night driving glasses have metal frames made from lightweight aluminum-magnesium, while others are plastic. If you are worried about durability, consider spending a bit extra for metal frames.
Night Driving Glasses FAQ
Why do I need night driving glasses?
Well, the answer is that not everyone does need night driving glasses. But if you're constantly having to strain at night and are experiencing eye fatigue while driving, you may want to try out night driving glasses to see if they help.
Do night driving glasses help?
This varies from person to person, but if you have difficulty driving at night, there's a good chance night driving glasses will help you out.
Finding the Best Pair
For many people, night driving glasses greatly improve visibility while reducing eye strain and fatigue. The yellow-tinted lenses often found on these glasses help cut out blue light, so you can see much better at night. But this may not be the case for everyone, which is why we recommend taking a pair for a test drive by choosing a recommendation with a 30-day guarantee, unless you know for sure they'll help you out.