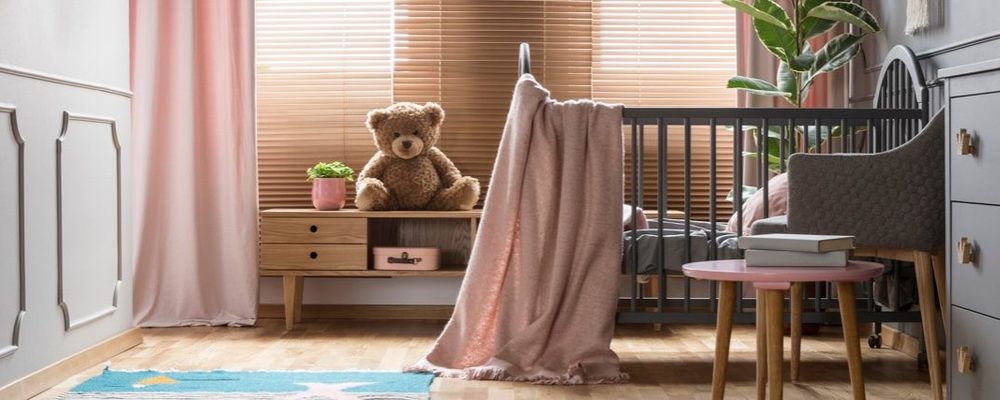 The Best Cribs for Your New Baby
By
Jordan Maxwell
January 20, 2021
It takes time to look for the perfect crib for your little one. It's a big investment to consider because the one you purchase will ideally be the one that you use for the first few years of their life, especially if it's a convertible model. Whether you use a crib from day one or starting using it after the first three months when they're ready to sleep on their own, it's important to get the most out of it and even longer if the crib converts to a toddler bed.
For all the important milestones that you'll celebrate over the first couple years, the time spent around his or her crib is one of the special items you and your partner will reminisce about for years. There will be days when you sit quietly and watch them sleep in it and there will be days when you're feeding your little one before putting them back to bed.
If you're looking for the most functional and comfortable sleeping area for your infant, we'll help you along the way so that your shopping experience can be a positive one. We've put together a guide for the best baby cribs available this year. If you're welcoming a new bundle of joy, this buyer's guide will help you get prepared to find the best baby crib for your space or newly designed nursery.
Cribs to Buy
When buying a crib, it's important to consider all of the points we mentioned above but it's also crucial to consider the size of your space as well. Whether you're moving the crib into your room or if you've designed a nursery for your baby, size counts. Here are a few models that will cover all the bases so you can hit a homerun with your purchase.
1. Editor's Pick: Babyletto Hudson 3-in-1 Convertible Crib
Dimensions: 54" x 29.8" x 35"/Weight: 56.5lbs
Practical for smaller parents
Converts to daybed and toddler bed
This is one of the most popular and practical models on the market today. Recommended highly by first-time parents and industry experts, the all-spindle sides let you keep an eye on baby from all angles. It also has four adjustable mattress positions to allow you to maximize comfort and safety for both you and the baby. Whether you prefer a contemporary or time-honored palette for your nursery, this model has you covered. It's diverse, versatile and unlike other options, includes a mattress so you don't have to buy one separately. In the past, some customers have complained about the assembly but if you follow the instructions, it won't be much of a hassle. While it is more expensive, it's a model that you'll only have to buy once as it will grow with your baby until at least the age of three. You can convert the crib into a children's bed when your son or daughter outgrows the crib too. The transition should occur when the toddler is mature enough to climb or has reached a height of 35 inches. It has four different height adjustments so you can adjust it as needed.
2. Graco Benton 4-in-1 Convertible Crib
Dimensions: 56.7" x 29.9" x 42"/Weight: 41lbs.
4-in-1 (crib, toddler bed, daybed and full-size bed)
Three adjustable mattress base heights
This is a great model that will take your child through their kindergarten years and is half the price of the previous model. The Graco Benton 4-in-1 Convertible Crib is certified by all major health and safety regulators and comes in a variety of colours. Perhaps the only downside is that you'll have to buy a conversion kit to transition it to a full-size bed and mattress but you won't have to worry about that until your child is 50 pounds. It's a lightweight model that has the appropriate dimensions to fit in your bedroom or your new nursery.
3. DaVinci Jenny Lind 3-in-1 Convertible Portable Crib
Dimensions: 36.25" x 19.25" x 39.75"/Weight: 22lbs.
Three-stage design
Mattress sold separately
If you're looking for a super-lightweight model that doesn't take up a lot of space then the DaVinci Jenny Lind 3-in-1 Convertible Portable Crib is a good choice, especially if you don't have a nursery of your own. It has wheels as well so you can move it around the room without scratching the floors. It can easily transform into a crib, day-bed and a toddler bed. One of the few things to consider with this model is that you'll have to purchase a mattress but if you check out our sidebar on the page, we've listed a few options for baby-foam mattresses you can buy at discounted rates. There are also four different height settings for the mattress and it's a great model even when your baby starts to crawl and climb as they age.
4. Bentley S Series Deluxe 6-in-1 Convertible Crib
Dimensions: 54.25" x 34.25" x 42.25"/Weight: 50lbs.
Three-position mattress for height adjustments
Mattress sold separately
The Delta Children Bentley S Series 6-in-1 Convertible Baby Crib is one of the heavier crib models on the market but one thing is for sure: it's built to last. Make sure that you carefully consider the size of your room or nursery before you buy this model. Still if the dimensions work, it's a great option for your baby's first crib. It can easily convert to different bed styles and there are multiple height adjustments for the mattress as well. The mattress can put the child in an upright sitting position or laying down. For further conversions, you might have to purchase a separate kit.
5. Dream On Me Classic 3 in 1 Convertible Stationary Side Crib
Dimensions: 54" x.31" x 40"/ Weight: 36 lbs.
Three-position mattress for height adjustments
Mattress sold separately; comes with wheels
The Dream On Me Classic 3 in 1 Convertible Crib is a cheaper option that the other ones we mentioned above. It's made of pine wood and is built to include the use of wheels which can lock into place. If you purchase this one, make sure you understand that you'll likely get two or three years out of it. Though it works as a daybed, it is not meant to replace a regular-sized bed so you'll eventually need to look for a model that will take your child through to their elementary school years.
6. Storkcraft Tuscany 4-in-1 Convertible Crib
Dimensions: 60.8" x 29.5" x 50.5"/ Weight: 56.5 lbs.
Three-position mattress for height adjustments
Supports children up to 35 inches tall
This is a practical and affordable option that will last until your child is three feet tall. While quite heavy, it's built to last; just make sure that you're building it close to the spot in which it'll rest. It can convert into a toddler bed and transform into a standard-sized bed once your child is ready to make the change. The good news is that it comes with a guard rail so you don't have to buy all of the extras but you're likely to have to buy a bed frame for it if you're considering one.
Features to Consider When Buying
When you're in the market for a good crib, there are a number of factors to consider. Of course, you have to worry about size and fit, but you also want to pay attention to things like accessibility and adjustability as well. Many people make the mistake of shopping for what you need today instead of what you'll need down the line. It's important to consider all of the variables when looking for a proper crib. Here are a few more things to consider when you're looking to purchase.
Mattress and Comfort : One of the most important things is the mattress. Some cribs come with a mattress and some don't. If you have to buy a mattress separately, the primary focus is to buy something comfortable so that your little one has a cozy place to sleep at night and during the day. Not only does it have to fit snugly but it also has to be comfortable enough for your baby. You can check out some comfortable models in the sidebar of this piece; we've highlighted a few models.
Accessibility : As a new parent, you'll probably want to have your baby in the same room with you, or even sleep in your baby's room from time to time. It's totally understandable. You're trying to establish a feeding and sleeping routine. Because of that, it's likely that your baby will be awake at different times throughout the night and you'll need to be there to respond to their needs. Whether you're using a bassinet or your new crib, being able to grab, or put down, your baby without waking them up is key. You want to make sure you buy a model that is easily adjustable. Depending on your height, try to make sure you consider a crib that is high enough so you are not constantly bending over too far.
Safety: There's nothing more important than this. Yes, it's pivotal that your baby is comfortable but it's even more crucial that they're safe. When you're a new parent, everything can be a hazard so doing your best to find the safest model possible is a good move. What worked for your parents might not work for you so consider your needs every step of the way. Ensure that: the slats are strong enough; the frame doesn't bend or flex; the mattress is level and flat; the materials used to build the crib are non-toxic and approved and Health Canada-approved.
Types of Cribs
While there are adjustable models to consider, you can also choose from a couple of other options and styles when you're looking for a safe and comfortable place for your baby to sleep. Here are some options:
Bassinets: They are smaller but they are also cozy and comfortable. Many people love them because of the dimensions but also because they are mobile. They work well for smaller apartments and condos where your space is often limited. Some even have pockets for extra storage and can be used when travelling as well.
Travel Cribs: This is another option if you're travelling a lot and need a safe and comfortable place for your baby. They are lightweight and portable; while not as premium as a traditional crib, it's great for the busy mom and dad who are always on the go.
Multifunctional: These kinds of cribs often come with built-in drawers and a changing table. The downside is that they're expensive and can be bulky. Make sure that you have the space to incorporate this in your nursery. Remember that you need space to move around and storage for your baby's clothes and materials.
FAQs for Cribs
This is an important purchase, one of you'll have to live with for a long time so take your time with it. When building out your nursery, the crib is one of the most important elements to buy.
Can I Buy a Used Crib?
There are generally many reasons to consider this option — a limited budget being one — but you need to ensure the crib is safe and that isn't always the case with used cribs. You can still find good value in a new, cheaper option from IKEA, which can run you $100. It's worth it because you'll find that older, used cribs are no longer practical or you'll find that some have been recalled. Used cribs are not sold with a warranty either so you don't have protections in place if it breaks, or doesn't come with a key item or piece.
When's the Right Time to Transition to a Bed?
You'll likely want to consider this around the age of 5 when your child is likely to outgrow or outweigh the recommended standards. You can also make this choice when you believe it's no longer practical and when it becomes a safety hazard, especially if your child starts to climb.
What Safety Guidelines Should I Consider Before Buying?
One of the first things you should do is make sure that the crib you're buying hasn't been recalled. Make sure that it has met global standards. Also make sure that your crib is made of non-toxic materials. As your baby ages, they will lick or suck on the slats which could lead to numerous health risks due to certain types of materials. Speaking of the slats, which sure that they can support the weight of your baby and make sure they are safely and properly installed. Pay attention to the maximum weight they can hold so your little one can stay safe. Lastly, try to avoid drop-side cribs. They are no longer considered safe for babies.
Start Shopping Today!
Consider the size and space of your room and allow yourself enough room to add items such as a dresser, a changing table or even a futon for those late-night feeds. Most cribs will last for three years, depending on the model. The cheapest can turn out to the be the dearest so don't be afraid to spend a little bit of money on it. Check out our sidebar to see deals on cribs available and accessories that will help support you in your choice. You can also check out our guide for baby car seats as well. Happy shopping!
RedFlagDeals.com is reader-supported. We are a participant in the Amazon Services LLC Associates Program and other similar affiliate advertising programs. These programs are designed to provide a way for sites to earn advertising fees by linking to them. This means that RedFlagDeals.com will sometimes get a small commission if you make a purchase through our links.