The Best Multivitamins
Table of Contents
It's not always easy to eat a healthy, well balanced meal. Whether you don't have the time to prepare a meal, have strict dietary restrictions, or simply have a few picky eaters running around your house, multivitamins are a great way to make sure your body is getting the vitamins and minerals it needs to stay healthy, happy, and energized.
Now like most products, not all multivitamins are made the same. In fact, because multivitamins don't have a "standard" set of ingredients, the nutrients used will almost always vary from company to company. A lot happens in our bodies as we age, and over the years we may require different types of nutrients to help us maintain a healthy lifestyle. For example, some multivitamins are created for kids and teenagers as they grow into their bodies and their hormones change, while others are designed for pregnant women or people aged 50 and older. Although multivitamins can be a useful tool for people who need a little extra help meeting their daily nutrient requirements, not everyone will benefit from multivitamins.
To find out more about multivitamins, their effects on your body and if you should take them, check out our FAQ section at the bottom of the article.
How Do I Find The Best Multivitamin?
Since there's no set standard as to what vitamins and minerals need to be in each product, every bottle you see could contain a different set of ingredients. Not to mention, multivitamins come in all sorts of forms. Powder, tablets, gummies, liquids: you name it.
Check out this list of the best multivitamins on the market for men, women, kids, and more!
1. Editor's Choice: Swiss Natural Timed Release All in One Multi Vitamin
Time release capsules
Packed with multiple B vitamins
No wheat, artificial colours, or preservatives
Large pills
May be hard to swallow
Not for children or pregnant or breastfeeding women
Key Specs
| | |
| --- | --- |
| Total Capsules: | 72 |
| Serving Size: | 1 |
| Product Capsule: | Caplet |
Some multivitamins are specially formulated for men, some for women, and others with the needs of children in mind. This choice is suitable for all adults regardless of sex.
One capsule of this Swiss Natural Timed Release All in One Multi Vitamin each day provides enough vitamins and minerals for daily maintenance, overall health, and everything you need to help your body metabolize fats, carbohydrates, and protein.
These multivitamins are packed with B vitamins, which many people lack in their diet. B complex vitamins have a direct impact on your energy level, brain function, and cell metabolism and also help to prevent infections and support and promote cell health. Each capsule also gives you a full range of other vitamins and minerals from beta-carotene and biotin to vitamins A, C, D3, E, calcium, magnesium, copper, zinc, and more.
Swiss Natural has also developed this time-release capsule to gradually introduce the nutrients into your bloodstream over an eight-hour period which reduces stomach upset and aids in absorption. These multivitamins do not contain wheat, artificial colours, or preservatives.
2. Best for Kids: SmartyPants Kids Complete Daily Gummy Multivitamins
Gluten free
Non-GMO
No synthetic flavours or colours
High in sugar
Expensive
Requires four gummies daily
Key Specs
| | |
| --- | --- |
| Total Capsules: | 120 |
| Serving Size: | 4 |
| Product Form: | Gummies |
These easy-to-chew gummies help your kids grow strong and healthy by providing their bodies with an extra source of omega-3, prebiotic fibre, and 13 essential nutrients. Available in three delicious flavours, these supplements were made using premium ingredients to provide your picky eater all of the vitamins and minerals they need to have a successful, productive day at daycare or school.
3. Best for Teens: NATURELO Whole Food Multivitamin for Teens
Non-GMO
Dairy and gluten free
Vegan and vegetarian
Easy to swallow
May cause headaches
May leave aftertaste
Key Specs
| | |
| --- | --- |
| Total Capsules: | 60 |
| Serving Size: | 2 |
| Product Form: | Capsules |
Ideal for teens between the ages of 13-18, this vegan and vegetarian multivitamin provides growth support by delivering naturally sourced nutrients. Made from naturally sourced vitamins and minerals, this Naturelo whole food multivitamin for teens includes Vitamin A, D3, E, folate, magnesium, and iodine to provide immune system support, boost energy, as well as support eye, skin and brain health. Help your teens get the nutrients they need, especially if their skin-care routine is non-existent, or if they're constantly on the go.
4. Best for Men: OPTIMUM NUTRITION Opti-Men Mens Daily Multivitamin Supplement
1500 IU of vitamin D
Formulated for active men
Amino acid blend to help build lean muscle
Contains soy
Deteriorates in a short time
3 pill daily intake requirement
Unpleasant taste and smell for some
Key Specs
| | |
| --- | --- |
| Total Capsules: | 150 |
| Serving Size: | 3 |
| Product Capsule: | Tablet |
This is specially formulated for men who work out regularly and would require more of the basic nutrients than when sedentary to maintain high levels of activity and build muscle.
Each three tablet dose of this OPTIMUM NUTRITION Opti-Men Mens Daily Multivitamin Supplement is packed with 75 different nutrients that support cellular energy, metabolism, muscle health, and immunity. These include 25 vitamins and essential minerals such as vitamins A, C, D, E, and K, the B complex, a phyto green blend, an enzyme blend for proper digestion, as well as a range of minerals such as calcium, magnesium, zinc, and copper.
There are also 1500 IU of vitamin D, an essential nutrient that is especially important during the winter months when there are less hours of sunshine, plus an amino acid blend with arginine, glutamine, and BCAAs, considered to be the building blocks of lean muscle. The downside is that to get the full complement of nutrients you must take three tablets a day, one with each meal.
5. Best for Women: New Chapter Every Woman's One Daily, Multivitamin Fermented with Probiotics
Gluten-free
Vegetarian and kosher
Fermented with probiotics
Non-GMO with certified organic ingredients
No added sugar, synthetic fillers, or animal gelatin
Expensive
May be hard to swallow
Unpleasant taste and smell for some
Key Specs
| | |
| --- | --- |
| Total Capsules: | 98 |
| Serving Size: | 1 |
| Product Capsule: | Gummy |
If you suffer from constipation or have digestive issues, maintaining your gut health is essential to solving those problems. This multivitamin can help with that.
The New Chapter Every Woman's One Daily comes in an easy-to-consume gummy and is made with certified organic vegetables and herbs, is non-GMO project verified, vegetarian, kosher, gluten-free and contains no added sugar, synthetic fillers or animal gelatin.
is fermented with probiotics and formulated to deliver heart, immune, energy, stress support and is gentle enough to take anytime – even on an empty stomach. Some of those organic blends include maca and camomile for stress and energy; oregano leaf, hawthorn, and grapeseed extract for cardio support; and ginger, turmeric, and elderberry for immune support. Also, with each gummy you will get a full complement of vitamins and minerals including biotin, zinc, calcium, and iodine.
6. Best Liquid: Land Art Liquid Multivitamin
Vegetarian
Non-GMO
Easy-to-take liquid
Sugar-, corn-, wheat-, yeast-, and gluten-free
Unpleasant taste and smell for some
Does not contain many important minerals
Key Specs
| | |
| --- | --- |
| Total Capsules: | 500 ml |
| Serving Size: | 1 tsp to 1 tbsp daily |
| Product Capsule: | Liquid |
For many, swallowing a pill can be difficult which can be a deal-breaker with larger sized multivitamins. That's where this easy-to-take, easy-to-swallow liquid multivitamin comes in.
This Land Art Liquid Multivitamin is suitable for the whole family. That's so much more convenient and economical than having a stack of different bottles for each member of the family. The dosage size varies from child to adults, and the peach apple-flavoured liquid can be consumed on its own or mixed into your favourite juice or smoothie.
The multivitamin contains 12 essential vitamins as well as folic acid, which supports optimal health, however it does not contain any fibre or minerals such as calcium, copper, zinc, or magnesium. The formula is vegetarian, sugar-free, non-GMO, and free of corn, wheat, yeast, and gluten and absorbs quickly so you and your family will receive all the nutritional benefits that you need to stay healthy every day.
7. Best Prenatal: Garden of Life Prenatal Vitamins
Certified organic and non-GMO
Supports fetal development
Helps fight nausea
Vegan, gluten free
Small amount of tablets per box
Hard to swallow
Key Specs
| | |
| --- | --- |
| Total Capsules: | 30 |
| Serving Size: | 1 |
| Product Form: | Tablet |
This Certified organic, non-GMO and vegan friendly prenatal supplement gives you all the nutrients you need in one pill. Each multivitamin is packed with 21 essential vitamins and minerals as well as ginger and lemon to help fight off morning sickness. Made from nutritious, organic whole foods, this Garden Of Life multivitamin was designed to support moms to be. it packs all the nutrition you need into one tablet to provide your body with 18mg of iron and 600mcg of whole food folate in one go.
8. Best for Food Sensitivities: VITALITY Time Release Super Multi+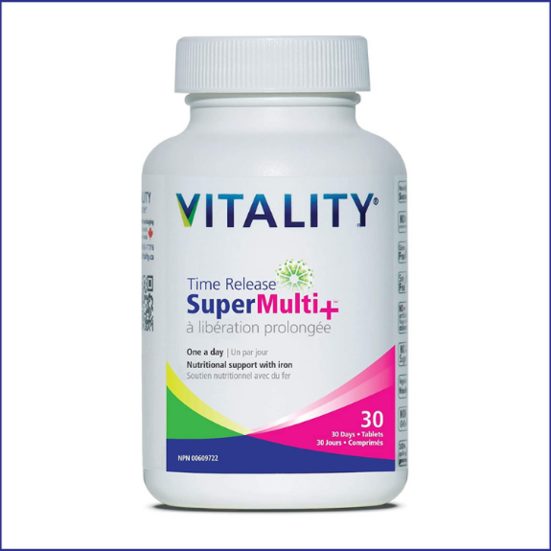 Non-GMO
Vegan friendly
Time-release formula
Gluten-, soy-, and sugar-free
Contains no artificial colours, preservatives, or fillers
May be hard to swallow
Caused exhaustion in some people
Key Specs
| | |
| --- | --- |
| Total Capsules: | 30 |
| Serving Size: | 1 |
| Product Capsule: | Tablet |
For many people with food sensitivities finding a multivitamin that won't make them feel sick when they ingest it can be a challenge. This product aims to change that.
These VITALITY Time Release Super Multi+ have all of the nutrients you are looking for without the added ingredients you may be sensitive to. These multivitamins are vegan friendly, gluten free, soy free, non-GMO, do not have a wax or enteric coating, and contain no sugar, making them a good option if you are sensitive to any of these ingredients. What they do contain are 19 essential vitamins and minerals that include zinc to support daily health and immunity, iodine and copper to support normal thyroid function, and biotin, vitamin C, and vitamin E for healthy skin, hair. and nails.
Suitable for men, women, teens, and seniors, these tablets are made from plant fibres and slowly release nutrients over two to three hours. This aids in absorption and guards against stomach upset. Made in Canada, a dose consists of one tablet a day to boost energy, immunity, and overall health and wellness.
Multivitamin FAQs
What Do Multivitamins Do?
Multivitamins are one of the most popular forms of supplements. They contain a variety of different vitamins and minerals such as Vitamin A, C, D, E, calcium, and magnesium that work to help improve your overall health and make sure that your body is getting its daily dose of nutrients. Since multivitamins can contain a wide range of ingredients, the types of vitamins and minerals used in each product will differ from company to company. Not to mention, multivitamins come in a wide variety of forms — tablets, capsules, gummies, powders, even liquids.
Should I Take Multivitamins Everyday?
For those of you who consistently maintain a well balanced, healthy diet, multivitamins won't be of much use to you. But since most of us don't always eat as much fruit, veggies, whole grains or healthy fats as we should, multivitamins can come in handy to help make sure our bodies stay healthy and get the nutrients it needs. To get the best results, it's recommended that you take your multivitamins daily and do your best to avoid missing a dose. Since most vitamins can be bought without a prescription, it's important that you follow the instructions listed on the product itself.
Are Multivitamins Bad For You?
While multivitamins are generally viewed as a safe supplement, you should never mix multivitamins without having it prescribed to you by a doctor. Pregnant or breastfeeding women should also check with a doctor before taking multivitamins. Ingesting large doses or mixing multivitamins can lead to an overdose or serious side effects, so be sure that you're following the recommended daily allowance. If you're on the fence about using multivitamins, or if you're not sure if they're right for you, talk to your doctor before buying them.
Common Side Effects
If you follow the instructions outlined on your multivitamins you shouldn't have to worry about any side effects. With that said, there are a few minor side effects that may occur as your body adjusts to using the new supplement. Upset stomachs, constipation, diarrhea and nausea are common side effects you may experience. If you see signs of an allergic reaction, such as difficulty breathing, hives or swelling, seek medical help immediately. For more information on possible side effects speak with your local doctor or healthcare professional.
Leave a Comment
At the end of the day multivitamins shouldn't be used to replace a healthy, well-balanced diet. They should be used to help fill in nutritional gaps that you aren't getting from your food.
We're always looking for more feedback! If you own one of these multivitamins and would like to share your experience with us and other readers, please leave a comment down below!
About the Author: Carlen Oliveira
Carlen Oliveira is a graduate from Ryerson University's RTA Sport Media program and is currently working as a writer based out of Toronto. She has an avid interest in all things sports and finding engaging new ways to workout. With limited access to gyms and friends during the pandemic, she discovered her love of individual activities like yoga and skipping, which push her both mentally and physically. When she's not writing or working out, you can find her exploring the outdoors and travelling, come rain or shine… and especially snow!
RedFlagDeals.com is reader-supported. We are a participant in the Amazon Services LLC Associates Program and other similar affiliate advertising programs. These programs are designed to provide a way for sites to earn advertising fees by linking to them. This means that RedFlagDeals.com will sometimes get a small commission if you make a purchase through our links.