The Best Motorcycle Covers
Table of Contents
The sun, wind, dust and rain can all wreak havoc on the chrome and paint of your beloved motorcycle. An unprotected motorbike is a target for bird droppings, tree sap, and all manner of paint-destroying natural commodities. That's why a motorcycle cover can help protect it from the elements. Motorcycle covers also help protect your motorcycle from prying eyes, which can improve its security.
The best motorcycle covers have a soft lining to protect your ride, while also offering protection against UV rays and water. They'll also have reinforced grommets or hems to help you tie them down and secure them. Check out some of the best below; here are some of our favourite motorcycle covers:
1. Editor's Pick: XYZCTEM New Generation Motorcycle Cover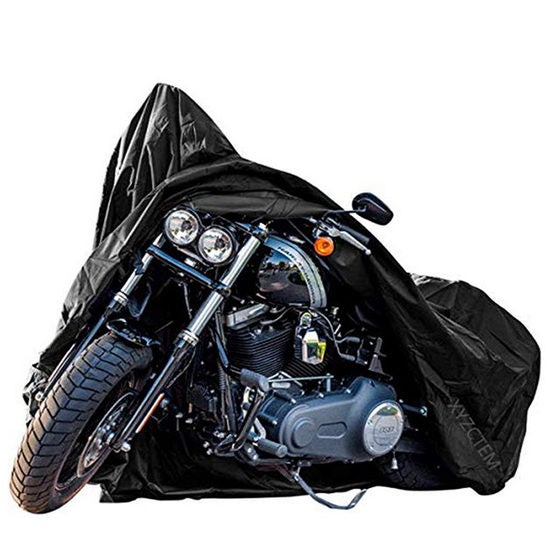 Fits any size motorcycle
Heavy-duty and durable
XYZCTEM's hugely popular offering is the last motorcycle cover you'll ever need to buy. It fits motorcycles up to 118" (2,997mm) long, so you can use it for your sport bike, adventure bike or cruiser. It features a soft, non-scratch liner and a heavy-duty, 300-denier polyester shell that is breathable as well as waterproof and UV proof.
This cover has some heft to it, so it's not a very portable option, and it comes in a one-size-fits-all style only, so if you want something a little tighter fitting look elsewhere. You'll still be able to get a secure fit around your bike with this product courtesy of the thick elastic liner, and the included wind-proof strap with quick connector buckles.
It is heat resistant, so you can put it on your motorcycle sooner than other covers and don't have to worry about the exhaust burning a hole in it. There are also two large aluminium grommets at either end so you can lock the cover to the motorcycle with a large motorbike lock chain.
The price gap between this and other options is so small it is barely relevant, making this an excellent choice for any rider. XYZCTEM even throws in a free storage bag for the cover!
2. Runner Up: UltraGard (4-358) Essentials Touring Half Cover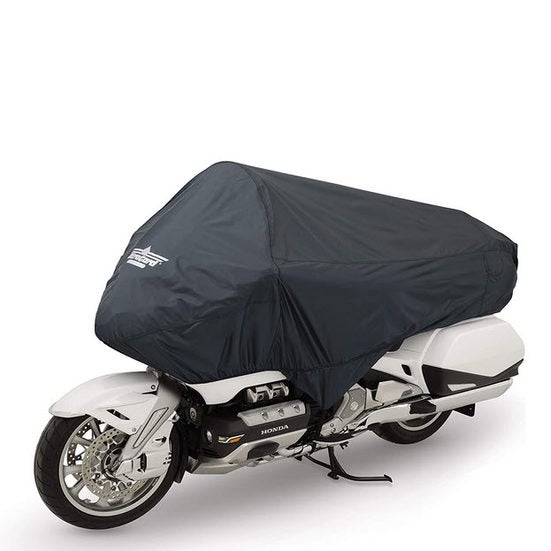 Doesn't offer full coverage
Limited security
The Ultragard Essentials half-cover is perfect for multi-day road trips on your full-dress cruiser or touring bike. The lightweight and waterproof polyester shell cinches neatly around the top half of your bike with an elastic hem and bungee straps, keeping your seat and controls covered. That not only prevents a soggy bottom from a wet seat, but also keeps the sun off the controls so they don't become hot to touch.
This is an innovative cover that provides all-important comfort to your adventures. It's long enough to handle large bikes like the Honda Goldwing or the Yamaha Royal Star, although it won't fit around antennas or flagpoles if you have them extended. Your paint and chrome is protected by a soft liner, and there are stainless steel grommets for additional tie down points to secure it in place. There is also a handy drawstring storage pouch.
3. Best for Winter: WDLHQC Waterproof Motorcycle Cover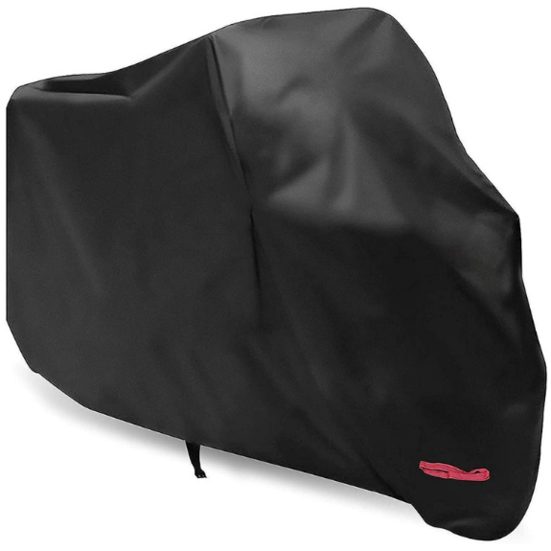 Available in three sizes
Water and windproof
Comes with own storage bag
The waterproof, 210-denier polyester cover from WDLHQC was created to protect your motorcycle from the elements all year round. This durable cover can withstand up to 2000 Pa of water pressure, as well as protect it from dust, heat, tree sap and harmful UV rays. It features heavy-duty windproof buckles, lock holes and elastic straps to secure the cover over the entirety of your vehicle.
There are also built-in air vents that allow moisture to escape, which allows for your bike to dry more quickly and prevent the growth of mildew. The cover is double-stitched and designed to fit multiple motorcycles ranging in size all the way up to 87-inches in length.
4. Best for Trikes: Nelson-Rigg TRK355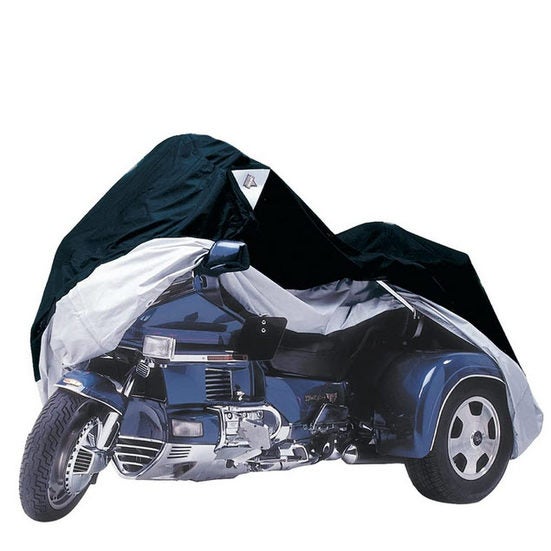 100 percent waterproof
Convenient cargo access
The Nelson-Rig TRK355 extra-large cover for three-wheeled motorcycles offers heavy-duty and convenient protection for your trike. Its polyester top section is waterproof and UV resistant, with seams that have been electronically heat sealed and double stitched for weather protection and durability. The tie-down grommets are painted for corrosion resistance, and the inner liner is soft to protect your bodywork and chrome.
Nelson-Rigg's Perma-Venting system allows moisture to escape as well, so you can use this cover for long periods of time without worrying about corrosion. This cover's two-tone design is more than just aesthetic, the silver section at the bottom is heat-resistant to it's safe to use on warm exhausts, though we still advocate letting your bike cool for a bit before installing a cover, if only to protect your hands from being burned. It fits rigs up to 65" inches wide.
One of the impressive features of the TRK355 is a 50" (1,270mm) zip that provides easy access to your cargo area or panniers without having to remove the cover. It comes with a matching carry case for storage. Choose this if you have a three-wheel motorcycle that gets stored for long periods of time and if you need access to your cargo.
5. Best Premium Cover: Oxford Protex Stretch Cover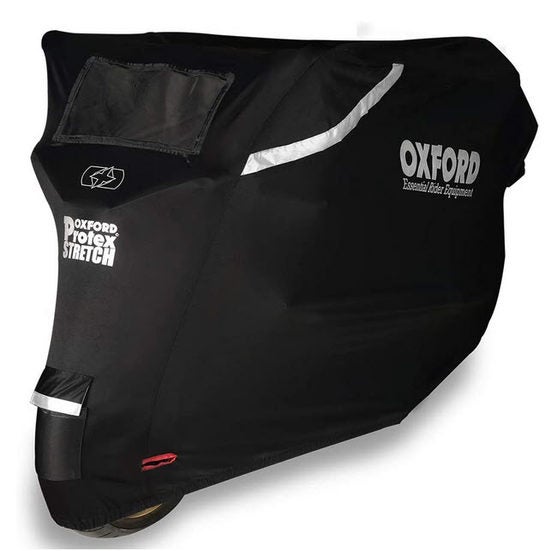 Ultimate in protection and security
Wide range of sizes
Expensive
Did we mention the price?
Oxford's Protex stretchy motorcycle cover is the ultimate in long-term protection from the elements for any bike. It's available in five sizes ranging from the 2,030mm Small through to 2,770 mm X-Large and the 2,200mm MP3 cover for trikes and three-wheelers, so you can find a snug fit for your bike. The waterproof three-layer material includes a rugged outer shell and an ultra soft inner liner that is gentle on your panels and bar work. The material is not heat treated, so don't install it on a hot motorcycle, and it can also be prone to tearing against sharp objects.
The thick padding offers some protection against dents and scratches too, and there are high-visibility stripes and logo stencilling designed to make your bike more visible. This is an ideal cover for those who have to park their motorcycle in street parking, and it even includes a clear rear window so the parking inspectors can read your number plate. A second clear window at the front provides visual access for a battery tender if you have one connected. You can also use it for the company's solar battery charger (sold separately).
Pouches on the front and rear keep your padlocks off the ground and protected from weather, and there are cleverly placed lock holes for a thick cable lock (again, Oxford makes a great one). Elastic hemming and a centre-mounted adjustable strap keep the cover in place solidly, even in heavy winds.
All those features and farkles come at a cost though, and this is three times the price of most other options on our list. Choose the Oxford Protex cover if you store your bike for long periods of time in street parking, and only buy the best for your beloved ride.
6. Best Lighweight: Nuzari Premium Motorcycle Cover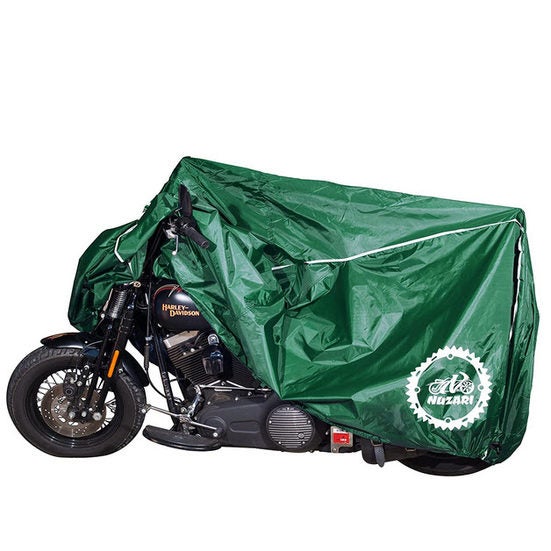 Low price
Wide range of sizes
The cool-looking cover from Nuzari is a low-priced option that gives you portable and versatile weather and dust protection for your sport bike or cruiser. It's available in four sizes so you can get the right fit, and elastic hems as well as a mid-mounted strap keep it securely in place. The thin fabric is still 100 percent waterproof, and there are vent holes to ensure condensation doesn't form underneath it.
The inside of the liner is not soft but it is heat treated, and rated up to 150 degrees, allowing you to install it directly onto a warm bike. The company does supply a windshield protector with the cover. You also get a handy storage bag that doubles as a drawstring backpack. There are cut-holes for cable locks and ties, the hem is elastic, and there is an adjustable luggage strap to secure in place.
We love the green, red, and blue colour options, but not everyone will agree. There are also camouflage and solid black variants.
7. Best for Summer: Favoto Motorcycle Cover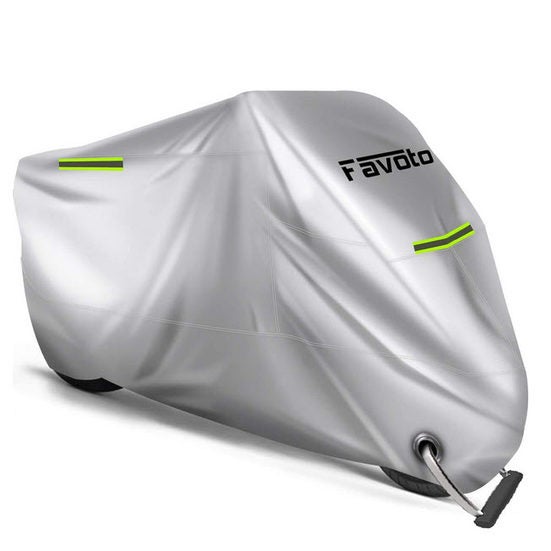 Great value
Reflects heat
Interior lining degrades
Metal o-rings may rust
Favoto's lightweight motorcycle cover is perfect for the budget-conscious rider looking for protection from the sun's harsh rays. This oxford fabric offering is waterproof and has a reinforced strip inside the seams to keep it that way. The big benefit of this silver reflective cover is that it reflects heat and keeps your bike cool on hotter days. There are also three fluro green stripes for even better nighttime visibility – but with this colour we're not sure they're necessary.
At 104" (2,640mm) long, this will fit the vast majority of motorcycles on the market. The hem is elastic and there are rearward and forward buckles to secure the cover in place. There's also two reinforced metal rings for a locking cable. They are large but aren't stainless steel and may rust over time. Some users report that the inner lining flakes over time.
Choose this cover if you're on a budget and need to protect your motorcycle outdoors in summer.
8. Honourable Mention: Mophorn Motorcycle 600D Motorcycle Tent
Garage-style coverage
Large size
Bulky
Could fail in heavy snowfalls
The Mophorn motorcycle tent gives you a pop-up garage for your bike. Because it's a free-standing structure no component comes in contact with your motorcycle, which helps keep it scratch and graze-free. The tent can withstand light snowfall, heavy rain, and wind. It fits larger cruisers and touring motorcycles as well as smaller bikes, and tall adventure models too.
The tent can be permanently affixed to concrete with the supplied masonry fasteners or weighted down to hold it in place in case of high winds. There are two roll-up flaps on the side to promote airflow and ventilation, but it still gets hot underneath on bright sunny days.
You can store the tent in the included carry bag, and it is easy to install or uninstall with no tools required. We wish there was a locking mechanism and would like to see more bracing for the roof during winter. Choose this if you want a temporary garage for your bike that you can simply ride into and then leave.
Tips for Storing Your Motorcycle
We live in a country where motorcycles lay dormant for half the year. These covers help protect them from dirt, dust, and debris, but also from UV rays and rain or snow. If you're going to put your bike for a long period of time, make sure the cover is vented. Water condensation can and does form under these covers, which can promote corrosion.
If your bike is outdoors, try to get the snuggest fit possible. The more the fabric moves, the more it rubs away at the body work on your bike. If it does rain heavily, you should consider leaving your bike uncovered to dry out in the days afterward. This is because water pooling underneath the bike will still promote condensation and corrosion.
Also, if you are storing your bike for a long period, consider installing an alarm with a shock sensor, and remember to remove the battery and place it on a battery maintainer or trickle chargers.
Leave a Comment
We're always looking for more feedback! If you own a great motorcycle cover we want to hear about your experience. Please leave us a comment below!
RedFlagDeals.com is reader-supported. We are a participant in the Amazon Services LLC Associates Program and other similar affiliate advertising programs. These programs are designed to provide a way for sites to earn advertising fees by linking to them. This means that RedFlagDeals.com will sometimes get a small commission if you make a purchase through our links.