The Best Monitor Arms
Table of Contents
If you're looking to create an ergonomic and decluttered workspace in your home or office, consider using the best monitor arms as part of your set up; after a quick installation process, you'll be able to lift and move around your monitor with ease, which can save you desk space and help manage your workspace if you have multiple monitors.
Whether you're shopping for a monitor arm to improve your home office set up or your computer entertainment station, you'll find a model on this list that will be right for you. We tried to keep various price points and potential uses in mind too, like if you need an arm that can attach two different monitors, or if you'd like a place to store your laptop to use alongside your computer screen.
Stick around until the end of the article and we'll go into more detail about how a monitor arm can improve your set up, as well as help you determine if your computer monitor is compatible with a new arm. We'll also provide a list of features for you that you should be on the lookout for, which will hopefully help ensure that you purchase the right monitor arm for your current computer set up. Let's get started!
1. Editor's Pick: NB North Bayou Monitor Desk Mount Stand
Basic setup
Cable management system
Good range of motions
Sturdy mount
VESA mount may not fit all monitors; may require modification
Not ideal for heavy monitors
Key Specs
| | |
| --- | --- |
| Maximum Height: | 10.2" |
| Weight Capacity: | 19.8 lbs |
| Compatible Screen Sizes: | 17" to 30" |
Another great budget friendly option is this NB North Bayou monitor desk mount. It doesn't do anything super crazy and only supports one screen, but if all you need is a basic system, it checks off all the boxes. Its single arm can support up to nearly twenty pounds, and fits most screen sizes within the 17 to 30-inches mark.
It relies on a durable gas spring system to make adjusting the arm easy and effortless — it also comes with all the hardware you need for a quick and easy installation. With a wide range of motions, you can tilt, swivel, rotate and raise your monitor to find the perfect viewing angle for your needs.
2. Runner Up: VIVO Single LCD Monitor Desk Mount Stand
Easy to install, and works with many different desk set ups
Comes with tools to help you manage your cables
Solid and stable, with little wobbling even with monitors at the larger end of the range provided
Great value for the price
Works well with curved monitors
Not as flexible as some other options
Key Specs
| | |
| --- | --- |
| Maximum Height: | 17" |
| Weight Capacity: | 22 lbs. |
| Compatible Screen Sizes: | 13" to 27" |
The VIVO Single LCD Monitor Desk Mount Stand is the next best option you can find right now, and only didn't snag the top spot because it works better with smaller monitors, which not everybody has. This unit is easy to install, with two different VESA pattern options available, and it even comes with detachable cable clips that you can use to manage your power and AV cables from your monitor — it's easy to have an organized workspace with tools like this.
We've linked the 17" tall version here, but if you need it to go even higher it also comes in a 39" option, which is height adjustable and great if you want to switch up your position from sitting to standing.
3. Best Budget Pick: AmazonBasics Single Computer Monitor Stand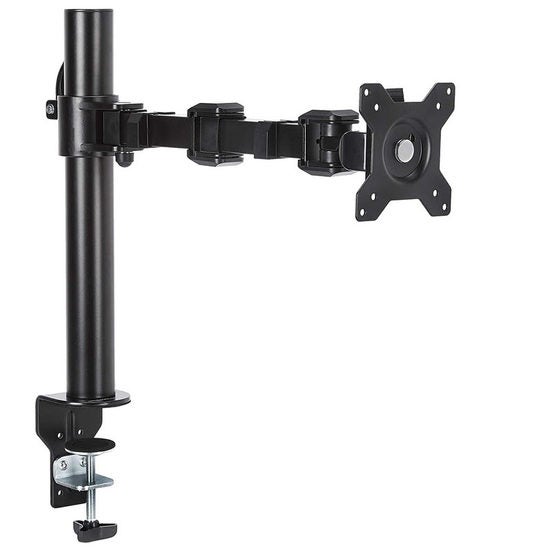 Basic set up without the frills
Very solid and not prone to wobbling
Cable management system
Heavy duty materials that aren't flimsy, amazing value for the price
Works with two different VESA hole patterns
Not as adjustable or customizable as other options listed here
Key Specs
| | |
| --- | --- |
| Maximum Height: | 14.2" |
| Weight Capacity: | 22 lbs. |
| Compatible Screen Sizes: | 13" to 30" |
If you're just looking for a basic and affordable mount that's reliable and easy to install, give the AmazonBasics Single Computer Monitor Stand a try; it's easy to adjust, and works with a variety of VESA hole patterns. For being sold at such an affordable price, many buyers agreed on how solid this mount feels; it's not likely to topple or wobble, and it can hold decently large sized monitors without any trouble. Like many other options this one comes with cable management too, which helps in making your workspace more streamlined and easier to use. If you're building a complicated or intricate set up though, this may not be the option for you because it doesn't have as many adjustable extensions as others on the market — this model is more of your average, run-of-the-mill office monitor arm.
4. Best with a Laptop Mount: Huanuo Laptop Monitor Mount Stand with Keyboard Tray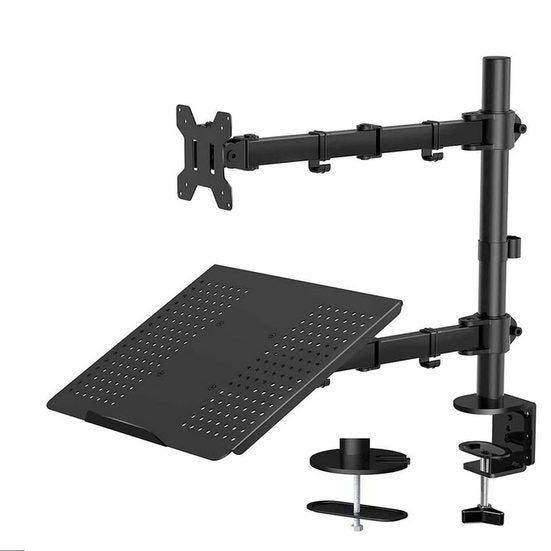 Built in laptop tray to help you optimize your workspace
Efficient cable management
Can be mounted to your desk using either a c-clamp or grommet
Compatible with two VESA hole patterns
Materials feel durable
Might not be as easy of a set up process as some other options here, according to some buyers
Key Specs
| | |
| --- | --- |
| Maximum Height: | 16" |
| Weight Capacity: | 22 lbs. |
| Compatible Screen Sizes: | 13" to 27" |
Many workers, students, or computer enthusiasts love to use a laptop as part of their workflow in addition to a desktop computer; with the Huanuo Laptop Monitor Mount Stand with Keyboard Tray, you can free up desk space from both your monitor and your laptop.
Increasing your productivity is a breeze with having two screens available, and for anyone who uses both a laptop and a desktop monitor at once, you'll love this little set up — this is a good idea especially for students, because you could keep your books open on your laptop and write your A+ essays on the desktop.
There are many adjustable options with the monitor mount too, like tilting and swivelling, and you can use either a C-clamp or grommet to mount it on your desk.
5. Best for Dual Monitors: Huanuo Height Adjustable Gas Spring Double Arm Monitor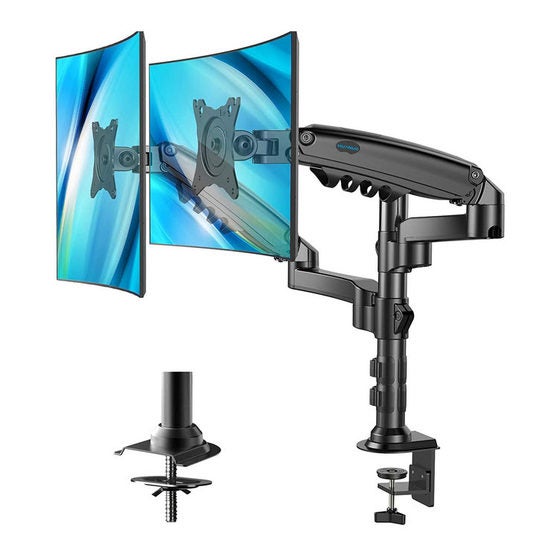 Easy to set up, and feels sturdy once installed
Good range of motion in the arms, easy to adjust your workspace
Great value for the price
Integrated cable management
Good build quality
Monitors on the higher end of the size range might be too heavy — double check you aren't too close to the weight capacity
Key Specs
| | |
| --- | --- |
| Maximum Height: | 26.18" |
| Weight Capacity: | 19.8 lbs. per monitor |
| Compatible Screen Sizes: | 17" to 32" |
So you have two monitors that you'd like to be suspended over your desk — consider the Huanuo Height Adjustable Gas Spring Double Arm Monitor Mount Desk Stand because it's easy to adjust, it's compatible with many screen sizes, and it helps you manage your cables.
This pair of monitor arms also comes with integrated cable management, which makes it easy to keep your desk free of messy cables. Not only is it easy to use two monitors side by side or stacked over top of each other, but it also has a variety of tilting and swivel options. Keep in mind that if you're stacking your two monitors one over the other, the manufacturers recommend that your screens shouldn't be over 27", otherwise it could topple!
6. Best for Triple Monitors: HuanuoTriple Monitor Stand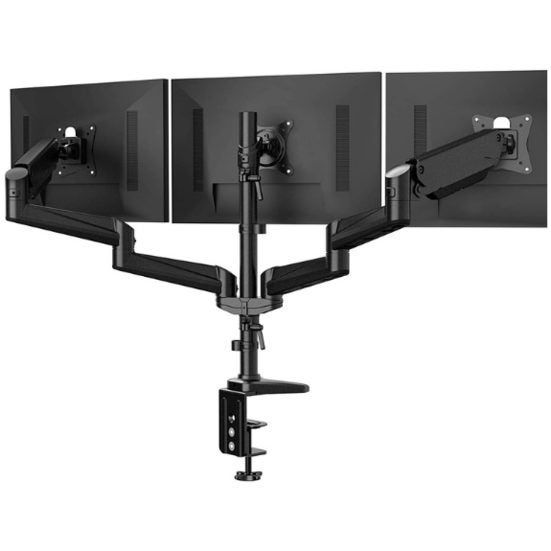 Can be mounted to your desk with either a C-clamp or grommet
Monitor arms are available in three colours
Works with two different VESA hole patterns
Expensive
Monitors on the higher end of the size range might be too heavy — double check you aren't too close to the weight capacity
Key Specs
| | |
| --- | --- |
| Maximum Height: | 26.2" |
| Weight Capacity: | 17.6 lbs. per monitor |
| Compatible Screen Sizes: | 17" to 32" |
If your office space or home gaming system is decked out with not one, not two, but three computer screens, this monitor stand will help declutter your space and allow you to create the optimal viewing experience.
Because this monitor stand is equipped with three arms, it should come as no surprise that this pick is also the most expensive option on this list. Each arm has the capacity to hold up to seventeen pounds and is compatible with both flat and curved screens.
The articulating arms can be moved into a variety of positions by tilting, swiveling and rotating the screens, and with two mounting styles (C-clamp and grommet), this space saving monitor stand can fit most desks.
7. Honourable Mention: Krieger Triple Monitor Mount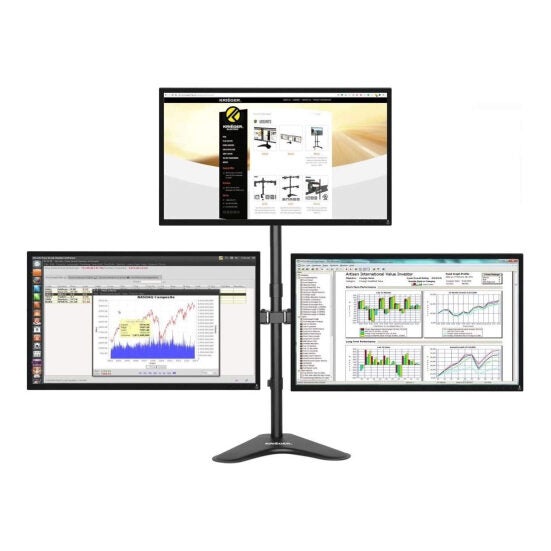 Detachable cable clips
Compatible with two different VESA hole patterns
Material feels durable
Spacing between monitors may not be enough for large screens
Key Specs
| | |
| --- | --- |
| Maximum Height: | N/A |
| Weight Capacity: | 17.6 lbs. x 3 |
| Compatible Screen Sizes: | 13" to 32" |
This high performance mount is a great option if you have a lot of screen real estate that you want to fit over a narrower desk.
The Krieger Triple Monitor Mount comes with a removable VESA plate that's compatible with both 75x75mm or 100x100 VESA mounting holes, as well as a C-clamp mounting style. This makes the arm compatible with a wide range of computers and desks.
The multiple points of adjustment allow you to tilt, swivel, raise and rotate your screens, while cable management clips ensure your new setup stays nice and tidy.
When to Use a Monitor Arm
The stands that a monitor would come with generally aren't very helpful for you; they often aren't adjustable except for some minor height adjustments or tilt, and almost always take up space on your desk that could be used for office supplies or other gadgets. Monitor arms can help fix those problems by lifting your monitor off the desk, and generally they clamp onto the back of your table so that there's minimal desk space being used. They're especially useful for anyone who uses more than one computer monitor in their workflow, since they'll save you so much desk space.
Is Your Workspace Compatible with an Arm?
You'll first need to make sure that your computer monitor is compatible with an arm, and you'll know this by checking if it's VESA (Video Electronics Standards Association) compliant. If it is, you'll see that there will be four holes on the back of your computer monitor, which you'll use to screw in whatever arm your purchase. If you don't see four holes where you could screw something in, you're probably out of luck! On top of this, there are different distances between the holes in the VESA pattern, which usually correspond with the size of your monitor. For example, larger monitors generally have hole patterns in variations of 200mm apart, while small computer monitors usually have holes that are 100mm or 75mm apart from each other. Make sure you know which sizing your monitor can support, and then purchase an arm accordingly.
Your desk can also play a factor on whether or not you'll be able to install an arm; they'll usually either be attached with a clamp or with a grommet; if it attaches with a clamp your desk will need to be the right thickness to support it, and if it's with a grommet it'll need to have a hole through which the arm will attach to (you could also make this hole yourself if it doesn't have one, but it would permanently change your desk).
Keep in Mind While You Shop
Weight Capacity: Not all arms are built equal, and some will be able to support more weight than others. Make sure that you know the weight of your computer monitor and purchase an arm that will be able to carry that weight. If you have multiple monitors (more on this below!), you'll especially need to pay attention to the weight capacity that your new arm can handle.
Number of Monitors: Before purchasing your monitor arm, you'll need to consider how many monitors you have so that you can get the right one for your set up. Most of the models we've chosen here come with a single arm, but there are some double options as well. While we didn't specifically link any monitor arms that support three monitors, some of the options we've listed do come in that variation, like our top pick — be sure you read the product descriptions and select a model that's able to mount three monitors if you have three monitors that you're looking to set up with an arm.
Mount Motion: One of the main perks with purchasing a monitor arm is that they're often more adjustable than a standard computer monitor stand would be, but they're not all built equal; some can tilt and turn much more than others, so if you're looking for the most ways to move around your workspace, select a model that has 360-degree swivels in the arms, a 180-degree swivel where the monitor is to change it from landscape to portrait, and ideally some tilt so that you can move your screen upwards and downwards.
Leave a Comment
We're always looking for more feedback! If you already own one of these monitor arms and would like to tell us your experience with it, or if we've missed your favourite model, please share your story in the comments below.
About the Author: Michael Pilon
Michael Pilon is a writer based in Toronto, who loves everything tech, gaming, and digital art. With two years of professional writing experience and a lifetime of learning about new gadgets, he aims to provide helpful, accurate stories. He received his Bachelor of Arts in English and media studies from the University of Toronto, and a Master of Arts in fashion from Ryerson University, exploring digital and technological applications throughout. When he isn't writing, you can find him playing the newest fantasy and horror games, or out discovering new coffee shops in the city.
RedFlagDeals.com is reader-supported. We are a participant in the Amazon Services LLC Associates Program and other similar affiliate advertising programs. These programs are designed to provide a way for sites to earn advertising fees by linking to them. This means that RedFlagDeals.com will sometimes get a small commission if you make a purchase through our links.