The Best Light Therapy Lamps
Table of Contents
Seasonal blues are a real thing. It's that glum, sad feeling that starts to creep in for no apparent reason sometime around mid-January. If this sounds familiar, it's because you may be among the millions of people who suffer from Seasonal Affect Disorder (SAD), a type of depression that can occur because of the shorter days and less exposure to sunlight we get during the fall and winter.
Using a light therapy lamp exposes you to an intensity of light that is brighter than an indoor light and mimics the broad spectrum light of daylight. By using a light therapy lamp for around 30 minutes a day, many people say their mood lifts and they feel better. If you suffer from SAD and are thinking of using a light therapy lamp, it's best to consult with your health care professional to make sure that it is safe for you since it may not be a good idea for anyone with sensitive eyes or skin.
Below we list some of the best light therapy lamps on the market, including information on how they work. If you want to know about light therapy lamps in general and how to properly use one, at the end of the article you will find some useful information to help you choose the right one for your needs.
1. Editor's Choice: Verilux HappyLight VT31 Lumi 10,000 Lux LED White Light Therapy Lamp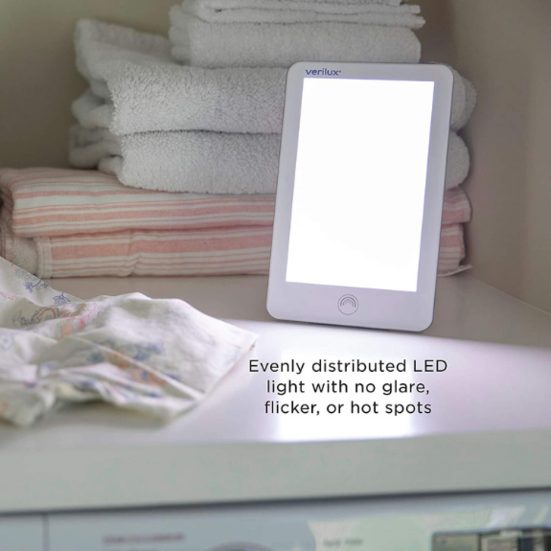 3 brightness levels
Tablet-style design
Soft touch on/off button
Detachable weighted base stand
Not durable
No timer function
Light can be too bright for some
Does not work in landscape position
Key Specs
| | |
| --- | --- |
| Lux: | 10,000 |
| Brightness Levels: | 3 |
| Light: | LED |
| Size: | 14.3 x 1.27 x 22.86 cm |
| Weight: | 0.5kg |
There are three brightness levels on this light therapy lamp.
There's never one solution to fit all scenarios. Even when it comes to SAD, no two people will have exactly the same experience. Our top choice in a light therapy lamp has all the features you need – including a sweet price point – plus different brightness settings to suit your specific situation.
The Verilux HappyLight VT31 LED White Light Therapy Lamp delivers up to 10,000 lux lights of intensity so you know you are getting the full light spectrum you need from this lamp to elevate your mood. Having three different brightness levels to choose from ensures you are optimizing your comfort level which may be different from someone else's.
The light therapy lamp has a sleek, simple design with a smooth rubber reinforcing trim and a detachable weighted base stand with a lens that measures 4 ⅜" by 7 1/16". The tablet-style design makes it easy to pack and take with you on your travels, and no matter where you use it you won't have to worry about flickering lighs, glares, or hotspots as the lamp uses 74, UV-free LED lights for your complete comfort.
2. Runner Up: Carex Day-Light Classic Plus Bright Light Therapy Lamp
Large screen
2 brightness levels
Blocks 99.3% UV light
Light faces down away from eyes
Pricey
Not durable
Large and heavy
Fluorescent bulbs have shorter lifespan than LED
Key Specs
| | |
| --- | --- |
| Lux: | 10,000 |
| Brightness Levels: | 2 |
| Light: | Fluorescent |
| Size: | 30.48 x 40.01 x 79.07 cm |
| Weight: | 4.2kg |
This is a large, sturdy light therapy lamp with an adjustable height option.
Many light therapy lamps are compact and lightweight, perfect for travelling or using on a desk. While those function well, some people may benefit from a model with a large screen that maximizes the positive effects of a light box.
This Carex Day-Light Classic Plus Bright Light Therapy Lamp has a large 13.5 by 15.5" light screen on a thick sturdy stand with adjustable height that in total weighs 4.2kg. It provides the recommended 10,000 lux white light in a broad light spectrum on a glare-free screen illuminated with flicker-free fluorescent lights. The lamp blocks 99.3% of UV light and projects the light downward so it's not directly in your eyes.
The light box has two brightness settings to customize to your comfort level, and while it can also be effective to bring relief from circadian sleep disorders, shift work adjustment, jet lag, and low energy it is pricey.
3. Most Versatile: JUXLamp Light Therapy Lamp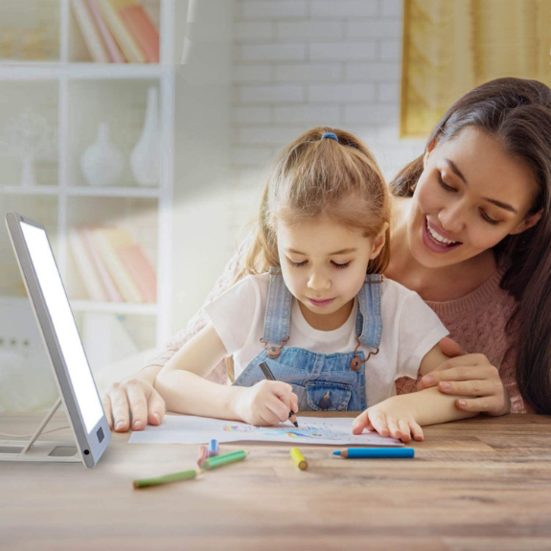 Timer settings
40 brightness levels
Different colour light options
Lifespan greater than 50,000 hours
Integrated bracket on stand allows for adjustable angles
Base isn't very sturdy
Clock is too small for some
Light isn't gradual with timer
Instructions for timer can be confusing
Key Specs
| | |
| --- | --- |
| Lux: | 0-12,000 |
| Brightness Levels: | 40 |
| Light: | LED |
| Size: | 27.2 x 15.7 x 1.65 cm |
| Weight: | 0.7kg |
This light therapy lamp offers different lux levels of brightness to meet different needs.
There are many degrees of seasonal affect disorder; some people feel it mildly while others can slip into a deep funk. It's a good idea to find a light therapy lamp that can serve different needs, especially if it will be used for more than one member of the family.
This JUXLamp Light Therapy Lamp has three sets of sunlight colour options to allow you to slowly awake each morning to a simulated sunrise. The time and function display window on this unit gives you the choice of 40 brightness levels from 0 to 12,000 Lux with three different colour options: warm, like the morning sun; cold to mimic the noon sun; and mixed colours.
The compact lamp also has some interesting added features such as a sunset mode to simulate the sun setting for when you go to bed, time settings from 10 to 60 minutes, and 12 natural ambient sounds to relax you at night. The integrated bracket design on the back allows you to adjust the angle to suit your needs.
4. Most Unique: Luminette 3 Light Therapy Glasses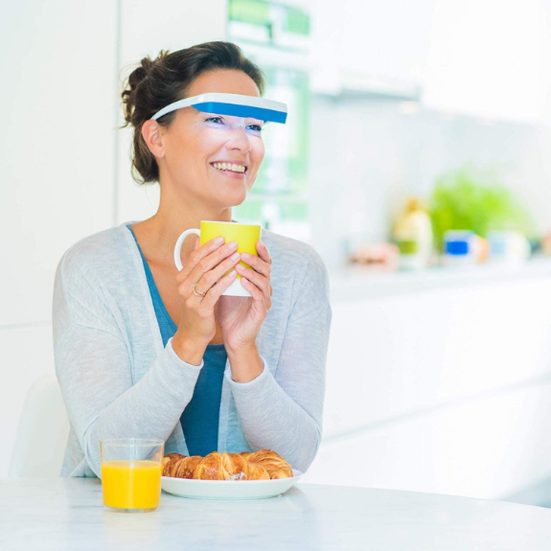 Portable
Lightweight
Rechargeable
Comes with a case
3 brightness levels
Expensive
Charge doesn't last long
Can be tight on larger heads
Light can be too bright for some
Key Specs
| | |
| --- | --- |
| Lux: | 500-1,500 |
| Brightness Levels: | 3 |
| Light: | LED |
| Size: | 23 x 6.08 x 15.9cm |
| Weight: | 0.05kg |
Be bold and try a new kind of light therapy lamp – eyeglasses!
Whether you have tried a light therapy lamp or not, you may want to delve into new waters and discover a product that has been on the market since 2006 and has been certified as a "zero-risk" device according to European standard IEC 62471 on photobiological safety.
These Luminette 3 Light Therapy Glasses don't cover your eyes but extend slightly over your eyes to emit a blue-enriched white light. It offers three levels of intensities – 500, 1,000 and 1,500 lux – and because of the proximity to your eyes (although not shining directly in your eyes) it is equivalent to a 10,000 lux lamp. This device will even fit over your current eyewear without obstructing your vision.
You use the glasses once a day for a 30-minute session. You can turn it on and it will automatically turn off when the session is over, but if you want to stop sooner you can turn it off manually. Made in Belgium, the Luminette can be charged with a micro-USB cable and one charge works for six sessions.
5. Best for Travel: Circadian Optics Lumine Light Therapy Lamp
Portable
Lightweight
Lifespan up to 50,000 hours
Produces white light similar to the noon sun
Pricey
Not durable
Cord is short
No off function
No timer function
Key Specs
| | |
| --- | --- |
| Lux: | 10,000 |
| Brightness Levels: | 3 |
| Light: | LED |
| Size: | 17 x 10 x 16 cm |
| Weight: | 0.4kg |
Enjoy the minimalist look and effects of this light therapy lamp no matter where you are.
We don't all live in large spaces so many of the items that we keep are the right size for a compact place. The same can be said for a light therapy lamp; a necessary addition that has a small footprint but a powerful output.
This symmetrical and minimalist-designed Circadian Optics Lumine Light Therapy Lamp measures 6.3" high by 5.9" wide and only 3.9" thick so it will not only take up a small area on a desk, at 0.45kg it is super portable and easy to take with you no matter where you travel.
The LED lamp has a full spectrum uniform, dot-free 10,000 lux light with three levels of brightness so you can choose your comfort level.The white colour produces a light similar to the noon-day sun that is 99% UV filtered with a 5500 colour temperature.
Simple to use, just place the lamp on a flat surface, turn it on, and choose a brightness level. The light will last up to 50,000 hours.
6. Best Budget Pick: Brightech Light Therapy Lamp with Built-in USB Port
Affordable
Dimmer function
USB charging port
Not durable
No timer function
No brightness levels
Light can be too bright for some
Key Specs
| | |
| --- | --- |
| Lux: | 10,000 |
| Brightness Levels: | 0 |
| Light: | LED |
| Size: | 30.4 x 25.9 x 9.2 cm |
| Weight: | 1.8 kilograms |
Even if you're on a budget you can benefit from a light therapy lamp.
Life is expensive, even more so since the pandemic hit. And speaking of the pandemic, perhaps you've been spending even more time inside away from the sun and feeling down and sad. Whatever your financial situation is, you should still be able to benefit from a light therapy lamp and that's why we have included this model on our recommendation list.
This Brightech Light Therapy Lamp has a unique round shape and measures 8" high making it lightweight and portable. Small but mighty, the lamp has a 10,000 lux LED light which is also more energy efficient than fluorescent lights. While it doesn't have brightness levels, it does have a gradient dimmer that you can adjust to customize to your needs.
It also has a USB port so you can charge your mobile devices. It can even be used when the lamp is off so even though it's not relevant to the benefits of light therapy it is pretty convenient.
7. Best High End: Philips SOMNEO Sleep & Wake-Up Light Therapy Lamp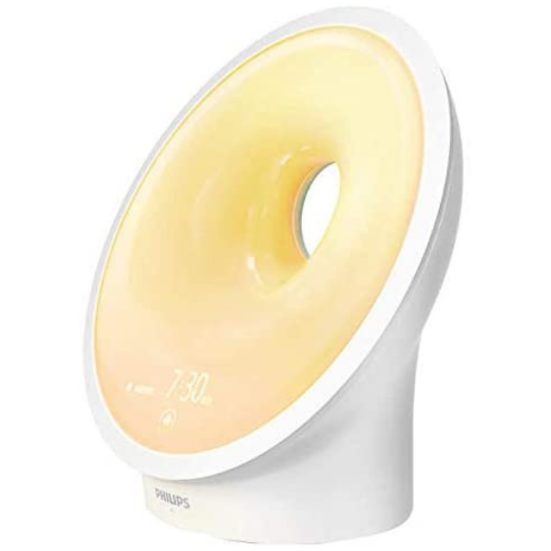 Functions as a night light
Also a sunrise and sunset simulator
Alarm can be set to natural sounds or FM radio
Comes with light-guided breathing therapy option
Pricey
Clunky interface
No beeping alarm option
Some audio tracks have distortion
Key Specs
| | |
| --- | --- |
| Lux: | 2,500 - 10,000 |
| Brightness Levels: | 20 |
| Light: | LED |
| Size: | 31.09 x 28.3 x 14.1 cm |
| Weight: | 1.56kg |
Have it all with this light therapy lamp that acts as a sunrise and sunset simulator and a night light.
The Philips SOMNEO Sleep & Wake-Up Light Therapy Lamp. Sunrise Alarm. and Sunset Fading Night Light has everything you need to start the day right and end it right, too. Not only does it simulate both sunrise and sunset, but it comes with light-guided breathing to help you relax to sleep. Softy light guides you in the dark, a smart touch display allows for easy device control, and the snooze button on top will give you another 9 minutes of rest before gently sounding the alarm again.
8. Honourable Mention: Blancka Therapy Light
Wall mount option
40 brightness levels
3 colour temperatures
Timer with automatic shutoff
Not durable
Highest level is very bright
Key Specs
| | |
| --- | --- |
| Lux: | 500-12,000 |
| Brightness Levels: | 4/40 |
| Light: | LED |
| Size: | 25.91 x 16.26 x 2.03 cm |
| Weight: | 0.6kg |
You can fine-tune the level of brightness to suit your needs with this light therapy lamp.
This unit from Blancka uses the full spectrum of light that is effective in offering relief from SAD. There are four different brightness levels that range from 500 to 12,000 lux, and within that you can adjust it to 40 different brightness levels. This device also has a timer that you can set at 15 minutes, 30 minutes, 1 hour, 2 hours, or 4 hours, and the lamp will automatically shut off when the time is up.
The lamp has a thin, sleek design and an integrated, foldable bracket on the back that can be adjusted to six different angles to suit your comfort level. It even has two mounting holes if you prefer to have it on the wall.
What To Look For
Seasonal Affect Disorder, or SAD, is a real health concern for many people. Fewer hours of daylight during the winter means less exposure to the benefits of the sun, a situation made worse during the pandemic when staying at home is par for the course for most of us. Being in the dark so much can make some people feel down and depressed even if they do not generally feel this way.
A light therapy lamp mimics the full spectrum of light found outside during the day. This means the one you choose should emit 10,000 lux, which is 20 times the strength of typical indoor lighting. That's why even if you have every light on in your house it will not provide the same relief as light therapy treatment requires a minimum of 2,500 lux to be effective.
Typically you should sit in front of the lamp once a day from a distance of between 12 and 24" away for 20 to 30 minutes (to start). Some lamps have different brightness levels, so you can adjust the intensity if you want to keep it on for longer. The light therapy causes a chemical change in your brain to produce less melatonin and more serotonin to help improve your mood. It's not a good idea to sit under it all day since in this case more is not necessarily better. Side effects can include insomnia and it is also not recommended for those with certain eye conditions so always check with your doctor before starting therapy.
It's important to choose a lamp that uses LED or fluorescent lights that emit no UV light which can hurt your skin and eyes. LED is more energy efficient than fluorescent, though, so keep that in mind when you make your decision.
Leave a Comment
We're always looking for more feedback! If you own any of these items and would like to share your experience, please comment below!
About the Author: Marlene Eisner
Marlene Eisner has spent the last 20 years working as a writer, editor, content producer, and product reviewer for home décor and renovation magazines and home and garden websites. She loves all things associated with indoor and outdoor spaces and enjoys sharing the newest trends, devices and products with readers.
RedFlagDeals.com is reader-supported. We are a participant in the Amazon Services LLC Associates Program and other similar affiliate advertising programs. These programs are designed to provide a way for sites to earn advertising fees by linking to them. This means that RedFlagDeals.com will sometimes get a small commission if you make a purchase through our links.