The Best Lawn Mowers
Table of Contents
Whether you have a few acres, or just a small patch of green, keeping the grass from growing into an unruly mass of tangled weeds and clover means taming it regularly with a lawn mower. Unless you have a team of gardeners to do the work, it's down to you to equip yourself with a good lawn mower to get the job done.
The world of lawn mowers is a large one, populated by manual, electric, gas and battery-powered machines. Which one you choose to use will depend on many factors — from the size of your lawn to the thickness of the grass. Battery run and electric models are better for the environment, with few emissions, although they do take energy and batteries eventually die. Gas models work well but spew fumes into the air while a manual lawn mower is the healthiest choice of all.
Below is a list of our recommended best lawn mowers, along with information on how they work and the benefits to each style of lawn mower — manual, electric, and gas.
1. Editor's Pick: Greenworks 25022 12 Amp Corded 20-Inch Lawn Mower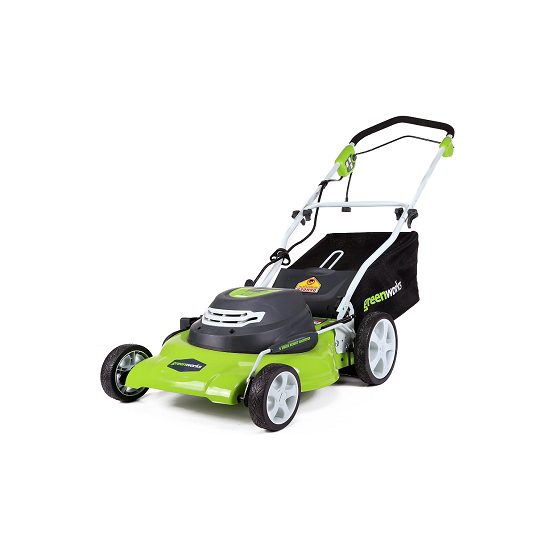 Lightweight
Can be used with an outdoor extension cord
Choice of rear bagging, side discharge or mulching feature
Key Specs
| | |
| --- | --- |
| Power Source: | Electric |
| Item Dimensions: | 68.3 x 40.9 x 45.7 cm |
| Material: | Alloy Steel |
| Cutting Path: | 20" |
When it comes time to mow the lawn, you're not going to mind having to roll this 20-inch electric lawn mower from the garage or garden shed to the yard. xThis 12-amp electric lawn mower from Greenworks has a 20-inch durable steel cutting deck that will slice through the grass and clip it down to size. It also gives you the option of where you want the grass clippings to go — into the bag from the rear or the side.
With seven position height adjustments you also have some versatility in a range of cutting heights, from 1 ½-inch to 3 ¾-inch-high grass. The 10-inch rear wheels and seven-inch front wheels also contribute to a stable and seamless mowing experience. Other features include: a push-button start and foldable handles.
2. Runner Up: Black + Decker BESTA512CM Electric Mower 12" 3-in-1 Compact Lawn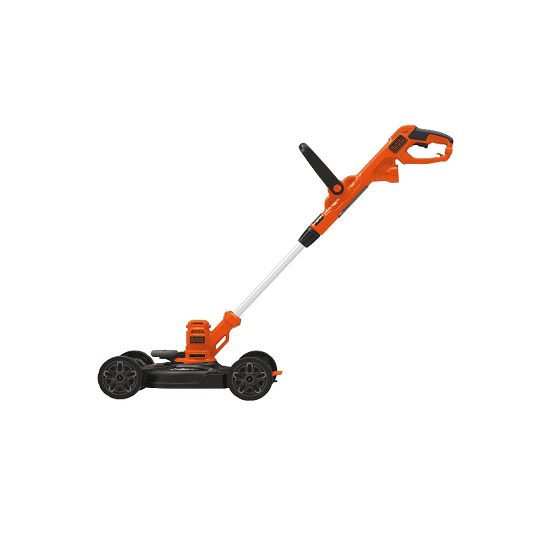 Compact
Cord retention system
Adjustable length
No catch bag
For smaller spaces
Key Specs
| | |
| --- | --- |
| Power Source: | Corded Electric |
| Item Dimensions: | 38.1 x 17.8 x 94 cm |
| Cutting Path: | 12" |
You may only have a small patch of green behind your house, but the grass and bushes still need to be maintained. With this compact 12-inch electric lawn mower from Black + Decker, you will make quick work of keeping the grass neat and the edges trimmed.
Equipped with a 6.5 amp motor and power drive transmission, the mower will cut through all manner of weeds, grass and overgrowth. You can mow the lawn and then when that job's done, detach the mower deck to use it as a string trimmer. The automatic feed spool and a lightweight design with an adjustable handle makes it easy and comfortable for you to care for and maintain your lawn. It also has a cord retention system prevents the cord from accidentally becoming disconnected while you work.
3. Best Gas: PowerSmart Lawn Mower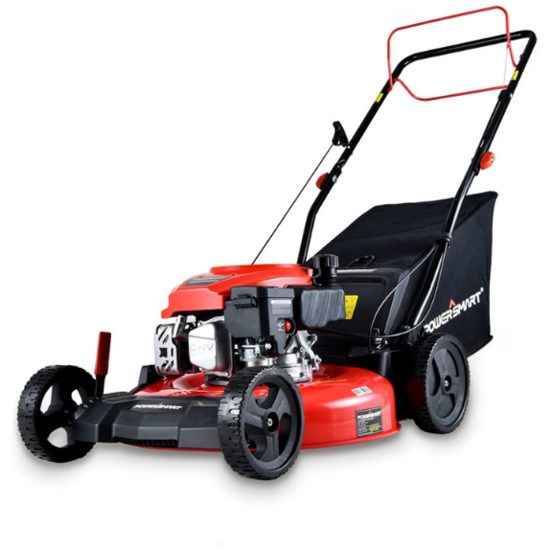 Starts quickly, usually on the first pull
Easy to maneuver
Folds and can be stored vertically, saving garage space
Gas has an odour
Bag fills up quickly
Key Specs
| | |
| --- | --- |
| Power Source: | Gas Powered |
| Item Dimensions: | 83.82 x 58.42 x 45.72 cm |
| Material: | Alloy Steel |
| Cutting Path: | 21" |
If you've only ever used gas powered lawn mowers and you'd prefer to stick with what you know, this one's a great choice, thanks to its adjustability and ease of use.
This model features a 170CC gas engine that has a single cylinder, that'll help you make quick work of cutting your grass. It's also built with a forced air-cooling system, which help make sure the machine doesn't overheat while it's running continuously. You'll also find that the large wheels at the back make it easier for you to push, which can help you work more efficiently.
It has a large cutting path, too, which makes it ideal for larger yards or anywhere you'll need to cut a large amount of grass. It's also capable of mulching, which allows you to scatter the mulched grass clippings to the side, which gives back some nutrients to your lawn and helps your grass regrow properly.
When you're done mowing and ready to store this model, it folds up vertically, so it can be easily placed somewhere in storage without taking up too much room.
4. Best Manual: American Lawn Mower 1415-16 Hand Push Reel Mower
No fumes, gas, electrical cord to think about
Low noise
Easy to carry and store
Takes longer to mow a lawn than with an electric, gas or battery run mower
Key Specs
| | |
| --- | --- |
| Power Source: | N/A |
| Item Dimensions: | 25.91 x 35.56 x 57.66 cm |
| Material: | Alloy Steel, Plastic |
| Cutting Path: | 16" |
If you have a lawn that's on the smaller size, or if you consider mowing the lawn to be a good outdoor workout and you want to be a friend to the environment, you may want to consider this manual mower from American Lawn Mower.
This maintenance-free lawn mower has a 16-inch, five blade, hand-pushed reel lawn mower that works well for low-rising grass up to four inches high. What's more, it's more than swift enough to cut weeds and dandelions while also being lightweight enough to maneuver around tight corners and 90-degree angles. Its adjustable four-section roller and three-position height makes this machine easy for anyone to use. If you want to get your pre-teens in on some outdoor chores, this mower is the perfect and safe way to get them started.
Since there is no motor or gas or even an electrical cord to think about, there is very little maintenance needed on this mower. However, the blades should be sharpened every three to five years and it should not be left out in the rain.
5. Also Consider: Sun Joe MJ401C-XR-RED 14" 28V 5Ah Cordless Lawn Mower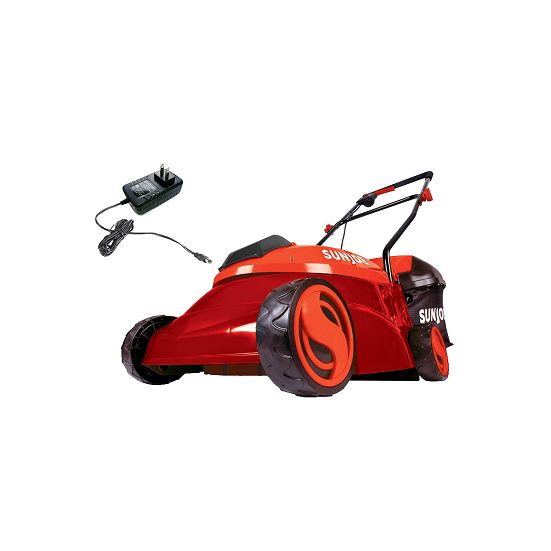 Built-in push-button LED battery level indicator
Removable safety key to prevent accidental starts
Rugged all-terrain wheels
No replacement battery available
Key Specs
| | |
| --- | --- |
| Power Source: | Battery Powered |
| Item Dimensions: | 156.2 x 53.3 x 41.9 cm |
| Material: | Metal |
| Cutting Path: | 14" |
If you are looking for a clean alternative to a gas or corded lawn mower, then perhaps it's time to try this battery-operated model by Sun Joe. This eco-friendly mower will not disappoint when you experience its durable steel blade cutting a crisp 14-inch wide path across your lawn in a single pass. Really easy to use, when you're ready to tackle the grass, just insert the key, press the safety switch, squeeze the trigger and you're ready to go.
Before you head out, though, remember to adjust the mower using the three-position manual height control option to make sure it matches the height of the grass. Powered by a long-life 28-volt, five amp-per-hour lithium-ion battery, you can mow over 12,000 sq. ft on a single charge, so you can be confident the yard will be fully mowed without the mower loosing juice.
The mower also has a large 10.6-gallon bag to collect the clippings, and detaches easily when it's time to dispose of the cuttings. And when you're done, simply plug in the battery for a recharge so it's ready for the next time you need it. Key fact: there's a charge included.
6. Best Budget Pick: Greenworks Corded Lawn Mower MO09B01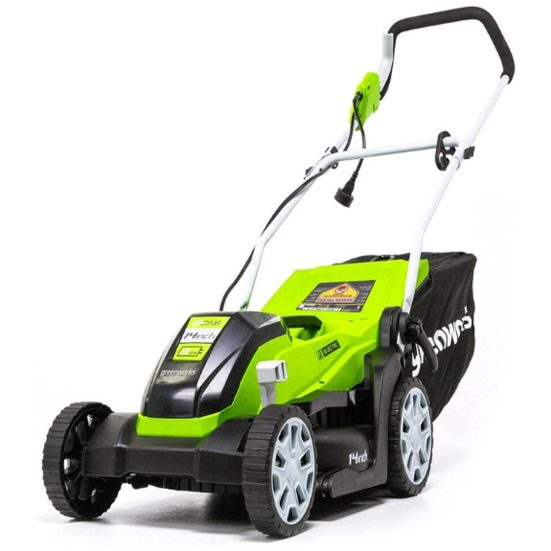 Made from durable materials, despite the lower price tag
Runs relatively quietly compared to some other mowers
Great for smaller yards
Not ideal for larger yards
Cord takes some getting used to
Key Specs
| | |
| --- | --- |
| Power Source: | Corded Electric |
| Item Dimensions: | 128.02 x 40.13 x 102.79 cm |
| Material: | Metal |
| Cutting Path: | 14" |
This is an affordably priced option for you to consider, that's similar to our top pick, and it doesn't sacrifice any essential features that you need in a good lawn mower.
It has a nine-amp electric motor, which is a good amount for cutting even tough lawns, and you can adjust the cutting height of the mower to five different positions, which makes it ideal to cut all types and sizes of grass. It's lightweight in general, and the back wheels are a little bit larger than the front, too, which can help you wheel and steer the machine more easily.
This one's capable of mulching your grass, too, which as previously discussed can help your grass grow better, or you can just send your clippings into the bag on the back. One of the main hindrances you'll find with this model is that it runs corded, so there will be a wire following you while you mow which can take some getting used to, but it's not all bad — you won't have to deal with a gas smell or charge any batteries.
7. Sleeper Pick: Worx WG779 Cordless Lawn Mower
Lightweight and easy to carry around your yard
Isn't too loud while using
Batteries last through quite a few mows, without needing a charge
Cutting path is a little small, not ideal for larger yards
Key Specs
| | |
| --- | --- |
| Power Source: | Battery Powered |
| Item Dimensions: | 134.59 x 36.83 x 99.06 cm |
| Material: | Metal |
| Cutting Path: | 13" |
Here's another option to consider that's ideal for smaller yards, which runs on long lasting batteries and can cut many different grass heights effectively.
It uses two 20V batteries to run, and it can cut up to five thousand square feet of lawn on a single charge. It's also built with a patented IntelliCut technology, which saves your battery and provides you with extra torque when you need it. It has a two-in-one cutting system, which means you can either mulch or bag your clippings, and you can use a single lever to adjust the height of the cutting path.
It's generally easy to wheel around, too, since it's so lightweight and compact, and it also has a folding handle which can help you store it more easily. If you have any other Worx products, the power modules in this unit can be used across other products of the same brand, which can help you out in a bind.
8. Honourable Mention: Black + Decker BEMW482BH Electric Lawn Mower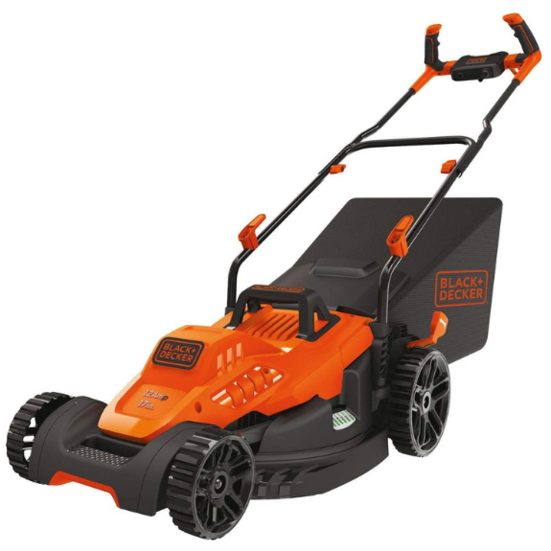 Affordably priced and good value for what you get
Sharp blade cuts through grass easily
Easy to assemble and get started mowing
Not the most durable mower around
Key Specs
| | |
| --- | --- |
| Power Source: | Corded Electric |
| Item Dimensions: | 82.55 x 62.99 x 33.27 cm |
| Cutting Path: | 17" |
Don't count out this lawn mower, which has a push-button start and cuts grass very effectively — best of all, it's affordably priced.
This model features a winged blade design on the bottom, which leaves behind less clippings than many other mowers, and the blade height is adjustable which can help you cut your grass more precisely. It's also built with gripped handles, which feel like the handlebars on a bike and can make the experience more comfortable, and the wheel treads are designed to be rugged, which help give you control when moving it across thick grass.
It is a corded model, which can take some getting used to — especially if you've been using a mower that runs on gas or batteries — but as previously mentioned it does come with its benefits, like not needing to charge up any batteries before you mow.
What to Look for in a Lawn Mover
As mentioned, there are four major types of lawn mowers on the market: manual, electric (corded), battery-operated and gas. Each one has its pros and cons and which one you choose will depend upon the size of your lawn, the type of grass that you have and of course, your budget.
Manual: These lawn mowers have been around since the beginning of the last century but happily they have been upgraded somewhat to be easier to use and more lightweight. The benefit of using a manual model is that it is environmentally friendly, since it doesn't emit any fumes or use energy other than muscle power, but that's the downside for many people who are not strong enough to push a manual lawn mower hard enough to do a good job.
Although they are equipped with sharp blades (that do need to be sharpened every three to five years), it does take a certain amount of physical ability. As well, it sometimes takes more of a vacuum movement to get all the grass cut rather than a smooth one-time pass that you can get with a gas, electric, or battery operated model. On the plus side, a manual lawn mower is less expensive and easier to maintain and you never have to worry about running out of gas, the battery dying or needing an extension cord.
Gas: A gas lawn mower is more powerful than the other options and is often self-propelled. Although you will need to guide and push it, it doesn't take much effort so you will get the job done faster. The down side to gas is that it is noisy and the fumes are not good for the environment or your health if you are breathing them in. You also have to make sure you have gas on hand so you don't run out in the middle of cutting the grass.
Electric: Many people like a corded lawn mower. It is easy to maneuver and better for the environment than gas. However, it is not as powerful as a gas-powered lawn mower and if your yard is on the larger side you may need to use an extension cord. This could lead to you having to carry the cord as you mow so that it doesn't get in the way.
Battery-operated: These lawn mowers are convenient if you don't have an outdoor outlet to plug in an electric lawn mower or if you want to save on your electrical bill. While they are convenient to use, they are not as powerful as the other options. You also need to remember to keep the battery charged so it doesn't die in the middle of your mowing job. Also, be aware that in some models the battery is built-in and when it finally dies it cannot be replaced and you will have to get a new lawn mower.
Leave a Comment
We're always looking for more feedback! If you own one of these lawn mowers and would like to share your experience, please comment below.
RedFlagDeals.com is reader-supported. We are a participant in the Amazon Services LLC Associates Program and other similar affiliate advertising programs. These programs are designed to provide a way for sites to earn advertising fees by linking to them. This means that RedFlagDeals.com will sometimes get a small commission if you make a purchase through our links.