The Best Laptops Under $500
Table of Contents
A powerful computer doesn't have to come at a premium price. Low-cost laptops have come a long way, and there are a variety of options that offer extended battery life, full HD displays, and good performance at value-based pricing. The best laptops under $500 still offer speed, style, and efficiency, as well as your choice of operating system. Whether you're a full-time student, working from home, or looking for a laptop for light, everyday use, not to worry; we've rounded up a few that are easy on the wallet.

When choosing the right laptop for your needs, start with the operating system. Windows is popular and familiar to most people and might be necessary depending on the programs you need to use, especially if you'll be working offline often. Chromebooks offer great connectivity and faster, web-based computing, as well as android phone integration. Whichever system you choose, you'll want to look at portability and power.

Be prepared to make some concessions when you shop for budget-friendly laptops. While many options are solid performers, you might have to sacrifice in one area, say battery life, to gain in another, say processing power. In the end, it's all about finding the right balance between what you need in your new laptop, and the convenient extras that will make your life easier.

Let's get started! Check out the best laptops to buy under $500:
1. Editor's Pick: Samsung Chromebook 4+ 15.6"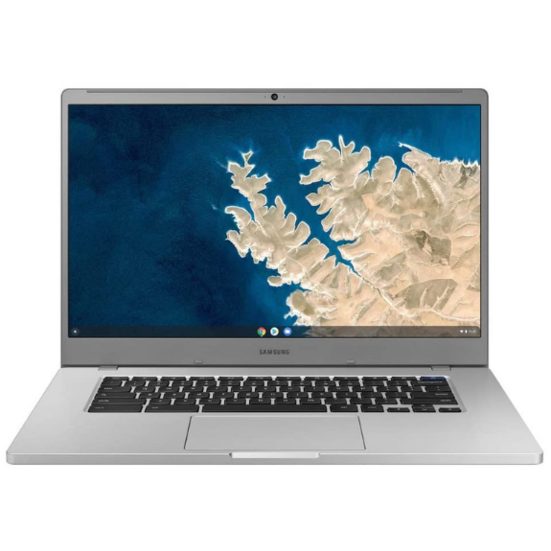 Decent keyboard
Long-lasting battery
Good performance
No touch display
Thick bezels
Dim display
Key Specs
| | |
| --- | --- |
| Display: | 1920 x 1080 FHD LED |
| CPU: | Intel Celeron Processor N4000 |
| RAM: | 4GB |
| Storage: | 32GB |
| Graphics: | Intel UDH Graphics 600 |
The Samsung Chromebook 4 is a do-it-all machine, from surfing the web to working and learning from home and streaming content when it's time for a break. It loses a few points for the dim display and thick bezels, but it's still an optimal budget-friendly laptop for everyday use. The micro-SD card slot will give you the option to store files and photos externally. Lightweight with a long-lasting battery and powerful Intel Celeron Processor, this is a full-size laptop that boasts efficient performance and portability.
2. Runner Up: Lenovo IdeaPad 3 15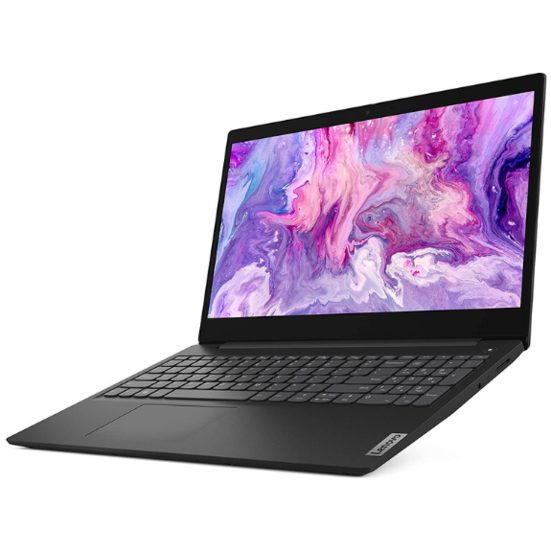 Webcam shutter
Clear audio
Touch display
Average battery life
No USB-C port
Plastic build
Key Specs
| | |
| --- | --- |
| Display: | 1366 x 768 HD |
| CPU: | AMD® Ryzen™ 3 3250U processor |
| RAM: | 4GB |
| Storage: | 128GB |
| Graphics: | Integrated AMD Radeon™ |
If privacy is a top concern, this Windows laptop features a webcam shutter. This low-tech solution for a common cyber-security problem means no more sticky tape on your laptop display. While the battery life is fairly average at six to seven hours, it packs a powerful AMD processor and graphics combo to make work — and gaming — more efficient. The Lenovo IdeaPad 3's touch display gives you the best of both worlds for easy tap navigation and word processing.
3. Best Chromebook: Acer Chromebook Spin 311 11.6"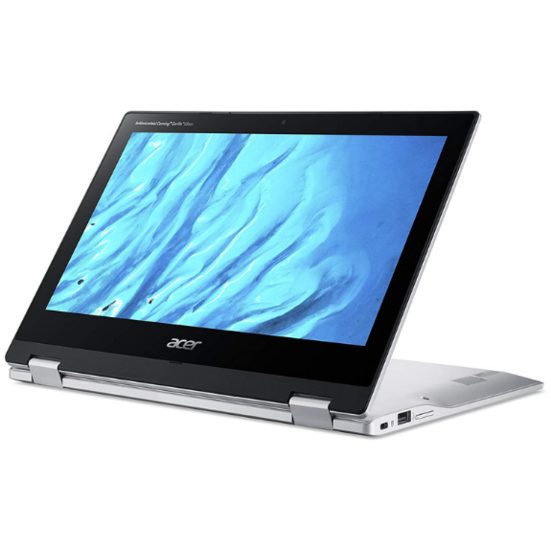 Long-lasting battery
Four view modes
Anti-microbial Gorilla Glass
Plastic build
Dim display
Key Specs
| | |
| --- | --- |
| Display: | 1366 x 768 HD |
| CPU: | MediaTek MT8183C |
| RAM: | 4GB |
| Storage: | 32GB |
| Ports: | USB, USB-C, headphone jack |
With a 15-hour battery and small, travel-friendly build, the Acer Chromebook Spin 311 is a solid contender for flexible, on-the-go computing. The plastic housing will not have the more premium feel of aluminum, but the display is made from built-tough antimicrobial Gorilla Glass. This convertible laptop features four view modes (notebook, tablet, tent, and display) for optimal versatility.
4. Best for Students: HP Stream 14"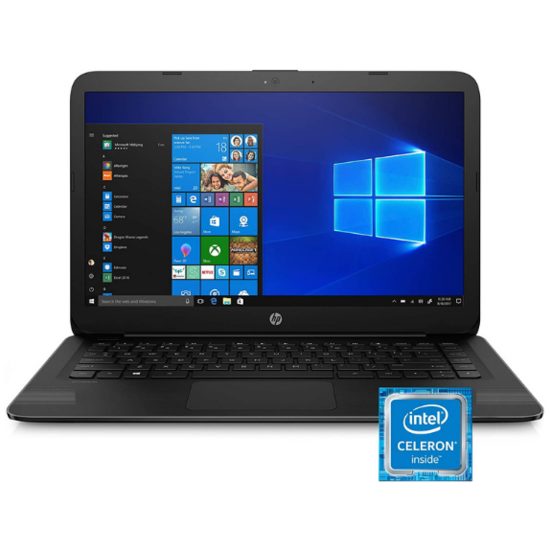 Budget-friendly
Long-lasting battery
Lightweight, slim-build
Plastic build
Low processing power
Key Specs
| | |
| --- | --- |
| Display: | 1366 x 768 HD |
| CPU: | Intel Celeron N4020 |
| RAM: | 4GB |
| Storage: | 64GB |
| Graphics: | Intel® UHD Graphics |
If you're a parent (or student) on a tight budget, the HP Stream 14" is a Chromebook-comparable Windows laptop. Keep in mind though, low-processing power makes this machine less than ideal for those who hoard tabs or like to have multiple apps running in the background. With a slim, lightweight build and nine-hour battery, it makes portability a winning feature for on-the-go learning and homework.
5. Best for Work: ASUS VivoBook Flip 14"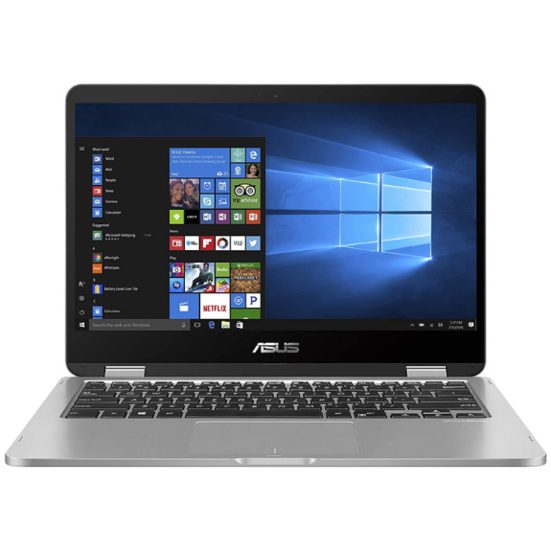 Fingerprint sensor
Long-lasting battery
Strong metal hinge
Limited ports
No keyboard backlight
Key Specs
| | |
| --- | --- |
| Display: | 1366 x 768 HD |
| CPU: | Intel Quad Core processor |
| RAM: | 4GB |
| Storage: | 128GB |
| Graphics: | Integrated Intel UHD Graphics 600 |
Working from home or on the go is made easy with the ASUS VivoBook Flip 14. The fingerprint sensor offers a welcome extra layer of security, and strong metal hinges make for quick mode-switching. It falls short where ports are concerned, offering only USB-C, micro-USB, and micro-HDMI options, so you'll have to make sure your peripheral equipment can fit those ports. With 128GB flash memory and long-lasting battery, it's got the capacity to see you through spreadsheets, light sketching, virtual meetings, and streaming media.
6. Best Battery Life: Yitaoera Laptop 13.3-Inch Notebook Computer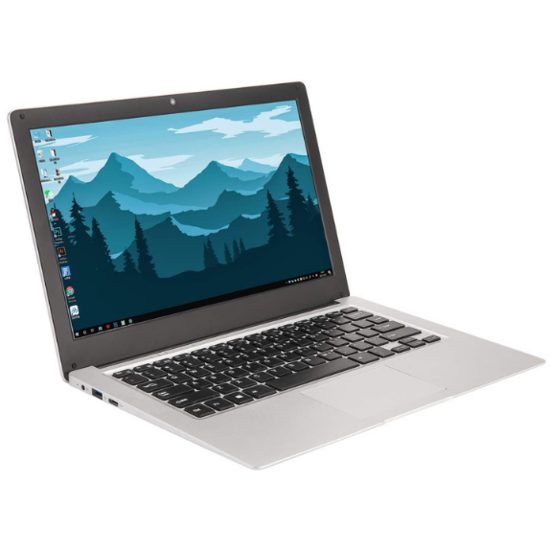 Lightweight and thin
Decent battery life of six to eight hours
Intel HD graphics supports smooth 4K videos
Small screen
Plastic body
Key Specs
| | |
| --- | --- |
| Display: | 1920x1080 HD IPS |
| CPU: | 1.5 GHz celeron_j3455 |
| RAM: | 4GB |
| Storage: | 6 GB SSD, 128GB SSD expandable storage |
| Graphics: | Intel HD Graphics |
If you do most of your computer work in a cafe, restaurant or other areas that don't give you immediate access to an electrical outlet, you're going to need a laptop that comes provides a decent battery life.
This 13.3-inch notebook from Yitaoera is budget priced and for that range, it offers up an acceptable battery life of six to eight hours, which gives you plenty of time to sit through numerous lectures and take notes, or a half-day in a café before they kick you out. Aside from battery life, you won't break your back carrying it around. It's super thin and lightweight — it weighs only 3.3 lbs. and is 7mm thick — and will fit nicely into a backpack.
Powered by a decent processor, the computer has 6GB of memory and 128GB SSD of storage, so you'll have plenty of power and space to do whatever you need, from storing your photos and videos to creating documents and surfing.
7. Best Large Screen: Dell Inspiron 15 3502 15.6" HD Laptop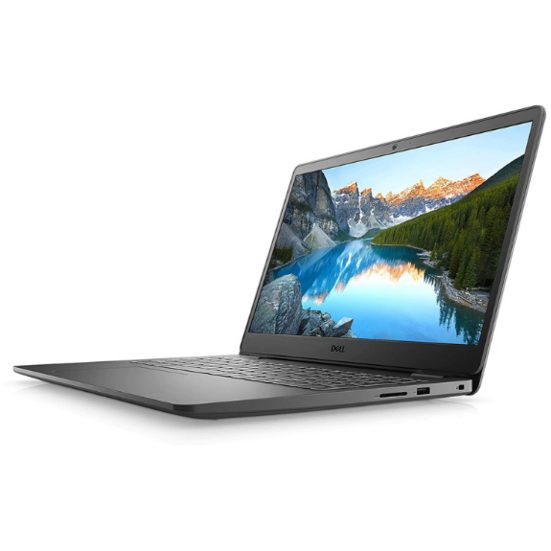 Large 15.6 inch display
LED backlit
2400MHz RAM; 128GB
No information on battery life
No-touch display
Key Specs
| | |
| --- | --- |
| Display: | 1366 x 768 HD |
| CPU: | Intel Celeron Processor N4020 |
| RAM: | 4GB |
| Storage: | 128 GB SSD |
| Graphics: | Integrated UHD Graphics 600 |
Not everyone needs or wants a laptop with a small screen and in fact, for some forms of work, especially anything that involves larger layouts and graphics (or, to be really honest, gaming and watching videos), a larger screen is desirable.
This laptop from Dell has a Windows OS and while it's near the top of the $500 price limit, you get a pretty decent processor — the Intel Celeron N4020 is power efficient and faster than the old Celeron N4000 — plus a large 15.6 HD screen. The display offers up a decent resolution of 1366 x 768 and the anti-glare, LED backlit non-touch narrow border display gives you added screen space for beautiful visuals.
With the larger screen and overall body, you'll have to give up a bit in the lightness department, but at 5.7 pounds, it's still pretty easy to carry around. Couple that with 4 GB of RAM and an Intel UHD graphics 600 with shared graphics memory, and you'll have yourself a pretty good laptop to meet most of your needs.
8. Also Consider: Laptop Computer 14-inch Windows 10 – HAOQIN HaoBook140 Notebook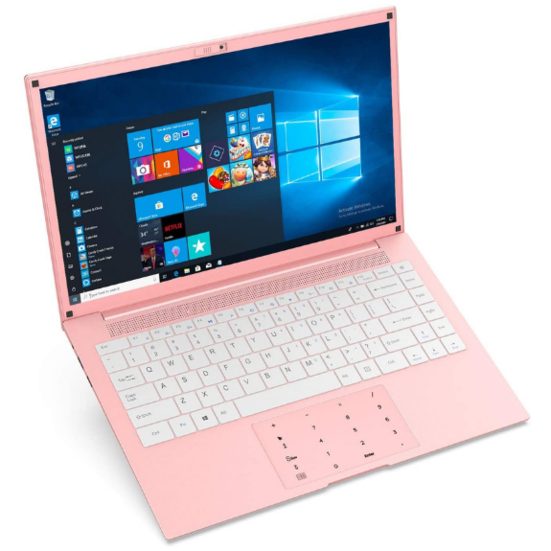 Slim design
14-inch screen
Numeric display on mouse pad
Basic processor
Audio can sound tinny
Key Specs
| | |
| --- | --- |
| Display: | 1366 x 768 MP |
| CPU: | 1.1 GHz celeron_n3350 |
| RAM: | 4GB |
| Storage: | 128 GB SSD |
| Graphics: | Integrated UHD Graphics 500 |
This 14-inch laptop is an ideal choice as a first-time computer for elementary school-aged kids for online-learning, school projects and some online searching. At the lower end of the $500 price limit, you won't be getting high-end display resolution and multiple app and open-tab usability, but it will support multiple tabs with some other programs running in the background.
The Intel Celeron N3350 is an entry-level processor, so don't expect anything more than basic performance but for light use, especially for a youngster doing schoolwork, it's a good option.
It does have a front-blocking camera to ensure privacy and it supports dual-band Wi-Fi, namely the 5GHz band and also has Bluetooth support. The audio is pretty decent but if you're looking for top quality on that front, you'll be disappointed, as it can sound tinny. It does have a neat feature, though, especially for doing math: there is a numeric display on the mouse pad to make accessing numbers easy.
What to Look for in a Budget Laptop
Your needs and usage are unique, so those should be top of mind when purchasing a laptop. Specifically, you'll want to consider:
Display
Processor
Memory
Storage
Battery life
Display: For the most part, you'll want a display resolution of 1080p, listed as 1920x1080, for the full HD (FHD) experience. However, it isn't unusual for smaller or less powerful machines to offer standard HD at 1366x768. If screen resolution isn't critical for you, standard HD is perfectly fine.
Processor: Think of the processor as the engine of your laptop. You'll want the most powerful one you can get in the machine that best suits your needs. It's a good idea to check the processor's speed, measured in gigahertz (GHz). Faster processors will have a higher number.
Memory: A lot of budget-friendly laptops will have 4GB of memory (also listed as RAM). The key here though is the operating system. Windows operating systems can be limited with 4GB of memory, so to boost performance, you'll want to close background apps that you're not using. Chromebooks can do more with 4GB of memory, and a lot of the apps are web-based.
Storage: Storage is just as, if not more important than processor speed, and will impact your day-to-day usage. Measured in gigabytes (GB), the higher the number, the more storage you have. This will enable you to save all your file, photos, videos, and other projects on your computer instead of in the cloud.
Battery Life: For the most part, the longer-lasting your battery, the better. However, with other priorities to consider like storage and processor, it might not be the most important must-have on your list. A decent laptop battery should give you at least seven hours of surf and work time, but 10 and above is the real sweet spot. Laptops are about portability, so if you'll be switching locations often or travelling, go with one that offers more than 10 hours usage time.
If you know you'll be near an outlet most of the time though, you can sacrifice battery longevity for most powerful processor and storage specs.
Bloatware on Windows Laptops
What is Bloatware?
So, you've just set up your brand-new laptop, and it seems to run slower than you expected. This could be due to some extra programs collectively referred to as bloatware. This refers to an assortment of pre-installed apps that are rarely — if ever — used and take up valuable storage space.
How to Get Rid of Bloatware in Windows 10
You can manually uninstall programs in Windows 10 fairly easily. In Settings, go to Apps, then Apps & Features. From there, you should be able to find all the programs installed on your computer. Simply scroll through the list until you find the program you want to remove, click it, and choose "Uninstall".
Leave a Comment
Do you own one of these? Do you agree with the review? Did we miss your favourite laptop? Comment below and let us know!
RedFlagDeals.com is reader-supported. We are a participant in the Amazon Services LLC Associates Program and other similar affiliate advertising programs. These programs are designed to provide a way for sites to earn advertising fees by linking to them. This means that RedFlagDeals.com will sometimes get a small commission if you make a purchase through our links.