The Best Label Printers
Table of Contents
Although they might look old-fashioned, the best label printers can be an essential part of your professional workflow, especially if you ship a lot of items or need to organize retail goods, and they can help you organize stored goods in your home, too. Label printers can be a necessary tool for your career, especially if you do a lot of shipping or work in a classroom, but they're great to use around your house, too — you can use them to label and organize your belongings. So, whether you're running a small business from home and need to have professional labels printed, or if you just want an easy way to bring some organization to your home, we've done some of the legwork for you and compiled this list with some of the best options you can find on the market at the moment.
Just in case you have trouble choosing a printer on your own, we've put together a little guide at the end of this article to help you out, too. If you're a business owner, you'll need to factor in the cost of the printer and labels into your budget — you'll find a few tips on how to do that below. There's also a list of some key label printer features to keep in mind, so you'll know if you're getting the right printer or not. Without further ado, here's our list!
1. Editor's Pick: Brother Economic Desktop Label Printer QL-600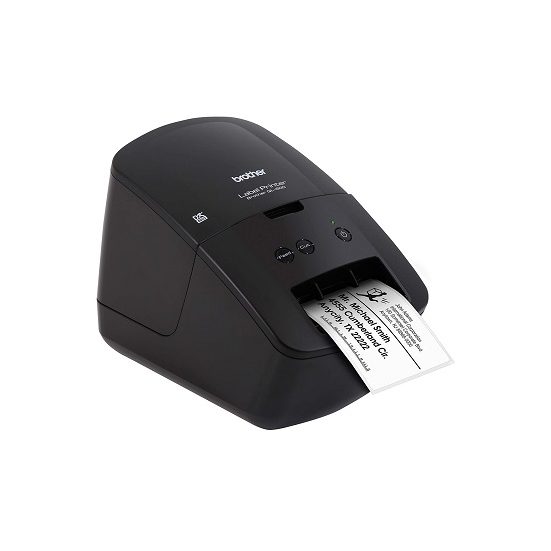 Affordably priced, and great value for what you get
Quite easy to change out the label rolls
Wide range of compatibility with computing devices
Continuous label printing functionality
Light and compact design
Can't be connected through Wi-Fi or Bluetooth
Key Specs
| | |
| --- | --- |
| Printer Technology: | Thermal |
| Connectivity Technology: | USB |
| Product Dimensions: | 8.8 x 5.1 x 6.1 inches |
| Product Weight: | 4.449 lbs. |
The Brother Economic Desktop Label Printer QL-600 is the perfect blend of performance and affordability, and it's a great choice for any small business to consider purchasing; it prints labels in high quality, tackles print jobs very quickly (printing up to 44 labels per minute), and it has a low upfront cost so your overall expenses will be lower. It's compatible with PC, Linux, and Mac computers, and has software that integrates with some computer applications, like Microsoft Word and Excel, without a glitch. The only real con here is that it needs to be connected through a USB cable, but that's something you'll find with many printers out there right now. Still, if you want a high-quality printer that's both affordable and powerful, this is the right model for you.
2. Runner Up: Dymo LabelManager 160 Handheld Label Maker
Handheld and easy to carry around
User-friendly and easy to learn how it works
Durable enough to survive accidental drops
Long battery life
Affordably priced
Prone to jamming
Only one font available to print
Key Specs
| | |
| --- | --- |
| Printer Technology: | Thermal |
| Product Dimensions: | 10.43 x 6.31 x 2.63" |
| Product Weight: | 1.261 lbs. |
This handheld printer comes at a more affordable price, and it comes with two extra rolls of tape — it's the perfect labeller for users on the move.
The Dymo LabelManager 160 Handheld Label Maker features a QWERTY style keyboard, which you can use to write and format your labels quickly without connecting to a computer. Handheld printers like this one are ideal for anyone who needs to walk around while printing their labels, like if you're organizing a basement in your home, or a large storage area at work.
This particular printer is compatible with three different sizes of labels, and it has six font sizes, eight different text styles, and 200+ symbols available for you to work with. Since it isn't wired, it does run on battery, but to extend its battery like it has an auto power off function, to protect you from accidentally leaving it on.
3. Best for the Home Office: Dymo 1752264 Labelwriter 450
Easy to install, and it's easy to use, too
Compatible with many different sized labels
Good print quality
Solid and dependable
Compact and unobtrusive if you keep in on your desk
No Wi-Fi or Bluetooth connectivity
Key Specs
| | |
| --- | --- |
| Printer Technology: | Thermal |
| Connectivity Technology: | USB |
| Product Dimensions: | 7.25 x 4.87 x 5.75" |
| Product Weight: | 2.579 lbs. |
Although a little pricier than our top pick, this label printer is great for the home office because of its quick print speeds and program accessibility options.
If you're running a business from your home, consider a model like the Dymo 1752264 Labelwriter 450. With this model you can save some time by creating and printing labels right from some of the most useful Microsoft programs, like Word or Excel, or you can print things like addresses from your digital contact books. You can print various labels like barcodes, labels, and graphics in high resolution so that they're easy to pick up by something like a scanner. It can print at a speed of up to 71 labels per minute, so when you have tons of packages to ship it's got you covered.
4. Best Wide Printer: Brother QL-1110NWB Wide Format Professional Label Printer
Option to use either wired or wirelessly
Works with both PCs and Mac computers
Perfect choice for businesses who need to print wide labels
User friendly
Good quality, and feels sturdy
Key Specs
| | |
| --- | --- |
| Printer Technology: | Thermal |
| Connectivity Technology: | Ethernet, Wireless, Bluetooth |
| Product Dimensions: | 11.61 x 9.44 x 9.72 centimeters |
| Product Weight: | 6.658 lbs. |
It's pricey, but this label printer comes with Bluetooth capabilities which means you can print your labels without hooking the printer up to a computer, and it prints wide labels, too.
The Brother QL-1110NWB Wide Format Professional Label Printer can easily print your labels up to four wide, and since it can print at a speed of up to 69 labels per minute, it's very quick. It can also connect to your computer wirelessly through Wi-Fi or Bluetooth, so you don't need to use any cables to connect.
The label design software this model comes with works on both PCs and Macs, and it lets you easily add things like text, images, barcodes, and frames to the labels you're printing. You can also link the software to Excel, to quickly fill sets of data into your labels.
5. Best Budget Pick: Dymo Colorpop Color Label Maker, Handheld, Purple
Brightly coloured device, and can print on coloured tape
Portable and easy to bring around with you
Can print Emojis, too
Isn't unnecessarily expensive
Needs batteries to work (that aren't included)
The printer might jam occasionally
Key Specs
| | |
| --- | --- |
| Printer Technology: | Colour |
| Product Dimensions: | 2.56 x 6.3 x 10.43" |
| Product Weight: | 1.171 lbs. |
It's not a traditional label printer, but this one is handheld and prints in colour — it's perfect for at home uses, including scrapbooking.
Being able to print on coloured labels makes the Dymo Colorpop Color Label Maker a fun option to purchase, especially if you're using it for crafting, scrapbooking, or journaling at home, and the unit itself is also a fun bright colour. If that wasn't fun enough for you, it can also print 150+ Emojis and symbols, to further let you express yourself through a label.
It comes with a roll of tape included in the bundle, but when you're ready to purchase more, they're available in a variety of glittery colours.
6. Most Aesthetic: Phomemo Label Maker Machine D30
User friendly
Low price point
Comes in a variety of fun colours
Compact enough to carry around with you
Great for uses around the home, like labeling spice racks or journaling
Not suitable for shipping or most other business needs
Key Specs
| | |
| --- | --- |
| Printer Technology: | Thermal |
| Connectivity Technology: | Bluetooth, USB |
| Parcel Dimensions: | 15.19 x 8.51 x 4.19 cm |
| Parcel Weight: | 249g |
This colourful printer is smaller than traditional label makers, and it comes in three different colours, and lets you print on coloured rolls that are fun for using in the home.
The Phomemo Label Maker Machine D30 is another handheld model that comes in fun colours, and this one has a rechargeable built-in battery that lasts a long time. It connects to your mobile devices through Bluetooth, and you can control the lettering through their app when you want to print a label. There's a huge variety of coloured tapes available with this one so it's easy to have fun with your labelling.
7. Also Consider: L+H2 Direct Thermal Label Printer
Comes with clear instructions that make the setup process simple
Prints quickly, and isn't prone to jamming
High print quality
Good value for the price you pay
Comes with a label holder
Has compatibility issues with Macs occasionally
No wireless connective options
Key Specs
| | |
| --- | --- |
| Printer Technology: | Thermal |
| Connectivity Technology: | USB |
| Parcel Dimensions: | 33.79 x 16.6 x 15.6 cm |
| Parcel Weight: | 1.89kg |
This model is great for commercial uses because it's fast, inexpensive, and compatible with most of the major shipping platforms.
The L+H2 Direct Thermal Label Printer doesn't just work with one label size, like the most popular 4x6, but many different ones too, so you can print labels small or large. Sticker labels can be printed at 150mm per second, which is quite speedy, and it's compatible with many different shipping platforms, like ShipStation and Shippo. This printer comes with some starter labels, and ships with an easy to assemble label holder that you can use to keep your extra printer rolls organized neatly.
8. Honourable Mention: Phomemo 4x6 Shipping Label Printer
Compatible with both roll and fanfold thermal labels
Easy to set up and use, and there's video instructions available
Good quality, and worth the initial investment
Works great with both Macs and PCs
Compatible with many prominent online shipping tools
Some users had issues when trying to connect to shipping websites
Key Specs
| | |
| --- | --- |
| Printer Technology: | Thermal |
| Connectivity Technology: | USB |
| Product Dimensions: | 22.1 x 19.05 x 14.73 cm |
| Product Weight: | 2.23kg |
Even though it might be more expensive than most other options here, it's still a dependable machine that's worthy of your consideration thanks to its printing speed and wide compatibility.
The Phomemo 4x6 Shipping Label Printer is very quick, and it can print up to eight 4x6 labels per minute. It's compatible with most of the major online shipping platforms, including marketplaces like Etsy and Amazon, so shipping your goods out will be a breeze. It works well on both Macs and PCs, but if you're a Mac user just be aware that you need to go onto their website and download the proper driver.
Label Printing for Businesses and Shipping
As you likely already know, label printers are a wonderful tool for businesses, especially ones that do a lot of shipping, because it can save money in the long run since you won't be buying lots of tape and paper anymore to make shipping labels. It's important to factor in the costs into your budget, including both the up-front cost of the machine as well as the actual cost per label. You can also see how much money you're actually saving this way, versus buying ink, paper, and tape for alternate methods, so perhaps you can invest those savings into another part of your business.
Features to Keep in Mind
Printer Technology: You might be wondering how these printers work without any ink cartridges — it's because they use thermal printing technology. Thermal printers don't use ink, but rather they apply heat onto special paper that's chemically treated, so it turns dark when the heat is applied. The result is a much more cost friendly printer, that can also print labels more quickly.
Colour: These label makers generally can't actually print in colour, since they use the thermal printing method, however, to get around that many label companies create rolls that are coloured, and printing on them makes the text white on colour. If colour is something you're interested in, make sure you see what kinds of label rolls are available for your selected device, and try to pick one with colourful options.
Paper Size: There will likely be times that you want to print different sized labels, whether that's for something like shipping or creating barcodes. Try to look for a label printer that can print on more than one size of roll, so you have plenty of sizing options available.
Connectivity: The majority of label printers right now connect to your computer through USB, however some are now Bluetooth and wireless compatible now too, so you can wirelessly send print jobs to the label maker. If you hate wires, try to pick one of these options.
Resolution: Since you aren't really printing photographs or important documents with these printers, the resolution of the print isn't the most important thing in the world, but it can be helpful to print clearer labels if you're using a scanner to scan printed barcodes, for example, because it'll recognize it quicker. Try to find a resolution with the highest dpi (dots per inch) if the sharpness of the print is something you value.
Leave a Comment
We're always looking for more feedback! If you already own one of these label printers and you would like to share your experience with it, or if we missed your favourite one, please tell us your story in the comments below.
RedFlagDeals.com is reader-supported. We are a participant in the Amazon Services LLC Associates Program and other similar affiliate advertising programs. These programs are designed to provide a way for sites to earn advertising fees by linking to them. This means that RedFlagDeals.com will sometimes get a small commission if you make a purchase through our links.