The Best Jumper Cables
Table of Contents
Every car trunk needs a set of jumper cables. They're the simple, affordable emergency device that can be the difference between you being stranded and getting back on the road again. There are lots of things that can drain a battery. Faulty alternator, parasitic drain, or more commonly: human error. The music and flashing lights might be cool during the tailgating event, but failing to fire your engine afterwards is much less so.
The best jumper cables have good length, robust build quality and insulated clamps. They might also have a fuse to protect your car from surges in power. If we're honest, there's not a lot of variation between booster cables in this day and age, and yet some still find a way to elevate themselves above the competition. From the full featured to the basic, we've got a range of cables to suit your needs here. Check it out below:
1. Editor's Pick: Energizer Jumper Cables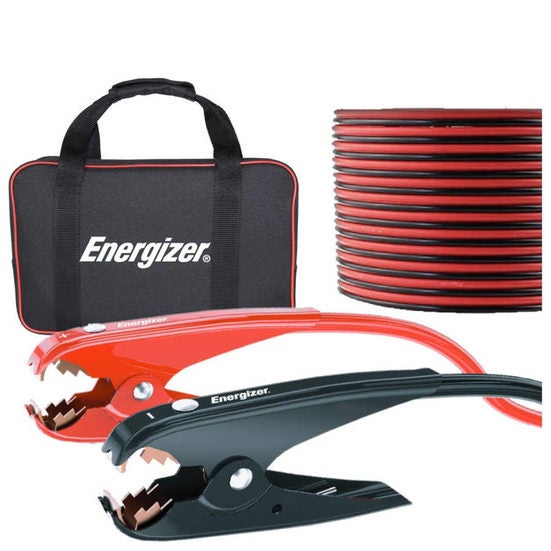 Suitable for most vehicles
Build quality
No built-in fuse
Short jaws
Key Specs
| | |
| --- | --- |
| Cable length/size: | 20 ft./two-gauge |
| Amperage: | 800 |
| Connection type: | Alligator clamps |
Energizer booster cables hit the sweet spot for value, durability and performance making them the best choice for most drivers. There are a range of sizes available, but our pick is the 20ft, two-gauge cable rated to 800amps. That's long enough for vehicles parked directly behind each other to boost, and the 800amps will handle the cranking forces of even the bigger passenger pick-up trucks on our roads. The jaws on the clamps are shorter and more fiddly than some options on this list, but they are coated in a vinyl layer that prevents corrosion and offers some insulation for your hands.
The wires themselves are aluminum coated in copper and remain pliable and tangle-free even in extreme cold. Energizer supplies a robust and durable canvas carry bag for these cables, and also supports them with a two-year factory warranty. Our only real complaint is the lack of a fuse for surge protection, which means you have to be careful using these jumpers. For its wide range of usage, built quality, and moderate price this is our pick for your trunk.
2. Best Runner Up: TOPDC Jumper Cables 4 Gauge 20 Feet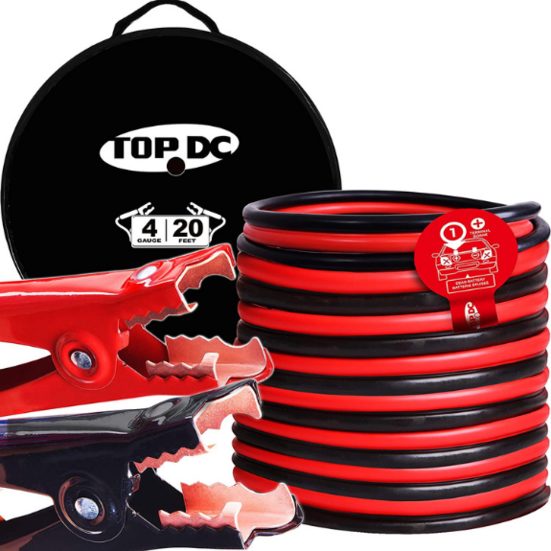 Heavy duty 20-foot long cables
Tangle-free design
Comes with carry bag and gloves
Key Specs
| | |
| --- | --- |
| Cable length/size: | 20 ft./four-gauge |
| Amperage: | 200 |
| Connection type: | Alligator clamps |
These heavy-duty, 20-ft.-long, four-gauge cables from TOPDC pack easily in the convenient travel bag it comes with. Ideal for small cargo areas (or just the neat freaks among us), these cables pack away quickly and easily. The length is perfect for most uses, and we like the heavy-duty construction. These jumper cables are good for cars, motorcycles, trucks, vans and SUVs.
The cables have a great tangle-free design that you're sure to appreciate when boosting on a frigid winter's day. And speaking of winter, these cables are PVC insulated to remain flexible at temperatures between -40F/-40C to 167F/75C. And with 20 feet to work with, the two cars don't have to be super close to each other to get a successful boost.
The copper-plated clamps are nice and solid, can be attached head-on or sideways and work well for easy electrical conductivity and power transfer. The company supports this booster cable with a five-year warranty.
3. Best Heavy Duty: Autogen Jumper Cables 1 Gauge 30 ft. 900A
Key Specs
| | |
| --- | --- |
| Cable length/size: | 30 ft./one-gauge |
| Amperage: | 900 |
| Connection type: | Alligator clamps |
Autogen's heavy-duty jumper cables take boosting your car to beast mode. At a generous 30 ft. long and with a whopping 900a of peak power capability these one-gauge units are great for pick-up drivers, and even farmers of heavy equipment operators. They will also handle smaller vehicles, making them a great solution for those of us who prepare to be overprepared.
The clamps are double-insulated with heavy-duty and impact-resistant PVC. More importantly, they feature heavy-duty clamps and 100 percent copper teeth. A clever extra tab at the back of the jaws ensures you always get a solid connection to the battery posts of either the donor or boost vehicle. The long-flat design of those clamps means you can use them on top-post or side-post batteries too.
Some heavy duty cables are less user-friendly than this option from Autogen, but these are straight forward and easy to use. We like the heavily insulated copper-coated aluminum cable and the durable carrying bag too. We're less enamoured by the high price tag, but fleet operators and owners of multiple vehicles will benefit from the build quality and connective power offered by these jumpers.
4. Best for Heavy Equipment: FieryRed Heavy Duty 1 Gauge 1500 AMP
Heavy-duty
Strong connection
Key Specs
| | |
| --- | --- |
| Cable length/size: | 30 ft./1-gauge |
| Amperage: | 1500 |
| Connection type: | Ring connection, Anderson plug quick connector |
These super-heavy duty cables from FieryRed are built to handle the huge loads required for heavy equipment like tractor trailers and reefer trucks. The one-gauge wire is built from 150 strands of copper-coated aluminium and is good for peak load of up to 1,500 amps. The cables are a generous 30 ft. long, which is enough to jump between two cars or pick-ups parked back-to-back, as well as between tractor trailers at the truck stop.
They are designed to be mounted permanently to the battery terminals, with an Anderson quick-connector handily in place for use when you need it. That makes for a rock-solid connection, but it makes these extremely inconvenient for occasional and emergency use as you need tools to install them. If you're a transport driver who regularly needs to boost reefer truck generators or other equipment, these are ideal.
The terminal connections are tin-coated and sheathed for protection against corrosion, so you can leave them installed safely.
5. Best Value: EPAuto
Key Specs
| | |
| --- | --- |
| Cable length/size: | 20 ft./4-gauge |
| Amperage: | 500 |
| Connection type: | Alligator clamps |
EPAuto offers excellent value with this affordable and well-made 20-ft, four-gauge jumper cable. Rated to an impressive 500 amps for the price, these cables are ideal as an occasional emergency use fall-back for drivers on a budget.
The jaws feature copper-plated teeth instead of solid copper connectors, which is where they company is able to get the price down. We like the aggressive cut on the teeth which makes for a tight and powerful connection. The clamps are also not insulated, but on the plus side the pack includes a pair of safety gloves. It also includes a decent quality plastic carrying case.
EPAuto has a knack for building general-use automotive tools and accessories to an accessible price point, without sacrificing on overall quality.
6. Best Emergency Kit: Performance Tool W1555 Deluxe Roadside Emergency Kit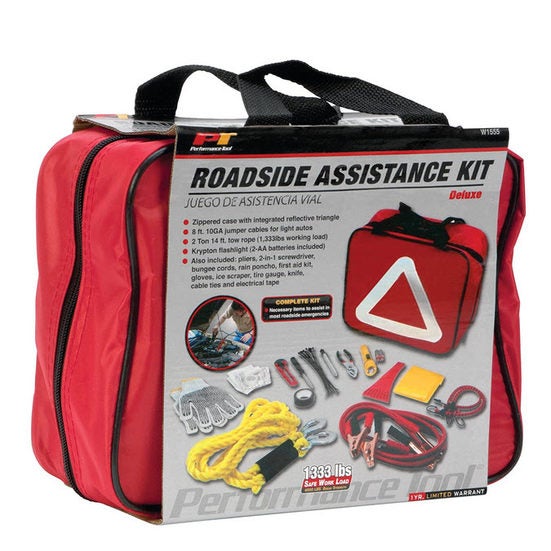 Modest amp handling
Short cable
Key Specs
| | |
| --- | --- |
| Cable length/size: | 8 ft./10-gauge |
| Amperage: | 150 |
| Connection type: | Alligator clamps |
Performance Tool is cheating a little by augmenting its jumper cable with a host of handy emergency kit products – but we'll allow it. At a similar price to most jumper cables here the company packs a host of tools and safety items into this bag, including a 14-ft. two-ton tow rope, box cutter knife, reflective emergency triangle, flashlight, gloves, and rain poncho. It also includes convenient tools like a pencil-style air pressure gauge, pliers, electrical tape and cable ties, bungee cords, and most importantly of all, a first aid kit.
If you want to buy emergency booster cables but baulk at spending money on something you'll rarely use, this is the value proposition that might shift the balance. Unfortunately, the cables supplied in this kit aren't that impressive. At only 10 gauges and 8 ft., these cables are only good for light duty. They're rated to a small 150 amps, which is not enough for larger batteries and vehicles.
On the upside, they are heavily insulated, and the jaws are good quality with copper and aggressive teeth for a solid connection. We like the Performance Tool Deluxe Roadside Emergency Kit because it is a one-stop emergency shop for your trunk that won't break the budget.
7. Honourable Mention: NOCO Boost Sport GB20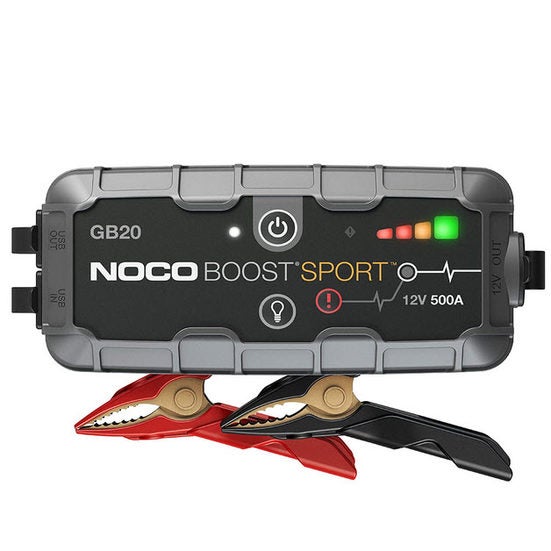 Doesn't require another car
Compact
Key Specs
| | |
| --- | --- |
| Amperage: | 500 |
| Connection type: | Alligator clamps |
We like the GB20 because it doesn't require another vehicle to boost your ride. That makes it better in true emergencies when nobody else is around. Off on a camping trip and left your lights on? No drama. The 500-amp 12-volt booster pack will start most 4.0L engines, and I've personally seen it kick a 5.6L hemi into life without issue.
You can charge the lithium power pack and put it in your car for up to six months without having to recharge it, and it will perform up to 20 starts on one charge as well. The cost for this unit is only a little more than the better-quality jumper cables on this list, which makes it a worthwhile consideration. Of course, if you do forget to charge it then it's useless, where a booster cable is useful any time another vehicle is nearby.
8. Also Consider: AUTOGEN Jumper Cables 1 Gauge 30 Ft 900A Heavy Duty Booster Cables
30-foot long cables
Insulated
Fits top and side post batteries
More expensive than other models
Key Specs
| | |
| --- | --- |
| Cable length/size: | 30 ft./one-gauge |
| Amperage: | 900 |
| Connection type: | Alligator clamps |
Although we have another set of jumper cables suited for heavy duty trucks such as tractor trailers and reefers, these super-heavy duty cables from AUTOGEN are worth considering if you're driving a large truck, RV or other heavy-duty vehicle.
The cables are a generous 30 ft. long, which is enough to jump between two cars or pick-ups parked back-to-back. The clamp-style jaws are designed with an extra thick PVC cover to provide exclusive drop resistance and insulated protection, while the highly conductive copper coated aluminum (CCA) conductor wires have a twice grip design.
The jumper cables fit both top and side post batteries and the tangle free PVC-insulated wires will remain flexible and easy to handle at temperatures as low as - 40°F. The jumper cables also come with an upgraded carry bag and the company supports this product with a one-year warranty.
How to Connect Jumper Cables
Many drivers are daunted by jumper cables. After all, your car's electronics are sensitive, and electric arcs are not only spectacular but can be painful too. These days, the shower of sparks you might have seen in older TV shows are less common, but it's still important to take care when attaching power cables.
First, make sure your cables will reach both batteries without stretching. This is why we prefer longer cables over short. Next, make sure that both vehicles are switched off. Connect the positive cables first.
Now, connect the negative cable, first to the donor vehicle. You can connect it to that car's negative terminal. Finally, connect the negative clamp to the engine block or another solid metal point on the chassis of the car being booster.
Then, try to start the car. If it doesn't fire, you may need to run the other vehicle briefly to get some charge into the donor battery. It should start after five minutes.
Disconnecting is the reverse of the above, always remove the negative cable from the boosted vehicle first, then the negative clamp from the donor car or truck, and finally the positive from both.
The reason we follow this pattern is to make sure that you can't accidentally close the conduction loop. Any spot on your vehicle becomes a conduction point once the negative clamp is attached, so if you brush the positive clamp on metal, you can create an arc.
Your Guide to Gauge
Wire gauges are counter intuitive. In short, the lower the number, the thicker the wire. A 10-gauge wire is the bare minimum for boosting. We only recommend you use it in absolute emergencies. 8-gauge wire can usually handle higher amp loads of around 300a, which is enough to jump most small-medium size cars. You'll need at least a 6-gauge wire to kick over a pick-up truck, but again that's probably smaller than you really want for safety.
The best heavy-duty jumper cables are 4-, 2-, and 1-gauge wire. Those consistently provide over 500amps of surge capability. That final size gives you the most boost power of up to 1,500 amps. If you try to use a small gauge on a high-powered system you risk overheating the cable. That can lead to electrical shorts, and even fires.
Leave a Comment
We're always looking for more feedback! We'd love to hear your experience if you have a set of jumper cables you love, or even a set that didn't work for you. Please comment below!
RedFlagDeals.com is reader-supported. We are a participant in the Amazon Services LLC Associates Program and other similar affiliate advertising programs. These programs are designed to provide a way for sites to earn advertising fees by linking to them. This means that RedFlagDeals.com will sometimes get a small commission if you make a purchase through our links.