The Best Spin Bikes for Your Home
By
Jordan Maxwell
January 28, 2021
Getting up early to travel to the gym with all of your bags can be tough. Finding the right spin class to join can also be stressful. What if you were able to get out of bed, hop on a spin bike and immerse yourself in a fat-burning, intense workout in the privacy of your own home? You could work out, take a shower, make your morning coffee or beverage, and head out for work on your own terms. Well, the truth is that with the right indoor cycling bike, you can make all of this happen.
This Black Friday and holiday season, there are a variety of spin bikes that will give you the resistance that you need to keep going on your calorie-burning mission. Whether you've set goals for yourself or are looking for something to get you situated in a regular routine, spin bikes can be that first hurdle you clear to get you moving in the right direction.
Spin Bikes to Buy
1. Editor's Pick Echelon Smart Connect EX-3 Bike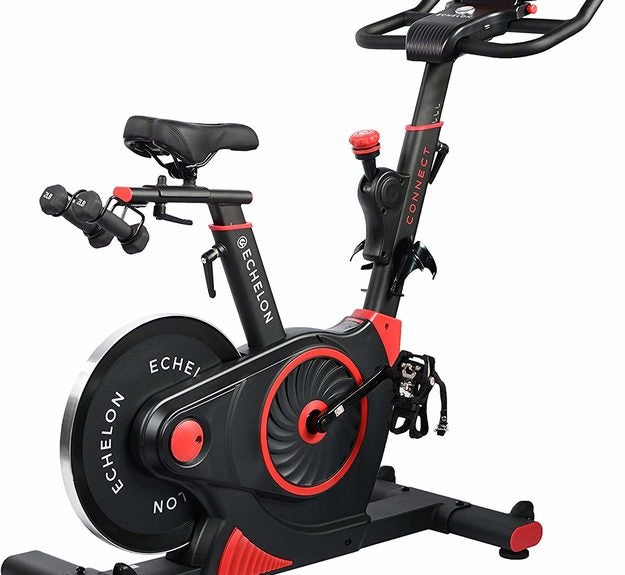 Dimensions: 111.8 x 30.5 x 83.8 cm
1-year warranty
The Echelon Fit App (Compatible with Google Play or Apple Store)
The Echelon Smart Connect EX-3 Bike is a solid option if you want a high-quality spin bike without the added costs that come with high-tech screens built-in. There are 32 levels of resistance and it comes with the Echelon Fit App (using your tablet in the built-in holder) that allows you to change up your workout. It has highly adjustable handlebars and the seat can be customized so you can accommodate a wide range of users. Its pedals are also compatible with SPD clips, for those using the EX3 for off-season cycling training. It's not the most technological model as most of that comes in the form of the app but this bike is for everyone from entry-level to experienced rider.
2. Sole Fitness B94 Upright Exercise Bike
Dimensions: 149.9 x 25.4 x 12.7 cm
20 levels of computerized auto tension
LCD Monitor
With 20 levels of resistance levels with a 20 lbs. magnetic flywheel system, it has dual transport wheels at the front of each frame help make moving the cycles easy and convenient. It also has an adjustable gel seat, strong frame and ergonomically designed pedals allow the machine to conform to your needs. Equipped with and 9" LCD monitor and a chest belt to help you to empower your fitness goals, the B94 also now includes Bluetooth capability. The Sole Fitness B94 Upright Exercise Bike allows users the freedom to transfer workout data from their fitness equipment to their smart device.
3. NordicTrack Commercial Vr21 Recumbent Bike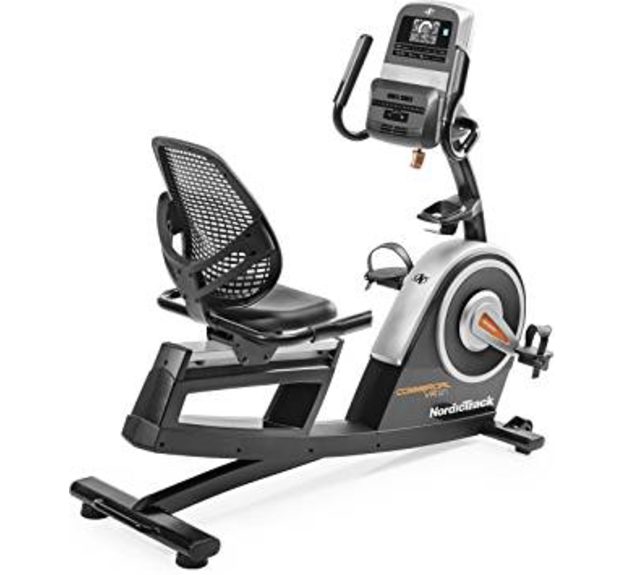 Dimensions: 152.4 x 66 x 38.1 cm
5-inch backlit iFit display
Includes 32 workout apps
As a cheaper model than the others mentioned above, the NordicTrack Commercial Vr21 Recumbent Bike has a 20 lbs. enhanced flywheel that is designed to give you a more natural stride. Its backlit display allows you to watch your calories burned and workout progress. Not only can you keep an eye on you progress with its heart-rate monitor but it also has an AutoBreeze workout fan that allows you to feel wind on your face while you're working out. Also, you can plug in your device or smartphone and work out to your favorite music through dual superior 2-inch speakers.
4. Diamondback Fitness 510Ic Indoor Cycle
Dimensions: 106.7 x 58.4 x 116.8 cm
31-pound flywheel
14 workout programs
Not every quality spin bike has to cost over $1,000 and this holiday season, you can get the Diamondback Fitness 510Ic indoor cycling bike at a fair and decent price. With 16 levels of magnetically controlled resistance and 12 built-in training programs, this spin bike delivers some solid bang-for-buck when looking at its included features. You can adjust the seat vertically or horizontally to find the most comfortable spot and its frame has a lifetime limited warranty (5-years) and parts/electronics have 3 years of coverage. The 510Ic runs a compact but effective LCD console that displays RPM, resistance, time, and other functions. It's not as high tech as the NordicTrack, but also not as bare-bones as the Sole.
5. Sunny Health & Fitness 49 LBS. Chromed Flywheel, Silent Belt Drive Indoor Cycle Bike
Dimensions: 111.8 x 50.8 x 111.8 cm
49-pound flywheel
LCD screen included
This is a cheaper option than most and yes, the included seat is undeniably hard and uncomfortable for most people but you can replace it or get a foam pad to make it more comfortable. If you're under 5'7″ or over 6'2″, you're likely to be uncomfortable. However, if you're looking for something within a specific budget this could be a good option for you.
6. Schwinn AC Performance Plus w/ Carbon Blue Drive Spin Bike
Dimensions: 109.2 x 50.8 x 121.9 cm
6-Magnet Brake System
LCD screen included
If you want an indoor bike that's modelled after outdoor bikes, the Schwinn AC Performance Plus should be on your shortlist. It has a powerful system with a large-range of resistance. What makes the model stand out is its outdoor-inspired features. It has a belt drive, which is unusual for a bike like this. Schwinn engineered their belt drive to try to simulate outdoor riding by making, among other things, the belt drive thicker. The belt drive is ribbed so that it feels like riding an outdoor bike. What's more, you can ride with normal athletic shoes in supportive toe cages or use SPD fittings that allow you to clip special shoes to them.
What to Look For in a Spin Bike
When you're looking for a good spin bike to help bolster your workout routine, there are four things that you should consider before buying one. They are:
Resistance: The best bikes have a large range of resistances for novice and expert athletes alike.
Support: You want a stable bike that holds its own, so you can focus on your workout.
Materials: The bike's longevity is dependent on the quality of its materials.
Technology: Technological innovations can make your biking experience better. These are the factors that matter in choosing a spin bike you'll love for years to come. Now, let's get to the bikes!
Spin Bike FAQs
As with anything, when you're shopping for a new spin bike, you're trying to find the features you need at the best possible price. Every bike has its pros and cons, and all seven of these bikes occupy and dominate their own niche. Here are some frequently asked questions that people have about spin bikes.
What Is the Difference Between a Spin Bike and an Exercise Bike?
The main difference lies in the flywheel mechanism. Spin machines traditionally sport heavier flywheels, which demand greater effort and burn more calories. Standing up engages your whole body while drawing every single muscle group into the workout.
What Are Spin Bikes Good for?
They're great if you're looking for a full-body workout. They offer a full-body workout while focusing on major muscles such as the thighs, calves, abs, hips and shoulders. Spin bikes can be used for interval training, as you can combine high- and low-intensity workouts, which in general greatly improve your metabolism.
Is a Spin Bike Better Than a Treadmill?
In general, a 30-minute treadmill running session at 6mph for a 155 lbs. adult will burn around 350 calories. Spinning on a bike could help you burn more calories in the long run. The same size adult will burn around 260 calories in 30 minutes on a Spin bike at a steady pace. If you push yourself, you can burn anywhere for 400 to 600 calories.
How Many Days a Week Should I Spin?
Most instructors will recommend that you spin three times a week. It's good to allow the body to rest and recover. Remember the point is to grow, not to crash and burn.
Is Spinning Bad for Your Knees?
It's one of the best exercises for people with bad knees. It can strengthen your muscles and ligaments in the legs responsible for knee pain while being super-low impact. Because it gets you to those high heart-rate zones without slamming your joints, a Spinning workout is really the best cardio exercise for people with bad knees!
What Is a Spin Bike and How Do They Work?
Spin bikes have some interesting qualities that are unique. Unlike exercise bikes, the spin bikes have a flywheel that is located on the front of the bike and is separated by the pedals. It provides resistance and momentum to mirror the experience of riding a bike outdoors. These flywheels are usually heavier, weighing in at more than 30 pounds. It's this unique flywheel setup that delivers the intense workout that all spin bike fanatics love! Here at RedFlagDeals.com, we've tested a bunch of spin bikes to discover the best value models across the price spectrum. From the feature-rich Schwinn AC Performance Plus to Peloton performance bikes, we've got some great options when you're looking to break a sweat and lose some calories at home.
Start Shopping Today!
Check out your options before buying. You can also visit our forums on RedFlagDeals.com to find additional deals and information that will help you make a decision. It's Black Friday and also the holiday season; take advantage today!
RedFlagDeals.com is reader-supported. We are a participant in the Amazon Services LLC Associates Program and other similar affiliate advertising programs. These programs are designed to provide a way for sites to earn advertising fees by linking to them. This means that RedFlagDeals.com will sometimes get a small commission if you make a purchase through our links.