The Best Treadmills for Home Use
Table of Contents
From inexpensive manual treadmills to expensive electric machines, treadmills are a great cardio workout for those looking to lose weight, burn some fat, or just stay active. Whether you want to keep your body moving or simulate a hilly run, treadmills can come loaded with different features like built-in speakers, built-in fans, USB ports, Bluetooth compatible systems, or LCD screens to watch your favourite shows while running. Not only that, but treadmills also range in belt sizes that are specific lengths that better suit runners and walkers and have varying amounts of incline and speed levels to help maximize your workout experience. We've put together a list of some of the top rated treadmills and answered some frequently asked questions to help you on your journey to finding the best treadmill for you!
Before you buy a treadmill, ask yourself: Am I going to be able to maintain the treadmill? Do I want to walk or run on the machine, and how often? Do I want extra features like a heart rate monitor or for it to connect to my phone? What about inclines and declines? Do I have enough space?
There are a lot of things to consider and think about beforehand. Once you figure out what you want to use the treadmill for, how much space you have, and how much you're willing to spend, then your search for a treadmill becomes a lot easier. Below we outline a few of the best walking, running and foldable treadmills on the market to help you find the right machine.
1. Editor's Pick: NordicTrack T 6.5 Si Treadmill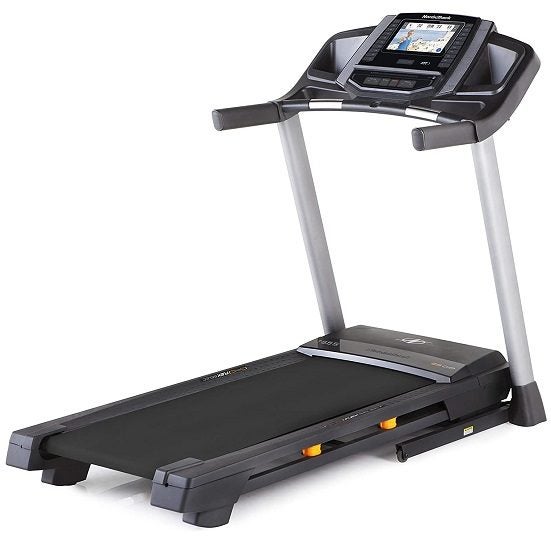 1 year labour warranty included
10% incline
One-touch controls
Foldable
Assembly required
Assembly is complicated
iFit required to use
Poor customer service
Key Specs
| | |
| --- | --- |
| Motor: | 2.6 HP |
| Incline: | 10% |
| Running Area: | 20" x 50" (WxL) |
| Max. Speed: | 10 mph |
| Max. Weight: | 300 lbs |
Combined with an auxiliary port, speakers, and a backlit 5" LCD screen, this foldable treadmill includes a 10-year frame warranty, a two-year parts warranty, and a one-year labour warranty!
To keep you inspired to workout, the NordicTrack T 6.5 Si treadmill comes with a free one-month iFit membership (required for operation) that includes live, studio, and global workouts with trainers who can auto-adjust your incline and speed settings through Bluetooth connection.
2. Runner Up: Goplus 2 in 1 Folding Treadmill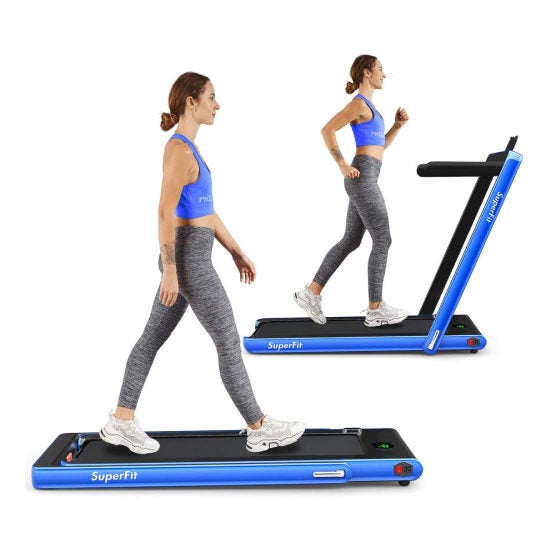 Includes a Bluetooth speaker, phone holder and remote control
2-in-1 folding use; great for under desk
Compact and easy to store
Treadmill speeds not accurate
Small belt area; not ideal for runners
Safety handles must be disassembled before folding
Belt must be lubricated often
Not ideal for larger bodies
Key Specs
| | |
| --- | --- |
| Motor: | 2.25 HP |
| Incline: | No incline |
| Running Area: | 40" x 16" (LxW) |
| Max. Speed: | 12 km/h |
| Max. Weight: | 265 lbs |
This is a great machine if you need a quiet treadmill that can be easily folded and tucked away with its transport wheels. This treadmill is great for home and office use.
With the Goplus 2-in-1, when the arms are folded down users can stay busy doing other things while walking on its limited 1-4 km/h speeds. When the riser is up, its speeds can increase up to 12 km/h making it ideal for both walking and running. The belt is also made up of a multi-layer shield design with a shock absorbing and noise-reducing steel frame.
3. Best Folding: Sunny Health & Fitness Folding Treadmill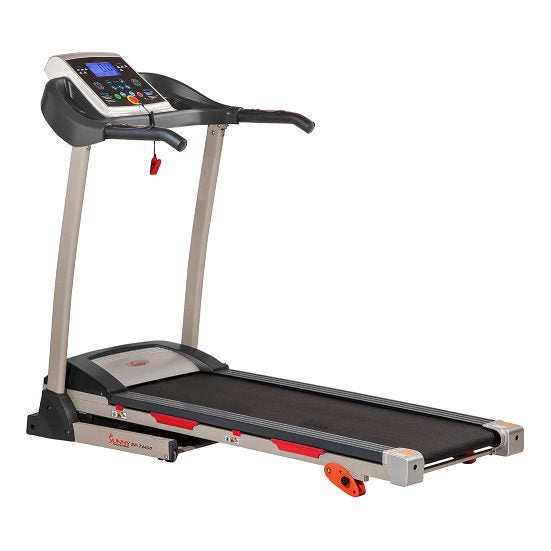 Easy folding and soft drop system
Handrail controls
Light and compact
Comes in two colours
No warranty in Canada
Short lifespan
Poor customer service
Motor isn't durable
Key Specs
| | |
| --- | --- |
| Motor: | 2.2 HP |
| Incline: | 3 levels |
| Running Area: | 124 x 39 cm (LxW) |
| Max. Speed: | 14.5 km/h |
| Max. Weight: | 250 lbs |
This treadmill has 9 built-in workout programs, easy handrail controls to adjust speeds up to 14 km/h, 3 incline levels, folds easily, and has a soft drop system for simple storage in limited spaces.
The Sunny Health & Fitness folding treadmill has everything you need to stay fit, including a device holder, shock absorption, and include. Add an LCD screen, a bottle holder, an emergency stop clip and a spot to hold your device, and this reasonably priced treadmill makes a great addition to your home.
4. Best Budget: SereneLife Smart Digital Folding Treadmill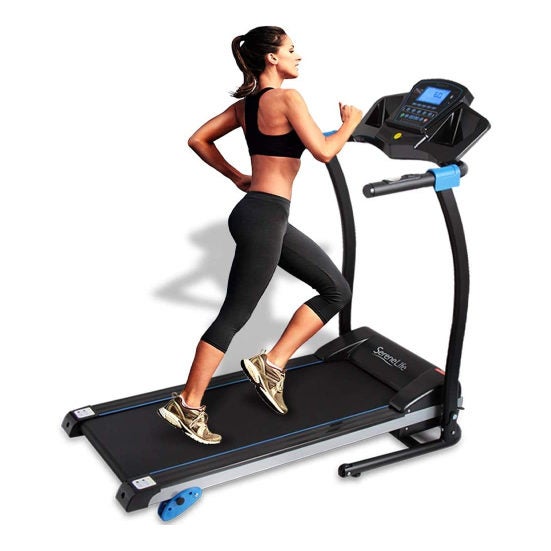 Built-in stereo speaker
FitShow app compatible
Soft drop system
USB and SD card slots
Noisy
Assembly required
Low quality material
Key Specs
| | |
| --- | --- |
| Motor: | 1.5 HP |
| Incline: | Three levels |
| Running Area: | 43.3" x 15.7" (LxW) |
| Max. Speed: | 10 mph |
| Max. Weight: | 265 lbs. |
Packed with 16 preset programs, a digital LCD display and touch button controls, this affordable and foldable treadmill is great for those looking to start running indoors.
With its wide belt space, this treadmill is perfect for people wanting to go on a walk or casual runs and includes a thick four-layer belt to give you a durable yet quiet run. It even connects to the FitShow app that pairs your device via Bluetooth so you can enjoy a handful of personalized workouts!
5. Honourable Mention: ProForm 505 CST Treadmill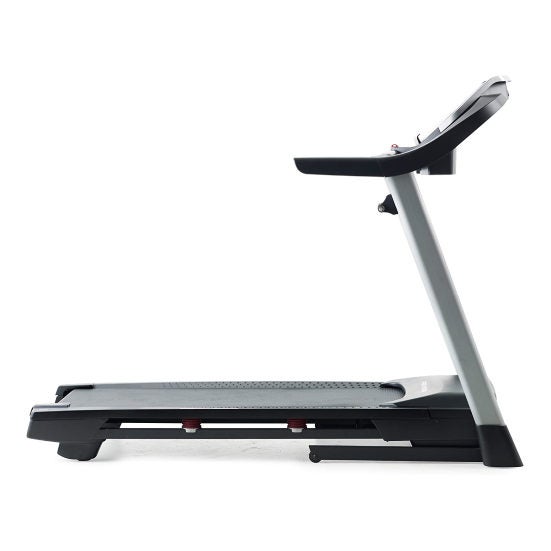 Quiet motor
Sturdy
Comes with warranty
Full assembly required
Heavy
iFit account required
Key Specs
| | |
| --- | --- |
| Motor: | 2.5 HP |
| Incline: | 0-10% |
| Running Area: | 20" x 55" (WxL) |
| Max. Speed: | 10 mph |
| Max. Weight: | 325 lbs. |
Designed to give users a comfortable and roomy running experience, this treadmill is great for those looking to enjoy their time running at-home.
With 0-10% inclines and quick speed controls, the ProForm's 505 CST is ideal for those wanting to simulate running outdoors. This durable treadmill can also be folded up after a workout and comes with a one-month free trial of the iFit membership that offers a variety of different workout classes from a number of different trainers.
6. Also Consider: Schwinn 810 Treadmill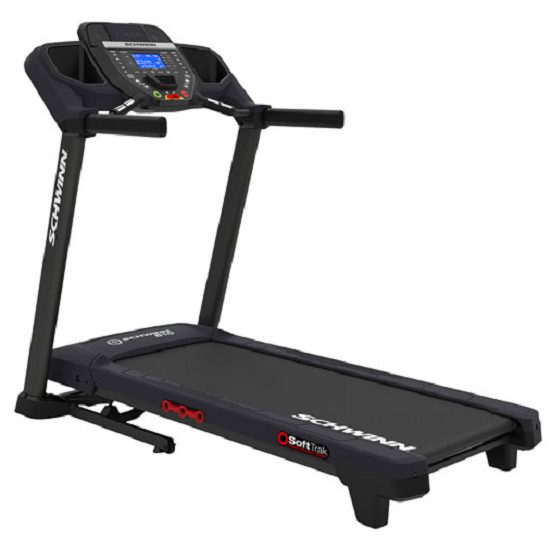 16 preset programs
Foldable
App compatible
Small weight capacity
90 day warranty
Poor customer service
Buttons are not automatic
Key Specs
| | |
| --- | --- |
| Motor: | 2.6 HP |
| Incline: | 0 - 10% |
| Running Area: | 20" x 55" |
| Max. Speed: | 10 mph |
| Max. Weight: | 273 lbs |
This treadmill will compliment your fitness journey with plenty of options to keep you busy including five incline settings from 0 - 10% and speed settings from 2 - 10mph.
The Schwinn 810 Treadmill has a powerful motor and 16 preset workout programs to choose from to keep you on your feet. With a backlit LCD display that's easy to read, charging ports to keep your devices at full battery life, and in-console speakers to let you listen to your media loud and clear you'll be fully equipped for the run. Combine that with an integrated heart-rate monitor present in the grips, a Softrack deck cushioning system to give you a comfortable running surface, and options to challenge your regime you won't ever have a reason to not exercise again.
7. Best Space Saving: Gymax 2 in 1 Under Desk Treadmill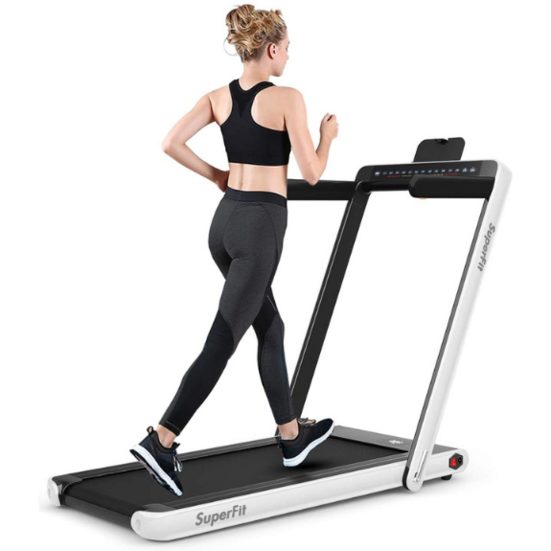 Compact and lightweight
Well made
Affordably priced
Available in six different colours
Operates quietly
Belt lags a little when starting up
Can't incline
Key Specs
| | |
| --- | --- |
| Motor: | 2.2 5HP |
| Incline: | No incline |
| Running Area: | 40" x 16" |
| Max. Speed: | 7.5 mph |
| Max. Weight: | 265 lbs. |
If you're looking for a treadmill that can easily fold away when you're done, take a look at this one, which is great for both running and walking, and can be stored flat under your desk or bed.
It features a five-layer shock absorbing belt, which gives your muscles and joints an extra cushioning to keep you comfy, and the running area is decently wide so you're less prone to accidents while using. You can connect your Bluetooth device to a built-in speaker, too, so you can listen to music while you exercise.
8. Best for Walking: Goplus Ultra-Thin Electric Folding Treadmill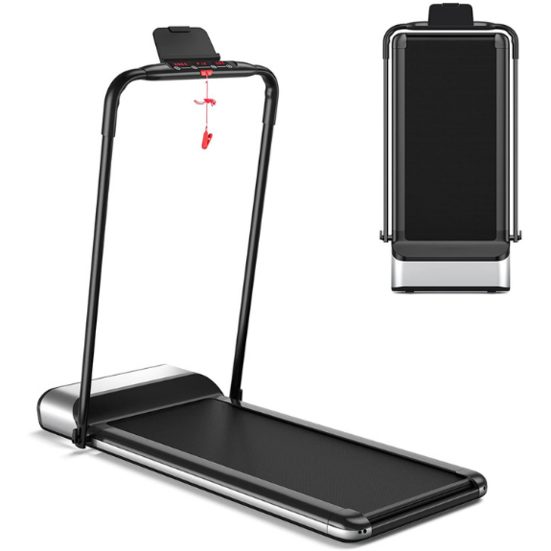 Great for smaller spaces
Easy to get started using
Folds up when you need to store it
Very thin design
Stand to put an iPad on
Narrow belt area
Can feel a little wobbly
Not really intended for running
Key Specs
| | |
| --- | --- |
| Motor: | 450 W |
| Incline: | No incline |
| Running Area: | 40.5" x 15.5" |
| Max. Speed: | 5 mph |
| Max. Weight: | 220 lbs. |
This affordably priced treadmill is well-suited for walking, and it has an ultra-thin, foldable design and two front wheels, so you can easily move it from room to room around your house.
There's an easy-to-read LCD display on this treadmill, which can help you keep track of your exercise data and built the best workout routine you can, and there are twelve speed modes you can pick from to set your own challenge level. One of the best parts is that it doesn't require any assembly — you can just take the treadmill out of the box and use it right away.
Factors to Consider When Buying a Treadmill
Size
People who intend to walk on their treadmill should look for treadmills that are 20" wide and 50" in length. Those who want to run should purchase treadmills that are 22" wide and 55"minimum in length. People who are over six-feet tall should look at treadmills that are over 60" in length. If you have a small space, foldable treadmills might suit you best. Remember to measure your space before you buy!
Ergonomics
If you're a runner, you need a deck size that can accommodate your stride comfortably. How decked out you want your treadmill to be is something to consider and a factor that will affect the price. (i.e. screen size, holder for phone/tablet, built-in speakers, fans, Bluetooth compatibility.)
Adjustability
People who are looking to stimulate an outdoor walking/running experience might opt for a treadmill with more incline, whereas track runners will want to look for treadmills with speeds of 10 mph or more.
Treadmill FAQs
How much money should I be spending?
Depending on what kinds of features you want to have in your treadmill the price can vary. Basic manual models can start around $200, whereas fully featured treadmills can be up to $4,500. Before you buy, have in mind what features you want to have on your treadmill (console, motor, speed, incline) as they will have a direct effect on the price.
How long will my treadmill last?
If you take proper care of your treadmill, it should last you a good seven to 10 years.
What should I expect out of the warranty?
The length of your machine's warranty will give you a good indication of the quality of the machine. You should look for treadmills that have three to seven-year warranty with an extra one-year on labour in case it needs servicing. It should have a lifetime warranty on the frame and you should keep note of how long the warranty is on the motor.
Do all machines have an E-stop feature?
Not all models include a safety key, but some include longer safety handles in case you lose balance. It's advised that you unplug your machine after each use to keep kids safe.
Is it hard to set up?
Treadmills are designed to have a simple set-up and operation however most retailers offer in-home assembly for an additional cost if you don't have the time or the patience to build it yourself.
Leave A Comment
We're always looking for more feedback! If you already own one of these treadmills and you would like to share your experience with it, or if we missed your favourite one, please tell us your story in the comments below.
RedFlagDeals.com is reader-supported. We are a participant in the Amazon Services LLC Associates Program and other similar affiliate advertising programs. These programs are designed to provide a way for sites to earn advertising fees by linking to them. This means that RedFlagDeals.com will sometimes get a small commission if you make a purchase through our links.