The Best Hockey Sticks
Table of Contents
Like most products on the market, no two hockey sticks are made the same. And although we love having tons of options, the wide variety of sticks can make shopping for one a bit difficult, especially if you're not sure what you should be looking for. While you don't want to choose a stick purely based on its flashy or sleek looks — although that can be a contributing factor — there are a handful of other details to consider to help you find a stick that's best for your specific build and position. From different kick points to the length of the stick; to the curve of the blade and the blade's lie: it's important to have a general idea of what you need from your stick to help you perform at your best.
For a deeper breakdown on what to look for in your next hockey stick, head down to the bottom of the article for a beginner's guide to buying hockey sticks. But first, we've put together a list of hockey sticks ranging in price and function to help you get a better sense of some of the options to buy this year. Check it out:
1. Editor's Pick: STX Stallion HPR2 Ice Hockey Stick
Variety of sizes, blade flex and shaft styles
Durable
Lightweight
Key Specs
| | |
| --- | --- |
| Weight: | 454g |
| Hand Orientation: | Left or right |
| Material: | Composite |
With three different blade profiles and both hand orientations ranging from junior to senior hockey sticks, you can find a STX Stallion HPR2 stick, no matter your style of play. The STX Stallion HPR2 is a powerful hockey stick designed with high quality features to give you a durable and reliable stick to help you play at your best. Each stick was built with an ultra-high balance point, a constant flex in the blade to provide maximum power and features Nano Technology that's been injected into the resin to increase durability against harsh impacts, which help to limit micro fractures in your stick.
2. Runner Up: Franklin Sports Ambush Street Hockey Stick
Inexpensive
Durable
Blade coated in ABS plastic
Lightweight and balanced
Limited sizes
Short shelf life
Key Specs
| | |
| --- | --- |
| Weight: | 476g |
| Hand Orientation: | Left and right |
| Material: | Poplar and birch shaft, ABS plastic coated blade |
| Length: | 46", 52" |
Featuring a one piece design made from durable and flexible wood, this Franklin Sports Ambush street hockey stick was built to perform on a wide range of surfaces. With nice spring weather creeping in, it's time to hit the concrete and move the game to the streets. It's made from a high-density poplar and birchwood shaft, this sturdy yet flexible blade uses a one-piece construction to give you a more authentic feeling stick so you can ball handle and release powerful snapshots with ease. If you don't want to risk damaging your go to ice hockey stick, this Franklin Sports Ambush street hockey stick will make for a great warm weather substitute.
3. For Experienced Players: SL-ICE High Quality Prolyte Light Weight Carbon Hockey Stick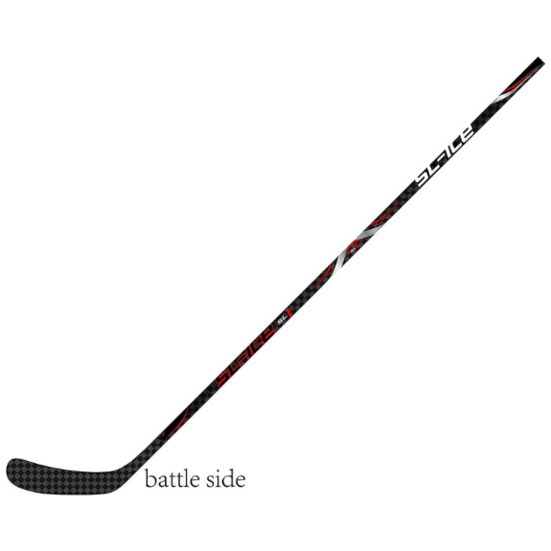 Dual kick point
Matte grip on shaft
Lightweight and balanced
Key Specs
| | |
| --- | --- |
| Weight: | 322.2 grams |
| Hand Orientation: | Right |
| Material: | Carbon composite |
| Length: | 50", 55", 60", 65" |
If you're part of an adult hockey league that plays a couple of times a week, then you know how important it is to have a good stick, one that enhances your performance and is durable. This hockey stick from SL-ICE is designed specifically with you in mind, an experienced hockey player who demands a lot from your stick.
The SL-ICE Prolyte hockey stick has a one-piece constructed for an authentic feel with maximum strength and durability. And that means balanced weight distribution and a lightweight design so handling the puck and passing a breeze. It also has dual kick points and a forgiving blade surface to enhance the puck feel.
The shaft of the stick has 3K carbon fibre with a spear construction weave on the front of the blade to increase overall stiffness for added power. The shaft has a matte grip with a raised texture for a secure hold. This stick has the right weight-balance, blade-to-shaft ratio and will feel great in your hands.
4. Best Durable: Mylec MK5 Senior Left Hand Hockey Stick
Lightweight
Durable
Inexpensive
Left hand orientation
Only available in one length
Key Specs
| | |
| --- | --- |
| Weight: | 680g |
| Hand Orientation: | Left |
| Material: | Composite shaft and blade with ABS plastic |
| Length: | 67" |
It's built to last season after season, and it's a great go-to option for those who love to play the game and need a durable, sturdy stick to keep up with their recreational hockey games. The Mylec MK5 Senior hockey stick is made from a lightweight, composite shaft and blade with an ABS insert that can be used on a wide range of surfaces. From your driveway to your local outdoor ball hockey rink, this stick can do it all with ease.
5. Best for Set for Kids: GoSports Street Hockey Goal Set
Hockey sticks are made of wood with plastic heads
Good for right handed or left handed play
Includes two balls and the option of purchasing a goal
Some users have said the blades break after a few months of use
Key Specs
| | |
| --- | --- |
| Weight: | 1.43 kilograms |
| Hand Orientation: | Left and right |
| Material: | Wood shaft with plastic blade |
| Length: | 42" |
Encourage your kids to get outside and moving with this GoSports Street Hockey Goal starter set that is comes with two hockey sticks made from durable, premium wood with plastic heads and two soft rubber balls. With this set, you have the option of purchasing just the hockey sticks and balls, or for a little extra money, choose the set that includes the goal.
The sticks measure approximately 42 inches and are perfect for older kids who love that afternoon hour after school playing street hockey – even if it's not really on the street but in the driveway or the schoolyard.
The two hockey sticks need to be assembled and there are screws included in the set to get it done. Plus, you can curve the stick for right handed and left handed players. If you purchase the set with the goal, it measures four feet wide by three feet tall and has a its fiberglass pole frame that you only have to assemble once. And when the snow starts to fall and hockey play turns to ice time, the goal can be folded away to be stored for the next street hockey season.
6. Best for Kids Beginners: Cramer Cosom Elementary Plastic Hockey Sticks
Made of polyurethane that won't scratch floors
Suitable for children in grades 4-6
Good for playing cosom, street, ice and roller hockey
Pricey for one plastic stick
Key Specs
| | |
| --- | --- |
| Weight: | 336 grams |
| Hand Orientation: | Left and right |
| Material: | Plastic |
| Length: | N/A |
If you work in an elementary school or recreation centre and set up indoor cosom hockey games for kids, then you'll be looking for quality hockey sticks to see you through the season. And, if your child likes to practise his or her hockey moves out on the street or in the driveway, then you'll also be looking for a durable stick to last for all those outdoor sessions.
These hockey sticks from Cramer come in blue, green or yellow and have a polyethylene shaft and a blade with a standard length that won't scuff up your floors if the kids play inside or a gym. The stick is suitable for children in grade 4 to 6, so it's not recommended for really young players.
This hockey stick can also be used on the ice, to play roller hockey and street hockey. Although a bit pricey for one stick, the different colours make it easy to buy a different one for each player in your house, or on your school team.
7. Also Consider: Winnwell RXW1 Wooden Hockey Stick
Multi-laminated wood shaft
Even balanced weight distribution
Option of a curved or straight blade
Affordably priced
Only recommended for ice hockey
Only available in right hand orientation
Key Specs
| | |
| --- | --- |
| Weight: | 363 grams |
| Hand Orientation: | Right |
| Material: | Multi-laminated wood |
| Length: | N/A |
New to the game of ice hockey? If you're on the hunt for a quality stick but aren't quite ready or able to spend a lot of money, then you might want to consider the Winnwell RXW1 wooden hockey stick to give you the quality you're looking for without breaking the bank.
The multi-laminated wood shaft construction gives you the proper feel and performance you'll need to play your best game while having fun at the same time. The stick's blade gives a responsive puck feel during a quick action game on ice, so you'll have great control, quick releases and accuracy. The puck will go where you want it to, whether it's a pass, straight down the ice or into the net.
The stick has an even balanced weight distribution to aid in stick handling, passing and shooting and while the blade comes in the most popular curve in hockey, youth sizes are available in a straight blade option. This hockey stick is recommended for ice use only.
Features to Keep in Mind
Below are a few factors to consider when shopping for your next stick that may help you find not only the best hockey stick for your skill level, but for your playing style and position as well.
Kick Point
The first and one of the most important factors you should consider when shopping for your hockey stick is your stick's kick point. The kick point refers to the spot where your stick is the most flexible or has the most bend during your shots and passes. There are three types of kick points — low, mid and high.
Low Kick Point - Best for playmakers; helps with stick handling and quick releases
Mid Kick Point - Great for a wide range of players; kick point can be altered depending on hand placement
High Kick Point - Ideal for the top scorers; great for one timers and long slap shots
Flex
The flex of your stick refers to how much pressure is required to make your stick bend up to one inch and is usually measured in pounds. So for example, a stick with a 100 flex would take 100 lbs. of weight to make it bend one inch. The higher the number, the lower the flex and vice versa. Flex is an important aspect to consider which has an effect on the power and accuracy of your shots. If your stick has too much flex you won't have much control over your shots, whereas a stick that's too stiff won't generate a lot of power.
As a general rule of thumb, start with a flex that's half your body weight and increase or decrease the flex from there until you find one that best suits your needs.
Blade Curve
In general, there are three types of blade curves — toe curve, mid curve, and mid-heel curve. Each blade works to accomplish different things, so choosing the type of blade comes down to your style of play, your position and personal preference. For example, toe curves are great for elevating the puck and stick handling, while heel curves are better at keeping the puck low during long passes and slap shots.
Before you choose a stick, it's worth familiarizing yourself with the different styles of blades and their purposes to help you choose a style that can elevate your game.
Blade Lie
A blade's lie refers to the angle of the shaft when the blade is placed flat on the ice and typically gets a rating somewhere between four and seven. The lower the number, the lower the lie (or angle) will be and vice versa. If you're new to the game, it's recommended you start out with a five and make adjustments from there.
Leave a Comment
We're always looking for more feedback! If you own one of these items and would like to share your experience, please comment below!
RedFlagDeals.com is reader-supported. We are a participant in the Amazon Services LLC Associates Program and other similar affiliate advertising programs. These programs are designed to provide a way for sites to earn advertising fees by linking to them. This means that RedFlagDeals.com will sometimes get a small commission if you make a purchase through our links.