The Best Hiking Daypacks
Table of Contents
As hard as you may try, you can't always fit everything into your pockets. But who wants to lug around a bulky backpack that's only filled with your water and a snack or two during a hot summer's day? Luckily, hiking daypacks are here to save the day.
Although they're technically considered backpacks, hiking daypacks are their smaller, lighter counterparts. Whether you're gearing up for a short afternoon hike, heading out on a run through the trails, or simply commuting to school or work, hiking daypacks are a great resource to help you carry all of your essential items without slowing you down. The size or capacity of your daypack will be measured in litres, with the smallest most compact versions holding 10 litres or less and the bigger models holding up to 35 litres. Bigger bags will be equipped with more features like shoulder padding, hip belts, or extra compartments to help keep you organized and comfortable, but keep in mind that all the added bells and whistles tack on more weight.
If you're not quite sure whether to choose a backpack or a daypack, head down to the bottom of the article for a quick guide on which style of bag should be used for certain activities as well as the key features to look for in your daypack! If you're ready to see the choices, check out this list below.
1. Editor's Pick: Osprey Daylite Daypack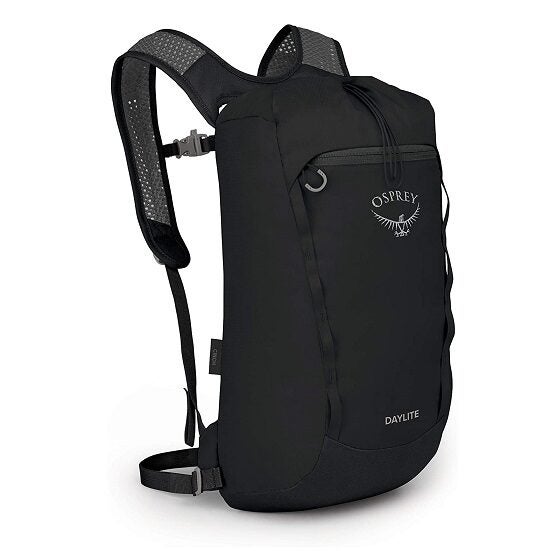 Multiple compartments
Comes in a few colours
Built-in hydration pocket
Attaches to other Osprey bags
Adjustable shoulder and waist strap
Thin straps
Stiff zippers
Long design
Hard to open
Key Specs
| | |
| --- | --- |
| Material: | Polyester |
| Capacity: | 13L |
| Weight: | 454g |
Simple and lightweight, this daypack uses a foam back ventilation panel on top of adjustable shoulder and waist straps to help balance load weight and keep your back as comfortable as possible.
Equipped with a full length mesh-covered die-cut foam back panel, this Osprey Daylite Daypack provides ample support and ventilation to make sure your back is comfortable throughout the day. With a multi-function interior sleeve to store a hydration pack or your small electronics, this small bag can be used on its own or attached to other compatible Osprey packs.
2. Runner Up: Sea to Summit Ultra-Sil Day Pack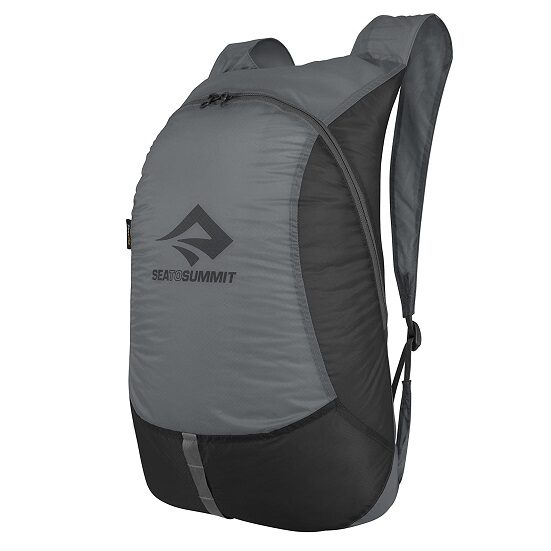 Comes in a few colours
Durable, water-resistant fabric
Includes packing case and carabiner
Packs down to the size of a tennis ball
Ergonomic and reinforced shoulder straps
May be too small for travel use
Zipper may open if closed in the centre
Key Specs
| | |
| --- | --- |
| Material: | 30D Ultra-Sil CORDURA Nylon, PU |
| Capacity: | 20L |
| Weight: | 454g |
Built from strong water-resistant 30D Ultra-Sil CORDURA nylon, this daypack is perfect for lightweight travel.
This Sea to Summit Ultra-Sil Day Pack only weighs 3 oz, can hold up to 20 litres worth of gear, and packs down to the size of a tennis ball for easy storage and transportation; when you're not using your bag, simply fold it down and throw it in your pocket.
3. Best High End: Deuter Speed Lite 12 Ultralight Daypack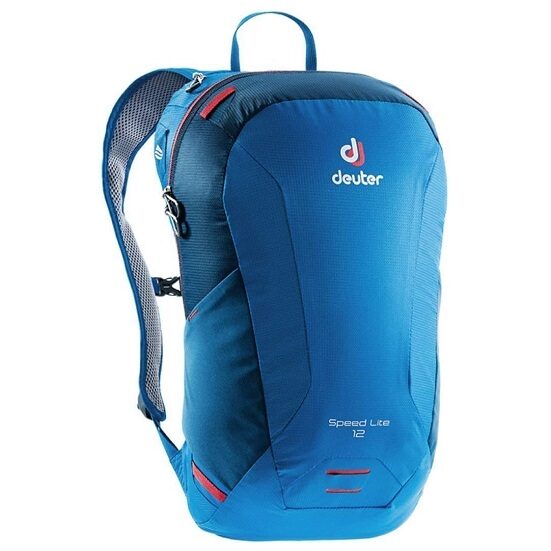 Lightweight
Comfortable
Comes in a few colours
SOS tips stitched inside
Water bladder compartment
Expensive
Hydration port left side only
Key Specs
| | |
| --- | --- |
| Material: | 210D polyamide |
| Capacity: | 12L |
| Weight: | 350g |
Built from ultralight materials with fast-paced activities in mind, this minimalist and comfortable daypack incorporates a flexible frame, adjustable straps and a padded back panel to provide you with a sturdy and comfortable bag.
If this isn't your first time shopping for a daypack and you're ready to upgrade your well loved pack, this Deuter Speed Lite 12 Ultralight Daypack has a streamlined design that is ready for all of your outdoor adventures like alpine day hikes, mountaineering, and endurance sports. Each bag is equipped with ventilated 3D-air mesh panels, a flexible Delrin U-frame, chest and shoulder straps, and specialized compartments to hold a two-litre hydration system, wet clothes, or your valuables.
4. Best Budget Pick: G4Free Lightweight Packable Hiking Daypack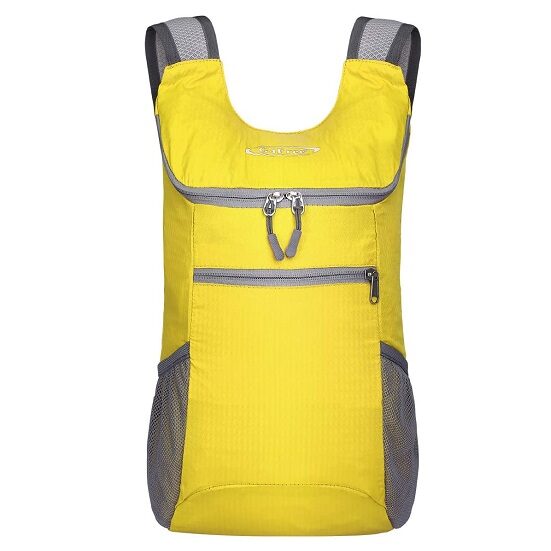 Versatile
Packable
Lightweight
Wide range of colours
Multiple storage compartments
Thin material
Not very flexible
Water-resistant, not waterproof
Key Specs
| | |
| --- | --- |
| Material: | Nylon |
| Capacity: | 11L |
| Weight: | 130g |
On the hunt for a quality hiking daypack but don't want to break the bank? This inexpensive daypack uses high-quality materials and a compact design so you can enjoy a comfortable and versatile beginner daypack.
With plenty of colours and designs to choose from, this G4Free Lightweight Packable Hiking Daypack uses durable water- and tear-resistant nylon materials to give you a lightweight and compact bag that's perfect for an afternoon exploring the outdoors or a day full of errands. Its two separate compartments can help you keep your things organized as well as help you access important items in a pinch.
5. Best Lightweight: AmazonBasics Ultralight Packable Daypack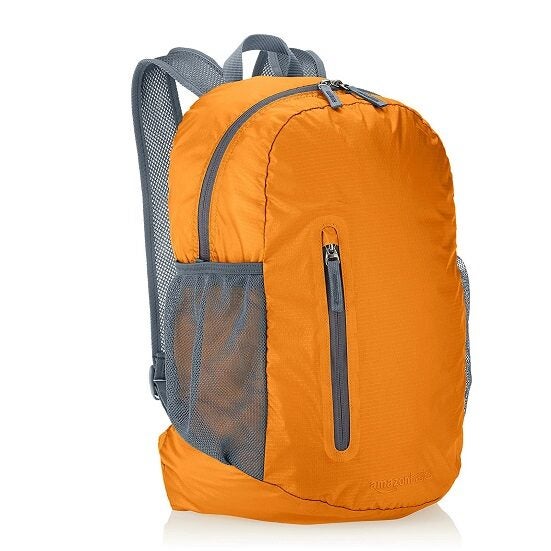 Super lightweight
Comes in 5 colours
Lots of storage space
Made from rip-resistant nylon
Folds into its own pocket for easy storage
Not waterproof
No interior padding so sharp objects can hurt your back
Key Specs
| | |
| --- | --- |
| Material: | Nylon |
| Capacity: | 25L |
| Weight: | 159g |
While most hiking daypacks are lightweight by virtue of their design and functionality, this option is one of the lightest and most affordable options on our list.
Designed for everyday use or short travel adventures, this 25-litre AmazonBasics Ultralight Packable Daypack can be used as a carry-on, day-trip pack, or a small backpack (the black option comes in a 35L capacity) and can stuff into its own pocket for easy storage when you are not using it. It also has a sleek and stylish look and an intelligent functionality with lots of useful packing space. There are several pockets for handy storage, a roomy main compartment, a front zippered pocket for smaller items, an interior zippered pocket, and two open-mesh side pockets to put a water bottle or even a small umbrella. Made from ultra-strong rip-resistant nylon fabric, the daypack has two adjustable and breathable shoulder straps to ensure a comfortable fit and you can choose from five different colours: black, green, navy blue, red, or orange.
6. Best Casual: AOTIAN Lightweight Hiking Daypack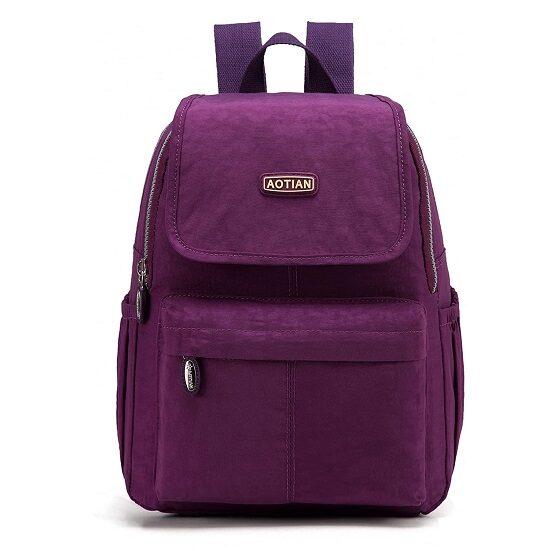 Lightweight
Comes in 4 colours
Multiple zippered pockets
Adjustable shoulder straps
Short shelf life
Low quality buckles
Key Specs
| | |
| --- | --- |
| Material: | Nylon, Polyester |
| Capacity: | 10L |
| Weight: | 360g |
Perfect for hikes, camping and day trips, this small but spacious hiking daypack is loaded with multiple zippered compartments so you can safely store your belongings in a stylish yet durable bag.
One of the benefits of buying a daypack over a backpack is that they tend to lean more towards the trendy side. If you're on the hunt for a hiking daypack that doesn't look like you're ready to run a mile or two, this AOTIAN Lightweight Hiking Daypack is a great budget friendly option. Made from nylon and polyester materials, this small but roomy bag features two main compartments, an extra inner pocket, two water bottle holders, and a back pocket that opens against the top of your back so you can safely stash away any cards or cash that you don't want to risk getting stolen.
7. Also Consider: TETON Sports Daypack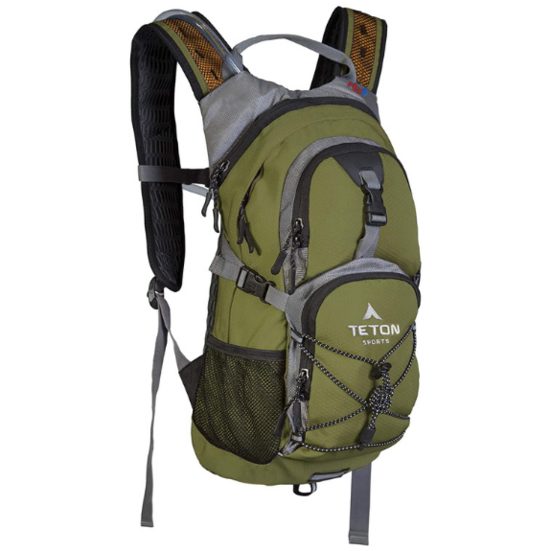 Comes in a few colours
Has an integrated rain cover
Bungee cord system for cycling and climbing helmets
Comes with a 2L water bladder with kink-free sip tube
Pricey
Heavier than other daypacks
Not the greated quality hydration bladder
Key Specs
| | |
| --- | --- |
| Material: | Honeycomb Ripstop, 600D PU |
| Capacity: | 18L |
| Weight: | 454g |
This daypack is great if you're a novice day adventurer who wants to explore and be able to stay hydrated while carrying the necessities you'll need for a short hike, bike ride, or walk on the trails.
This lightweight 18L TETON Sports Daypack includes a two-litre bladder to help keep you hydrated throughout the day and has some great design features for comfort and durability. The daypack's multiple compression straps allow you to tighten the pack for a great fit to reduce bounce, and an integrated rain cover keeps the pack and whatever is inside it dry if you get caught in the rain and you'll keep cool as the air mesh back panel offers up ventilation on hot days. This low-profile daypack has adjustable shoulder, waist, and chest straps that work together so you can have a comfortable experience.
8. Honourable Mention: ZOMAKE Lightweight Packable Hiking Daypack
Compact
Great value buy
Durable zippers
Multiple compartments
Tear and water resistant
Short shelf life
Not waterproof
Key Specs
| | |
| --- | --- |
| Material: | Nylon |
| Capacity: | 25L |
| Weight: | 336g |
Weighing less than 1lb, this lightweight and durable daypack has a 25L capacity so you can carry everything with ease then fold it down to the size of a sandwich for easy storage when you're done.
Whether you want a brightly coloured daypack to match your vibrant personality or a more subtle shade to blend in with your surroundings, this 25L ZOMAKE Lightweight Packable Hiking Daypack is available in a few different colours. These durable multi-purpose bags are great for a wide range of activities, thanks to their ultra-lightweight and spacious design, and with the heavy-duty SBS zippers and high-quality tear and water-resistant nylon this budget-friendly daypack is ready to go wherever your day takes you.
Daypack vs. Backpack
Since both of these types of bags use shoulder straps to hang off your back, they're both considered backpacks; all daypacks are backpacks, but not all backpacks are daypacks. Just think of daypacks as smaller versions of backpacks. When you're heading out on a long hike, you don't necessarily want to lug around a hefty bag that's only holding your phone, water, and a few snacks. That's where hiking daypacks come into play. They're smaller, lighter, and typically forgo the use of an internal frame, although larger styles may incorporate them to help you carry the extra weight.
Should I Use A Daypack or a Backpack?
In some situations it can be hard to decide whether a backpack or a daypack will better suit your needs. On one hand, the bigger the bag the more space you have to stash any extra gear you may need. On the other hand, smaller bags equal less weight and strain on your body.
While it's never a bad idea to have one of both handy to swap out depending on each day's needs, there are certain situations where one will be better than the other. If you're heading out on a day hike, running some errands or exploring the city, daypacks are a great option. Think of them as a carry-on — they're designed to hold your essential items while you're out-and-about. Backpacks are better suited for longer multi-day hikes or other outdoor adventures when you have to lug around more gear than just the essentials.
Features To Keep In Mind
Capacity
Even though daypacks are generally smaller than backpacks, they still range wildly in size from a 5L capacity all the way up to 35L. Consider what type of activities you have in store to help you decide how big or small your bag should be. Love trail running or short hikes? Small, low profile, and compact models around the 10L mark are a great lightweight option. Most hikers find that bags around the 25L mark are the best all-purpose bags; they're small enough that you don't feel overwhelmed, but large enough to store more than just your jacket and some food.
Weight
Generally, the bigger the bag, the more features it'll have which also means more weight. Minimalist bags can weigh next to nothing by forgoing internal structures and padding to stay as light as possible. Neither option is a bad one — the weight of your bag just comes down to your specific needs. Think about how much you need to store in your bag as well as comfort level when comparing models.
Comfort
If you plan to wear your bag for long periods of time, comfort should be a top priority. Bags with back panel padding, shoulder and hip belts, and internal frames are a great indication of how comfortable a bag will be.
Leave a Comment
We're always looking for more feedback! If you own one of these hiking daypacks and would like to share your experience with us and other readers, please leave a comment down below!
About the Author: Carlen Oliveira
Carlen Oliveira is a graduate from Ryerson University's RTA Sport Media program and is currently working as a writer based out of Toronto. She has an avid interest in all things sports and finding engaging new ways to workout. With limited access to gyms and friends during the pandemic, she discovered her love of individual activities like yoga and skipping, which push her both mentally and physically. When she's not writing or working out, you can find her exploring the outdoors and travelling, come rain or shine… and especially snow!
RedFlagDeals.com is reader-supported. We are a participant in the Amazon Services LLC Associates Program and other similar affiliate advertising programs. These programs are designed to provide a way for sites to earn advertising fees by linking to them. This means that RedFlagDeals.com will sometimes get a small commission if you make a purchase through our links.