The Best Golf Bags
Table of Contents
Golf bags will make your life a lot easier on the course. From tour bags, to cart bags, to carry bags, to stand bags — there are a lot of different options to choose from. If you're a beginner, you might want something with less dividers to keep things straightforward and convenient. More experienced golfers will typically lean towards bags that have more dividers — also known as the "way top" — to help keep their clubs organized and separate. Do you enjoy walking the course? Or are you always zooming around in a golf cart?
The bottom line is, there's no single "best golf bag" out there. When buying, try and look for golf bags that are made from strong, high-quality material and stitching to ensure your bag can handle repetitive use and the wear and tear of the course. Make sure you get one that's easy to transport; or one that has comfortable straps if you need to carry it. Below, we've highlighted some of the best golf bags to buy this year:
1. Editor's Pick: Izzo Ultra Lite Golf Bag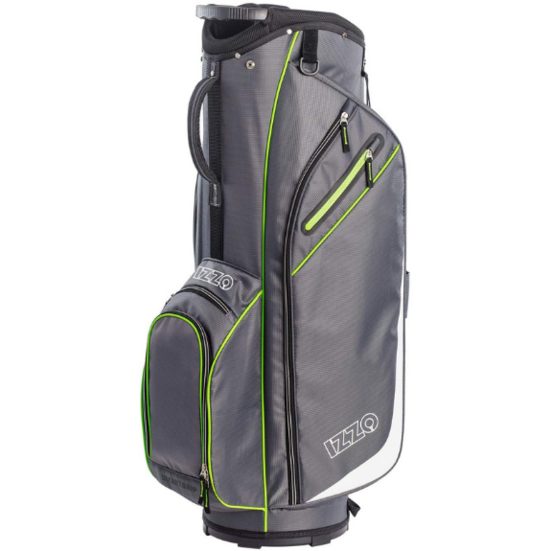 Lightweight
Four different colours
Includes rain hood
Integrated SmartGRIP handle
Has glove holder and towel clip
Thin material
Does not include full-length dividers; four lower dividers
Key Specs
| | |
| --- | --- |
| Material: | High-strength 4200 polyester |
| Weight: | 3.8 lbs. |
| Numbers of Dividers: | 14 |
| Numbers of Pockets: | 6 |
Packed with 14 dividers and weighing in under 4 lbs., this Izzo Ultra Lite Cart bag is perfect for throwing on the back of a golf cart. This is an especially great golf bag if you don't want to lug it around for hours on end. What's more, the Izzo Ultra Lite cart bag provides you with all of the storage space you could ever need and ample features to keep it from weighing you down.
Measuring only 3.8 lbs., this lightweight, easy to carry golf bag includes a waterproof valuables pocket, a customizable ball pocket, an umbrella holder and more.
2. Runner Up: Taylormade Golf 2019 Select Cart Bag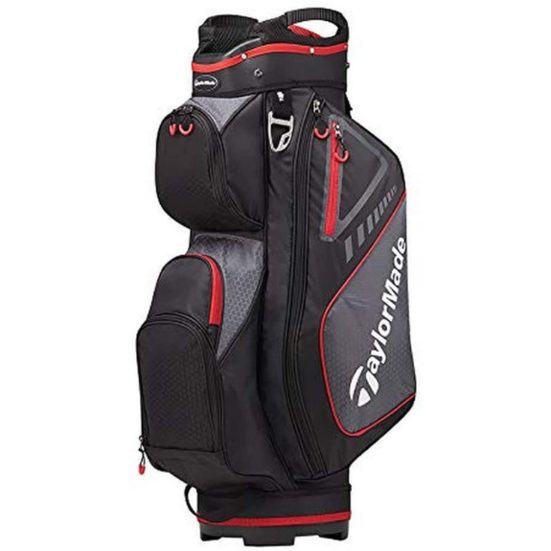 Lightweight
Includes rain hood
Includes carry strap
Oversized putter well
Low quality
Not water resistant
Dividers not full length
Key Specs
| | |
| --- | --- |
| Material: | Other |
| Weight: | 3.13 kg |
| Numbers of Dividers: | 14 |
| Numbers of Pockets: | 7 |
Cart bags are a great resource for golfers who frequently use push carts or choose to ride in a golf cart as opposed to walking and carrying it around the course. This Taylormade golf bag features a whopping 14 slots to keep all of your clubs separated, as well as oversized front pockets and lined smaller pockets so you can store your accessories. Users love it because it's lightweight and easily accessible for competitive golfers.
3. Best Carry/Sunday Bag: Orlimar Knight Pitch and Putt Golf Bag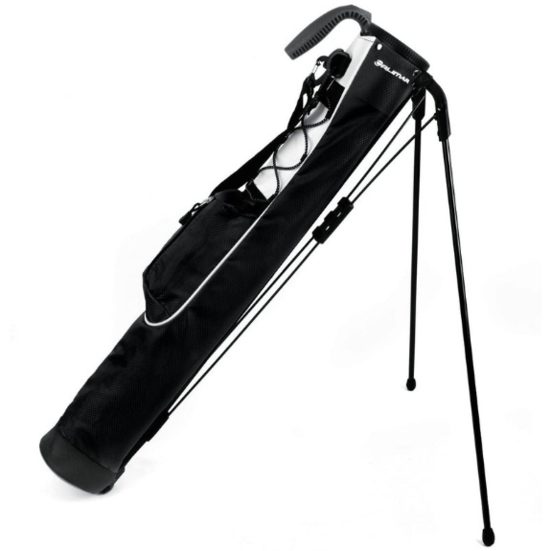 Lightweight
Seven different colour options
Includes towel ring and glove holders
Strong stand mechanism
Low quality
Not water resistant
Dividers not full length
Key Specs
| | |
| --- | --- |
| Material: | Polyester |
| Weight: | 1.9 lbs. |
| Numbers of Dividers: | 2 |
| Numbers of Pockets: | 1 |
Not only is it easy to carry and lightweight, but this stand bag features all of the most basic elements of a golf bag. Don't have money for pro-golf bag? Why spend hundreds of dollars on a heavy duty golf bag that you're only going to use once in a blue moon?
If you're a casual golfer who carries only the essentials, or if you enjoy a nice trip to the driving range, this small carry bag is a great investment. With two dividers, an accessory pocket, a durable carrying handle and an adjustable shoulder strap, It's a great bag for long games and it's an inexpensive option to boot.
4. Best Women's Bag: R J Sports Deluxe Ladies Bag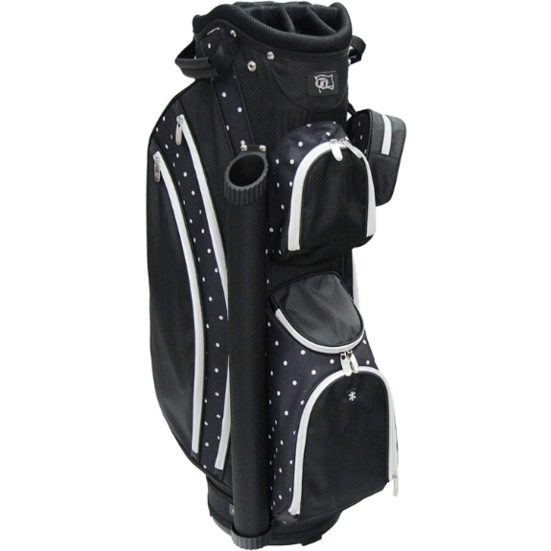 Includes rain hood
Sleek design
Ample storage
Features towel ring and velcro glove attachment
Interior lining may rip
No slot to secure to cart
Key Specs
| | |
| --- | --- |
| Material: | N/A |
| Weight: | 7 lbs. |
| Numbers of Dividers: | 14 |
| Numbers of Pockets: | 8 |
This R J Sports deluxe ladies bag features all of the key elements that make it a great golf bag and then some. It's lightweight and has a padded shoulder straps to make it easy when carrying. You can store and remove your clubs with ease in 14 full-length dividers, and don't be afraid to bring all of your favourite golf equipment that you can easily store in one of its four large side pockets.
Extra features like a large cooler pocket, an oversized external putter tube, a scorecard, pencil and tee sleeve and an extra accessory pouch make this durable golf bag perfect for any outing.
5. Best Stand Bag: TaylorMade Stand 8.0 Bag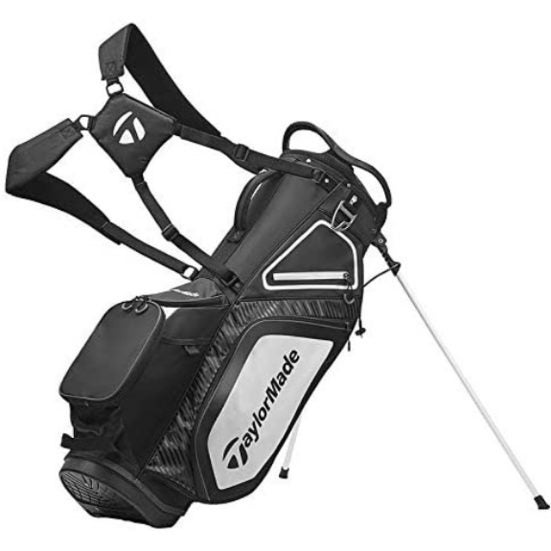 Dual padded straps
Ideal for walking and riding
Water resistant pockets
Pockets may rip
Thin material
Key Specs
| | |
| --- | --- |
| Material: | Polyester |
| Weight: | 4.5 lbs. |
| Number of Dividers: | 8 |
| Number of Pockets: | 6 |
With a dual padded strap and a standing mechanism, this comfortable and versatile Taylormade bag lets you golf with ease and focus on the game at hand.
Outfitted with dual padded straps and a built-in standing mechanism, this Taylormade Stand 8.0 Golf Bag was created to give you a comfortable bag that you'll feel confident walking the course with. It's loaded with: six pockets; eight dividers; a multiple handle grab top; a velour lined valuables dry pocket; a water bottle sleeve; and, a removable extra large ball pocket — this durable golf bag can withstand use season after season.
6. Best Lightweight: Wilson Staff Feather Carry Golf Bag
Two full length dividers
Velour lined valuables pocket
Umbrella holder
Ergonomic and padded shoulder straps
Limited dividers and pockets
Hard to carry with single strap; requires both
Key Specs
| | |
| --- | --- |
| Material: | N/A |
| Weight: | 5.1 lbs |
| Number of Dividers: | 5 |
| Number of Pockets: | 5 |
Enjoy ample storage space and simple organization in this lightweight carry bag from Wilson, perfect for a day roaming the greens. For the golfers who prefer to get their steps in on the course, you'll need a durable bag that won't weigh you down.
Weighing just over 5 lbs., this carry bag is outfitted with a five-way top with two full-length dividers, five pockets capable of storing all your essential items, and a sliding 2-in-1 self balancing padded strap system that even incorporates a low back and hip pad to ensure you stay comfortable through all 18 holes.
7. Also Consider: Founders Club Franklin Golf Push Cart Bag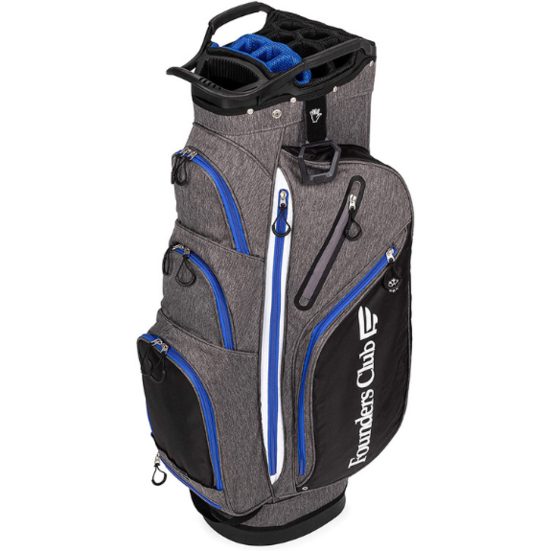 Includes rain cover
Insulated pocket
Designated umbrella holder
Five different carrying handles
Thin dividers
No cart strap
Key Specs
| | |
| --- | --- |
| Material: | N/A |
| Weight: | 5.5 lbs. |
| Number of Dividers: | 15 |
| Number of Pockets: | 9 |
When you want to bring all of your clubs and then some out to the course or the range, you'll need as much storage space as possible. Thanks to this Founders Club Franklin push cart bag, you don't have to choose which club gets left behind.
Equipped with spacious 15 full length dividers including a front access putter tube, you won't have to worry about your clubs getting knocked around or tangled while on a push cart. Nine zippered pockets, including an insulated pocket for food and drinks, provide you with plenty of extra space to stash all of your essentials into a lightweight yet durable bag.
8. Best Sleeve: TOURBON Lightweight Canvas Golf Club Carrier Sleeve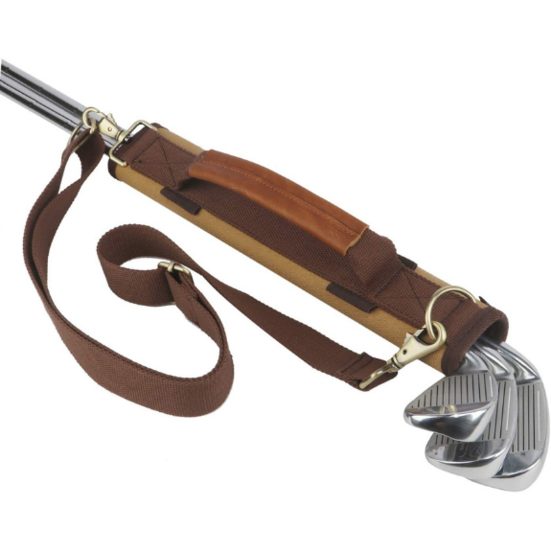 Lightweight
Easy to use
Great for the driving range
Key Specs
| | |
| --- | --- |
| Material: | Leather, Canvas |
| Weight: | 360 g |
| Number of Dividers: | 1 |
| Number of Pockets: | N/A |
With a sleek design and a low price point, this simple and lightweight carrier sleeve is perfect for casual golfers who don't want to lug around a big bag all day.
Last but not least, is the TOURBON lightweight canvas club carrier sleeve. Although it's not your traditional heavy duty golf bag, it's a great inexpensive option for players who want a no-fuss way to carry two to five clubs around.
Made from high-quality canvas and leather, this simple and easy-to-use sleeve features a clip hook and an adjustable shoulder belt to allow you to adjust your bag to the perfect position.
Types of Golf Bags
Buying a golf bag is about more than just a brand. Sure, you want to be proud to show off your bag, but if you buy a style of bag that's wrong for your game, it won't matter what name is written across it. From tour bags, cart bags, carry bags and stand bags, there are a lot of different golf bags that you can choose to hold your clubs, phones and other accessories. Check out the differences between golf bags you can buy below:
Tour/Staff Bags: This style of bag is mainly used by professional golfers who have caddies carry their bags along the course. They're some of the best-looking bags in the game and have more storage than you could dream of. With ample dividers, (usually 14) and large pockets, these luxury bags will cost you a pretty penny but they will last you a lifetime.
The downside to these bags, however, is that they can be heavy and can be difficult to carry at times, which is why pro golfers pay caddies to carry them around for them.
Cart Bags: Cart bags, as you may have guessed, are designed to be attached to either a golf cart or push cart. They typically provide lots of storage with large, front-facing pockets that you can access while it's attached to the cart. This style of bag is a step down from tour bags and they're mostly only used by competitive or serious golfers, as well. They can also be heavy for some beginners.
Stand Bags: Again, stand bags are used for what the name suggests — standing. These bags use a built in free-standing mechanism to prop your bag upright on the course and are used by golfers who prefer to carry their clubs. This style is the most versatile option of all of the bags and they're also quite light, despite having a respectable amount of storage space.
When shopping for this style of bag, take note of how many straps and how well padded they are. Since you'll be carrying this style bag for hours on end, you want to make sure the model you buy has dual straps — with a padded back section — so that you don't hurt your back before the day ends.
Carry Bags: Also referred to as Sunday Bags, this type of golf bag is the lightest and most compact version of them all. These bags are meant to carry a few of your favourite clubs, your essential items, and take up very little space. Some carry golf bags also include legs, which makes them a great option for those who choose to walk over drive.
Carry bags are the cheapest golf bag option and are popular among recreational and casual golfers, as well as on shorter nine-hole courses and at driving ranges.
Leave a Comment
Do you own one of these, or did we miss your favourite golf bag? Share your thoughts in the comment below!
RedFlagDeals.com is reader-supported. We are a participant in the Amazon Services LLC Associates Program and other similar affiliate advertising programs. These programs are designed to provide a way for sites to earn advertising fees by linking to them. This means that RedFlagDeals.com will sometimes get a small commission if you make a purchase through our links.