The Best Glue for Plastic Car Parts
Table of Contents
Cracking or breaking the plastic bodywork on your car is immensely frustrating. Those cracks and chips only get bigger over time, and they can turn a once-clean car or truck into an eyesore. These days, gluing those cracks and repairing them is easier than ever thanks to a wide range of adhesives, sealants, and plastic welding solutions.
The best glue for plastic car parts is flexible enough not to crack under the daily stresses of driving, fast-acting enough to grip and secure your broken plastic securely and quickly, and easy enough to use that any home DIYer can do it. Some glue comes as a two-part epoxy with a resin and a hardener, while others are one-part solutions that bond all by themselves. More serious repair requires a hot staple, effectively stitching your body work back together.
Here's our guide to the best glue solutions for plastic bodywork:
1. Editor's Pick: Permatex 84145 Permapoxy Black Plastic Weld
Heavy-duty bondage
Easy to mix
Harsh smell
Trick to mold
Key Specs
| | |
| --- | --- |
| Volume: | 25mL |
| Cure Time: | 5 minutes |
If you want your plastics fix to stick, Permapoxy Black Plastic Weld is the best possible answer in almost any situation. This two-part solution will bond to a wide range of rigid materials including ABS, acrylic, fiberglass, PVC, SMC, steel, styrene, vinyl, and even wood. It will not work, however, on polyethylene and polypropylene plastics. It's good in temperatures as low as -51℃ and as high as 121℃, and will resist water, UV rays and warping. It fills gaps as wide as 0.125" (3mm) and can withstand pressure as high as 3,500 psi. The result is a heavy-duty, lasting adhesive that repairs and bonds all manner of bodywork damage.
Permapoxy Black Plastic Weld is dispensed in a handy dual-plunger syringe to help you mix exactly the right amount. It sets and bonds within five minutes and is fully cured within 24 hours. It does have a heavy chemical smell when curing that lingers for a while. It's also tricky to mould into place and the reusable cap frequently becomes clogged and dried out before you can use it again. What's more, the solution dries black.
2. Runner Up: J-B Weld 50139 Plastic Bonder Body Panel Adhesive and Gap Filler Syringe
Seriously heavy duty
Good at filling gaps
Dual-syringe dispenser is unreliable
Takes 30 hours to cure
Key Specs
| | |
| --- | --- |
| Volume: | 25mL |
| Cure Time: | 15 minutes |
J-B Weld is the plastic glue of choice for car parts that undergo a lot of stress and flex with it's ultra-tough gripping power. With the strength to withstand 3,770 psi of load this two-part urethane adhesive is great for bumpers, spoilers, hub caps and other plastic trip that breaks. It can even heal broken side mirrors and repair broken satellite antennas.
This stuff can be used on most plastics including carbon-fibre composites and fibreglass, as well as coated metals, and aluminium. J-B Weld is so tough it's effective on concrete, ceramic, and tile as well. The set time is listed at 15 minutes, but some users report trouble getting the dual-syringe dispense to mix the appropriate 1:1 ratio. It also takes up to 30 hours to cure fully.
On the plus side, that syringe is fitted with a no-leak reusable cap that does a remarkable job of sealing the container without drying out and clogging it up, so you can use it time and time again for anything from repairing cracks to rebuilding small trim pieces or reattaching loose bodywork. JB-Weld is also a great gap filler.
3. Best for Bumpers: Vicrez VZR101 Auto Body Plastic Bumper
Easy to use
Bonds different surfaces together
Very thin
Not a good gap filler
Key Specs
| | |
| --- | --- |
| Volume: | 50mL |
| Cure Time: | 3 minutes |
Vicrez VZR101 is great at attaching different types of body parts back together after they're damaged. This stuff's adhesive works on a wide variety of surfaces and forms a bonding link between each surface individually, ie from plastic to glue, glue to metal. The solution mixes 1:1 from two large cannisters into one single cap with a reusable seal.
VZR101 is highly viscous and thin which makes it great for using in intricate areas and for repairing thin tabs but makes it less effective as a gap filler or builder, especially on vertical or steep surfaces. The working time is quick, just three minutes, and it clamps in 10. You can sand it in 20 minutes and paint in 30 minutes, making this a great choice for bodywork in panel shops that need fast turnaround times. It's effective on just about every surface you'll find on your car and can be sanded and painted for a near-perfect finish.
4. Best for Major Repairs: Beley Car Bumper Repair Plastic Welder Kit
Permanent fix
Factory finish with effort
Expensive
Labour intensive
The Beley hot staple kit is the only way to reattach large chunks of car bodywork effectively. When you really break off large chunks of plastic your only true option is a hot staple gun and plastic welder kit. This unit from Beley features a 30W stapler with adjustable heat levels and six different shapes of staples in packs of 100 each. The high-quality and striking looking tool case contains: the hot stapler unit, cutting tool, triangle electrode, 100 x 0.8mm flat staples, 100 x 0.8mm wave staples, 100 x 0.8mm corner staples, 100 x 0.6mm outside corner staples, 100 x 0.6mm flat staples, and 100 x 0.6mm wave staples. It doesn't matter what size or shape your thermoplastic is, nor if it's rigid or flexible, this device will have it sorted.
You'll be paying for the privilege here, and this is easily the most expensive plastic bodywork glue solution on the list. Still, when you compare it to the cost of a day at the body shop, or a replacement bumper, wheel-well, or trim piece, it's a bargain. Beley's staples can be smoothed down and painted after they go on, so if you don't mind putting in a little time and energy you'll get a near-perfect repair job on your car, motorcycle, or even your boat.
5. Best for Speed: 3M 04247 Super Fast Plastic Repair
Quick setting
Easy to use
Not forgiving
Doesn't bond well to smooth surfaces
Key Specs
| | |
| --- | --- |
| Volume: | 200mL |
| Cure Time: | 20 seconds |
As you would expect from a brand with this pedigree, 3M's 04247 lives up to the "super-fast" name on the bottle. This "Super Fast" plastic repair kit is a two-part gap-filling sealant and adhesive that grips and sets in just 20 seconds. That's ideal when you're trying to quickly patch broken tabs or plastic as it allows you to quickly move on to the next section and repair large cracks without dislodging the pieces that go before. Anyone who's ever worked to fix a long crack understands the pain of gluing one end, only to dislodge the other in the same moment.
That speed also means this is one of the trickier products on this page to work with. Fast hands are needed here. The urethane adhesive won't become brittle over time, but this is a slightly less effective bonding agent than some of the others above. It's also more expensive than most other urethane products, but it comes in a larger bottle so it ends up being cheaper if you use it often. Prep is important here, and you'll need to make sure your surfaces are clean, but also coarse as it won't bind properly to material that is too smooth.
6. Best for Weather Proofing: CECCORP C-Bond Super Glue Adhesive
Key Specs
| | |
| --- | --- |
| Volume: | 30grams/ one fluid ounce |
| Cure Time: | N/A |
CECCORP C-Bond super glue adhesive is ideal for repairing broken bodywork at key entry points into your cabin. We recommend you use this glue for bonding seals on doors, windows, and for helping repair plastic, vinyl or metal where it meets a joint or an opening. This solution will secure metal, fabric, weather stripping, and even repair vinyl roofs or covers. It penetrates the finest microcracks and pours through capillary action with a penetrating ability of up to 0.002 of an inch.
The glue has an extremely fast curing time. It is applied as a liquid and is cured by a chemical reaction that is activated by alkaline materials to finally form a hard polymer material once the curing is complete. The C-Bond super glue is durable, blemish resistant, has a consistent thickness, and is water and impact resistant.
The tube is small but inexpensive and comes with an anti-clog cap. There's no mixing required, making it one of the easiest solutions for your car body work repairs.
7. Best Budget Pick: Snnetwork 50w Hot Stapler, Plastic Welding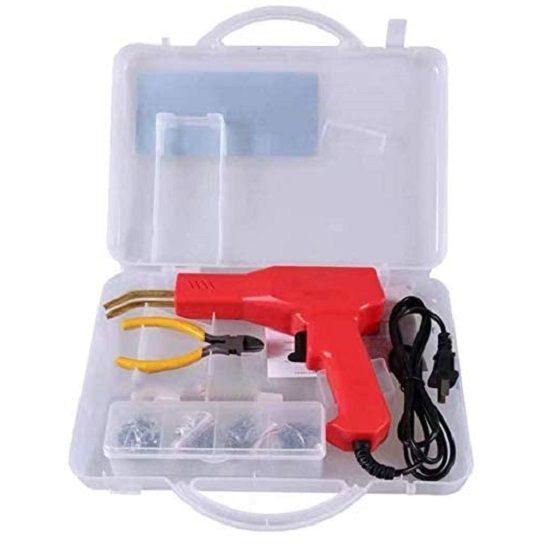 Inexpensive
Permanent repair
Only for plastic
Less effective on non-rigid surfaces
This inexpensive and simple hot stapler is ideal for repairing large pieces of broken ABS plastic. Snnetwork's 50w gun features a soft rubber handle and trigger for easy use, and the four sets of 50 staple packs in a range of shapes will suit most jobs. You also get a pair of side-cutter pliers and a carry case for the whole set up.
This is an extremely affordable kit for those of you looking for a more permanent and secure repair of your rigid plastic body work. It's easy to apply the staples and rejoin even heavier broken tabs or plastic tubing, but it won't work on non-plastic materials. There is no variable heat setting like the other hot stapler on this page, and not as many heating tools to attach. Snnetwork's offering is very much an entry-level unit, but that makes it a breeze to use for novice users. You might want to dip your toe with this rig before stepping up to a more expensive and serious-business stapler.
8. Honourable Mention: Mannol 9904 Epoxy Plastic Glue
Fast setting
Clear and paintable
Small tube
Can be hard to work with
Key Specs
| | |
| --- | --- |
| Volume: | 24mL |
| Cure Time: | 5 minutes |
Mannol may not be a household name but it is a brand well known in the automotive and PowerSports industries. Mannol's 9904 is an epoxy plastic glue that dries clear and is paintable, making it a great spot fix for cracks, dents, chips, and even filling small holes in panels or plastics. The two-part solution cures fully in two or three hours but sets in just five minutes and is sealed and 80 percent efficient and secure within half an hour. It's resistant to warping or cracking even under stress, as well as effective waterproof sealant.
It's effective on a wide range of plastic body panels and pieces including bumpers, fenders, spoilers, headlight or taillight housings, wing mirrors, and more. The small tubes are priced in the mid-range of the category and offer a seriously strong hold.
Plastic Welding vs. Gluing
During this article you'll notice we've blurred the lines a little between welding and gluing your plastics. We blame J-B Weld — kind of. Two-part epoxy adhesives don't really stick to surfaces together, instead they form a bond between the two that is formed at the molecular level, making it extremely robust.
Welding does a similar thing, only using heat to merge the two surfaces. We also talk in this guide about staples — hot staples literally stitch plastic together by melting it and joining the molten plastic. Those are the more secure and robust repairs, and work well on surfaces that are unsupported except by each other — things like plastic ducting in your engine bay.
Most one-part adhesives are more water resistant than two-part epoxies. These are a more traditional type or "glue" and they don't so much join two surfaces as connect them with a chemical bridge. In the case of silicone, it adheres to each surface and connects them that way, simultaneously forming a weather-tight seal between them.
Long story, short: Use a hot staple for serious permanent repairs of large plastic objects. Use a two-part epoxy to join two surfaces, especially if they're already supported in their position somehow. Think plastic bumpers and reattaching trim. Use a one-part adhesive sealant to repair damaged seals or smaller cracks that need patching.
Leave a Comment
We're always looking for more feedback! Have you used one of these products to repair your bodywork? If so, we want to hear your experience. Please leave us a comment below!
RedFlagDeals.com is reader-supported. We are a participant in the Amazon Services LLC Associates Program and other similar affiliate advertising programs. These programs are designed to provide a way for sites to earn advertising fees by linking to them. This means that RedFlagDeals.com will sometimes get a small commission if you make a purchase through our links.