The Best Garden Hoses
Table of Contents
If you're a homeowner, landscaper or gardener, you know that keeping your lawn and garden looking good and healthy is key — and not just for curb appeal. Anyone who plants flowers or cuts the grass knows that it can be a cathartic experience, so naturally having a lawn mower, trowel and other gardening tools are all important for maintaining one's homestead. Of course, nothing grows without water; and thus, a good, extendable garden hose is likely something you can't do without.
Although this indispensable tool is vital to keeping your garden lush and blooming, that's not the only function of a garden hose. When it's not attached to a sprinkler, it is also handy for washing the car, hosing down Fido's paws, or pouring water to freeze into a backyard skating rink. Perhaps the most annoying reality of purchasing a garden hose is that all too often, the bargains you find at the store leak, kink up, twist into knots, or degrade over time.
However, with so many options out there, it is possible to find a sturdy, well-made garden hose with solid connectors and a lifespan that is longer than a few seasons. Check out some of the best garden hoses to buy this year, along with information on what they are made of, their length and durability.
1. Editor's Pick: Flexi Hose Extra-Strong Expandable Garden Hose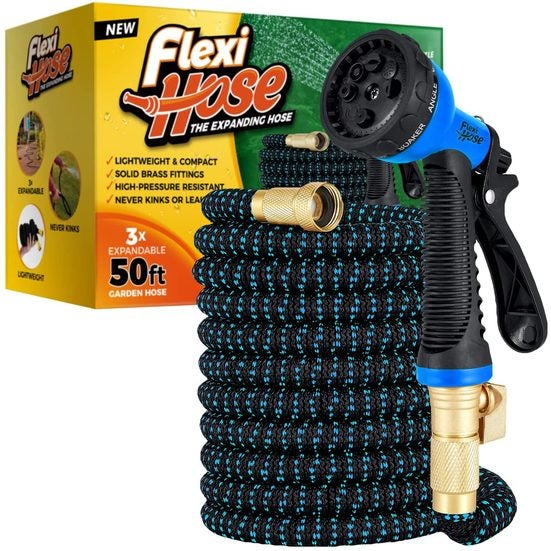 Lightweight
Has solid brass connectors
Comes with an adjustable nozzle
Should be stored out of the sun
Key Specs
| | |
| --- | --- |
| Size: | 3/4" (inch) x 17' expands to 50' (feet) |
| Material: | Two-layers of 2mm latex, solid brass fittings |
There's something really cool about an expandable garden hose. When not in use, it's lightweight and remains one size, but once you turn the water on, it expands to twice and as the case with this one from Flexi Hose, three times the original size.
This ¾-inch garden hose can expand 50 ft. and it's made from the highest quality materials. Not only does it have solid brass connectors, but it also has double latex pipes to protect it from rips, tears and getting tangled. This strong hose can withstand up to 12 bars of water pressure — up to temperatures of 113 F — and is equipped with a sturdy on/off valve.
Once you're done using it and turn off the water, the hose will quickly revert to its original length for easy storage. As well, the hose comes with an eight-pattern rotating nozzle that has flat, stream, cone, mist, full, shower and vertical settings for a wide range of uses. It will be so easy to water plants, wash the car or spray away cobwebs from porch railings. The nozzle is made of a durable zinc alloy and has an ergonomic rubberized handle that is slip-resistant and comfortable to use.
2. Runner Up: Gpeng 25 ft. Expandable Garden Hose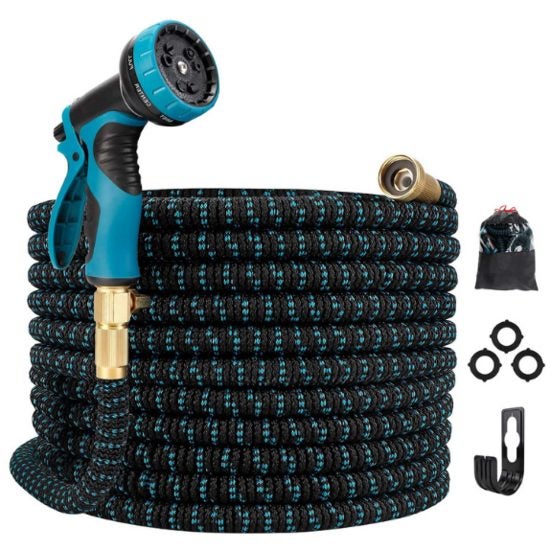 Solid brass connectors
Includes a nine-pattern nozzle
Good for smaller-sized lawns and gardens
May not be long enough for some needs
Key Specs
| | |
| --- | --- |
| Size: | 3/4" (inch) x 9' expands to 25' (feet) |
| Material: | Outer layer 375D polyester fabric, inner hose, double layer latex, solid brass fittings |
If you have a small green space that you love to tend to, there's no use having a huge hose hanging around getting in the way. At nine-feet long, this expandable hose from Gpeng is lightweight and easy to store and carry. However, once you turn on the water and up the pressure, it will expand from nine to 25 ft., allowing you to reach every corner of your property. When you turn the water off, it will shrink back to its original size, so storing it away is easy.
Layers of latex piping and solid ¾-inch connectors means no leaking and the hose won't angle twist or kink. Plus, the hose is equipped with brass switch valves, so you can turn the water off without trekking to the spout. Durable and strong, the hose can withstand up to 12 bars of water pressure and temperatures up to 113 F.
The garden hose also comes with a nine-pattern water nozzle with a rubberized outer coating that is non-slip and has a comfortable grip. The rotating bezel makes it easy to choose the stream you need and it has a convenient buckle stent for uninterrupted use, whether you are watering the garden, the lawn or washing your boat or car.
And when winter comes and you don't need the hose, you can pack it away in the included carry bag.
3. Best Budget Pick: Flexzilla Garden Hose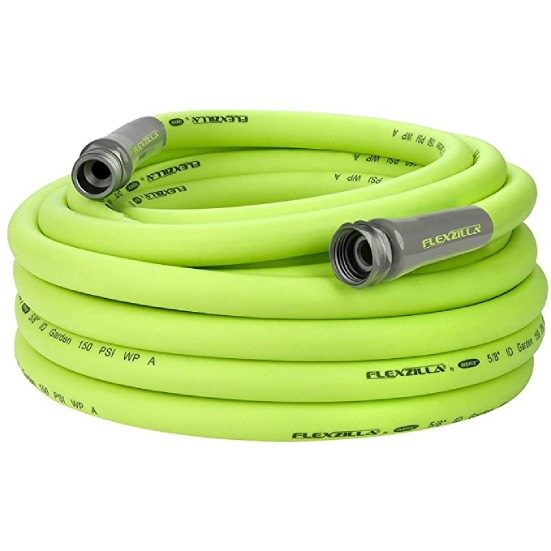 Has an integral non-kink bend restrictor
Anodized aircraft aluminum ends
Extreme flexibility under pressure, from subzero to 140 degree Fahrenheit
Cold water only
Does not come with a sprayer nozzle
Key Specs
| | |
| --- | --- |
| Size: | 5/8" (inch) x 50' (feet) |
| Material: | Hybrid polymer, aluminum fittings |
Whether you have a large lawn or a small one, the last thing you want is to be lugging around a heavy garden hose. This model from Flexzilla was specifically engineered with a lightweight flexible hybrid polymer, which means it's easy to maneuver around trees, bushes, garden furniture and even your dog who loves to sit in the shade as you work.
The good thing about this 5/8-inch, 50-foot garden hose is that even if you leave it outside and it gets cold, it will not get stiff and brittle. You can be sure it will stay flexible even in extreme weather conditions. The hose is designed to lay flat to eliminate any kinking under pressure and your sprinkler will stay put without the hose twisting. Constructed with a top-quality O-ring, you won't get any leaking at its connection points as it comes crush-resistant aluminum fittings.
4. Best Stainless-Steel: TheFitLife Flexible Metal Garden Hose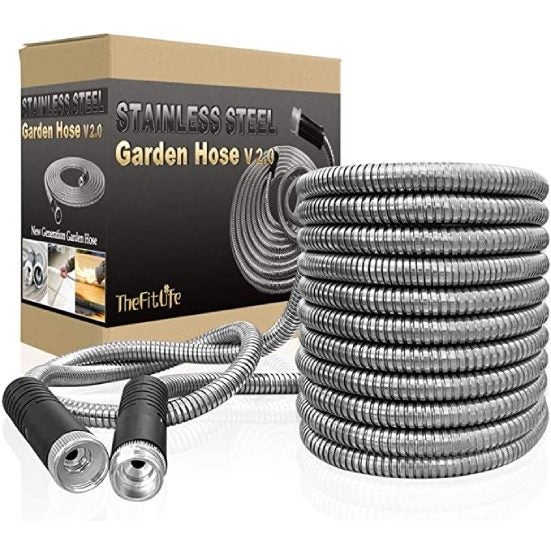 Weatherproof
Strong and durable
Easy to roll up and transport
Narrow inner tube produces less water flow
Key Specs
| | |
| --- | --- |
| Size: | 25 ft. |
| Material: | Outer layer 304 stainless steel, PVC inner hose, seven-series aluminum fittings |
If you are looking for a long-lasting, weather-resistant garden hose that will remain a part of your garden tools for many years, you may want to consider this stainless-steel model from TheFitLife.
This 25-foot, ¾-inch garden hose is made from industrial-grade, heavy-duty 304 stainless steel, making it one of the more durable models on this list. The inner tube of this hose is made from strong, thick PVC, which responds well to high water pressure and has been endurance tested to between 1,800 and 2000 uses. The upgraded connectors are made from seven-series aluminum and designed to prevent leaking. They are light, tough and corrosion and crush resistant, and compatible with most standard garden hose connections.
Stainless steel is a tough material, so this hose will not fray, tear or wear out, nor will it burst or crack, since it is heat and cold-resistant. No need to worry about leaving it out in the sun, rain or snow; it will continue to work well watering your lawn and garden. You can connect this metal hose to a sprinkler or nozzle and use it for cleaning and watering plants. Lastly, it also comes with an eight-pattern spray nozzle and is available in a variety of sizes.
5. Longest Hose: NGreen Flexible and Expandable Garden Hose
Solid brass connectors to control water flow
Durable hose construction
Great for large gardens
Nozzle itself isn't the most durable
Key Specs
| | |
| --- | --- |
| Size: | 100 ft. |
| Material: | Latex, polyester, solid brass connectors |
If you have a large backyard and need the most coverage possible, go with an ultra-long garden hose like this one — it's also lightweight, durable, and leak-proof. The tube itself is made from a high-quality latex tube on the inside and a polyester fabric on the outside, which protects the tube from punctures.
Even though it's so long, it's retractable and expandable, so it won't be cumbersome and hard to manage when you're ready to store it. You'll also find that it isn't prone to twisting or tangling, which can save you time compared to other hoses where you might need to untie knots.
The solid brass connectors allow you to efficiently control the flow of the water, and they're durable — they aren't prone to rust or leaking. We're loving the choices with the spray nozzle on this one, too, which has eight different water settings to pick from, like shower, angled, or mist.
6. Sleeper Pick: BlueBala Expandable and Flexible Garden Hose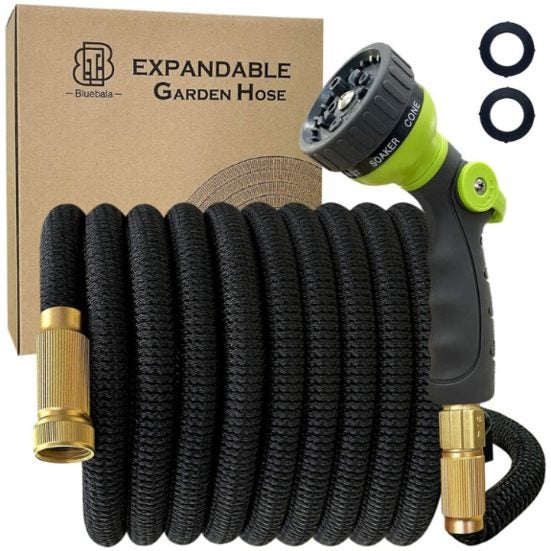 Good spray nozzle
Available in multiple sizes
Expandable and lightweight
A little pricier than comparable options
Key Specs
| | |
| --- | --- |
| Size: | 25 ft. |
| Material: | Latex, polyester, solid brass fittings |
Here's another expandable garden hose to consider, that's available in a variety of sizes and has a great spray nozzle with lots of control. Like many of the other options here, this one features an inner latex core, an outer polyester fabric, and solid brass fittings to prevent any breaks or leaks. You'll also find that the hose itself isn't prone to tangles, and it's very lightweight which makes carrying it easier.
Some garden hoses skimp out on the nozzles, but that's not the case with this choice; it features a water control valve that you can control with your thumb, and it has a rubber washer inside to prevent any leaks from the nozzle. It also has eight different spray patterns to choose from, which makes it ideal for different tasks like watering your garden or washing your car.
7. Also Consider: Bionic Flex 50' Garden Hose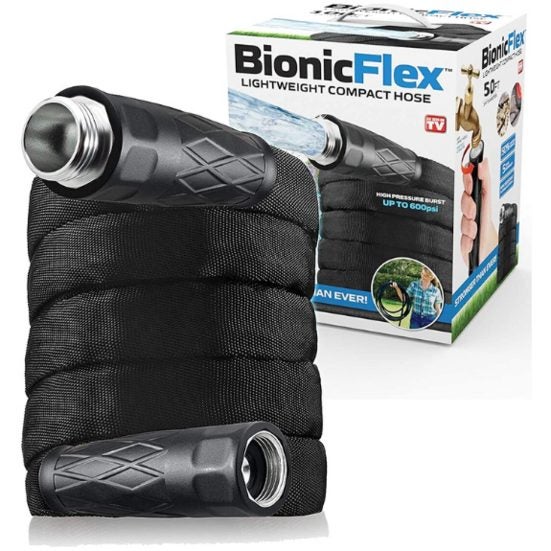 Affordably priced
Lots of sizes to choose from
Easy to store
Not the most durable in the long run
Key Specs
| | |
| --- | --- |
| Size: | 50 ft. |
| Material: | Polyester, rubber collars, stainless steel fittings |
Here's a non-expandable hose to consider purchasing, which is lightweight, easy to maneuver, and offers a steady flow of water. The fabric it's made from has a micro-weave design, which is what makes it so light and flexible.
Many of the other hoses on this list aren't built to survive through extreme temperatures, but with this one you'll find that it can be frozen or left in the sun without worry. It also doesn't expand or contract, which means that your water flow will always be consistent, and even if there's a tangle or kink in the hose water will still be able to flow.
The fittings on the inside are made from stainless steel, and there's also a stabilizing collar which helps keep its shape when experiencing extreme force. When you're ready to store the hose, it folds flat for your convenience.
8. Honourable Mention: TheFitLife Expandable and Flexible Garden Hose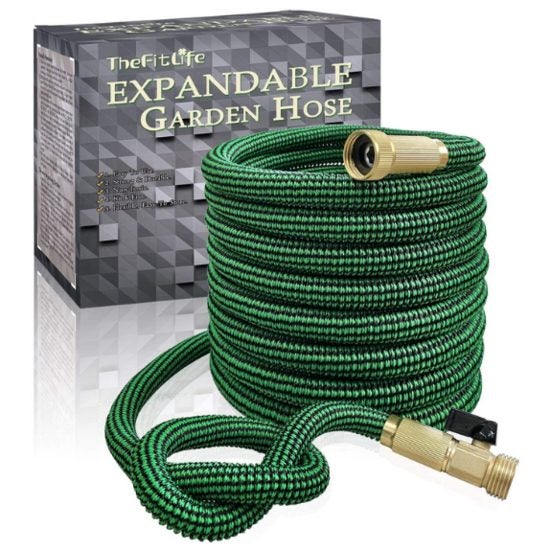 Lightweight and easy to store and carry
Available in a variety of sizes
Affordably priced
Hose itself is prone to leaks after months of use
Key Specs
| | |
| --- | --- |
| Size: | 50 ft. |
| Material: | Latex, 3750D elastic outer fabric, brass fittings |
Here's another affordable option worth considering, thanks to its ease of use — it's available in a variety of sizes, too, so no matter what size garden you have there'll be one suitable for you.
The inner tube has 13 layers of latex, which helps make sure that the hose won't burst under normal conditions, and the outer fabric is made from a tough polyester that's difficult to puncture by sharp objects in your garden, like a thorny stem. Like many other options here, this hose has brass fittings, too, which allow you to control the water flow more efficiently, and it's very unlikely to crack or leak.
Since the hose is retractable and lightweight, it makes it quite easy to carry around your garden, and it stores small, so it won't be obtrusive when being kept in your garage or other storage. The design of the hose makes it unlikely to tangle or twist, which can save you the annoyance of trying to untangle it.
What to Look for in a Garden Hose
Material: Garden hoses are made from various material, from rubber and metal to hybrid polymer and polyester. Each one has its benefits and drawbacks but whichever material you choose, you should make sure the hose does not twist, kink, or get easily tangled. It should be lightweight so it's not too heavy to bring around to the various areas of your garden, and a hose width of 5/8-inches, ¾-inch or 1.2-inch for good water flow. As well, it should have solid fittings and connecters, preferably made from brass or metal, instead of plastic, since plastic can crack, break, and leak.
Length: Garden hoses come in a variety of lengths, from 10 to 100 ft. Some garden hoses can connect together to make longer hoses when needed, while others expand to larger sizes with water pressure. While you might think it's better to get a longer hose, that's not necessarily a good idea. A longer hose will cost more and will be heavier to lug around a small lawn or garden. It will also need more storage space and if not properly rewound, could be a tripping hazard when lying on the ground.
Leave a Comment
We're always looking for more feedback! If you've purchased one of the garden hoses on this list and would like to share your experience, please comment below and let us know what you think about our picks.
RedFlagDeals.com is reader-supported. We are a participant in the Amazon Services LLC Associates Program and other similar affiliate advertising programs. These programs are designed to provide a way for sites to earn advertising fees by linking to them. This means that RedFlagDeals.com will sometimes get a small commission if you make a purchase through our links.