The Best Garage Door Openers
Table of Contents
There's a good chance your home came with a garage door opener, and there's even a better chance that you've never paid close attention to it—until it starts having problems. Whether you're shopping for a replacement garage door opener, want to upgrade your existing unit or need to install a new one, you've come to the right place. In recent years, companies have released a wide assortment of smart home devices, connecting your home to your smartphone and allowing you to control nearly everything from one convenient location.
With these connected garage door openers, the days of wondering whether or not the garage door is closed are behind us. Now, there are some garage door openers that will let you check their status straight from your smartphone. Those options also allow you to control them directly from your phone, which means you don't have to keep a remote control inside your vehicle.
We understand that not everyone wants to invest into a smart garage door opener, and some shoppers just want a unit that does the basic job of opening and closing the garage. In this article, we'll cover our picks for the best garage door openers, what you should consider before getting one and how to choose the best one for your home.
1. Editor's Pick: Chamberlain B970C Garage Door Opener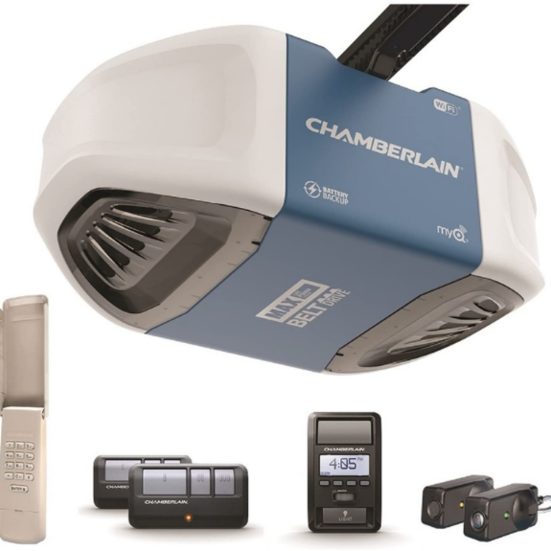 Ultra-quiet and strong belt drive
Lifting force equivalent to 1-1/4 HP
Smart garage door opener gives remote access from your smartphone
Setup is a bit complex
Make sure you have a strong Wi-Fi connection in your garage
If you like to stay on the cutting edge of technology, consider Chamberlain's B970C Garage Door Opener. The brand is known for its quality garage door openers and this recommendation offers a wide range of advanced features that'll fit in at any smart home. Equipped with MyQ technology, this smart garage door opener keeps you connected to your garage door no matter where you are. Once connected to your smartphone, you can use the MyQ app to open, close and know the status of your garage.
This option is a belt-drive garage door opener, powered by Chamberlain's MAX Lift Power System, which delivers lifting force equivalent to 1-1/4 horsepower. Expect to get ultra-quiet operation for years through its steel-reinforced belt drive and high-grade materials. This garage door opener also includes a pair of three-button TriBand frequency remotes, allowing you to control a combination of up to three garage door openers. These remotes have a range up to 1,500 feet (457.2 meters).
2. Best Budget Pick: Skylink Atoms ATR-1611 Garage Door Opener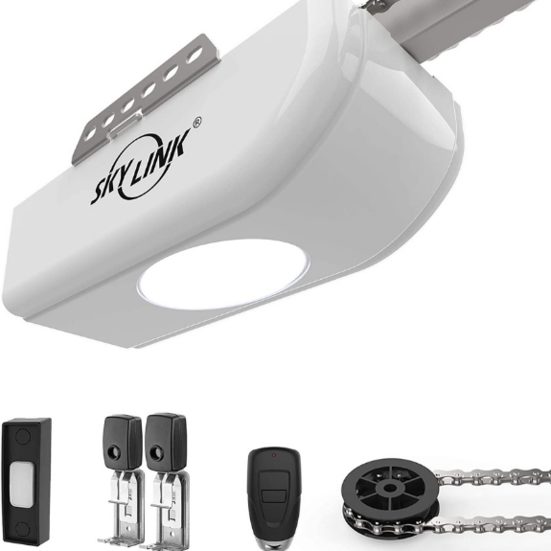 LED light
Relatively quiet for a chain-drive opener
Affordable garage door opener with optional Wi-Fi connectivity
Only comes with a single remote
Opens and closes a bit slower than more powerful units
Despite its price, the Skylink Atoms is available with Wi-Fi connectivity, allowing you to use the SkylinkNet app to control the opener. Otherwise, it includes a single remote control but it is compatible with in-car remote control systems. For security, the system uses rolling code technology, which means it generates a unique code each time the remote is activated. Overall, it's a fairly easy-to-install garage door opener that is great for shoppers on a budget.
3. Best High-Tech Pick: Nexx Garage NXG-200 Smart Garage Opener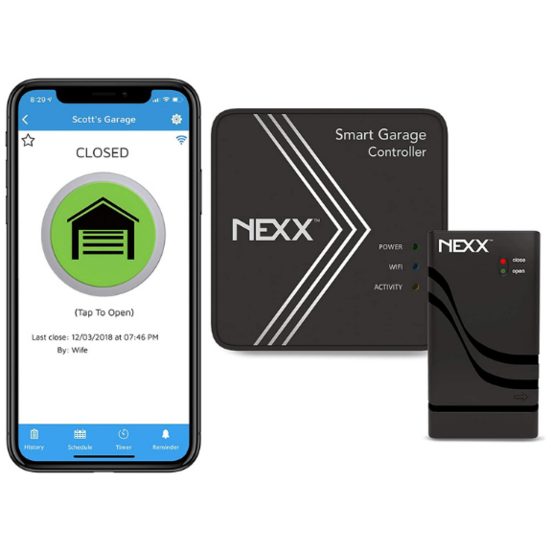 Just Drive' geofencing adds convenient
Track and monitor anytime your garage door opens
Converts your existing garage door opener to a smart one
Canadian support is lacking
Not compatible with every garage door opener out there
There's a chance you're happy with your perfectly functioning garage door opener, but you want to take advantage of new high-tech features. This recommendation isn't an actual garage door opener, but an accessory you can add to your current unit to turn it into a smart garage door opener. The Nexx Garage NXG-200 can be installed in as little as 10 minutes, allowing you to connect your smartphone to your existing garage door opener.
With this device, you're able to open, close, and schedule your garage door at any time from the convenience of your smartphone. You can also access the system through voice commands to Siri, Alexa, or Google Assistant. For convenience, this smart garage opener features 'Just Drive' geofencing, which instructs your garage door to automatically open as you pull into your driveway.
Although it's compatible with most garage door openers, you should check compatibility with your specific unit prior to purchasing. A 2.4 GHz Wi-Fi connection is required.
4. Best Quiet Option: Genie StealthDrive Connect Garage Door Opener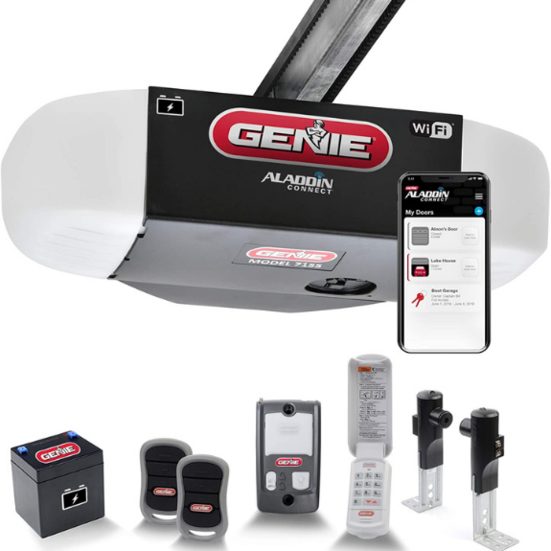 Designed for quiet operation
Integrated battery backup
Compatible with Aladdin connect Wi-Fi
Wi-Fi connectivity can be spotty
Aladdin Connect app isn't user friendly
Sometimes garage doors may be directly below the living space, which means plenty of noise each time it opens. If that's your situation, take a closer look at the Genie StealthDrive Connect garage door opener, which focuses on being as quiet as possible. It's powered by a 1-1/4 HPC DC motor combined with a steel-reinforced belt drive with soft start and stop technology for longer motor life. It's integrated with Aladdin Connect Wi-Fi technology, so your garage door can finally be part of your smart home. This also allows you to control your garage door through Alexa and Google Assistant.
This model has a reliable and strong belt drive with an auto reverse safety system and emergency safety release function. The non-polarizing wiring makes for easy installation and the opener comes with a lot of cool features. Aside from the opener, the package includes two, three-button remote controls, a three-function wall panel, a wireless keyless entry pad, wireless wall button, and optical safety sensors.
Like other premium garage door openers, this StealthDrive unit is equipped with an integrated battery backup, which allows the garage door opener to work for up to 50 cycles if your power is out. Included with the opener are 2 pre-programmed three-button remotes, a wireless keypad and a multi-function wall console.
Different Types of Garage Door Openers
When shopping for a garage door opener, you should be aware of the different types to ensure you're getting the one that best suits your needs.

Chain-drive Openers: Chain-drive openers utilize a chain that connects the trolley to the motor. These types of openers typically have the strongest lifting ability.

Belt-drive Openers: Belt-drive openers feature a rubber belt to connect the trolley to the motor. Compared to chain-drive openers, belt-drive units tend to be quieter.

Screw-drive Openers: While not as common, screw-drive openers have a trolley that rides on a threaded-steel rod that works together with the motor. These are generally noisy, but relatively affordable.
What to Consider Before Buying a Garage Door Opener
There are several specifications you might see when shopping for a garage door opener, although they may not be consistent from manufacturer to manufacturer. Still, you should be aware of these and other considerations when shopping for one.

Horsepower: The horsepower rating of a garage opening determines the lifting power. If you have a heavy garage door, you should be looking at products with high horsepower.

Remote Control: Before buying a garage door opener, you should check how many remotes it comes with, how effective they are, and the range at which they work.

Backup Battery: This is an essential feature that ensures your opener keeps working even when there's a power outage or failure.

Lighting Feature: This is important for security and safety reasons. This enables you to see clearly before driving into your garage.

Fit: Garage door openers do not fit all garage doors so you definitely should check if it fits yours. If it doesn't, you should check if they have a rail extension.
Frequently Asked Questions About Garage Door Openers
Whether you're shopping for a new garage door opener or a replacement unit, there are several things to consider. Do you want a smart garage door opener that can be accessible from a mobile device? Is noise a primary concern? Consider all these variables before choosing the garage door opener for your home, since they're not exactly easy to uninstall and return. See some of the questions typically asked by our readers.

Are there different types of garage door openers?

There are several types of garage door openers, which we detail above. Typically, the major difference is what drives the motor, whether it's a chain, belt, or screw.

Does one size fit all?

No, one size doesn't fit all. Check the size of your garage door and ensure the garage door opener you're considering will fit.

Can I install a garage door opener myself?

It depends on the product. Some are easy to install, while others might need a professional to help you out.

If my power goes out, does my garage door still work?

It depends on if your garage door opener has an integrated backup battery.

Can I control my garage door with my smartphone?

This also depends on the device you have. Some are smartphone compatible, while others are not.

Do you own one of these? Do you agree with the review? Did we miss your favourite garage door opener? Comment below and let us know!
RedFlagDeals.com is reader-supported. We are a participant in the Amazon Services LLC Associates Program and other similar affiliate advertising programs. These programs are designed to provide a way for sites to earn advertising fees by linking to them. This means that RedFlagDeals.com will sometimes get a small commission if you make a purchase through our links.